Future of 44-year-old science agreement caught in middle of U.S.-China tensions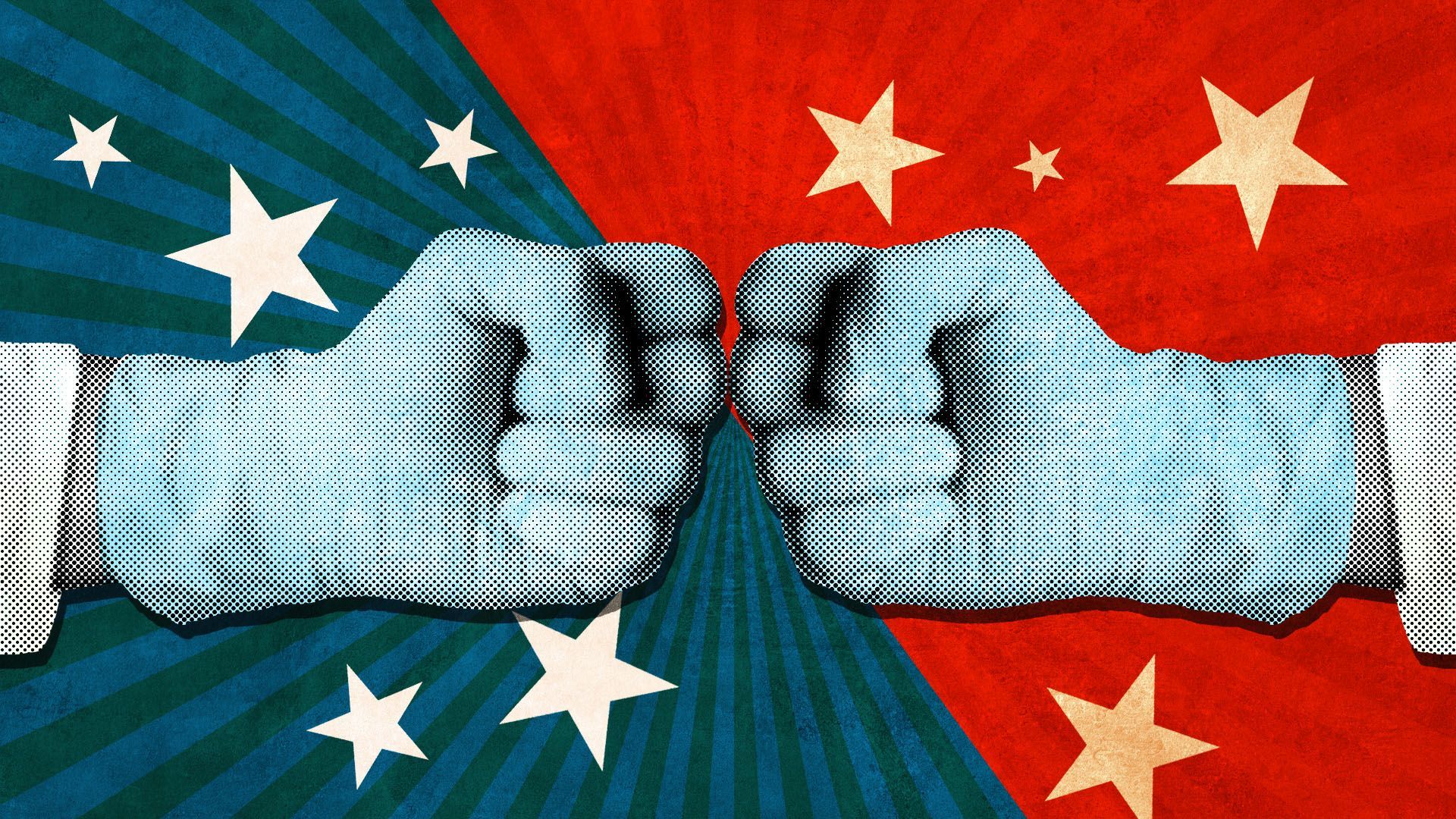 A 44-year-old agreement that established a framework for the U.S. and China to cooperate on scientific research is set to expire at the end of August — putting a longstanding pillar of relations between the two countries in question.
Why it matters: Whether the agreement — the first signed between the U.S. and China when they normalized relations in the late 1970s — is renewed, reworked or left to expire will send a signal to Beijing. Politicians and practitioners are now debating what exactly that message should be.
The U.S.-China Science and Technology Agreement (STA), originally signed in 1979 and renewed about every five years with the last time being in 2018, opened the door for scientists to collaborate in physics, chemistry, health and other areas. Cooperation between the countries helped China to transition from ozone-depleting CFCs and enabled the sharing of influenza data used to devise yearly vaccines.
More than four decades into the agreement that included a pandemic and several administrations of fiery rhetoric, the broader nature of that cooperation is being scrutinized over concerns about Beijing-backed intellectual property theft and the Chinese military benefitting from knowledge about U.S. scientific advances.
Supporters of renewing the STA in some form argue the benefits of cooperation outweigh those risks. Opponents say continuing the agreement signals to Beijing that the U.S. doesn't hold serious concerns about the risks.
Details: The STA signing gave "a form of permission for lab-to-lab, university-to-university, scientist-to-scientist cooperation," says John Holdren, former director of the White House Office of Science and Technology Policy (OSTP) during the Obama administration. "It legitimized the whole notion that collaboration was respectable."
Increased collaboration has helped to build personal relationships between U.S. and Chinese scientists, many of who went on to become senior officials in Beijing and Washington and leveraged those relationships to tackle science-based issues of mutual interest, he says.
Scientific collaboration between the U.S. and China came under intense scrutiny during the Trump administration, when the U.S. Justice Department launched the China Initiative to investigate possible Chinese intellectual property theft and espionage. The program was shuttered after allegations officials racially profiled scientists, and cases fell apart.
The STA — and under its umbrella federal research agencies' agreements with their Chinese counterparts — is non-binding but facilitated data sharing about satellites, climate and seismic activities, as well as fusion and subatomic particle experiments.
Research programs, projects, centers, meetings and exchanges across the fields of chemistry, physics, climate and energy science, agriculture, health and others were organized in federal U.S. agencies.
The agreement also carries a lot of symbolism, and recognized cooperation could "strengthen friendly relations" and "promote the well-being and prosperity of both counties."
In 1979, China lagged far behind the U.S. in scientific and technological capabilities. "It was unimaginable to think of where China was in terms of science and tech then versus where they are now," says Scott Michael Moore, director of China Programs and Strategic Initiatives at the University of Pennsylvania. "[T]here was no contemplation of any kind of rivalry and IP issues weren't on the radar."
But China's ascendance in AI, quantum sciences, biomedicine, and space, and the ability of both countries to transform fundamental sciences into emerging and dual-use technologies with military applications and massive commercial value have put scientific cooperation between the two countries in the crosshairs of domestic and global politics.
"The STA wasn't envisioned to take on that space," Moore says.
Holdren and others say China's advances are a reason to renew the agreement — it's a window into the country's abilities and advances and the U.S. learns from them. "Exactly because the scientific enterprise is different than it was in 1979 would be more of a reason" to maintain "international science collaboration between the U.S. and China when appropriate and possible," says Kim Montgomery, director of International Affairs and Science Diplomacy at the American Association of the Advancement of Science.
What they're saying: The House Select Committee on China in a June letter to Secretary of State Antony Blinken said it would "strongly recommend" the U.S. not renew the STA, citing concerns that research under the STA could strengthen China's military-industrial complex.
"Extending the Science and Technology Agreement between the U.S. and China would only further jeopardize our research and intellectual property," committee chairman Mike Gallager (R- Wisc.) told Axios in a statement.
Holdren acknowledges "it is very important we in the U.S. make clear we are concerned about IP theft, defense information theft and human rights issues" but in his view "it is more effective to argue about those problems with people on the other side than to cut off relations."
Montgomery agrees, saying "there are legitimate concerns about national security, intellectual property and competitiveness to name a few but those call for modifications to the agreement and not walking away."
A State Department spokesperson said the department does not comment on international negotiations or internal deliberations on negotiations. OSTP did not respond to a request for comment.
The other side: Chinese Ambassador to the U.S. Xie Feng said at the Aspen Security Summit last month that renewal of the agreement is a priority for U.S.-China cooperation.
"China is ready to discuss the content and form of the agreement with the United States on the basis of equality and mutual benefit," a spokesperson for the Chinese embassy in Washington told Axios in a statement.
Between the lines: Several senior U.S. officials have traveled to China since June as the Biden administration tries to reduce tensions between Washington and Beijing.
Not renewing the agreement could complicate those efforts.
Go deeper