How the U.S. is trying to stay ahead of China in the AI race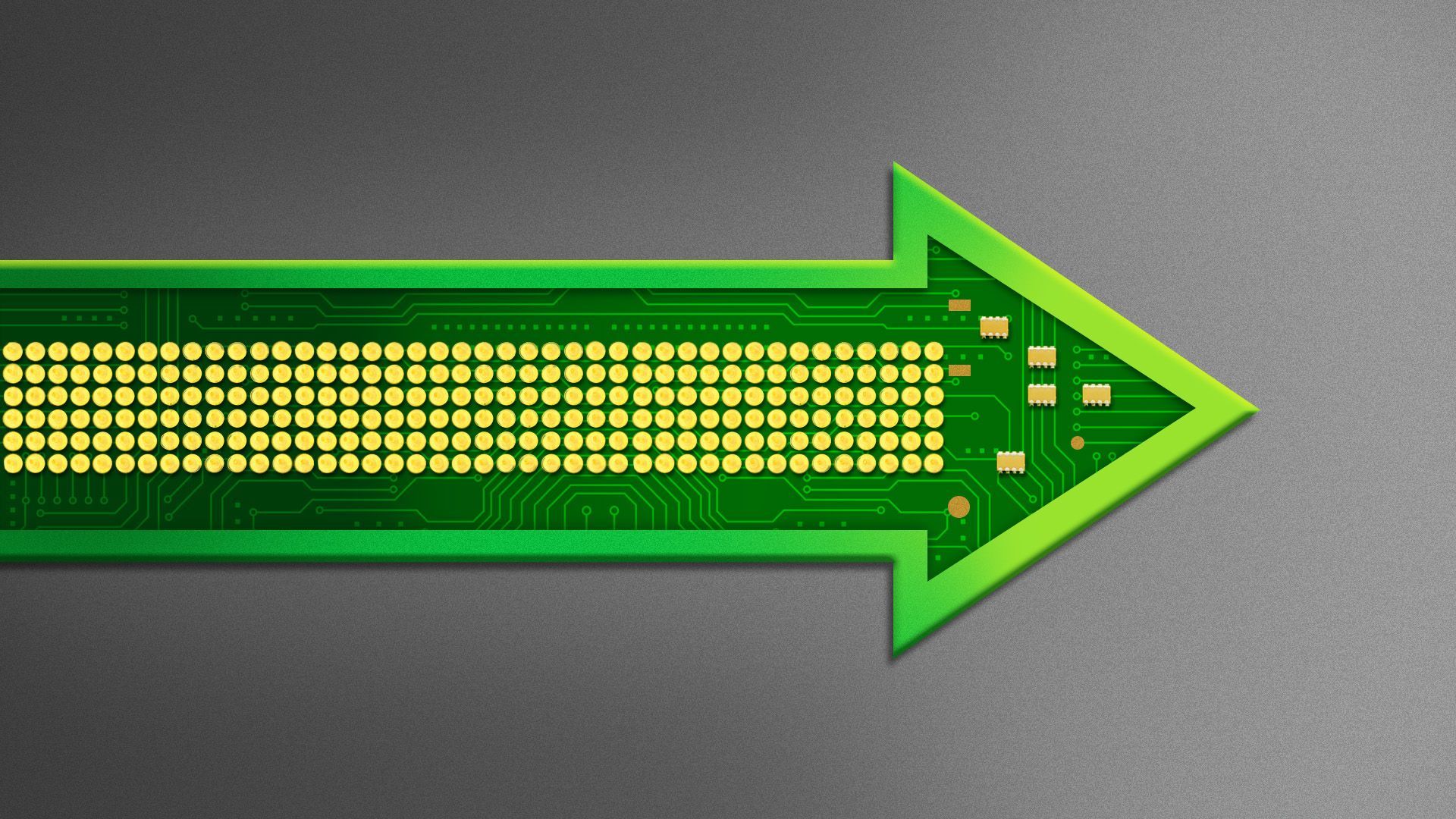 The U.S. has a key advantage over China as the two superpowers compete for supremacy in artificial intelligence: The most advanced chips used to train AI are designed in the U.S. and built with tools from allied countries.
Driving the news: The Biden administration is poised to expand its efforts to keep those highly advanced chips out of China, and thus keep Chinese AI firms behind the curve.
Last October, the U.S. moved to block exports to China of certain top-of-the-line chips — including Nvidia's A100 — as well as chipmaking tools needed to make them.
The Biden administration is considering broadening the restrictions as early as next month to include chips like Nvidia's A800, which was designed to comply with the October regulations, and restrict Chinese firms' ability to use powerful chips hosted overseas, the WSJ reports.
The Commerce Department declined to comment.
Between the lines: The Biden administration is worried that AI developed by private Chinese firms will ultimately have military, intelligence and surveillance utility for Beijing.
But it has to balance its response with concerns that cutting China off will hamper the tech giants that have powered U.S. advances in AI — particularly Nvidia, which recently became the seventh company to hit a $1 trillion market cap.
As the WSJ report drove Nvidia's share price down, CFO Colette Kress warned the regulations could lead to "a permanent loss of opportunities for the U.S. industry to compete and lead in one of the world's largest markets."
For now, though, demand for advanced chips so far outstrips supply that Nvidia's bottom line won't be affected, she said.
The big picture: Advanced AI models are differentiated by three main inputs: algorithms, data, and chips, according to Paul Scharre, director of studies at CNAS and author of "Four Battlegrounds: Power in the Age of Artificial Intelligence."
The biggest chokepoint for AI developers at the moment is access to the most advanced chips, which are mostly designed by American firms (particularly Nvidia) and manufactured in Taiwan using U.S. software and chipmaking tools made by Dutch and Japanese firms.
The Biden administration not only restricted exports of top-of-the-line chips to China, but it also got the Netherlands and Japan to agree to restrict exports of the tools used to make them.
If the policy works as intended, Chinese AI developers will remain boxed out of that supply chain, working with less powerful chips, and thus a year or two behind the cutting edge as AI continues its rapid advance, Scharre says.
Chinese firms have a few options to counter the U.S. efforts to leave them behind.
There's already a black market for Nvidia's A100 chips in China, Reuters reports, suggesting some suppliers are using work-arounds to get them into the country.
Firms can also use a greater number of less powerful chips to approximate the same performance.
As the regulations currently stand, Chinese companies can also effectively lease access to top-of-the-line chips from cloud computing centers overseas.
The Biden administration is also considering restricting that access, according to the WSJ.
That would have major implications not only for the AI race, but also for the cloud services space, which U.S. firms like Amazon and Microsoft currently dominate, according to Christopher Miller, an associate professor at Tufts University and author of "Chip War."
In the longer term, Beijing is intent on catching and surpassing its foreign competitors in both the design and fabrication of advanced chips.
China has been spending "one CHIPS Act per year" for the past decade on semiconductor R&D, Miller says, referring to the $280 billion law the U.S. passed last year to boost domestic chip production.
For now, the U.S. continues to produce the world's "most innovative and important chip companies," like Nvidia, while China hasn't been able to muscle its way into the high-end supply chain, Miller says.
A spokesperson for China's embassy in Washington hit out at U.S. efforts to obstruct "China's scientific and technological advancements" in a press briefing on Wednesday, without referring directly to the potential new step.
In a signal that it can hit back — and a possible attempt to divide Washington and Seoul — Beijing last month announced a partial ban on Micron memory chips, officially for security reasons. The Biden administration is urging Micron's South Korean competitors not to fill the void.
What to watch: While Chinese companies are making strides on AI and semiconductors, the Biden administration seems to be betting that its regulations and investments will keep U.S. firms just ahead.
Miller thinks the U.S. and its allies are well-positioned in that race. "If you asked me would I rather be in a camp that involves all of the world's most advanced economies that are at the cutting edge, or would I rather be in a camp that only involves China and is several generations behind the cutting edge, I think that's an easy question to answer."
Other experts think China might be well-positioned in the longer-term, particularly if it continues to narrow the "talent gap" with the U.S. by investing in education and research and convincing more talented AI researchers to stay in China.
Go deeper:
Go deeper