Axios AM
November 08, 2022
🇺🇸 Happy Election Day! Smart Brevity™ count: 1,496 words ... 5½ minutes. Edited by Noah Bressner.
🥊 Trump's save-the-date: Former President Trump said last night at a rally in Ohio that he'll have a "very big announcement" — expected to be his 2024 kickoff — at Mar-a-Lago a week from today, Nov. 15.
🎤 Join the conversation: Today at 1 p.m. ET, Axios CEO Jim VandeHei hosts a virtual conversation with Liz Jarvis-Shean, DoorDash's VP of communications and policy, about leading and inspiring amid uncertainty. RSVP here.
1 big thing: Tonight's 6 clues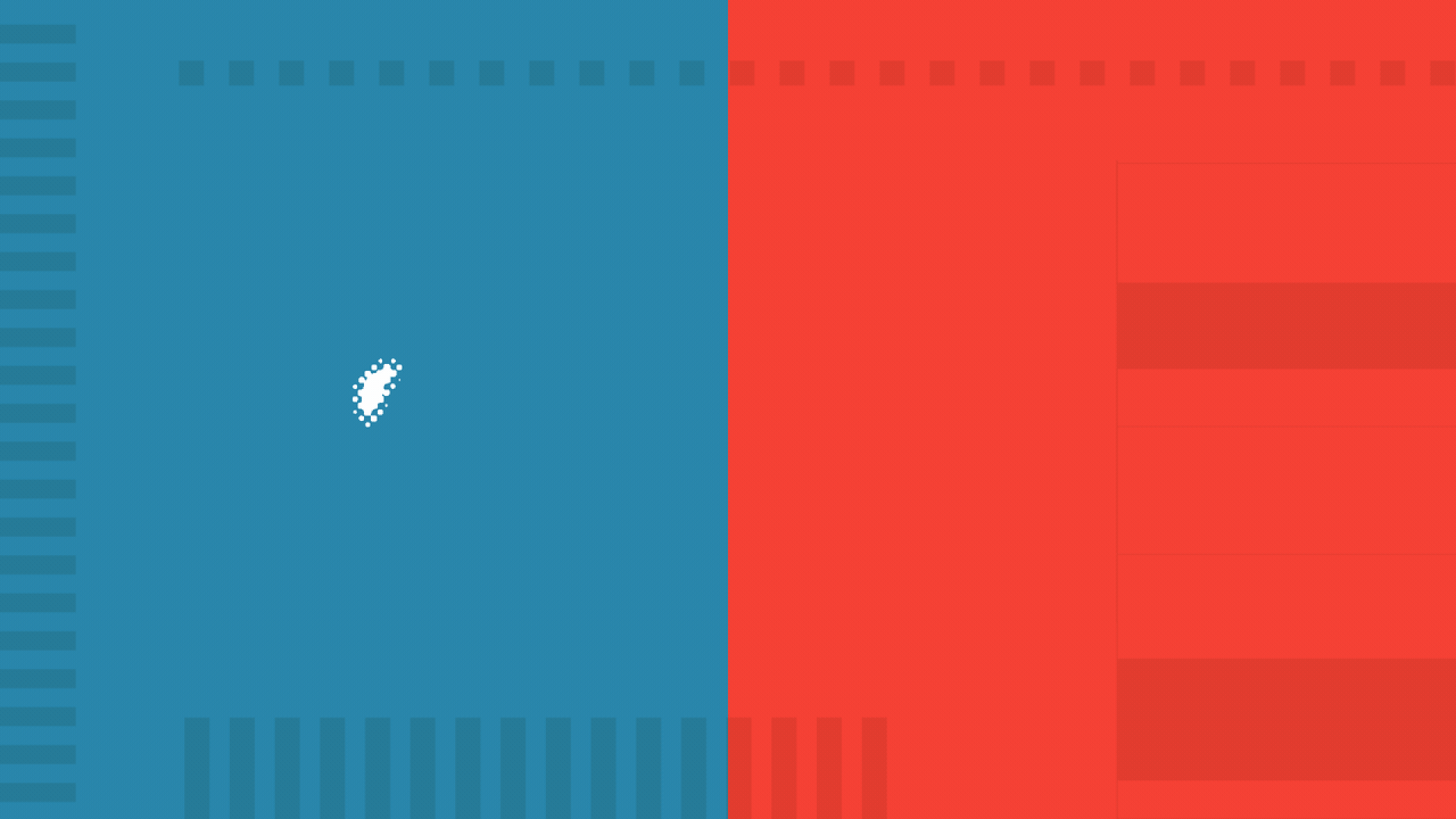 A handful of today's races will decide not only which party controls Congress for the next two years, but will also tell us a lot about where politics is going after the midterms.
Why it matters: These bellwethers will indicate whether Republicans are gaining a foothold in parts of the country that have long eluded them — and the types of Democrats who can win, even when the odds are stacked against them.
🔎 Our 6 big clues, from Axios' Josh Kraushaar:
The best early bellwether: The race between Rep. Abigail Spanberger (D-Va.) and Republican Yesli Vega in the D.C. exurbs will offer an early signal of the national political mood. A pragmatic Democrat and former CIA case officer, Spanberger condemned her party's left wing early and often. Vega, who is Latina, is on the Prince William County Board of Supervisors and is a former sheriff's hostage negotiator. Virginia polls close early (7 p.m. ET), and the state counts quickly.
The most important county: Miami-Dade. Republicans are confident Florida Gov. Ron DeSantis and Sen. Marco Rubio will comfortably win re-election. But watch their margins in the state's most populous, majority-Hispanic county. Both have a chance to win in Miami-Dade — a result that would signal a GOP landslide, and give rocket fuel to a potential DeSantis presidential campaign.
Biggest demographic shift: Working-class Hispanic voters. Republicans are growing bullish that they'll make significant inroads in Hispanic-heavy parts of the country, where concerns about crime and the economy are creating a wedge against their traditional Democratic affiliation. What we're watching: Nevada ... the Rio Grande Valley in Texas, where Republicans are hoping to sweep three majority-Hispanic districts ... and Colorado's 8th district, a newly created seat outside Denver.
Upset to watch: The New York governor's race. It's hard to imagine deep-blue New York electing a Republican governor — especially one who has been closely aligned with former President Trump. But Gov. Kathy Hochul's tone-deaf reaction to voters worried about crime is giving Republican Lee Zeldin a fighting chance.
The Democrat best-positioned to survive a red wave: Rep. Elissa Slotkin (D-Mich.) — neck-and-neck against Republican state Sen. Tom Barrett — is holding her own in one of the most expensive House battlegrounds. If Barrett defeats the two-term lawmaker, he'll be emblematic of the new MAGA-aligned Republican majority.
Rare Democratic bright spot: A Kansas referendum was one of the first signs of a backlash to aggressive abortion restrictions after Roe's repeal. Kansas Gov. Laura Kelly (D) is running competitively against Republican state Attorney General Derek Schmidt. Cook Political Report rates the race a toss-up.
2. Dems sound alarm about Red Mirage II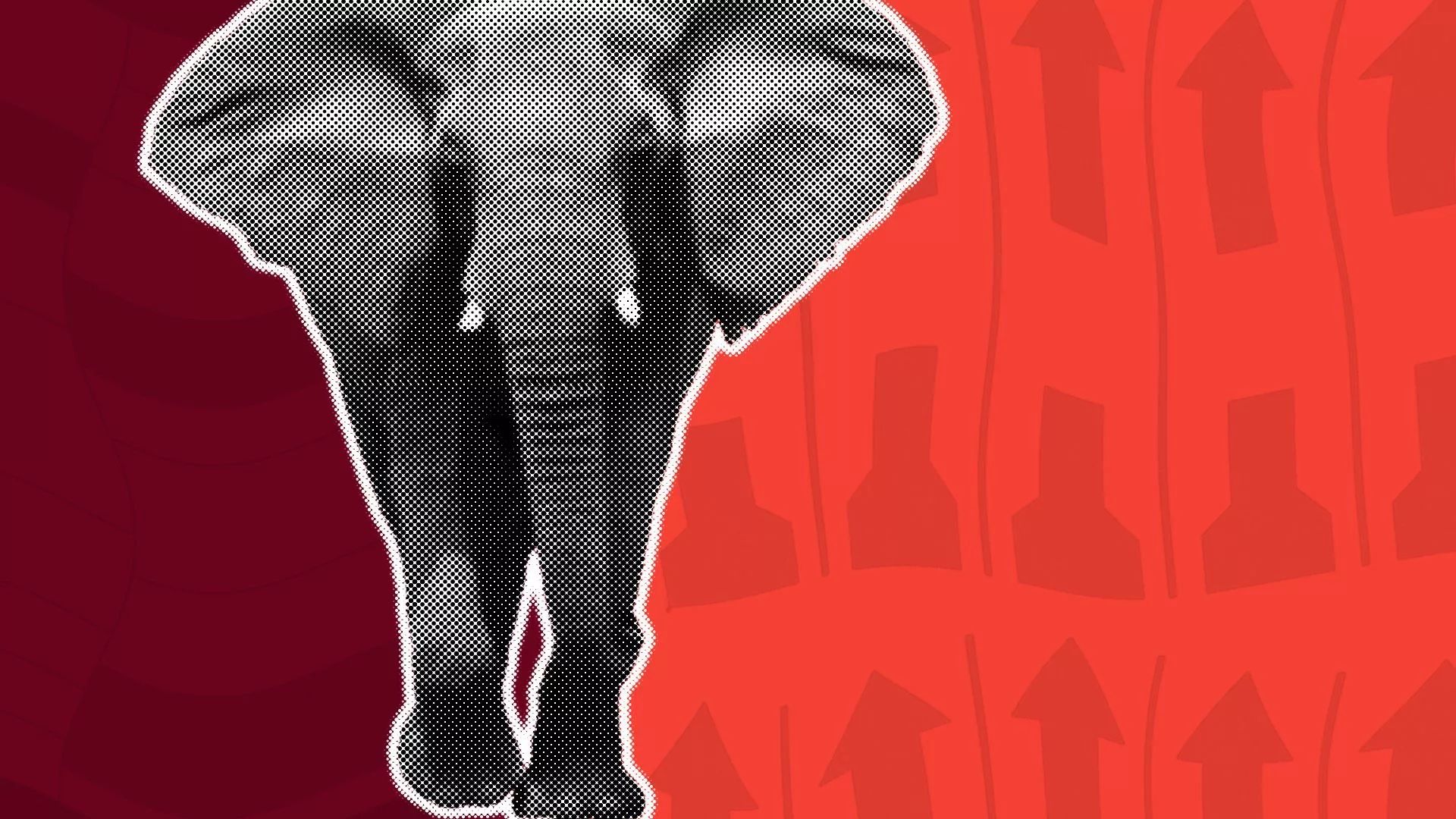 "Not so fast!"
Democratic campaigns across the map warned journalists and supporters in preemptive briefings that tonight's outcomes may take a while.
Why it matters: In 2020, early returns in key states favored Republicans. It took days to count the mail-in ballots that helped put President Biden over the top. Dems had warned in advance of this "red mirage."
The big Democratic committees (DNC, DSCC, DCCC, DGA) held a private call with allies last night to discuss "urgent messaging" if a flurry of GOP candidates claim victory prematurely, Axios' Andrew Solender and Alexi McCammond report.
The call laid out the mechanics and timeframes for tabulating results in different states.
Individual campaigns went public with similar messages.
The campaign of Rep. Matt Cartwright (D-Pa.) said to "expect a premature victory speech on Election Night" from GOP rival Jim Bognet in that House race.
The Bognet campaign replied that Cartwright is "already pushing excuses before the polls even open."
In Pennsylvania's Senate race, Democrat John Fetterman, running against Dr. Mehmet Oz, released a memo yesterday saying Republicans are "laying the groundwork to potentially spread false conspiracy theories about the likely 'red mirage' of ballot processing in Pennsylvania."
Fetterman's campaign manager Brendan McPhillips said in the memo that Democrats should "buckle up for a long week." Oz's campaign did not respond to a request for comment.
In Georgia, Democratic gubernatorial nominee Stacey Abrams' "official leadership committee" hosted a call with reporters yesterday that also addressed the issue.
According to an invite obtained by Axios, an off-the-record portion was planned "to review best practices for responsibly reporting on possible threats and disinformation" and how the state's new voting law (SB 202) "will impact the tabulation and certification of results."
In Arizona's tossup governor's race, the campaign of Democrat Katie Hobbs (who's running against Kari Lake) held an off-record call with key political reporters to answer questions about the projected timeline and process for final votes to be tallied.
In Wisconsin, the state Democratic Party held an off-record call with key surrogates to talk through election night timing and process.
🗞️ Election Day zeitgeist

N.Y. Times Quote of the Day .... Outgoing Los Angeles Mayor Eric Garcetti says that as the city picks his successor, residents feel exhausted — and afraid that their quality of life is deteriorating:
"Pessimism at the national level has dribbled to the local level."
3. 💡 New influence frontier: Hot hubs
Technology jobs — and the tourism rebound — are fueling a reshuffling of America's population centers, Axios' Madalyn Mendoza writes from a report by a nonpartisan think tank at UNC Chapel Hill.
The American Growth Project by the Kenan Institute of Private Enterprise, a business policy think tank, found (chart above) that the "center of gravity" for U.S. economic activity is moving away from the East Coast, Kenan executive director Gregory Brown tells Axios.
Why it matters: These are America's next boomtowns — if local leaders find ways to capitalize on burgeoning industries.
They'll need to invest in infrastructure — including housing, education and job training, the report says.
Between the lines: Younger residents are contributing to growth for Seattle (No. 3) and Denver (No. 6).
Seattle, home to Amazon and Microsoft, is a leader in clean energy, which researchers believe attracts young job seekers.
Millennials are helping drive Denver's economy. Researchers point to a separate study that found 71% of people who lived in Denver at age 16 stayed or had returned by age 26.
🏡 Get Axios Local, now with morning newsletters in 24 cities.
4. 📷 1,000 words: America votes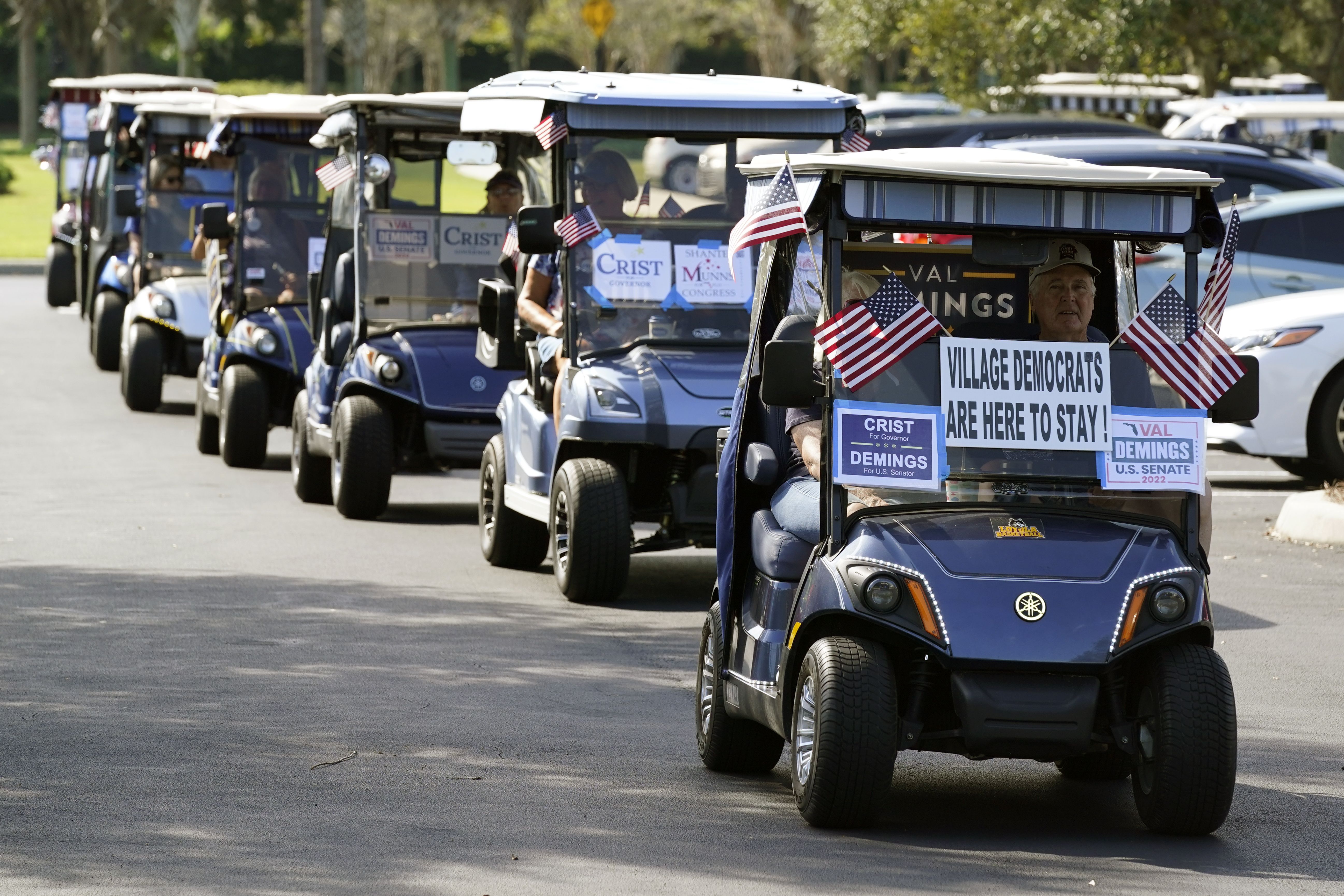 A golf-cart caravan heads to a polling place during early voting at The Villages, Fla.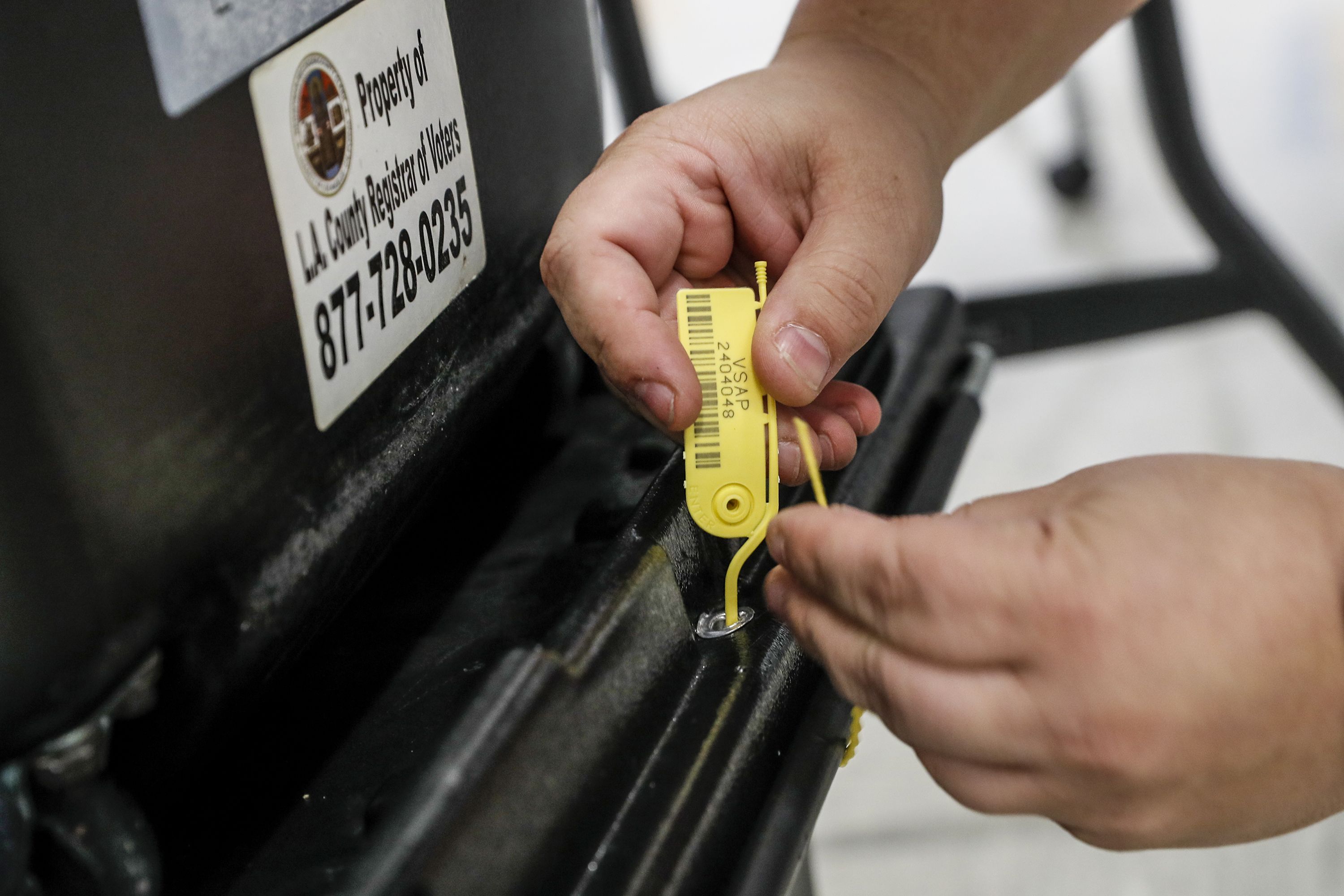 In Norwalk, Calif., poll worker Johnathan Forde seals a container of vote-by-mail ballots.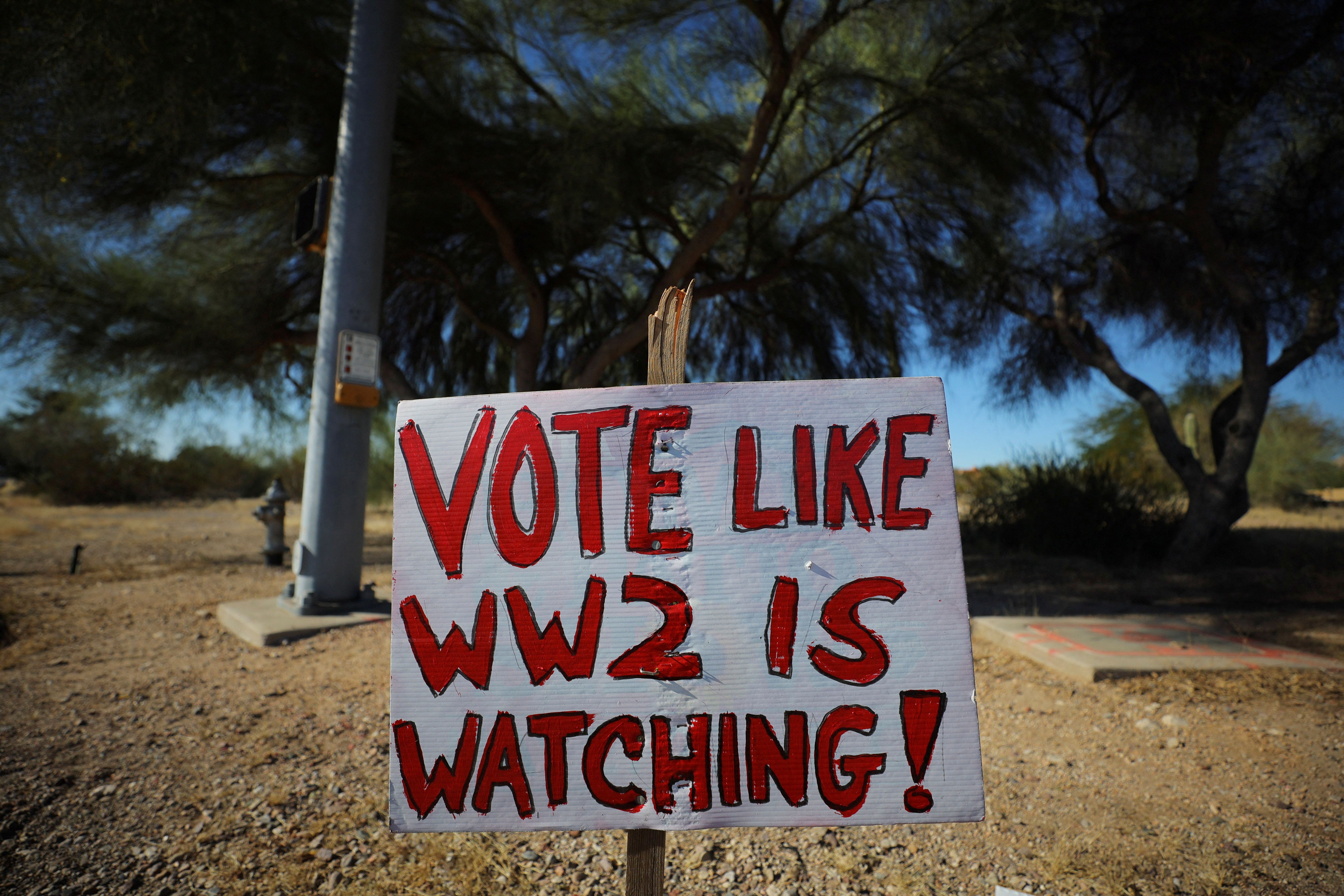 Spotted in Tucson, Ariz.
5. Pelosi: Attack may change plans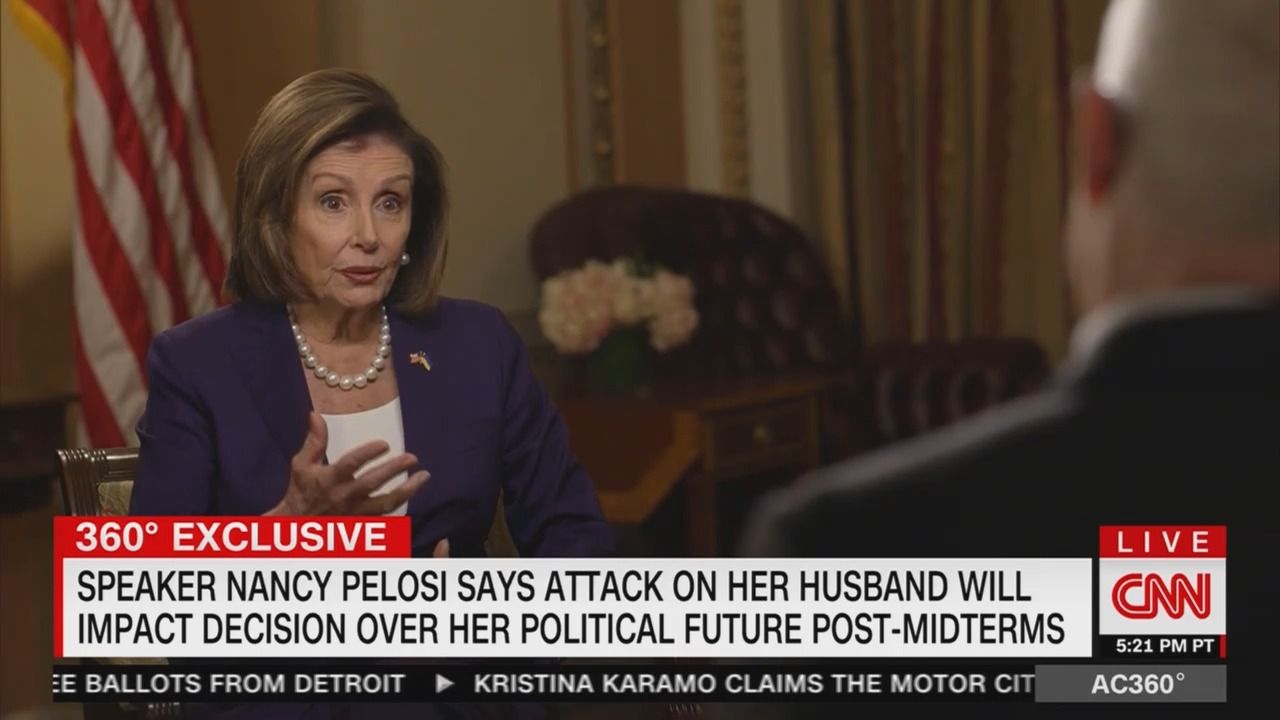 Speaker Nancy Pelosi told CNN's Anderson Cooper last night that her retirement plans "will be affected" by the recent attack on her husband.
Pelosi, 82, has been tight-lipped about her plans and previously declined to rule out running for leadership again, Axios' Shawna Chen writes.
Top congressional officials have told Axios that she is not likely to stay on as minority leader if Democrats lose control of the chamber in the midterm elections.
Younger Democrats — including Reps. Hakeem Jeffries and Adam Schiff — have attempted to position themselves for the top leadership job.
6. 📈 This year's winning sector
The interest rate surge hammered tech stocks this year. But an energy shortage — inflamed by the war in Ukraine — turned oil and gas shares into massive winners, Matt Phillips writes for Axios Markets.
The first week of November was a microcosm of the markets this year, with tech stocks suffering mightily and energy powering ahead.
The big picture: Some are framing the divergence as something of an economic changing of the guard.
7. 📺 How tonight's coverage will be different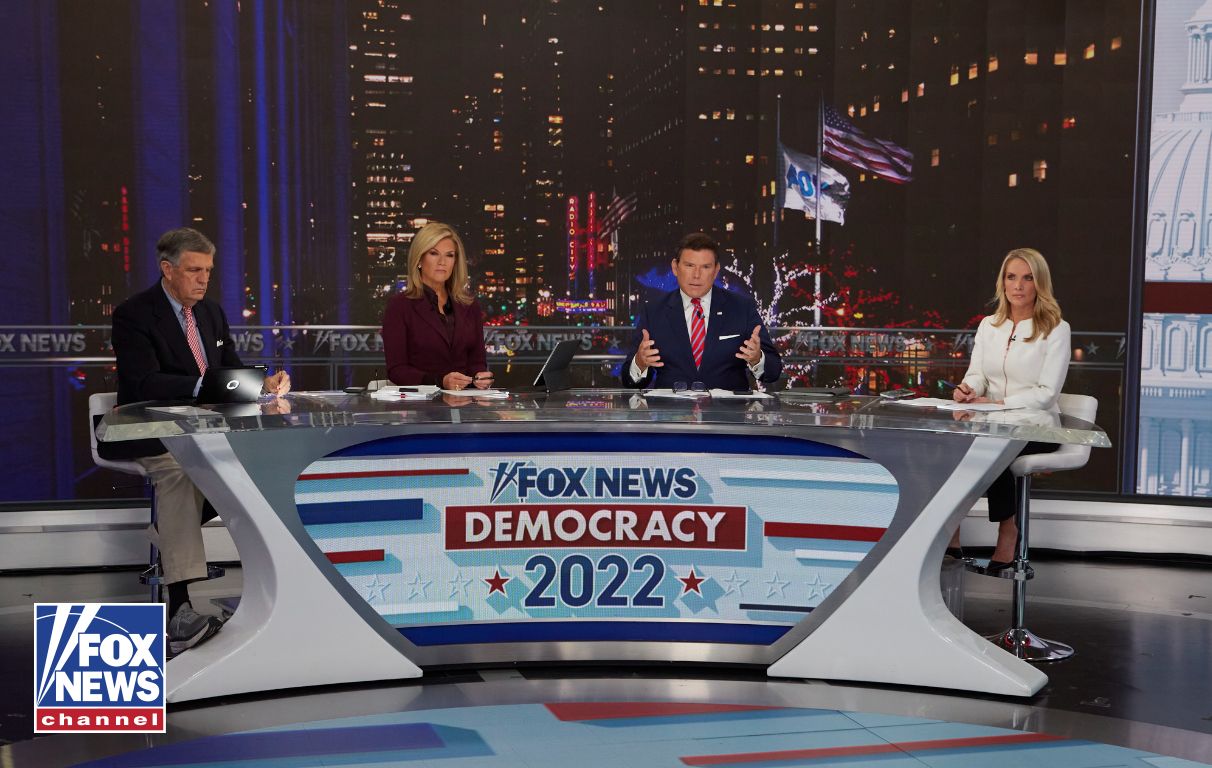 Above: At Fox News headquarters in New York, co-anchors Martha MacCallum and Bret Baier rehearse tonight's coverage (6 p.m. to 1 a.m. ET), flanked by Brit Hume and Dana Perino.
The networks will emphasize their investments in the democracy beat, AP's David Bauder notes:
CBS News will have its first "Democracy Desk," which includes looks at how law enforcement is dealing with threats.
NBC News' "Vote Watch Unit" will cover election security and disinformation.
ABC News will have a "ballot watch" desk to cover election integrity issues, in partnership with the Brennan Center at the NYU School of Law.
News organizations, facing public suspicion and hostility, are trying to be more transparent about their own operations.
8. 🎰 Record powerball delayed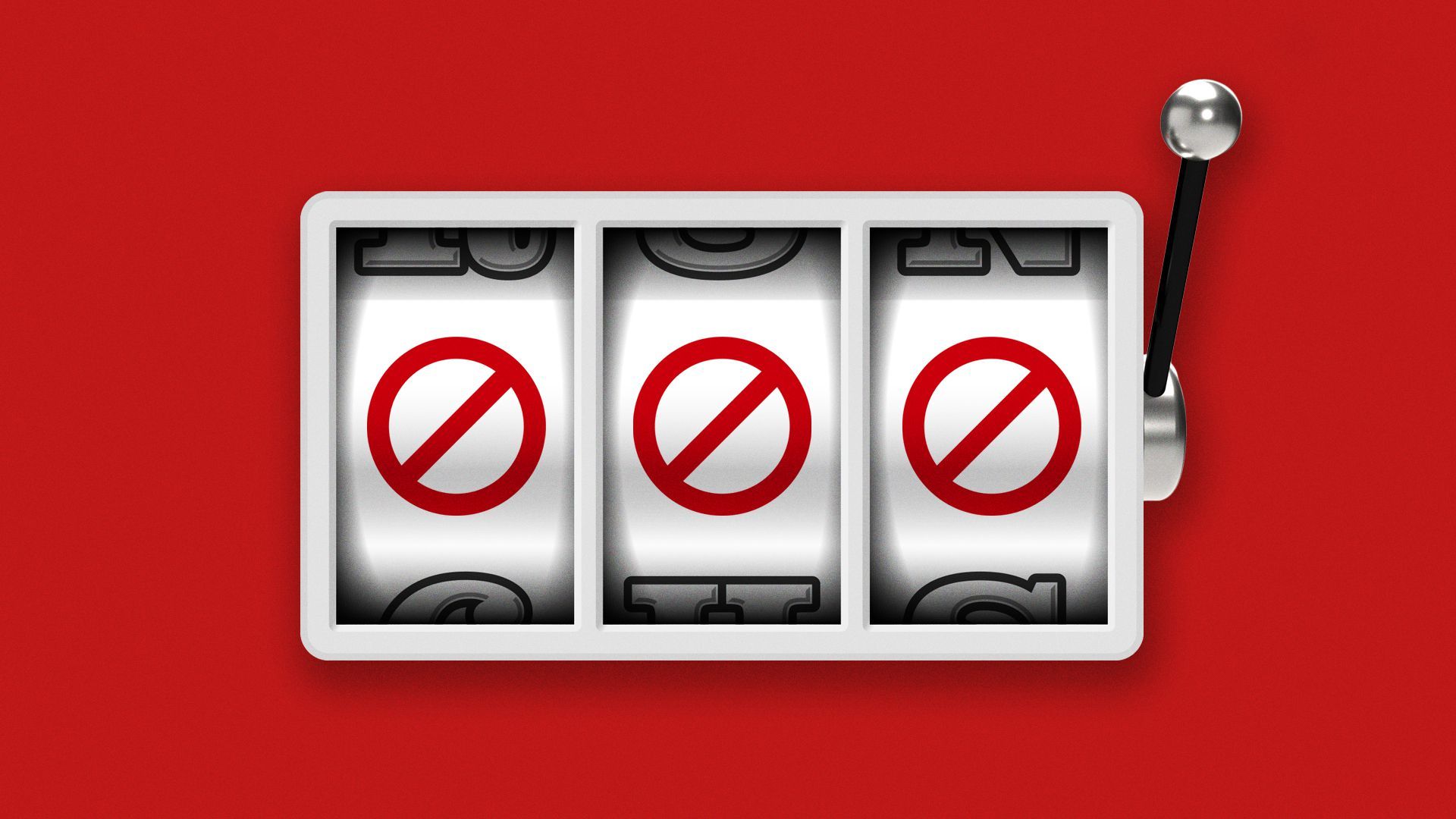 Winning numbers in the $1.9 billion drawing will be announced today after last night's festivities were delayed.
An unnamed state lottery had trouble processing sales. There is no estimated time for the drawing.
📬 Thanks for starting November with us. Please invite your friends to sign up to get their daily essentials — Axios AM, PM and Finish Line.