January 26, 2018
🇨🇭 Good Friday morning from the Swiss Alps. What President Trump will tell the World Economic Forum in Davos at 8 a.m. ET: The speech, an America-first pitch laced with niceties and a bit of bragging, is described to me as "a businessman making a business case for America." The gist: "There's never been a better time to build, invest or hire in America. This is what we've done. We're proud of it. You should come."
1 big thing: Trump ordered Mueller firing
It was after 2 a.m. in Davos — with even hardy partiers gone from Salesforce's wild "Aloha Nightcap" at the Cabanna Club — when White House officials and reporters were hit by one of the biggest bombshells of this presidency so far ...
"President Trump ordered the firing last June of Robert S. Mueller III, the special counsel overseeing the Russia investigation, ... but ultimately backed down after the White House counsel threatened to resign rather than carry out the directive," the N.Y. Times' Michael Schmidt and Maggie Haberman report:
"Mueller learned about the episode in recent months as his investigators interviewed current and former senior White House officials." (Including the counsel who threatened to resign, Don McGahn!)
Key point: "McGahn disagreed with the president's case and told senior White House officials that firing Mr. Mueller would have a catastrophic effect on Mr. Trump's presidency."
"McGahn also told White House officials that Mr. Trump would not follow through on the dismissal on his own. The president then backed off."
"Amid the first wave

of news media reports

that Mr. Mueller was examining a possible obstruction case, the president began to argue that Mr. Mueller had three conflicts of interest that disqualified him."
"First, [Trump] claimed that

a dispute

years ago over fees at Trump National Golf Club in Sterling, Va., had prompted Mr. Mueller, the F.B.I. director at the time, to resign his membership. The president also said Mr. Mueller could not be impartial because he had most recently worked for the law firm that

previously represented the president's son-in-law

, Jared Kushner. Finally, the president said, Mr. Mueller had been interviewed to return as the F.B.I. director the day before he was appointed special counsel in May."
Why it matters: "The White House has denied nearly a dozen times since June that Mr. Trump was considering firing Mr. Mueller."
Be smart ... As we told you Wednesday in our piece about Mueller following Trump like a dark cloud: These actions were taken in office knowing the whole world is watching for a cover-up. It's the ultimate unforced error — and reason many around Trump fear him testifying.
Trump dismisses ... "Fake news. Fake news. Typical New York Times. Fake stories."
P.S. CNN's Groundhog Day headline this morning: "TRUMP TRIP OVERSHADOWED BY CONTROVERSY."
2. The talk of Davos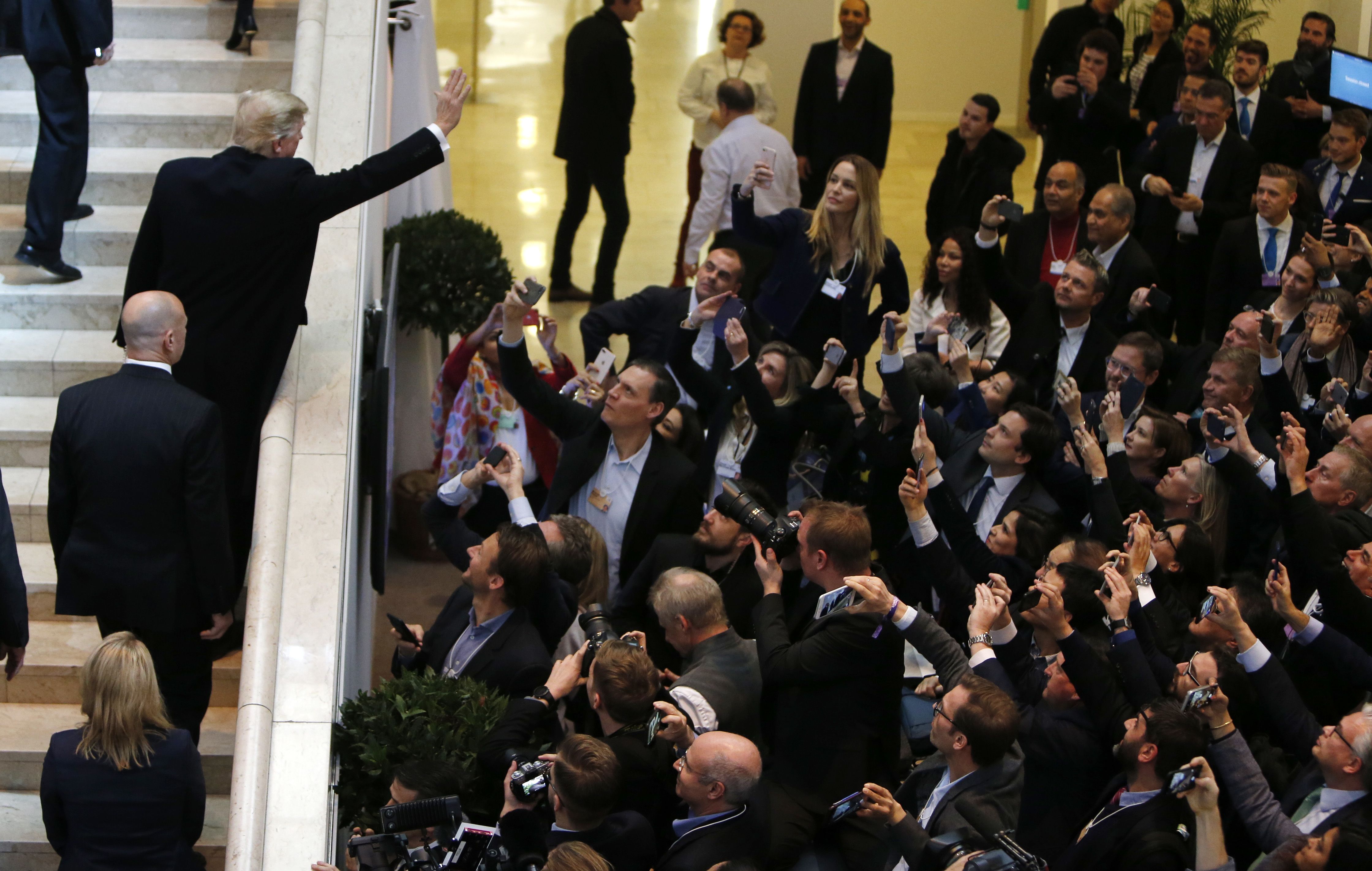 Warming up for this morning's Davos address at 8 a.m. ET, President Trump told CNBC "Squawk Box" co-anchor Joe Kernen yesterday "that he would reconsider [his withdrawal from] the massive Trans-Pacific Partnership trade deal if the United States could strike a 'substantially better' agreement."
"But it's almost certainly too late for the U.S. to negotiate a new deal."
Why it matters: The comment was part of Trump's effort to lower the temperature as he woos the big-business crowd here, where multinational CEOs pack into breakfasts, lunches and dinners.
A World Economic Forum official said no Davos attendee had gotten as much attention since Angelina Jolie, when she made the scene with her then-husband Brad Pitt a dozen years ago.
At a dinner with CEOs and other business leaders, the wealthy and powerful held up their iPhones to take pictures of Trump.
P.S. Trump to CNBC's Joe Kernen: "When I decided to come to Davos, I didn't think in terms of elitist or globalist, I thought in terms of lots people that want to invest lots of money and they're all coming back to the United States, they're coming back to America."
3. Growing danger of great-power conflict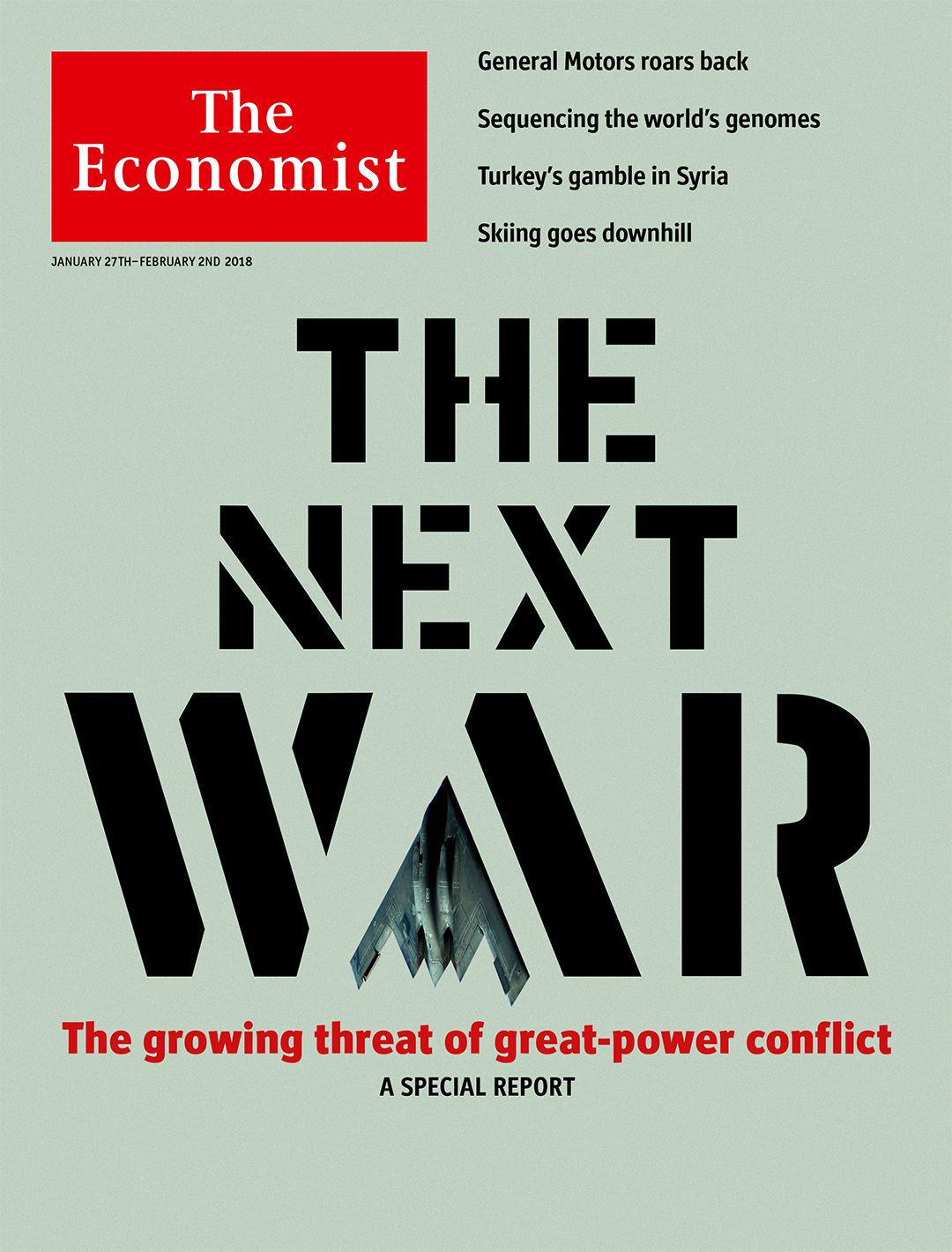 "How shifts in technology and geopolitics are renewing the threat" — Economist cover editorial:
"Even if China stays out of a second Korean war, both it and Russia are entering into a renewal of great-power competition with the West."
"China and Russia have harnessed military technologies invented by America, such as long-range precision-strike and electromagnetic-spectrum warfare, to raise the cost of intervention against them dramatically."
Why it matters: "If America allows China and Russia to establish regional hegemonies, either consciously or because its politics are too dysfunctional to muster a response, it will have given them a green light to pursue their interests by brute force. When that was last tried, the result was the first world war."
Bonus: Pics du jour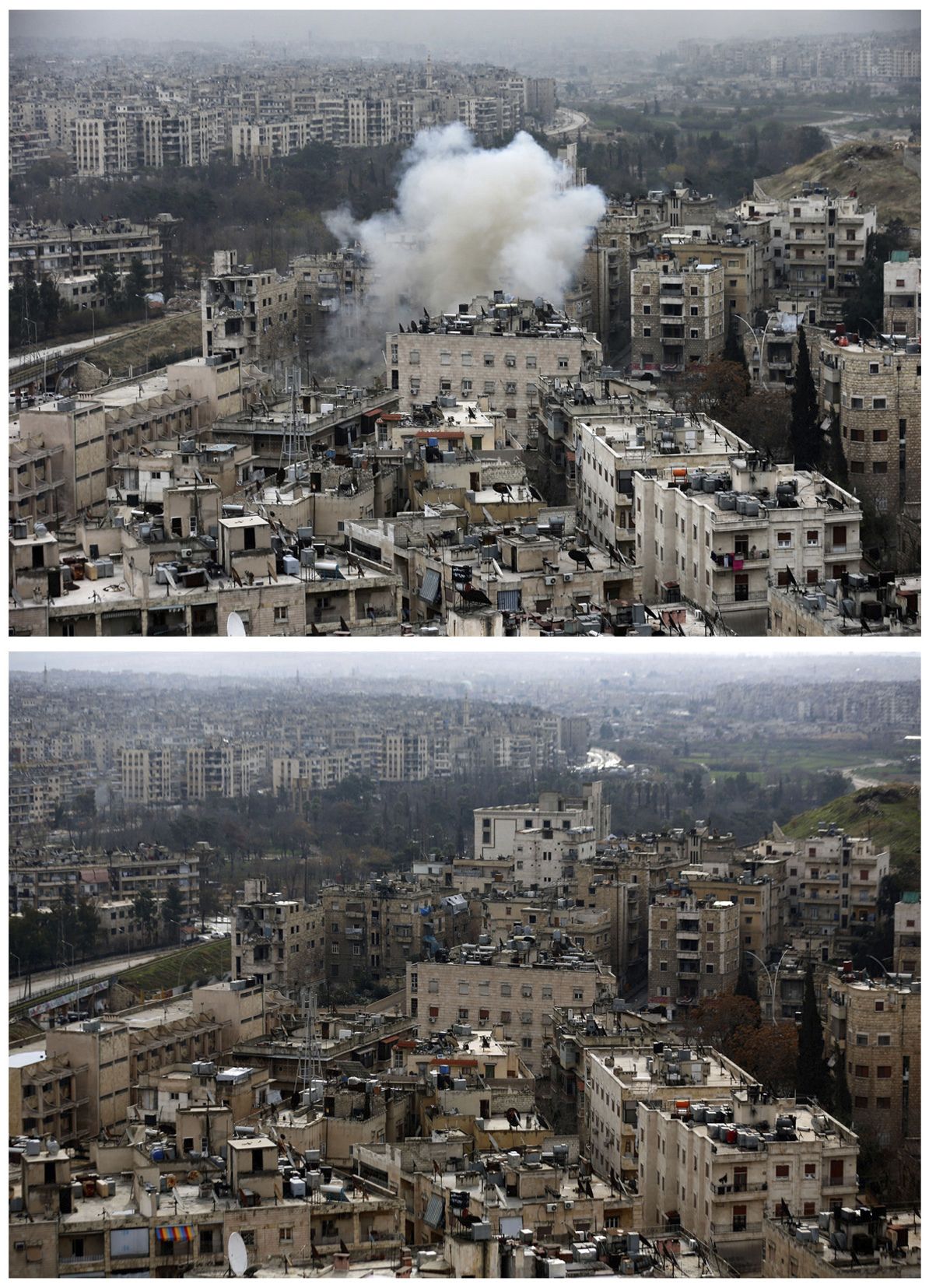 Aleppo, Syria, one year later ... The top photo — Dec. 5, 2016 — shows smoke rising after rebel fighters launch a mortar shell on residential neighborhood in west Aleppo.
At bottom, the same spot is shown six days ago.
Thirteen months after government forces captured eastern rebel-held neighborhoods of Aleppo, life in the city has improved drastically with more security and more supplies of water and electricity.
4. Trump immigration plan DOA
Axios' Jonathan Swan emails this take on the White House framework on immigration reform that leaked yesterday, then was released:
"It's dead on arrival."
"Have spoken to progressive immigration leaders in close touch with top Democrats. Stephen Miller is dangling out a DACA amnesty — which sounds very generous to the uninitiated."
"But the price is way too high for Democrats. The wall funding is way, way too high at $25 billion. Closer to $10 billion is more realistic."
"The larger problems are the increase of ICE agents, faster deportations, stronger interior enforcement and the massive cuts to legal immigration by eliminating extended family migration."
"Two progressive immigration leaders who've analyzed the proposal believe it could lead to reductions of 40-50% in legal immigration — the biggest reductions since the 1920s."
5. GOP more confident about U.S. v. world
Americans are more confident in the United States' ability to compete with other countries, according to a new Axios/SurveyMonkey poll. The change is mainly because Republicans are more confident than they were in 2011.
6. Ominous hand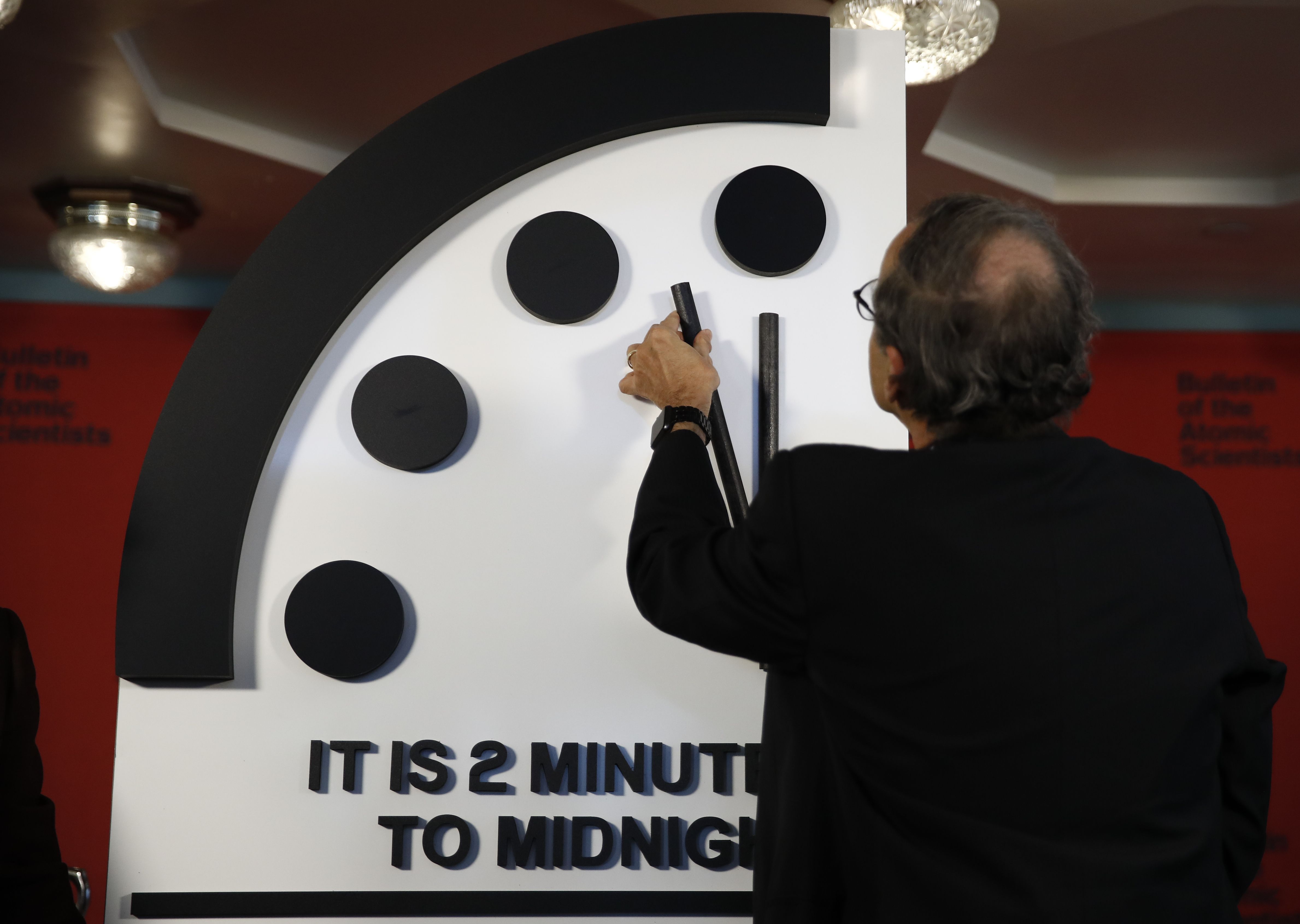 Robert Rosner, chairman of the Bulletin of the Atomic Scientists, moves the minute hand of the Doomsday Clock to two minutes to midnight yesterday.
7. The state of the space race
8. Why wasn't sex criminal stopped?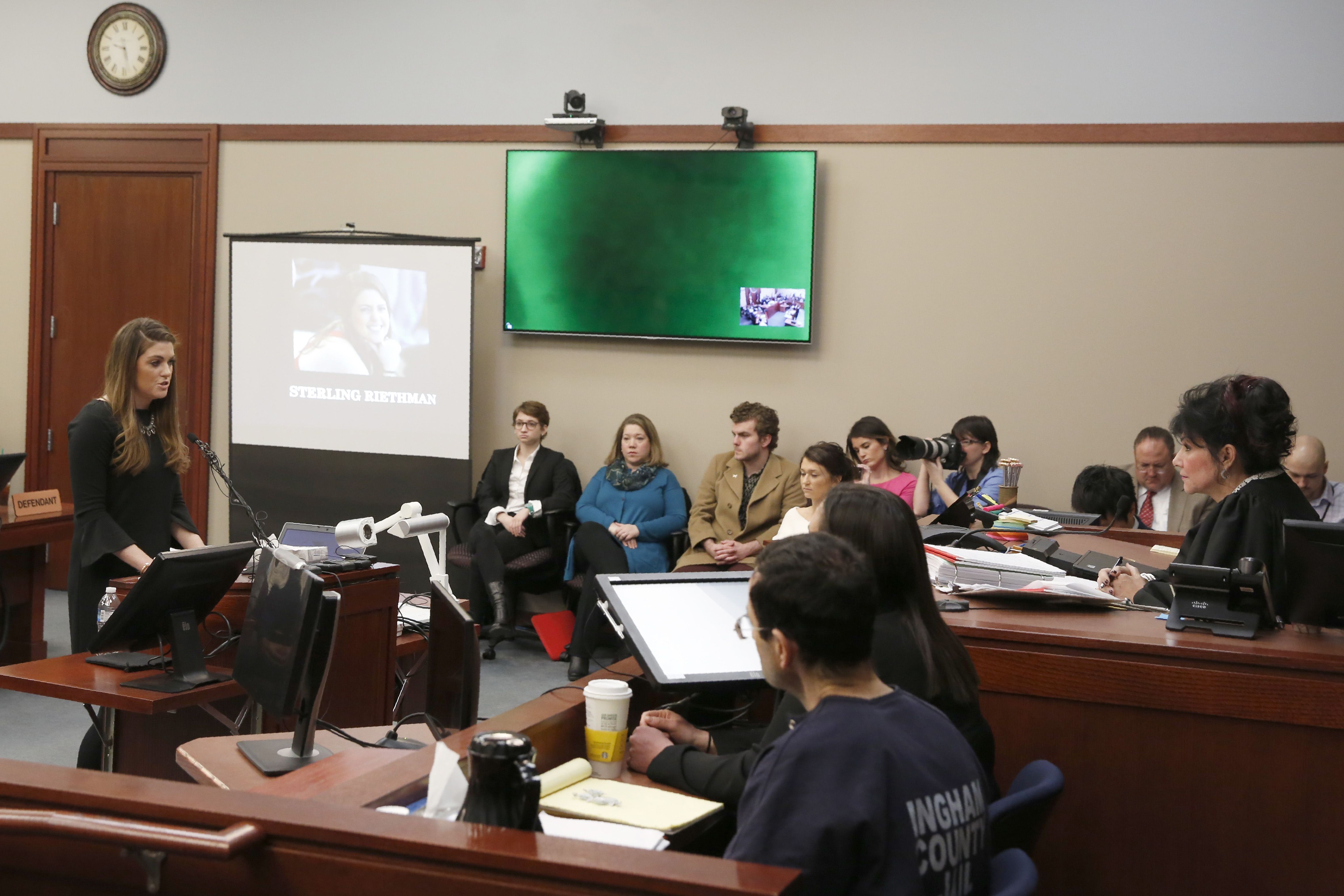 "Some liken Michigan State to Penn State amid abuse scandal," AP reports from Lansing:
"Sports doctor Larry Nassar [a 54-year-old former member of Michigan State's sports medicine staff] is on his way to prison for the rest of his life for molesting scores of young female athletes."
"But the scandal is far from over at Michigan State University as victims, lawmakers and a judge demand to know why he wasn't stopped years ago."
"Some are likening Michigan State to Penn State University, where three senior officials, including the school's president, were sentenced to jail last year for failing to tell authorities about a sexual abuse allegation involving coach Jerry Sandusky."
9. Hollywood, 2018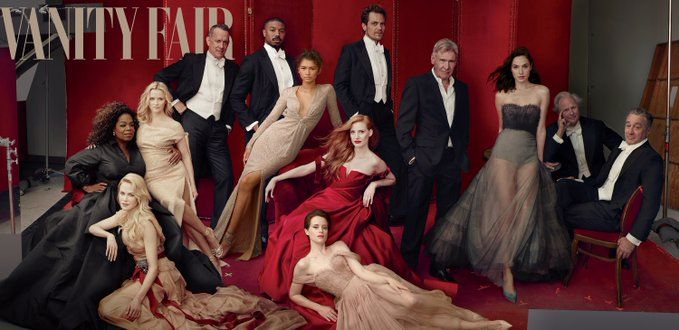 Vanity Fair's 24th annual Hollywood Issue ...
"The films and TV shows represented by the actors in this year's Hollywood Portfolio ... took the #MeToo movement in stride, offering strong women in leading roles."
"Here we have Reese Witherspoon and Nicole Kidman summoning the women's battle cry of Big Little Lies alongside Tom Hanks as Ben Bradlee, the indispensable sidekick to The Post heroine Katharine Graham."
"There's also Claire Foy and Gal Gadot, embodiments of their formidable characters, the Queen and Wonder Woman." Plus Oprah ...
10. 1 Grammy thing
The music industry may be close to an agreement on how to pay musicians fairly for their work — just in time for Sunday's Grammys, Axios' Sara Fischer writes:
Members of Congress will hold a hearing today in New York City to discuss a bipartisan bill to rewrite music licensing and copyright laws, featuring testimony from celebrity artists like Aloe Blacc and Booker T. Jones.
Why it matters: For the first time in over a decade, an overhaul of the copyright laws — and a chance to put more money in artists' pockets — has a chance to pass in Congress, due to support from across the industry.