June 25, 2020
🚨 N.Y. Times/Siena swing-state polls out this morning show a slaughter:
Joe Biden beats President Trump by 11 points in Michigan ... 11 points in Wisconsin ... 10 points in Pennsylvania ... 9 points in N.C. ... 7 points in Arizona ... 6 points in Florida.
Why it matters: Trump won all six of those states in 2016.
Thank you for your outpouring of support for No Kid Hungry.
Lots of you are kind to offer to pay for AM. It'll always be free, 365 days a year. But supporting No Kid Hungry, a summertime godsend to our future leaders who depend on school meals, is a way to thank me. You may help here.
1 big thing: The shape of recovery
It's not a U. It's not an L. And it's definitely not an I.
America's economic recovery has started. In economists' shorthand, it'll be a V (a sharp rebound), a W (a nasty double-dip) — or, most likely, something in between, Axios chief financial correspondent Felix Salmon writes.
The consensus among economists is now that we'll see a "reverse radical" recovery. Think of a backwards square-root sign, where there's a sharp drop, a relatively small bounce back, and then a long period of subpar growth.
Why it matters: The shape of the recovery will directly affect the future of millions of unemployed Americans.
It'll also determine whether small business owners, in particular, will be able to restart their entrepreneurial careers.
The best-case scenario is a V. White House economic adviser Larry Kudlow, for one, is sure the economic recovery will last: "I think we're off to the races in what will be a very strong V-shaped recovery," he said this week.
The worst-case scenario would be a W. Federal Reserve vice chair Randal Quarles is telling banks to prepare for "a W-shaped double dip recession."
Reality check: Many major industries, from live entertainment to air travel and even in-person shopping, remain in dire condition.
International trade is looking very weak. Borders went up quickly once the virus hit, and will go down much more slowly.
State and local governments seem certain to lay off millions more workers in coming months, given the unprecedented magnitude of budget crunches.
The bottom line: "We don't have a word for being in a depressed economy that's growing," says Heidi Shierholz, senior economist at the Economic Policy Institute.
2. Our famous map: The surge is real, and it's everywhere
The pandemic is getting dramatically worse in almost every corner of the U.S., Axios health care editor Sam Baker and visual journalist Andrew Witherspoon report.
⚡ This is the grimmest map in the eight weeks since Axios began tracking the state-by-state change in new cases.
The big picture: The U.S. today is getting closer to the worst-case scenario envisioned in the spring — a nationwide crisis, made worse by a vacuum of political leadership, threatening to overwhelm hospitals.
Nationwide, cases are up 30% compared to the beginning of this month.
Dramatically worsening outbreaks in several states are beginning to strain hospital capacity — the same concern that prompted the nationwide lockdown in the first place.
Over half the country — 26 states — has seen its coronavirus caseloads increase over the past week.
New cases are up 77% in Arizona, 75% in Michigan, 70% in Texas and 66% in Florida.
California, which has seen steady increases for weeks, recorded a 47% jump in new infections over the past week.
These steep increases come after weeks of steadily climbing cases or back-and-forth results across the South, Midwest and West Coast.
Only the New York region and parts of New England — the earliest hotspots — have consistently managed to get their caseloads down in May and June.
🥊 Increased testing doesn't explain away these numbers. Other data points show that we're seeing a worsening outbreak, not simply getting better data.
Seven states, including Arizona, have set records for the number of people hospitalized with coronavirus.
3. Scoop: Inside Dems' convention plan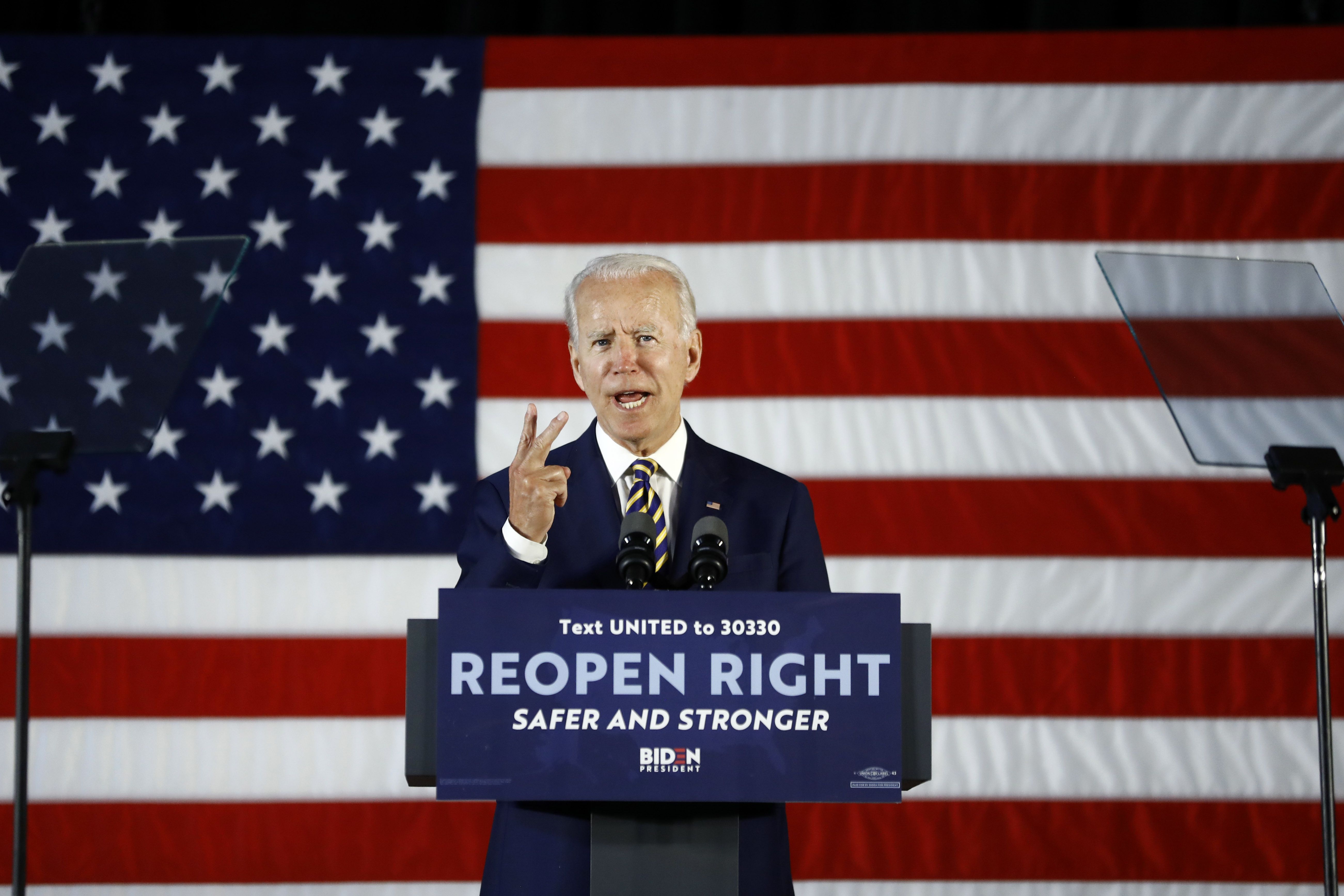 Democrats are trying to make a virtue of necessity by modernizing the rusty convention format for a mostly virtual gathering in Milwaukee in August, with up to 1,000 people in real life but extensive use of videos and remotes.
The Democratic National Convention Committee announced that the "Convention Across America" will be "anchored in Milwaukee," moved from the arena where the Bucks play to a smaller convention center downtown.
"[S]tate delegations should not plan to travel to Milwaukee and should plan to conduct their official convention business remotely," the DNCC said.
I've learned more details about what's planned:
The program will be shorter — 8 to 11 p.m. ET over four nights, instead of starting at the traditional 4 or 5 p.m.
There'll be fewer speeches, with a mix of live and taped segments from around the country.
The emphasis will be on storytelling — what President Trump has done vs. what America could be under Joe Biden.
It'll be billed as a convention for all Americans, with outreach to people who supported Bernie Sanders — and Trump 2016 voters who regret it.
Between the lines: Both parties are playing up the optical contrast between their conventions, with Trump trying to send a comeback message via a massive gathering (now in Jacksonville) with pre-pandemic exuberance.
So the conventions — held back-to-back in the third and fourth weeks of August, with Dems first — will be constraint vs. bravado, a proxy for Trump vs. Biden.
4. Pics du jour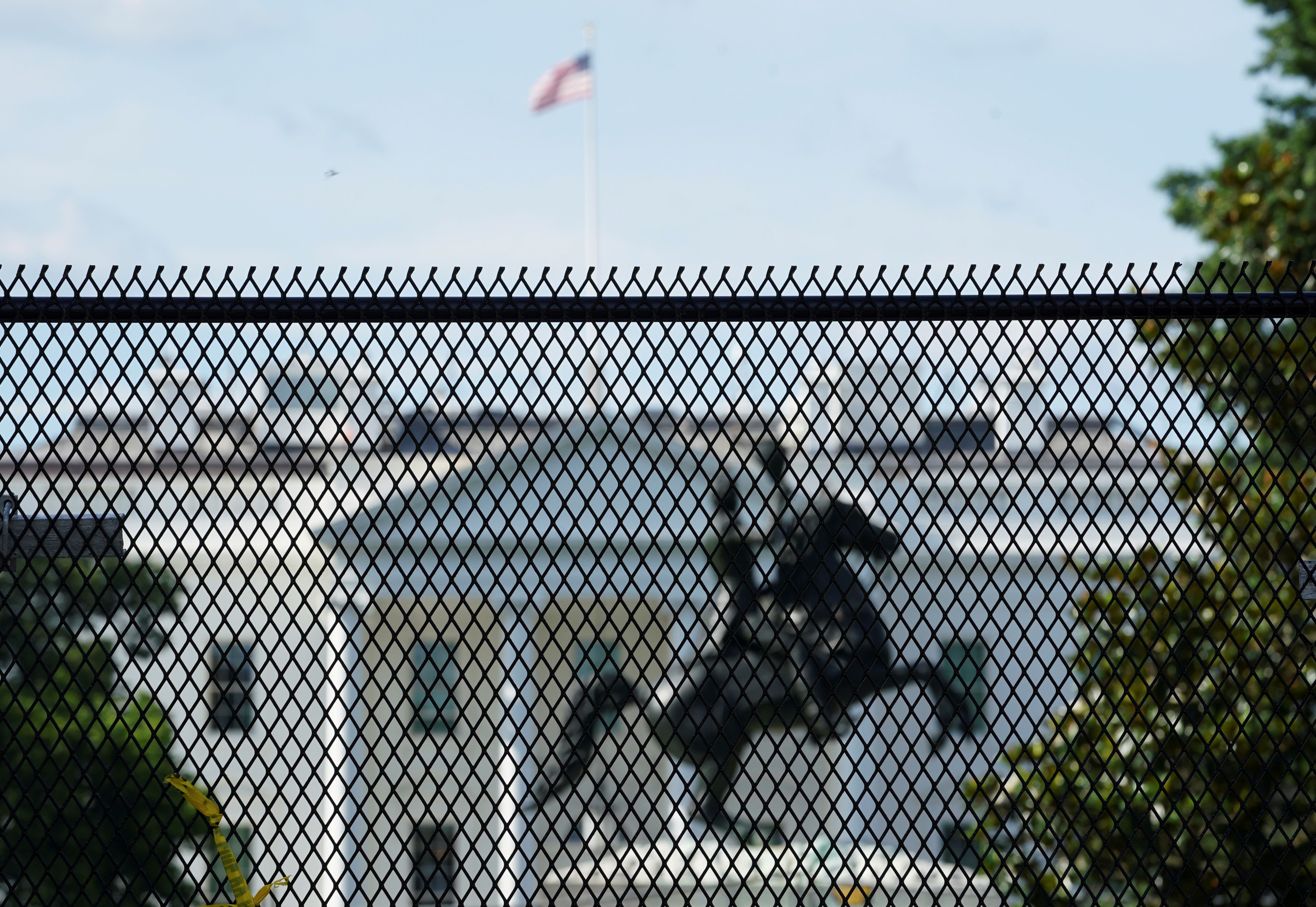 A statue of President Andrew Jackson in Lafayette Square is behind a high fence reinforcing a security perimeter after protesters tried to tear it down this week.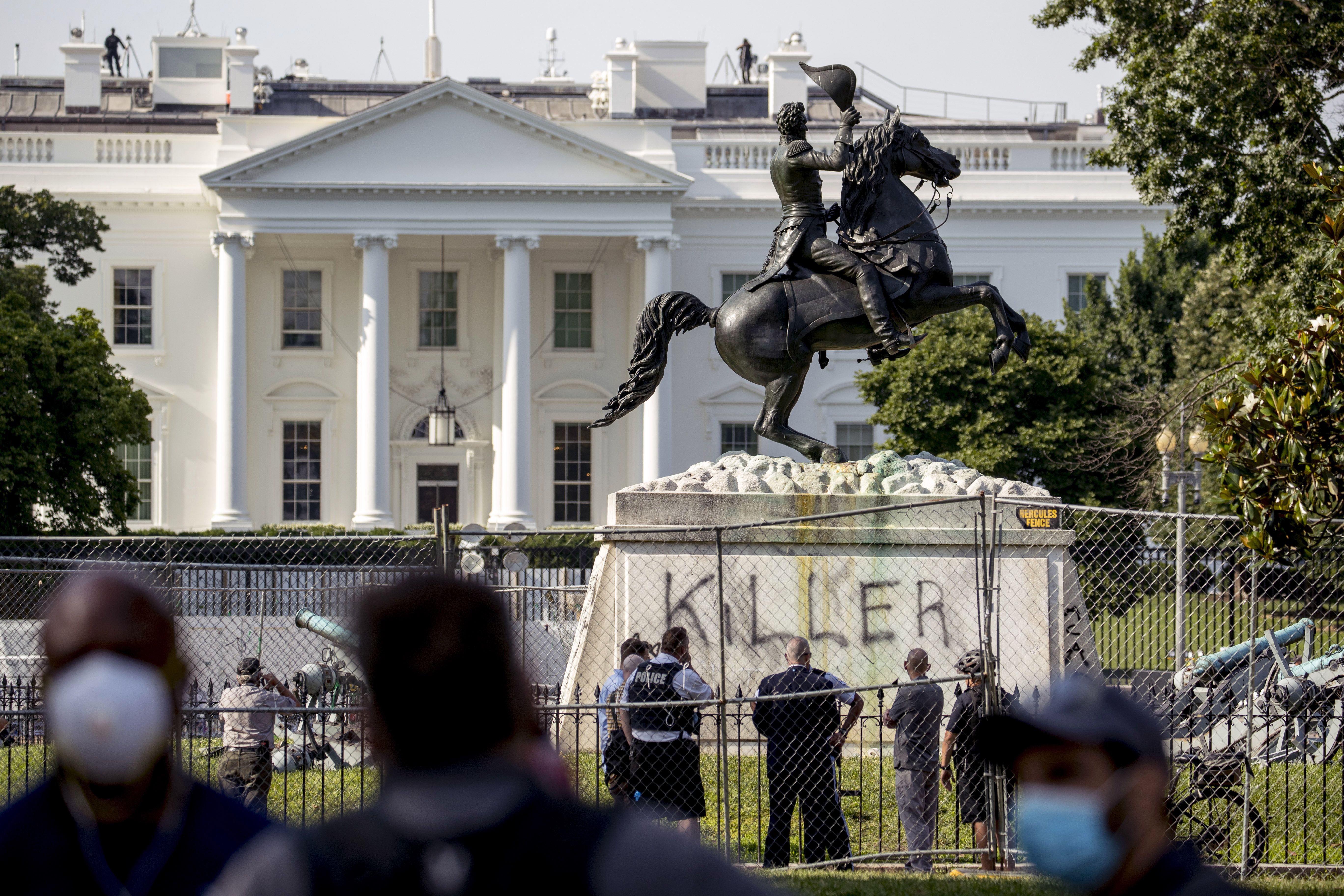 5. 💻 Why Axios now capitalizes Black: "It conveys respect"
Part of Axios' ongoing conversation about inclusion is how we use language. This week, we began capitalizing Black when referring to people or communities who identify as Black.
Axios standards editor Eileen Drage O'Reilly explains the change:
There's a growing desire within Black communities to reflect Black culture, and acknowledge the fact that not all who identify as Black are from Africa or have descended from people from Africa.
We've also adopted AP's recommendation to uppercase Indigenous when referring to people who were the original inhabitants of a place.
Our change is based partly on guidance from AP, which adopted the capitalization as its official style last week, and the National Association of Black Journalists. 
AP's John Daniszewski, vice president for standards, wrote that the change conveys "an essential and shared sense of history, identity and community among people who identify as Black, including those in the African diaspora and within Africa. The lowercase black is a color, not a person."
🎧 Axios executive editor Sara Kehaulani Goo told host Niala Boodhoo on our new podcast, "Axios Today":
"I'm Native Hawaiian. I'm Asian American ... Those are capitalized. So's Hispanic. So's Latino."
"So at some point, you realize that we're not consistent in how we refer to different communities of people and their identities. It conveys respect, and I think that's why it matters."
What's next: AP said it expects to decide within a month whether to capitalize "white."
Among the considerations: what the change might mean outside the U.S.
📱 I'd love your views on this or anything! Just hit "reply" on this email, or drop me a line at [email protected].
6. Stat du jour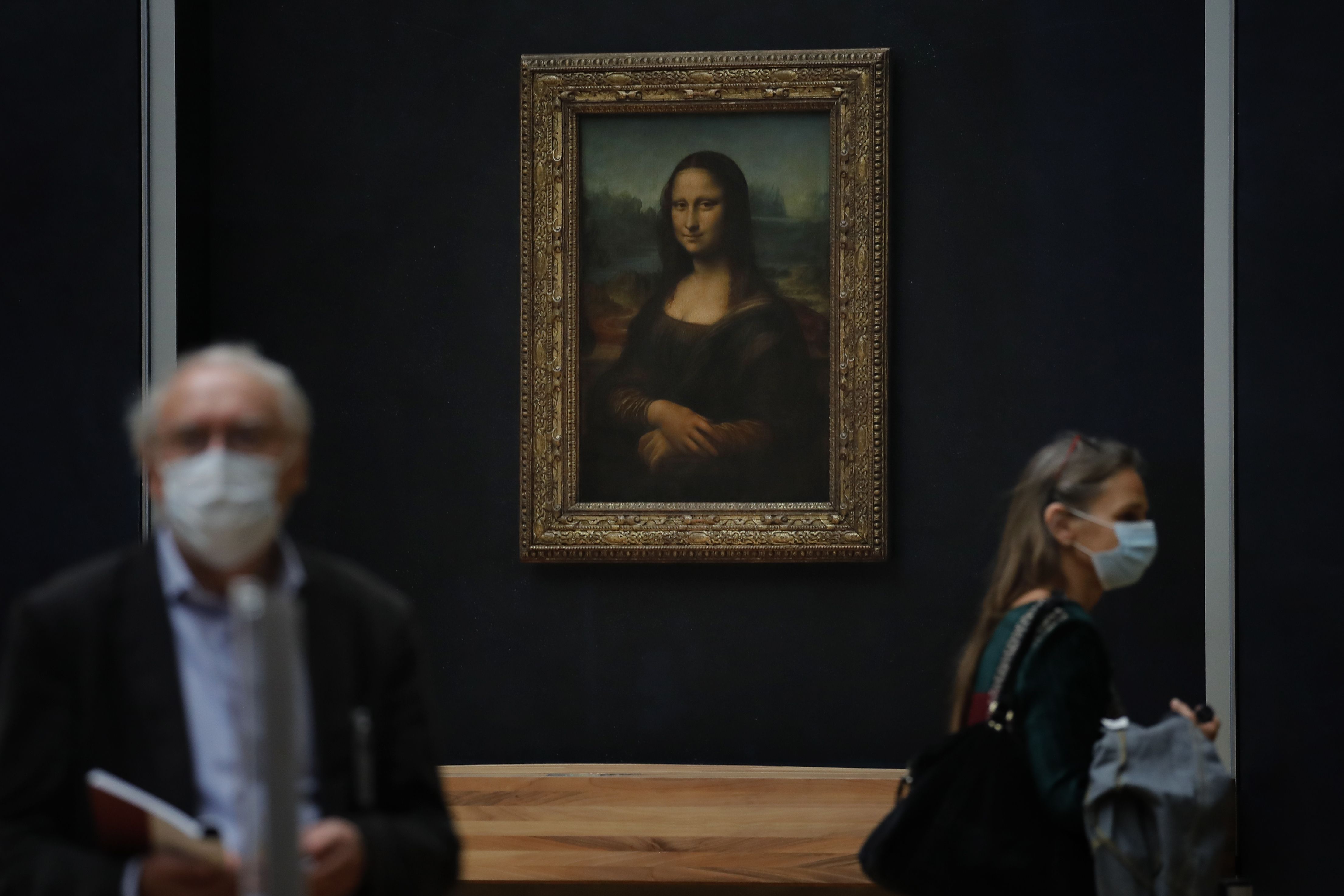 54 seconds.
That's the length of time an average visitor spends gazing at Leonardo da Vinci's Mona Lisa, according to the Louvre, which reopens July 6. Details.
7. Facebook admits "trust deficit"
What started out as a few whispers about advertisers pulling Facebook ads has turned into a growing boycott of the social network over its content moderation policies, Axios' Sara Fischer writes.
In a call with over 200 advertisers Tuesday, Facebook's head of trust and safety policy Neil Potts acknowledged that the company suffered from a "trust deficit," the Financial Times reports (subscription).
The bottom line: Most politicians and marketers benefit too much from Facebook advertising to give it up long-term.
8. King James: "We want to be able to hit home"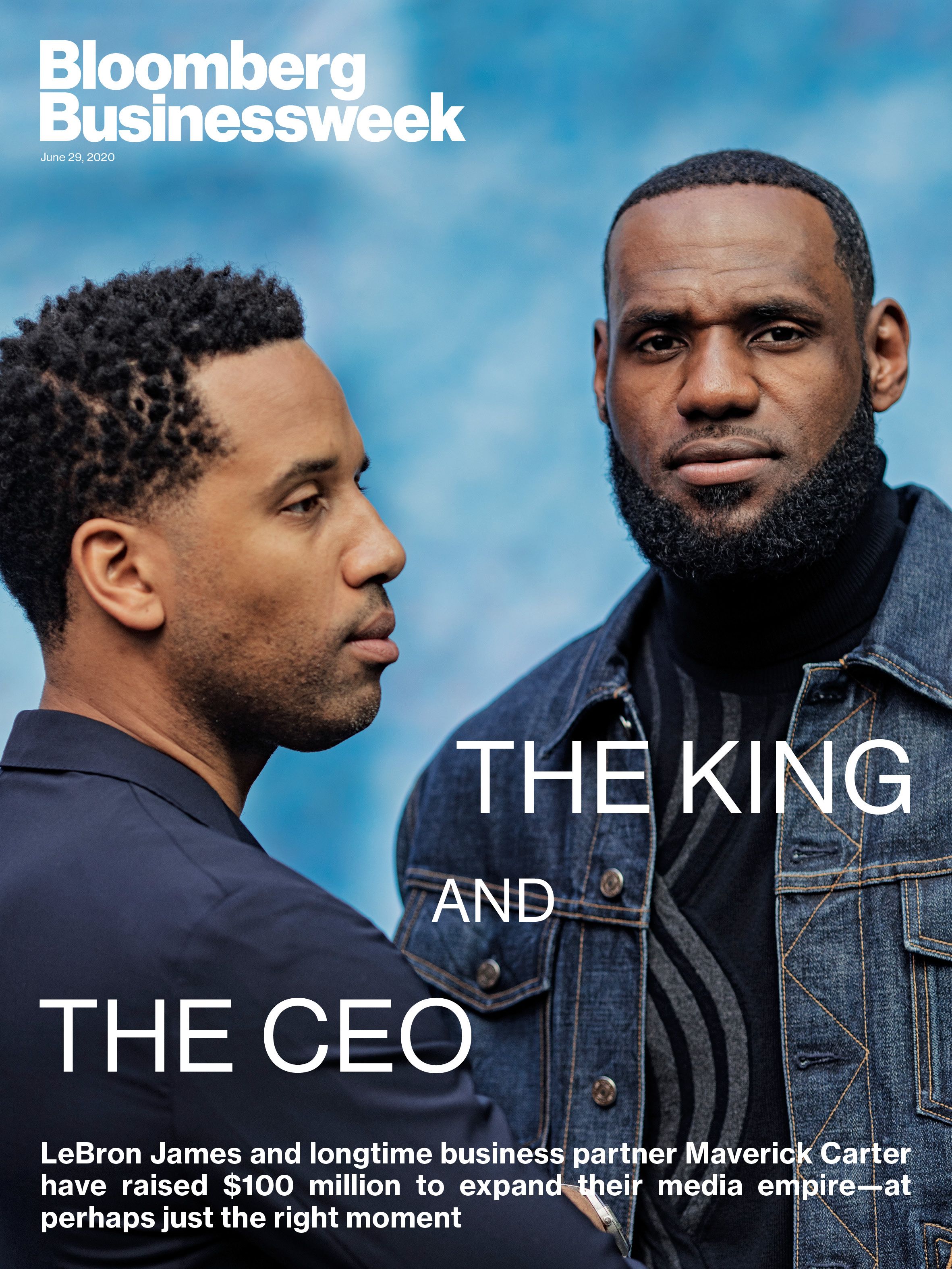 LeBron James has formed a new media company, SpringHill Co., billed as a platform to give people of color the creative control that's long eluded them.
The Lakers legend tells Bloomberg Businessweek:
I'm OK having that pressure of my community and other Black communities across America that look up to me and look to me for inspiration or for guidance. ...
It's just my responsibility, and I completely understand that. And so every day I leave my home, or I wake up out of my bed, I understand that it's not just about me. I'm representing so many people.
9. Exclusive: College students want Zoom discount
More than 90% of college students say they should pay less in tuition if schools are only offering online classes, Axios' Kim Hart writes from a College Pulse survey of 5,000 full-time undergraduate college students across 215 universities.
Why it matters: Higher education institutions across the country are planning to rely heavily on remote learning this fall.
The bottom line: Students and parents paying tuition bills have extra leverage right now as they weigh what schools are worth paying for, or if it's even worth returning to college at all until the pandemic is under control.
Sign up for Kim Hart's weekly newsletter, Axios Cities.
10. 1 smile to go: Mascot reprieve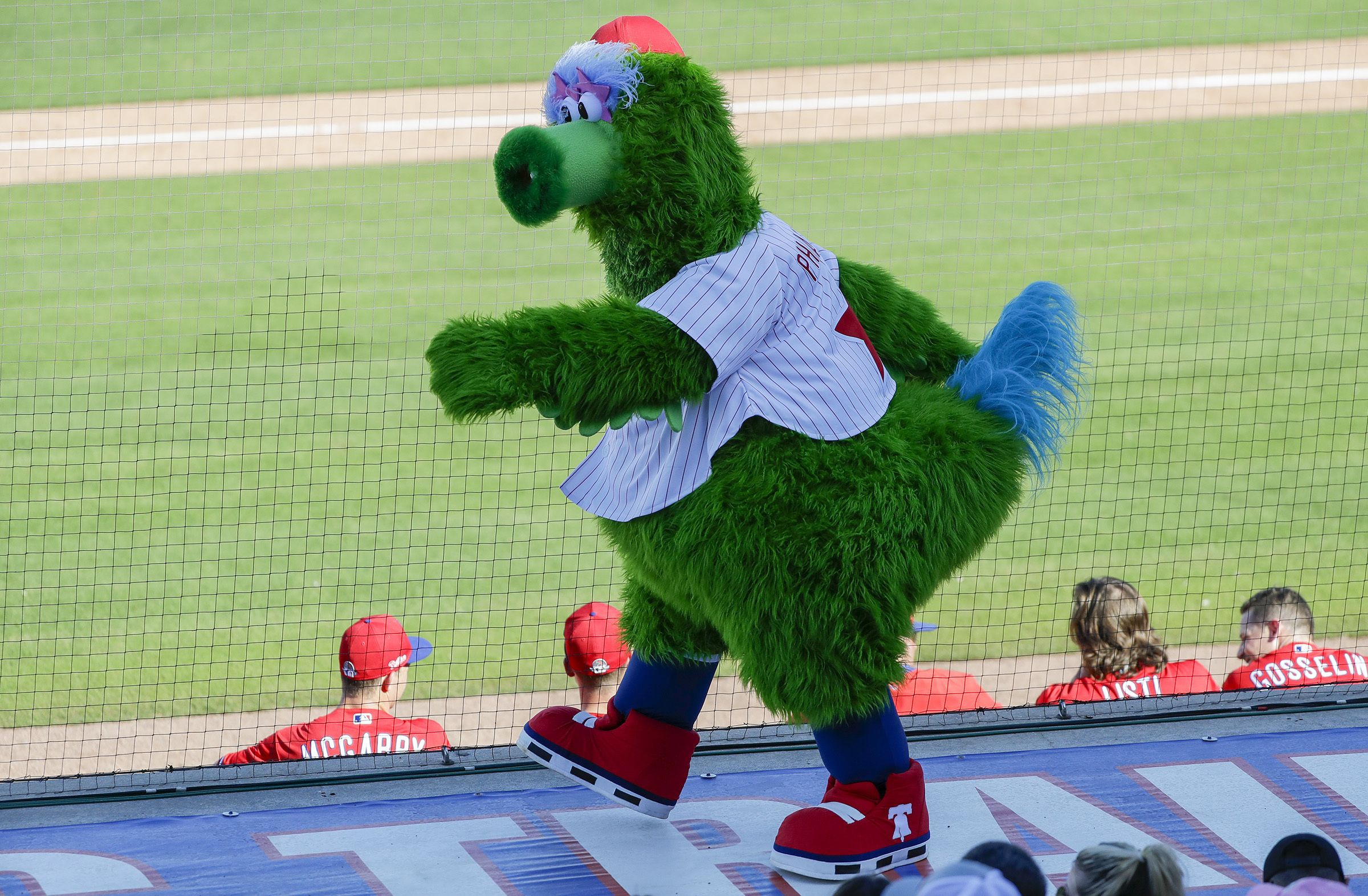 Phillie Phanatic, phenomenal. Mr. Met and Mariner Moose, marvelous. Wally the Green Monster, welcome back.
Mascots are getting a reprieve from Major League Baseball, AP's Ben Walker writes.
A month after being tossed out of stadiums because of health concerns, an updated MLB manual this week reversed the ban on Bernie Brewer, the Pirate Parrot, Dinger, Fredbird and friends.
So watch for socially distanced racing sausages and presidents.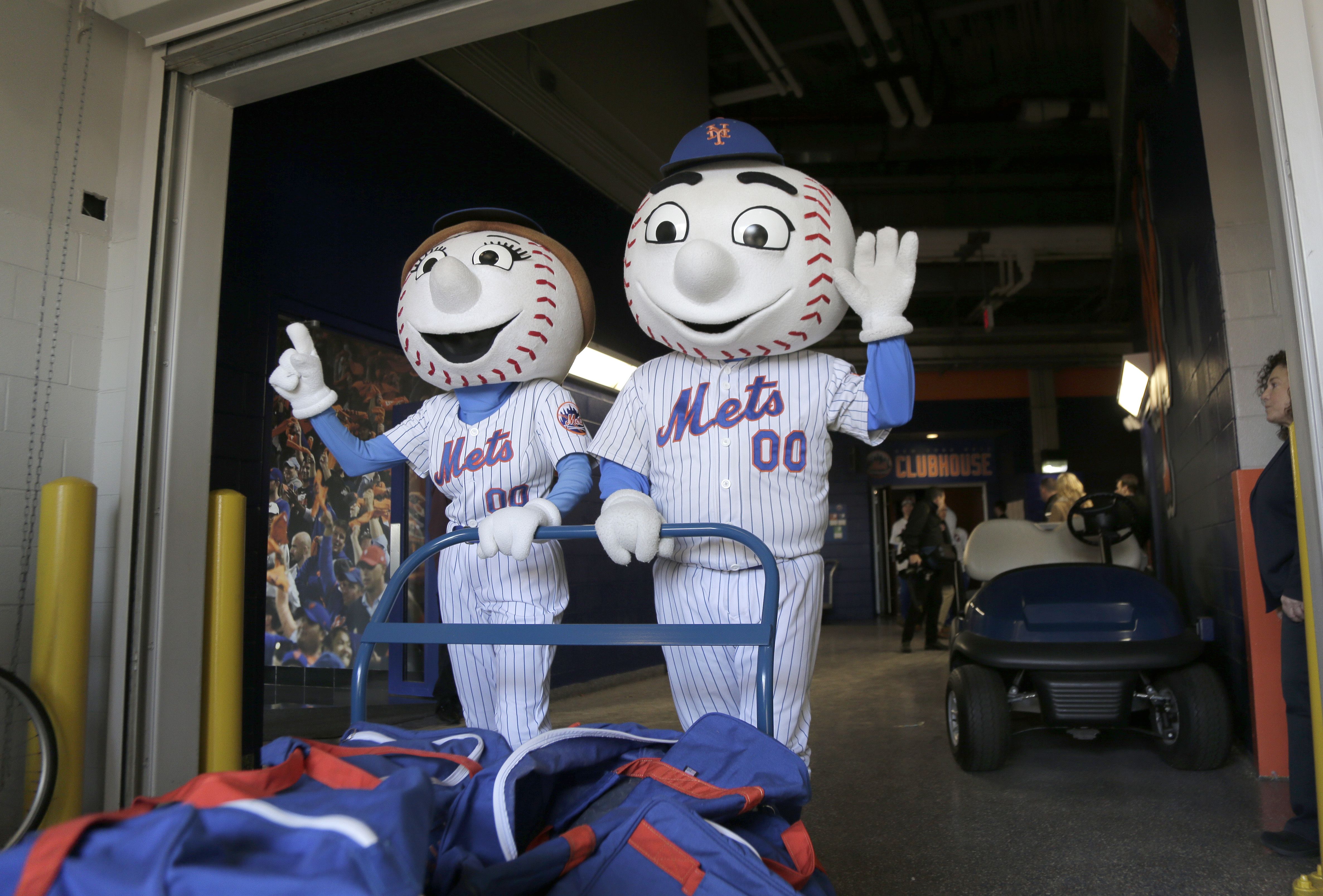 📱 Thanks for reading Axios AM. Please invite your friends to sign up here.