Good Sunday morning. Situational awareness: "Russians voted in a presidential election on Sunday set to give Vladimir Putin a runaway victory [for a fourth term], the only possible blemish for the Kremlin being if large numbers of voters do not bother taking part because the result is so predictable," per Reuters.
AP says first results are expected after the last polls close — at 2 p.m. EDT, in Kalingrad. Coverage begins in late afternoon from the HQs of Putin, Civil Initiative candidate Ksenia Sobchak and Communist Party candidate Pavel Grudinin.
Bulletin ... AP: "Britain's foreign minister said Sunday that he has evidence Russia has been stockpiling a nerve agent in violation of international law 'very likely for the purposes of assassination.'"
https://www.axios.com/newsletters/axios-am-03e57469-03af-4139-acb2-83d36ed32ad4.html?chunk=0#story0
1 big thing: What McCabe told Mueller
Andrew McCabe says President Trump asked him: "What was it like when your wife lost? ... So tell me, what was it like to lose?"
McCabe — the former FBI deputy director who was fired Friday night, 26 hours short of being eligible for a full pension — says that in three or four interactions, President Trump was disparaging each time of his wife, Dr. Jill McCabe, a failed Virginia state Senate candidate in 2015.
John Dowd, a Trump lawyer, told me: "I am told that the P never made that statement according to two others who were present."
Axios has learned that McCabe has met with special counsel Robert Mueller, and has turned over Comey-style memos documenting his conversations with Trump.
The memos include corroboration by McCabe of former FBI Director James Comey's account of his own firing by Trump.
The McCabe memos are helping fuel a possible constitutional crisis, with the White House turning up the heat on Mueller as Trump's exposure increases:
Dowd, the Trump lawyer, said in a statement first reported by The Daily Beast: "I pray that Acting [in this case] Attorney General Rosenstein will follow the brilliant and courageous example of the FBI Office of Professional Responsibility and Attorney General Jeff Sessions and bring an end to alleged Russia Collusion investigation manufactured by McCabe's boss James Comey based upon a fraudulent and corrupt Dossier."
Dowd added in an email to me: "Just end it on the merits in light of recent revelations."
Dowd tells me Trump called him after seeing reports about the statement: "He thought it was all right. He didn't have any problem."
Dowd told me in a phone conversation: "It's nothing against Bob [Mueller] — I get along with Bob very well. ... Bob knows my view that there's nothing there. ... On St. Patrick's Day, can't an old Marine make a prayer? No big deal."
In his email to The Daily Beast's Betsy Woodruff, Dowd wrote, in what she called "an annotated version of a line from a well-known 20th-century play": " What's that smell in this room[Bureau}? Didn't you notice it, Brick [Jim]? Didn't you notice a powerful and obnoxious odor of mendacity in this room[Bureau}?... There ain't nothin' more powerful than the odor of mendacity[corruption]... You can smell it. It smells like death. Tennessee Williams- Cat on a Hot Tin Roof."
Trump v. Comey ... Both sides are getting personal:
President Trump, this morning: "Wow, watch Comey lie under oath to Senator G when asked 'have you ever been an anonymous source...or known someone else to be an anonymous source...?' He said strongly 'never, no.' He lied as shown clearly on @foxandfriends."
Trump earlier: "Andrew McCabe FIRED, a great day for the hard working men and women of the FBI - A great day for Democracy. Sanctimonious James Comey was his boss and made McCabe look like a choirboy. He knew all about the lies and corruption going on at the highest levels of the FBI!"
James Comey, whose book, "A Higher Loyalty," is out in 30 days: "Mr. President, the American people will hear my story very soon. And they can judge for themselves who is honorable and who is not."
Be smart, from Jonathan Swan: On this issue, Trump is dug in and angry. He views the leadership of the FBI as arrayed against him. And that red line he drew in the interview with the N.Y. Times last year — where he said he wouldn't stand for Mueller prying into his family finances — still stands. 
One crucial variable in all this is Fox News. Trump feeds off the moods of his favorite hosts. If Sean Hannity and Judge Jeanine Pirro turn it up a notch, saying the deep state is out to get him and Mueller is out of control, there's no telling what Trump will do.
Breaking ... Sen. Marco Rubio (R-Fla.) tells Chuck Todd on NBC's "Meet the Press" that McCabe "should've been allowed to finish through the weekend."
Rep. Adam Schiff, top Democrat on House Intelligence, discussed McCabe's firing with George Stephanopoulos on ABC's "This Week": "His firing may be justified — there's no way for us to know at this point. But even though it may have been justified, it can also be tainted."
Editor's note: This online version of this item was updated to reflect the proper wording in the alleged quote from President Trump about Jill McCabe.
https://www.axios.com/newsletters/axios-am-03e57469-03af-4139-acb2-83d36ed32ad4.html?chunk=1#story1
2. Facebook's new crisis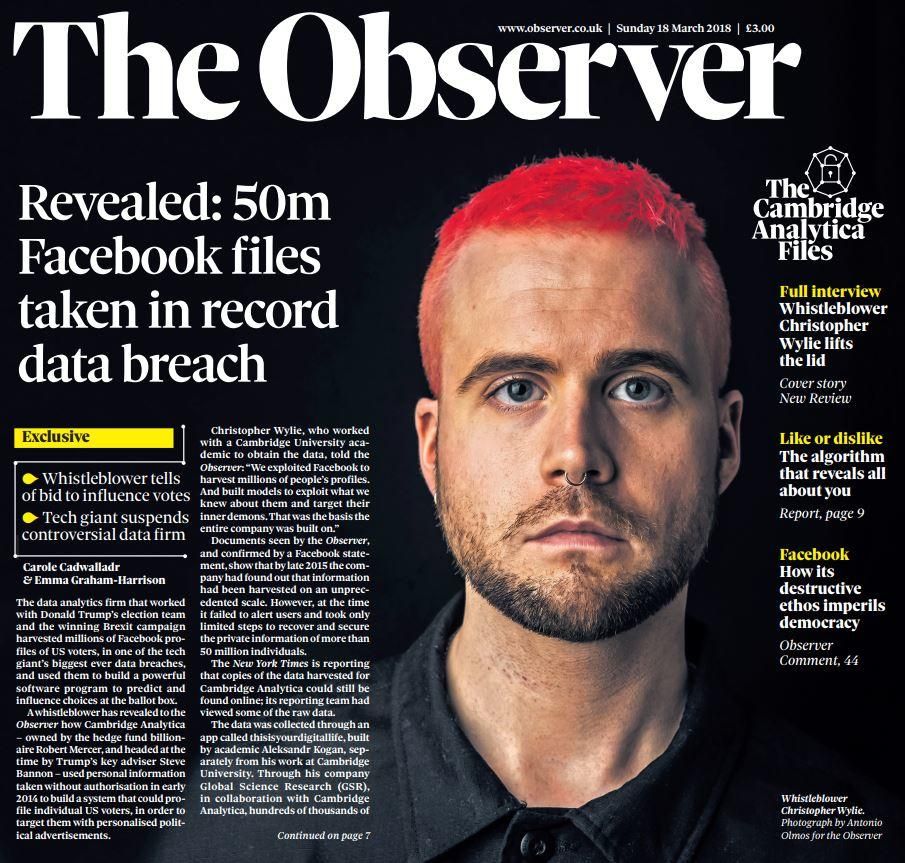 Front page of London's Observer, the Sunday edition of The Guardian (Courtesy The Observer)
Facebook was caught flat-footed after stories in The New York Times ("How Trump Consultants Exploited the Facebook Data of Millions") and the Guardian-owned Observer of London revealed that user data had been illicitly obtained by Cambridge Analytica, Axios' Sara Fischer and David McCabe write:
Saturday ended with the Massachusetts attorney general opening an investigation and Sen. Amy Klobuchar tweeting: "Mark Zuckerberg needs to testify before Senate Judiciary."
The gritty details: Cambridge Analytica, a data firm used by the Trump campaign, obtained data from 50 million users through a third-party developer that was linked to Facebook's data.
Of the 50 million raw profiles, The Times reported, "30 million ... contained enough information, including places of residence, that the company could match users to other records and build psychographic profiles. Only about 270,000 users ... had consented to having their data harvested."
Facebook said the data was obtained legally but that its use violated its policies, which is why the company suspended the group from its platform after it learned from The Times that the data had not been deleted as Cambridge Analytica had promised.
The Times: "[C]opies of the data still remain beyond Facebook's control. The Times viewed a set of raw data from the profiles Cambridge Analytica obtained."
Others argued the data violation should be considered a breach that Facebook was legally required to tell users about.
The dispute lit up Twitter, with an Observer editor tweeting that Facebook threatened to sue the company ahead of publication. One of the reporters on the story tweeted that "Facebook instructed external lawyers and warned us we were making 'false and defamatory' allegations."
Facebook says it sent the news organization a letter making the case that using the term "breach" was incorrect.
Facebook executives argued on Twitter that "breach" was inaccurate, but Alex Stamos, the chief security officer, ultimately deleted several of his tweets. Stamos said he'd deleted them because "I can't stop people from using the most uncharitable interpretation of what I wrote to put words in my mouth."
The big picture: The issues raised by these stories are at the core of how Facebook makes money. So, however you describe it, the reports have put more force behind questions about whether Facebook is capable of policing its own platform and the data that powers it.
"Welp," tweeted Aaron Levie, the CEO of cloud storage company Box. "Tech is definitely about to get regulated. And probably for the best."
Facebook's statement, by Paul Grewal, V.P. and deputy general counsel:
"If these reports are true, it's a serious abuse of our rules. All parties involved — including the SCL Group/Cambridge Analytica, Christopher Wylie and Aleksandr Kogan — certified to us that they destroyed the data in question."
"In light of new reports that the data was not destroyed, we are suspending these three parties from Facebook, pending further information."
"We will take whatever steps are required to see that the data in question is deleted once and for all — and take action against all offending parties."
https://www.axios.com/newsletters/axios-am-03e57469-03af-4139-acb2-83d36ed32ad4.html?chunk=2#story2
3. "The Fake News is beside themselves"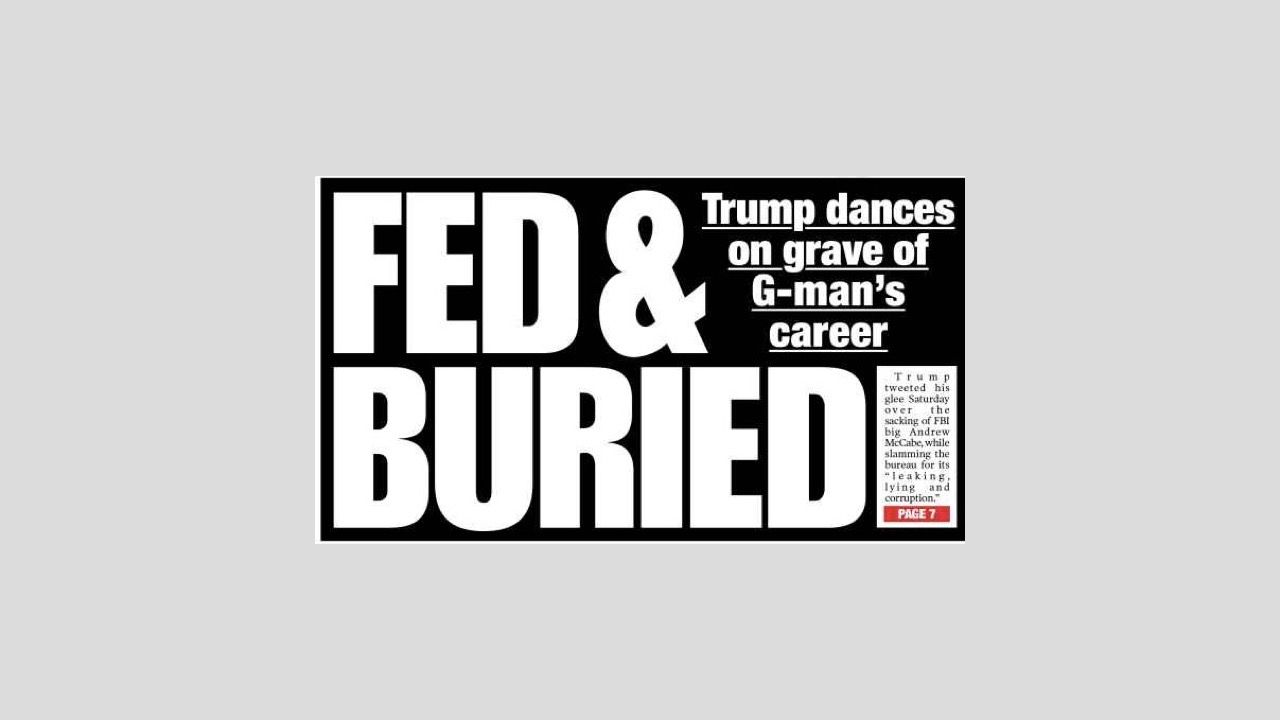 Today's New York Post cover (Courtesy New York Post)
After his own gloating tweet ("Andrew McCabe FIRED") and his lawyer's call for the Mueller probe to be shut down, President Trump returned to Twitter yesterday afternoon and evening with a few thoughts: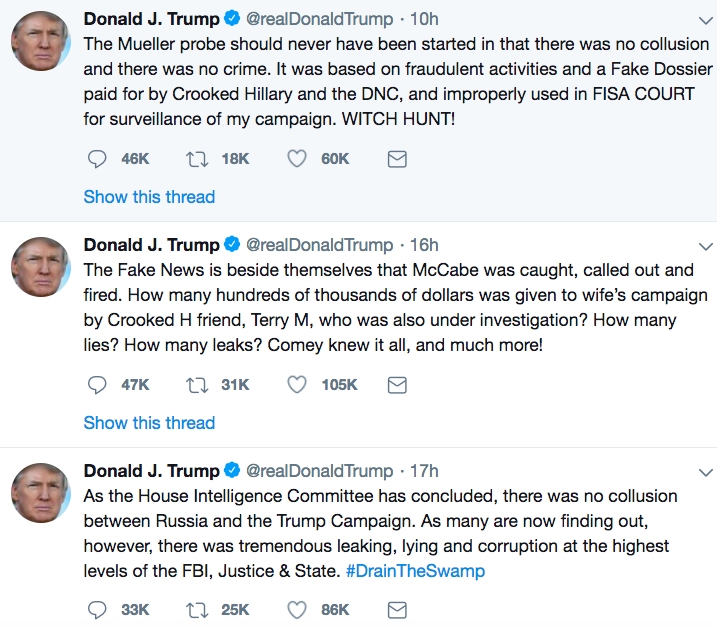 https://www.axios.com/newsletters/axios-am-03e57469-03af-4139-acb2-83d36ed32ad4.html?chunk=3#story3
Bonus: Pic du jour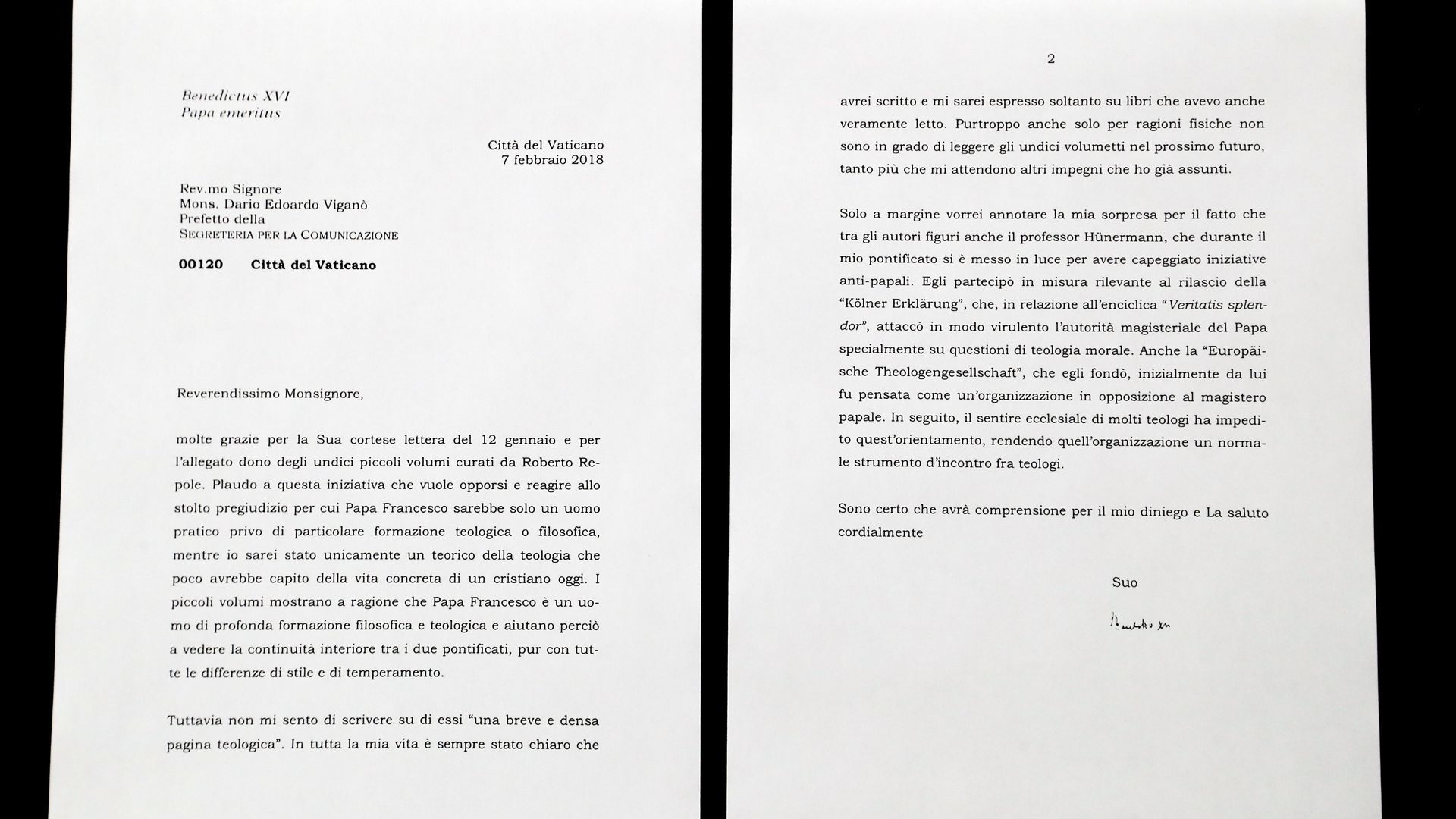 "Stung by accusations of spreading 'fake news,' the Vatican on Saturday released the complete letter by Emeritus Pope Benedict XVI about Pope Francis after coming under blistering criticism for selectively citing it in a press release and digitally manipulating a photograph of it," AP reports.
What happened: "The previously hidden part of the letter provides the full explanation why Benedict refused to write a commentary on a new Vatican-published compilation of books about Francis' theological and philosophical background that was released to mark his fifth anniversary as pope."
Why it matters: "The so-called 'Lettergate' scandal has embarrassed the Vatican's communications operations and fueled the growing chasm between supporters of Francis' pastoral-focused papacy and conservatives who long for the doctrine-minded tenure of Benedict."
https://www.axios.com/newsletters/axios-am-03e57469-03af-4139-acb2-83d36ed32ad4.html?chunk=4#story4
4. Axios interview: Lookahead from House Intelligence on Russia
Rep. Mike Conaway (R-Texas), who's leading the House Intelligence Committee through the Russia investigation, tells Jonathan Swan and me that President Trump called him twice — and he didn't answer.
Conaway, previewing the Republicans' coming findings and recommendations during an interview in his Capitol Hill office, said he wanted to be able to say he had no contact with the president during the investigation.
Conaway, who even resisted a Mar-a-Lago trip, told us: "[T]he team got back to the White House and explained why it was I could not take any calls from the president. And that's hard, because I [took calls] from President Obama."
"I have had no conversations, personal, phone, messaging systems with the president this entire time frame because ... I thought the other side would try to make more out of that than I could explain."
"[Y]our name pops up on TV, he wants to call you, he's going to call you. ... I have no idea what he wanted to talk about."
Conaway said he was disappointed "that we weren't able to conduct the investigation a little quieter, with less public fanfare."
"I'm embarrassed on behalf of our committee that we're such a sieve that we can't keep a secret. It's both sides."
Conaway said the GOP's coming recommendations include:
Setting up a notification system that allows the Department of Homeland Security, when a threat to a state election system is detected, "to immediately hit the right person" in the state to communicate the information.
"A little more fulsome" reporting to the Federal Election Commission, so that if "you've got your private entity paying a foreign agent to do something, ... making sure that we've got the right kind of disclosures."
Additional voter registration security.
https://www.axios.com/newsletters/axios-am-03e57469-03af-4139-acb2-83d36ed32ad4.html?chunk=5#story5
5. Dem dilemma: Center rules '18, left rules '20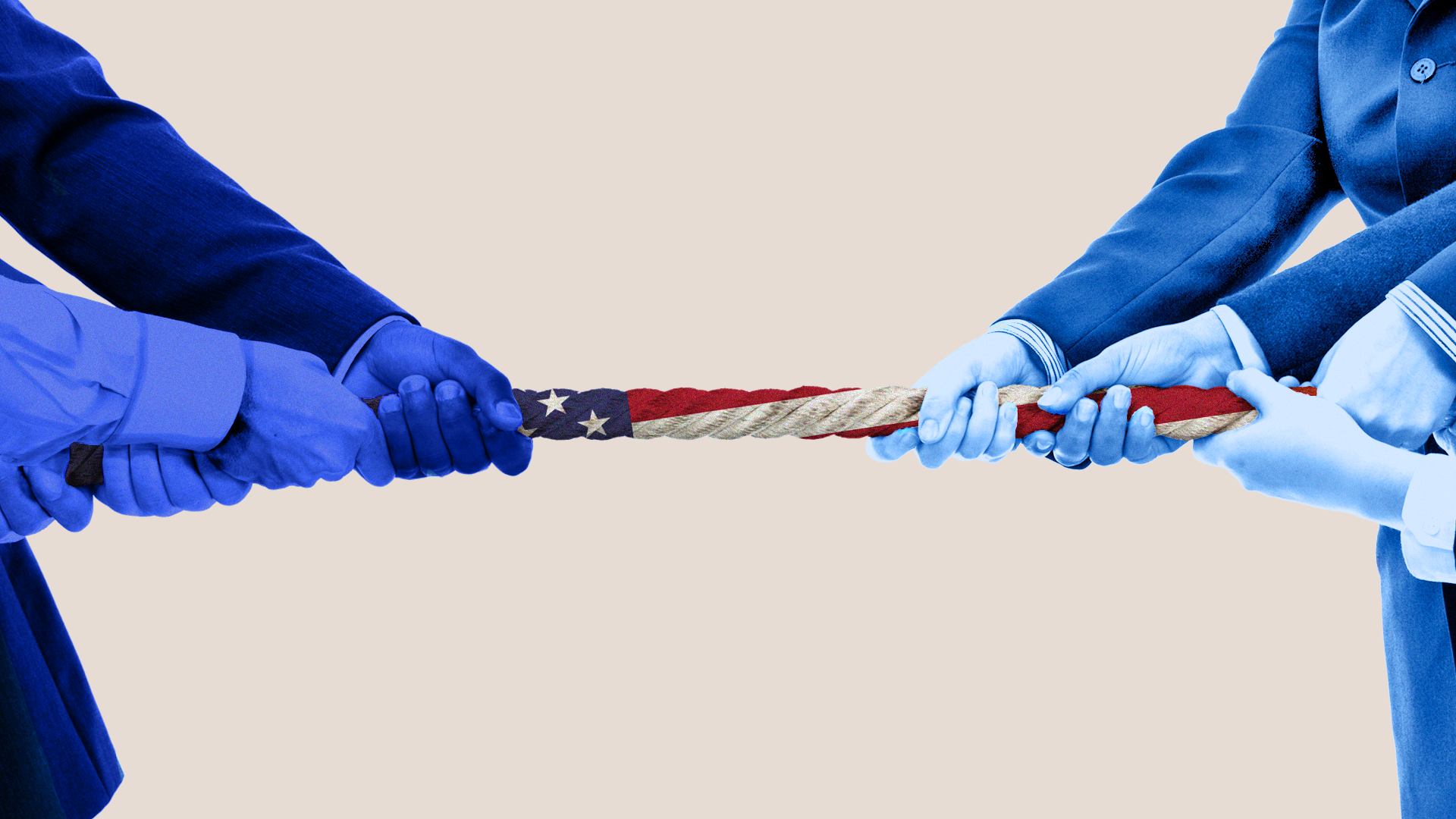 Moderate candidates led Democrats to two unlikely special election victories: first Doug Jones in the Alabama Senate race, and now Conor Lamb in a Pennsylvania House race, Axios' Alexi McCammond writes:
At the same time, the progressive wing of the party is energized by Trump's election and even attacking fellow Democrats who they consider to be too moderate.
Why it matters: There's always tension in both parties between those at the center and those on the more extreme ends of the political spectrum. But this year there's more at stake for the Democrats, who are trying to retake the House of Representatives while navigating this ideological war.
The bottom line: Moderate Democrats could help the party win the House in November, but face opposition from people in the party that want to be more stridently anti-Trump.
P.S. N.Y. Times' Frank Bruni, "Democrats Are Primed for 2018 and Looking Pretty in 2020":
"[O]ptimism about 2020 makes more sense than pessimism. It's just far less fashionable. What's more, negativity is better directed at the party's policies than at its personnel. I'm still waiting on a convincing economic plan, a distillable governing philosophy."
https://www.axios.com/newsletters/axios-am-03e57469-03af-4139-acb2-83d36ed32ad4.html?chunk=6#story6
6. 1 TV thing: "SNL feasts on Trump chaos
"'S.N.L.' Takes Aim at Betsy DeVos, Jeff Sessions and Rex Tillerson," per N.Y. Times' Dave Itzkoff:
Kate McKinnon as Education Secretary Betsy DeVos: "We are working hard to ensure that all schools are safe learning environments for guns."
Colin Jost on "Weekend Update": "The crazy thing is, I'm starting to feel sorry for all these people Trump is firing, even though I thought they were terrible at their jobs. I mean, six months ago, could you have imagined thinking, 'Hang in there, Jeff Sessions'?"
Jost: "The latest victim was former F.B.I. deputy director Andrew McCabe, who was fired two days before he was set to retire on his 50th birthday so he couldn't collect his full pension. Damn, man, that's cold. Even the Joker's like, 'You don't treat people like that.' I love that Trump is being extra mean to the F.B.I. guy who's definitely about to testify against him."
Michael Che on "Weekend Update": "Trump is firing people like he's trying to get us under the salary cap or something."