Axios AM
November 22, 2020
🥞 Happy Sunday! Today's Smart Brevity™ count: 1,196 words ... 4½ minutes.
Coming up on "Axios on HBO," tomorrow at 11 p.m. ET/PT: Southwest Airlines CEO Gary Kelly tells Felix Salmon that the Boeing 737 MAX is "a great airplane" and that its software issue has "easily been addressed." (Clip)
🚨 Breaking: Incoming White House chief of staff Ron Klain tells George Stephanopoulos on ABC's "This Week": "You're going to see the first of the president-elect's Cabinet appointments on Tuesday." (Video)
1 big thing: Our safety net is canceled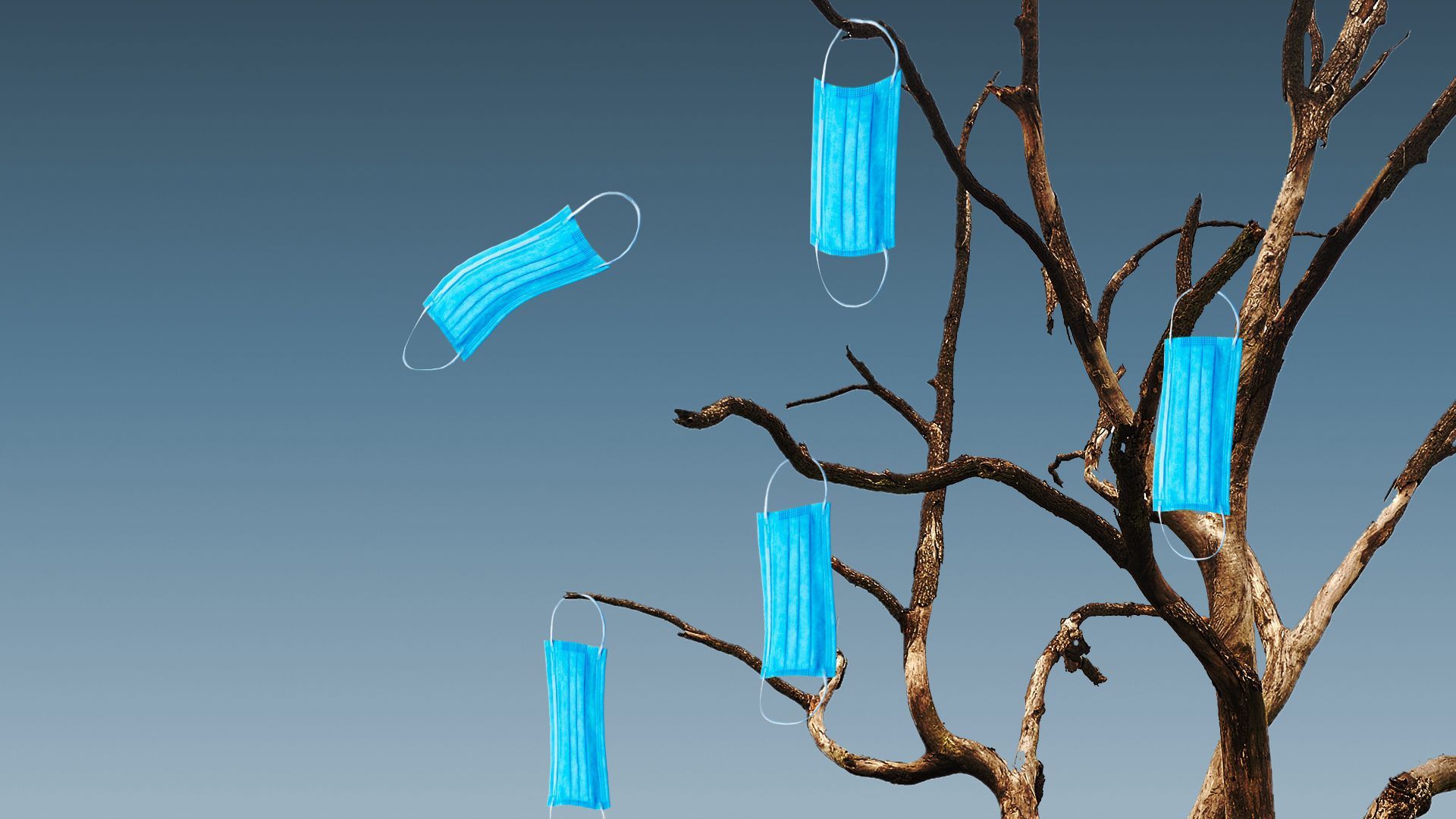 With Thanksgiving canceled, doctors quitting their practices and grocers limiting quantities (again), our safety net feels like it's unraveling, Axios' Jennifer A. Kingson writes.
Not only are things not returning to normal, they may not return to normal for a long time.
Our comforting touch points, like family get-togethers and holiday rituals, are suddenly off limits.
There's less entertainment and fewer distractions, with movie theaters closed, family budgets tight, and our appetites for binge-watching satiated.
Remote worship is less fulfilling.
Why it matters: People and institutions we look to for guidance and leadership — elected officials, medical authorities — seem as flummoxed as we are.
They issue new rules day by day (closing schools, restricting shopping, issuing curfews), yet look helpless and flailing as infections rise.
CEOs and corporate America have been serving as a rare anchor in this unmoored reality, attempting to provide some moral suasion and fueling the engine behind the stock market's rally.
Meanwhile, the restaurateurs and merchants who form the pillars of our communities are suffering with growing intensity before our eyes.
2. Spot the AI-generated face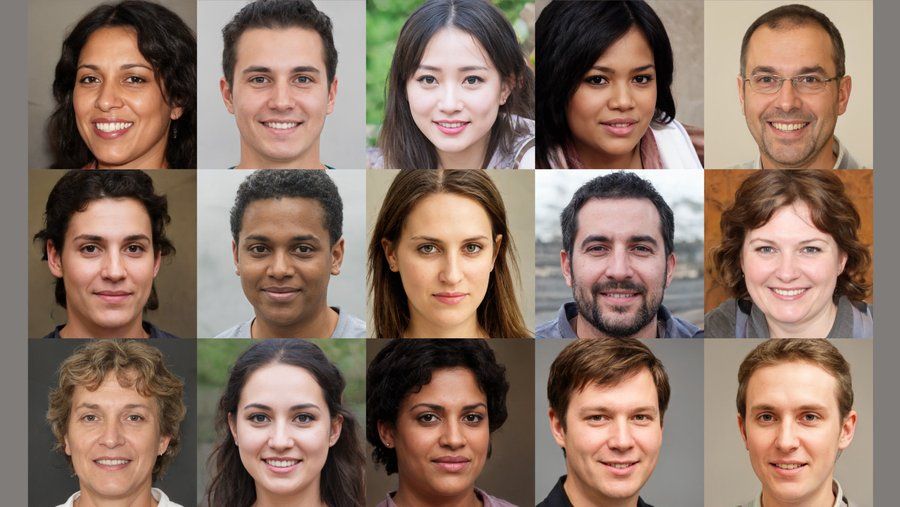 Sorry — that was a trick. They're all fake faces.
The portraits were created by the N.Y. Times using GANs (generative adversarial networks, a type of AI) with software made publicly available by the computer graphics company Nvidia, the Times' Kashmir Hill and Jeremy White write.
Why it matters: "Given the pace of improvement, it's easy to imagine a not-so-distant future in which we are confronted with not just single portraits of fake people but whole collections of them — at a party with fake friends, hanging out with their fake dogs, holding their fake babies."
"When the tech first appeared in 2014, it ... looked like the Sims," disinformation researcher Camille François told the Times.
But now, the journalists write, the technology "promises superpowers: the ability to organize and process the world in a way that wasn't possible before."
Keep reading (subscription).
3. Looks like CDC warning didn't work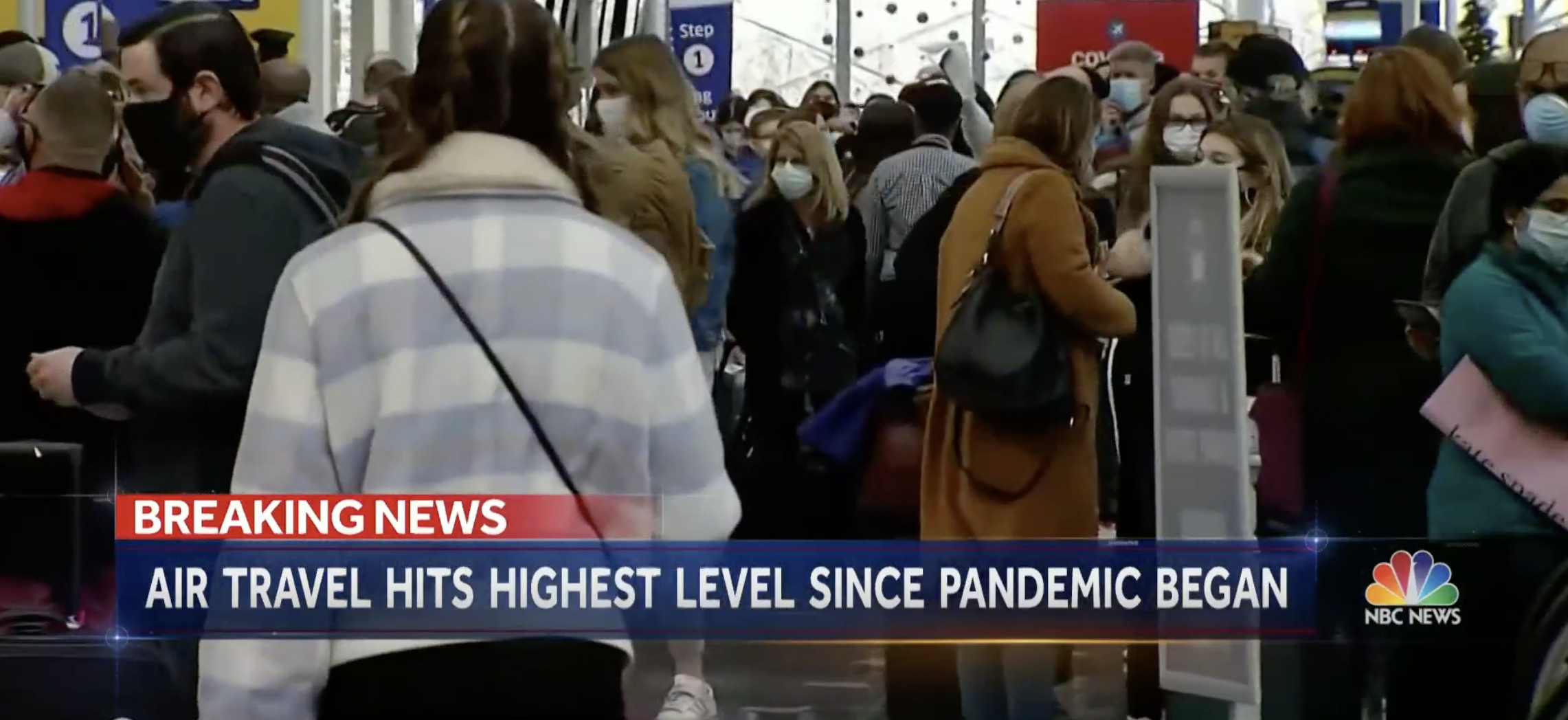 💺 TSA screened 1 million passengers Friday for only the second time since the pandemic began (last time was Sunday, Oct. 18), despite CDC guidance on Thursday advising against Thanksgiving travel.
It was still down from 2.5 million on the same day last year.
🎰 Nevada Gov. Steve Sisolak is both imploring residents to stay home, and encouraging out-of-state visitors to come to Vegas to spend money.
🕰️ California's curfew: Gov. Gavin Newsom announced "a limited Stay at Home Order requiring generally that non-essential work, movement and gatherings stop between 10 p.m. and 5 a.m." in 94% of the state.
4. Pic du jour: Drama from 1,941 years ago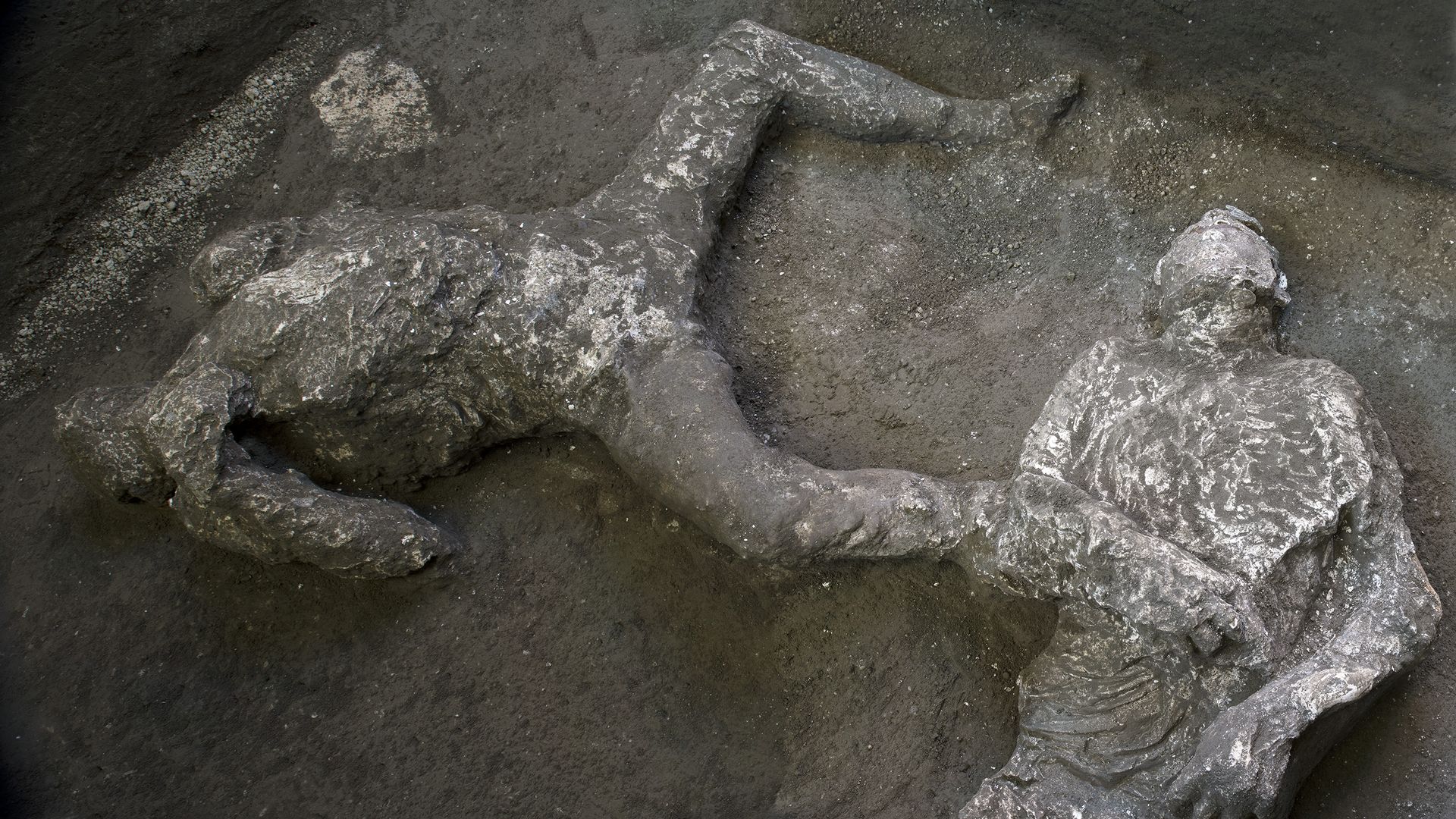 These are casts of what are believed to have been a rich man and his male slave fleeing the volcanic eruption of Vesuvius nearly 2,000 years ago, in what was an elegant villa on the outskirts of the ancient Roman city of Pompeii, AP reports.
On the morning of Oct. 25, 79 A.D., a "blazing cloud [of volcanic material] arrived in Pompeii and ... killed anyone it encountered," said Massimo Osanna, director general of an archaeological park operated by the Italian Culture Ministry.
Parts of the skulls and bones of the two men were found during excavation of the ruins, with a panoramic view of the Mediterranean Sea.
Archaeologists poured liquid chalk into the cavities left by the decaying bodies in the ash and pumice.
Judging by cranial bones and teeth, one of the men was young, 18 to 25, with a spinal column with compressed discs. That finding led archaeologists to hypothesize that he was a young man who did manual labor, like that of a slave.
The other man had a robust bone structure, especially in his chest area. He was estimated to have been 30 to 40.
5. 💉 When government worked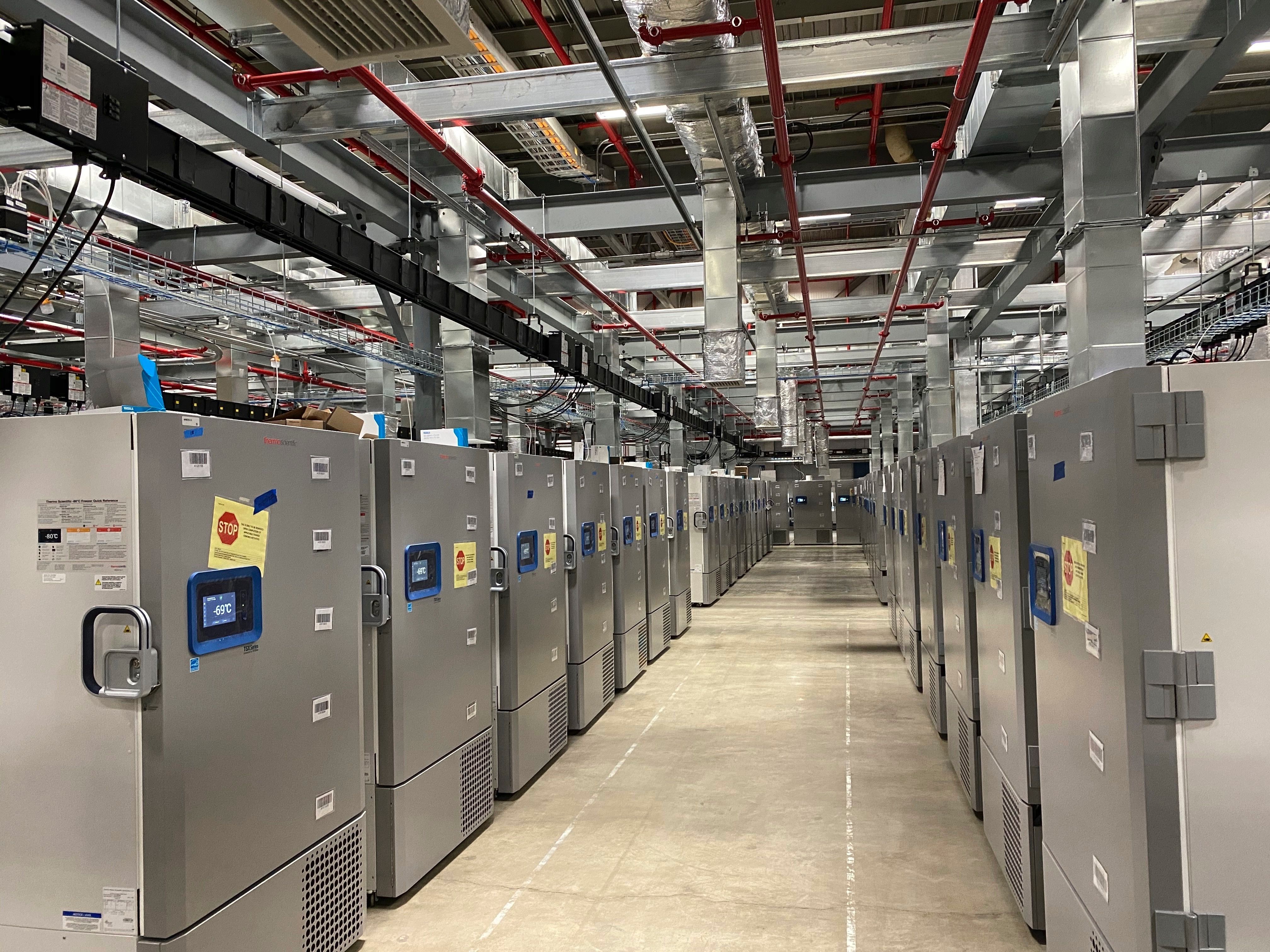 Today's N.Y. Times front page has a six-byline tick-tock on the Pfizer/Moderna race for a cure, including this passage about the feds at their best:
[Operation Warp Speed's Moderna team] was headed by a Defense Department official whom company executives described only as "the major" ... One top Warp Speed official described an atmosphere of "utter terror" about a late fall and winter surge of infections. ...
When Moderna discovered this summer that an air handling unit for its factory could not be delivered over a weekend because of Covid-19 limitations on interstate trucking, the major's team stepped in. Warp Speed officials arranged a law enforcement escort to accompany the massive piece of equipment from the Midwest to its Massachusetts manufacturing plant.
The team again sprang into action when Moderna discovered that a specialized pump, needed to make the first batches of vaccine for the clinical trials, was marooned in a rail car and was not going to be delivered on time. Federal workers tracked down the train and rummaged through it until they found the pump.
'They put it on a plane, and it arrived on time," [Juan] Andres, the company's operations chief, said.
Keep reading (subscription).
6. Admiral Stavridis: Vaccine distribution is next trust test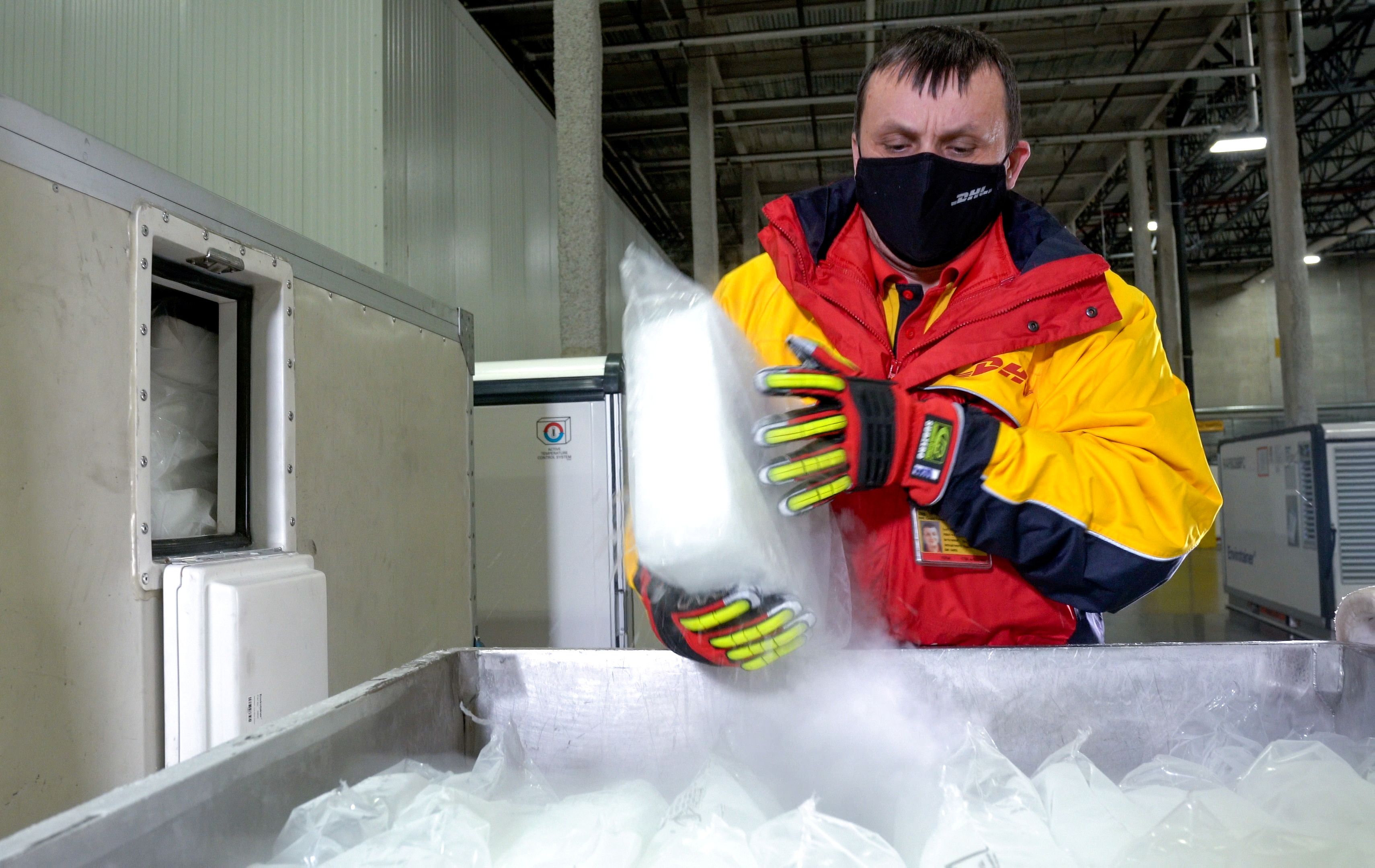 Admiral James Stavridis of The Carlyle Group, who was NATO's 16th Supreme Allied Commander, writes for Fortune, "We can't rely on just one company to distribute COVID vaccines":
Thousands of vaccination locations will need to be identified and created, with many sites having to be accessible to lower-income individuals with transportation challenges. Many Americans living in rural areas do not have the facilities with appropriate refrigeration required to handle the temperature-sensitive vaccines. There will be a need for strict physical security, tracking and delivery controls, cybersecurity protections, sensitive handling, and temperature controls. ...
The trust of the American people will be the most important factor in a successful vaccination effort. Any interruption in any part of the vaccination effort, particularly distribution, could destroy this trust.
🏥 New overnight: The FDA granted emergency use authorization for Regeneron Pharmaceuticals' antibody cocktail given to President Trump. Go deeper.
7. 📊 Stat du jour: Trump's Hispanic gains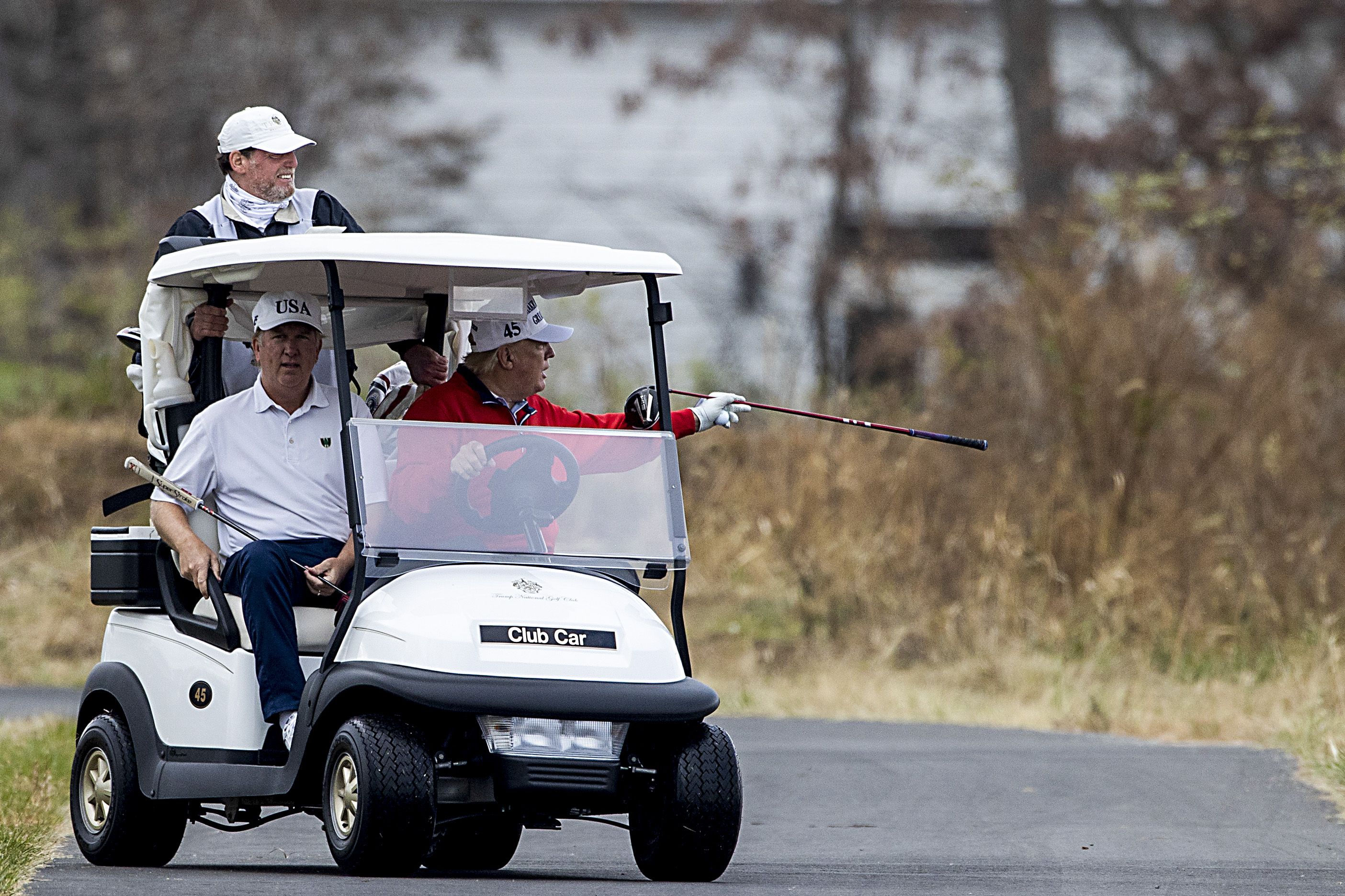 President Trump "showed Republicans a way to win the culture wars with working-class Hispanics," Politico's Marc Caputo writes from Miami:
"Trump improved his margins in 78 of the nation's 100 majority-Hispanic counties. And he did better with Latinos in exit polls of each of the top 10 battleground states, a Politico review of election data found."
8. 🍽️ AM idea buffet: Thanksgiving trick or treat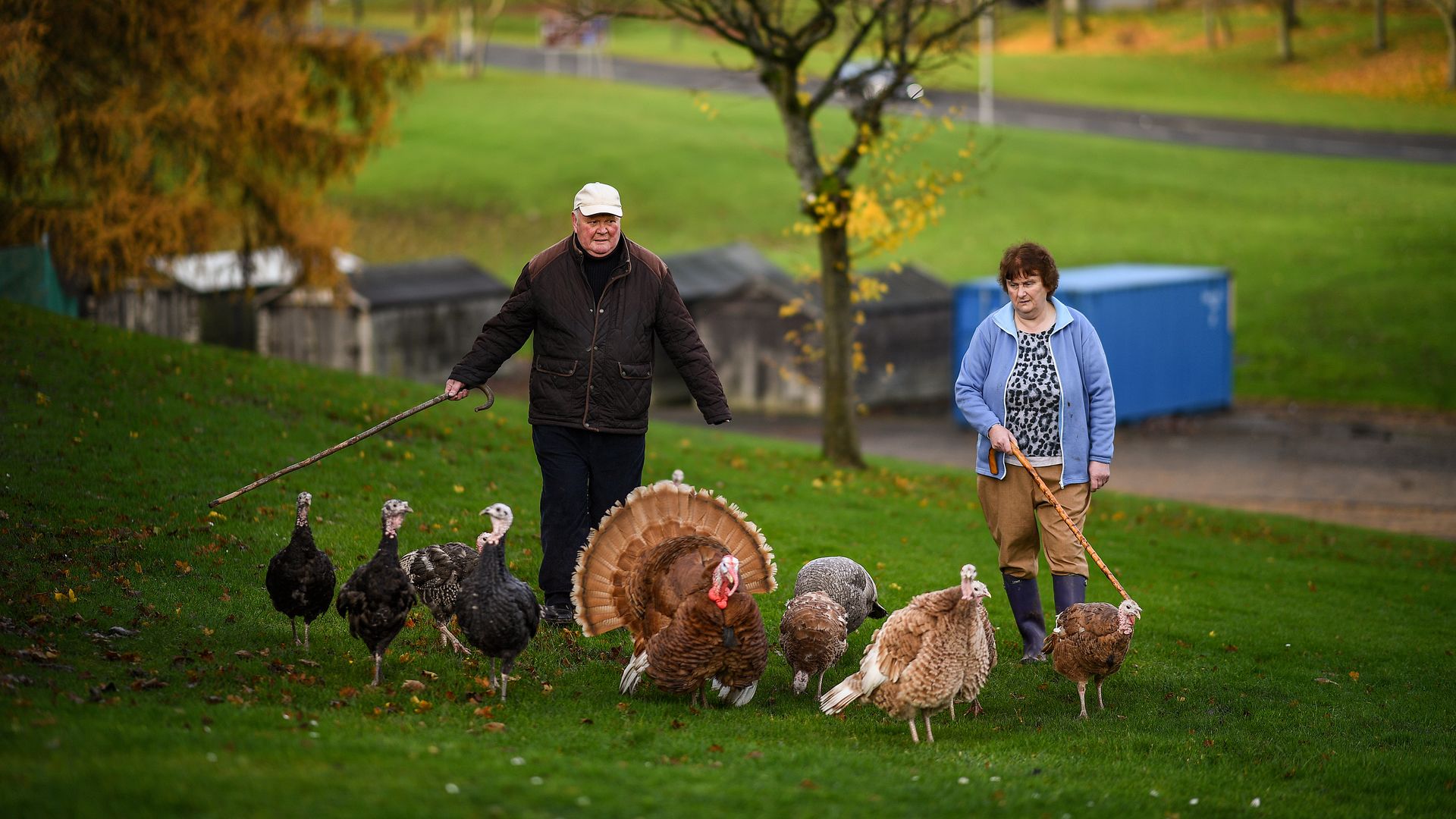 We asked Axios AM readers for ideas for navigating this Thanksgiving like no other. Sheryl Smetana writes:
In my neighborhood, we have decided to divide the Thanksgiving dinner up. Each neighbor participant makes something to share. I am doing mashed potatoes, real baked sweet potatoes and cookies. My niece is providing pumpkin pie, spicy dressing and green bean casserole. Another neighbor is making the turkey and gravy.
We will package up our dishes in individual containers to be left on each neighbor's porch at a determined time. The people who are having a difficult time getting by don't have to contribute anything — neither do the vets. We will all enjoy our meal in our separate homes, but will definitely be grateful for the kindness and generosity of our neighbors and friends.
🍗 The buffet is still open, and we'd love your novel ideas. Just reply to this email, or fill my plate at [email protected].
📬 Thanks for starting your Sunday with us. Please invite your friends to sign up for Axios AM/PM.