Halloween candy doesn't need to be X-rayed, but it's fun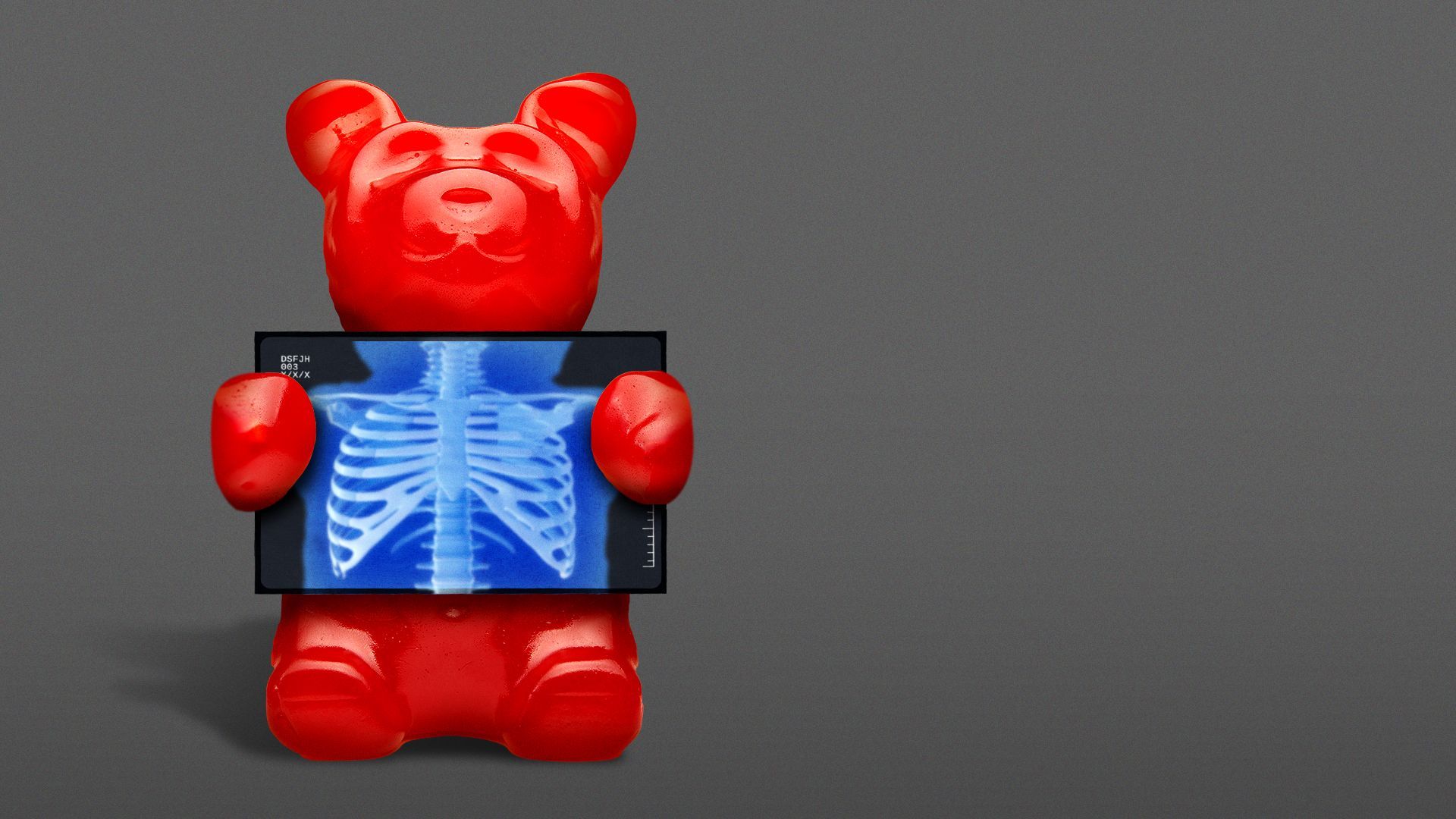 Among the scariest Halloween myths — bloodthirsty vampires, sentient skeletons, slimy ghosts — none has proven harder to vanquish than... murderous candy.
State of scare: X-raying candy has become a Halloween tradition for hospitals and police stations around the country, but there's little evidence that the danger they're looking for is out there.
How it happened: Halloween fears of tainted treats have been around since the 1950s. They reached a fever pitch in late September 1982 after seven people were mysteriously killed in Chicago by cyanide-laced Tylenol capsules.
Hospitals across the nation began offering free X-rays for kids' treats in the hope of spotting razor blades, needles and pins before they could be eaten, Axios' Erin Alberty reports.
A 1988 report estimated hospitals were spending up to $1.4 million nationwide to screen candy.
Reality check: Joel Best, a University of Delaware sociology professor who specializes in urban legends and has studied "Halloween sadism" reports for decades, hasn't found a single substantiated report of a child being killed or seriously injured by contaminated food they got trick-or-treating.
Most tainted candy reports turned out to be family violence or hoaxes.
Yes, but: Police in Ohio received reports of needles found in two pieces of candy in 2021, leading to a revival of candy X-rays there.
That year, a post from the Hillsborough County Sheriff's Office went viral after officers received a call claiming a Riverview 8-year-old bit into candy that contained a razor blade. But when Creative Loafing questioned the story, HCSO said it had no evidence of tainted candy.
Last year's big scare was rainbow fentanyl, which Attorney General Ashley Moody held a press conference about in Tampa.
Of note: X-rays don't detect poison — and in one study, an X-ray didn't even capture a needle during a safety check.
The other side: Northeast urgent care chain Patient First has been X-raying Halloween candy for at least 15 years to stoke fun, not fear.
Kids and their families can make happy memories of visiting the doctor while they aren't sick or getting shots. So when they do need to come in, it won't be as scary.
"We've never found anything. We hope we never do," Patient First spokesperson Taylor Robertson told Axios. "You never know. One of the kids might end up wanting to be an X-ray tech or doctor."
Be smart: Patient First also gives out safety blinkers around Halloween, since cars are historically deadlier than candy. Traffic deaths spike on the holiday.
So go ahead and treat yourself, but mind the roads.
More Tampa Bay stories
No stories could be found
Get a free daily digest of the most important news in your backyard with Axios Tampa Bay.