Florida Republicans more likely to believe vaccine misinformation, less likely to get boosters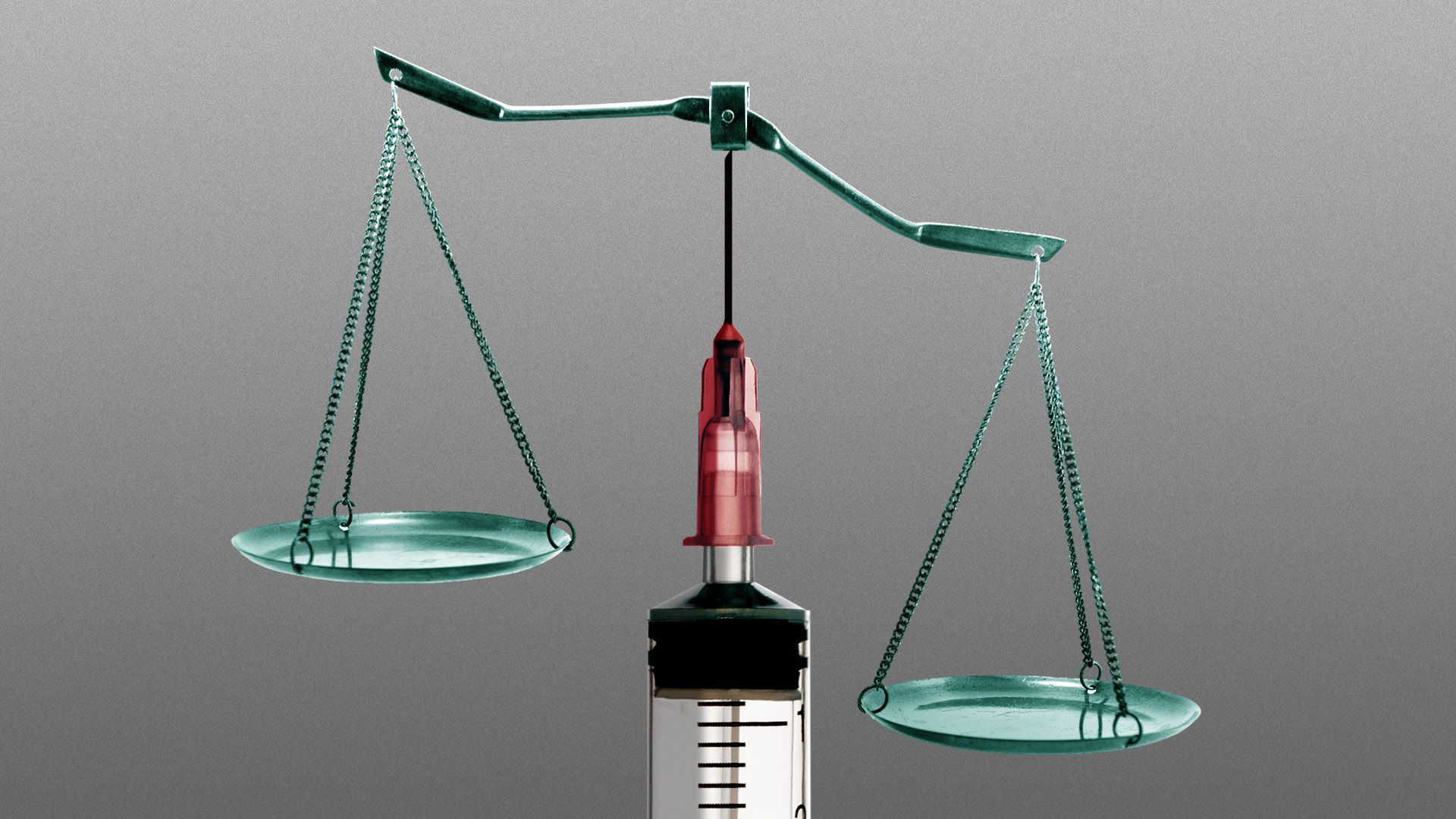 The FDA approved a new round of COVID-19 vaccines this week. But a recent survey suggests Floridians' choice to get the booster shot will likely be divided along party lines.
Why it matters: The survey, conducted by the University of South Florida and Florida Atlantic University, comes as infections across the state and the nation ticked up in recent weeks.
Earlier research also found Republicans experienced a "significantly higher" rate of excess deaths than Democrats in Florida, citing "well-documented" differences in vaccination attitudes.
Zoom in: Researchers conducted a statewide survey among Florida residents in August to gauge perspectives on several health policy topics, notably those linked to misinformation surrounding vaccines.
They found that Republicans were more likely than Democrats to express "some degree of belief" in false statements taken from the CDC's public guidance on vaccine-related misinformation.
50% of Republicans said they believe that COVID-19 vaccines can make you sick — and nearly 70% believe that getting sick with COVID-19 provides better immunity than getting vaccinated.
Meanwhile, Democrats were significantly more willing to receive boosters and less likely to believe vaccine-related misinformation.
What they're saying: "We've seen this from day one," Stephen Neely, an associate professor at the University of South Florida and one of the survey's authors, told Axios. "We hoped it would get better. But it hasn't."
"Those early days got people in a mindset that this was a political issue," he said. "And so they look to political thought leaders for cues, and we've never really gotten past that."
The big picture: Throughout the pandemic, Gov. Ron DeSantis railed against mitigation efforts intended to curb the spread of the virus. In a recent news release, he boasted that Florida "led the nation in bucking the CDC."
"We did not and will not allow the dystopian visions of paranoid hypochondriacs to control our health policies," DeSantis said. He's also falsely claimed boosters could increase one's chance of contracting the virus.
Aubrey Jewett, a University of Central Florida political science professor and longtime Florida politics observer, told Axios that DeSantis' leadership "impacted the way a lot of Republicans feel about the virus."
The governor's messaging really "resonates and influences a lot of Republican voters," he said.
Of note: The survey featured 600 respondents of various educational backgrounds, party affiliations, ages, races and genders to create a "representative sample" of the state.
More Tampa Bay stories
No stories could be found
Get a free daily digest of the most important news in your backyard with Axios Tampa Bay.