Tampa Bay flamingo, Peaches, to be released into wild with tracking device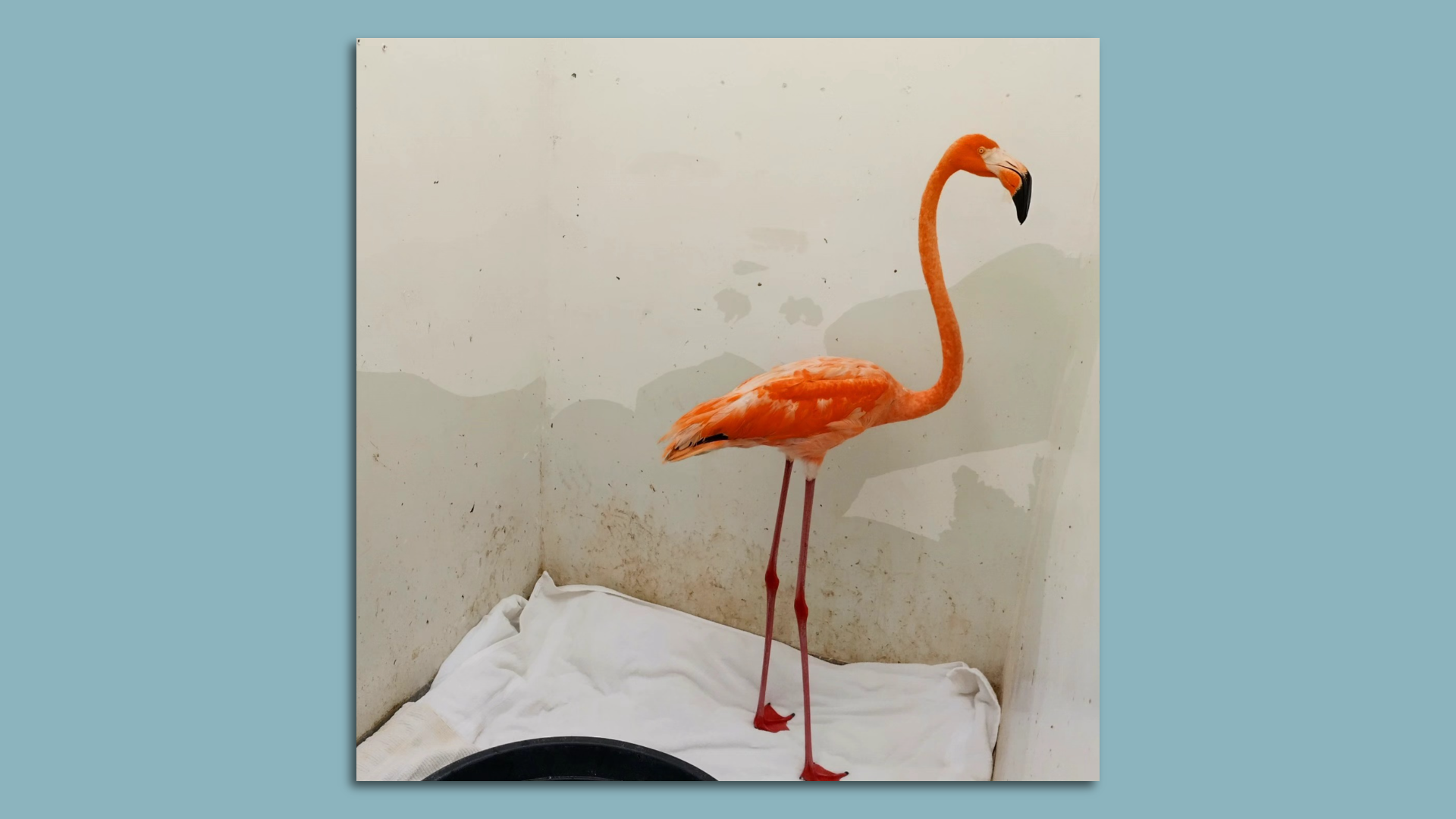 Jerry Lorenz called from Alligator Alley, his voice cutting in and out on the swampy stretch of highway. He was headed to Tampa Bay on Friday on an important mission involving Peaches the flamingo.
State of play: Lorenz, a senior researcher with Audubon Florida, saw opportunity in Peaches' plight, who boaters recently rescued off the coast of St. Pete Beach.
Driving the news: Lorenz asked the federal government if he could attach a band and tracking device to the flamingo to follow its next steps. The process usually takes about a month, Lorenz said, but the feds expedited and approved the permit within 24 hours this week.
Leaders at Seaside Seabird Sanctuary, where Peaches was rehabilitating, plan to release the bird into the wild this weekend.
Why it matters: Little is known about the migration patterns of flamingos, Lorenz said. Tracking Peaches in the coming years could tell him and other researchers more about the birds.
They'll also know if Peaches decides to stick around. It would be another sign that Florida has enough natural resources to support the iconic shore birds.
Catch up fast: Over the week and a half since Idalia slammed Florida's Big Bend region, flamingos have been spotted from Marco Island to states as far north as Ohio.
American flamingos, while native to Florida, primarily live in Cuba and on the Yucatán Peninsula.
The intrigue: Lorenz has tracked only one other flamingo. Conchy showed up in 2015 on Boca Chica Key, a couple islands north of Key West, and stayed in the area for awhile.
Previously, wildlife authorities thought that any flamingos spotted in Florida had escaped from a racetrack in Hialeah that had imported the birds from Cuba.
Conchy's decision to stay put, plus sightings of larger flocks in recent years and historical records, helped Lorenz and other researchers establish that the birds are native to the state and migrate here naturally.
What's next: Lorenz hopes that Peaches stays here and starts nesting but recognizes that it's more likely it will head back south.
The bottom line: "That bird can tell me anything it wants," Lorenz said, "and I'll be happy with it."
More Tampa Bay stories
No stories could be found
Get a free daily digest of the most important news in your backyard with Axios Tampa Bay.