The flamingos of Tampa Bay, Hurricane Idalia's pink-feathered lining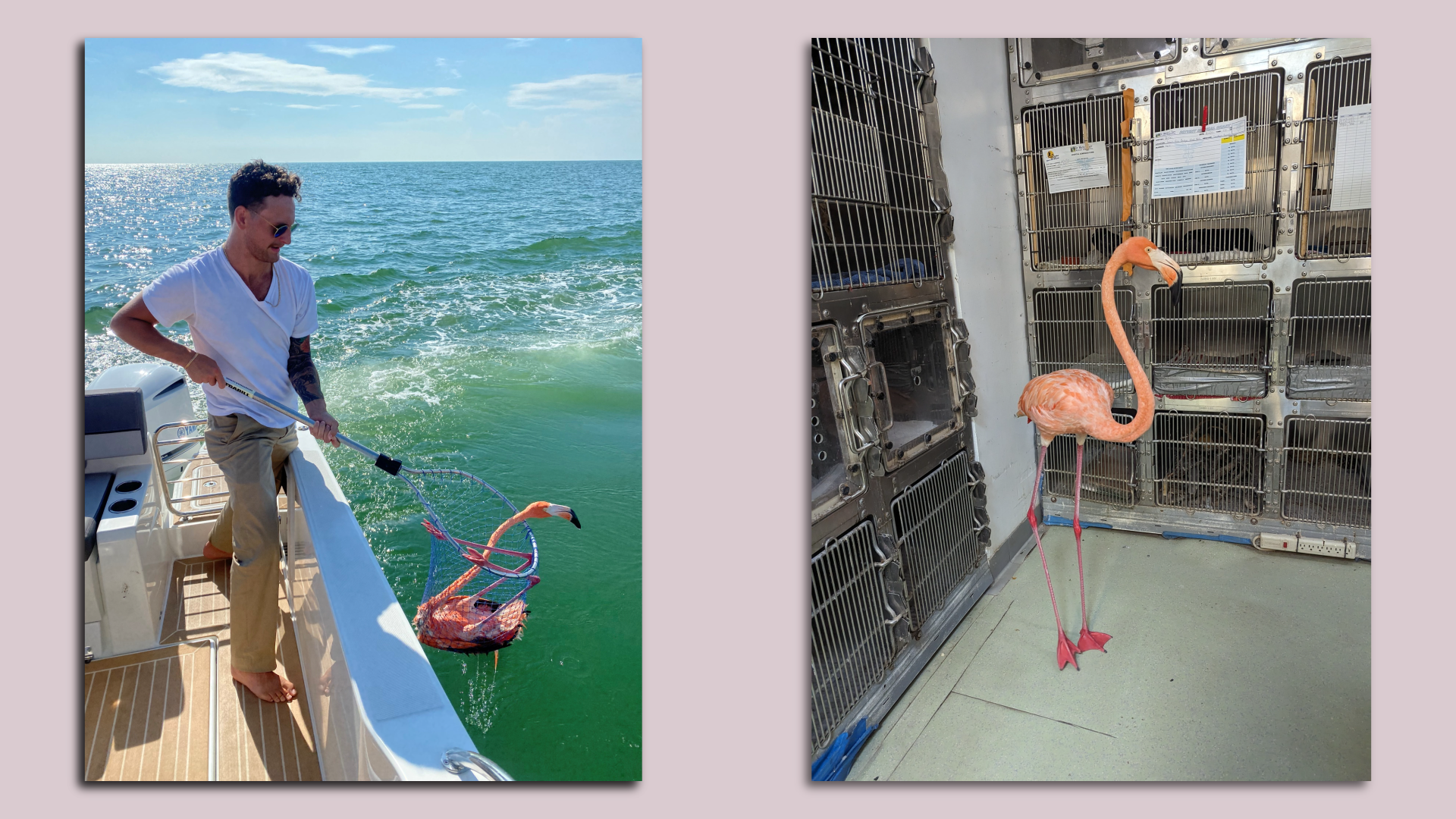 They've been spotted in Fort De Soto, Fred Howard Park and on Treasure Island. Local Facebook groups and birding pages have filled up with grainy photos, zoomed in on a blur of pink feathers and a long, curved neck.
Driving the news: Flamingo sightings have poured in from all over Tampa Bay and beyond, as far north as Kentucky and Ohio.
State of play: While it's rare in Florida to spot a flamingo outside captivity, research suggests the pink shorebird called the Sunshine State home until the turn of the century, when hunters wiped out the population, Jerry Lorenz, research director with Audubon Florida, told Axios.
Why it matters: The flamingos seen over the last week are likely a byproduct of Hurricane Idalia, which apparently caught more than just humans off guard when it rapidly developed from a tropical depression to a hurricane, Lorenz said.
"There's no other explanation that makes sense," he said. "We've never seen anything like it."
What's happening: Large flocks live in Cuba and on the Yucatán Peninsula. Lorenz's working theory is that some got caught up in the storm while flying between the two spots and spit out on either side of Idalia's path.
What they're saying: "They're such an iconic species. Everybody loves them," Lorenz said. "They're also a great ambassador for the health of our ecosystems. If they're here, that means our ecosystems are healthy."
The big picture: Little is known about the migration patterns of the iconic birds. They tend to "magically show up and disappear," Lorenz said.
Yes, but: One of the Idalia castaways could help fill in some answers, and it's living here in the Tampa Bay area.
Boaters on Friday rescued a flamingo struggling in the water about 800 yards off Blind Pass. Seaside Seabird Sanctuary in Indian Shores is now rehabilitating the bird, which they've taken to calling Peaches.
Lorenz is applying for a permit from the federal government to tag the bird so that researchers can follow its next steps.
His hope is that it and other flamingos spotted around the state stick around and start nesting.
Zoom in: The bird was exhausted and quiet when it was admitted on Saturday, said Melissa Edwards, director of the sanctuary's Marie L. Farr Avian Hospital. Peaches has since begun to squawk again and eat on its own, Edwards said.
At about 5 feet tall, Peaches is too big to fit in the hospital's standard cages; even a large great blue heron maxes out at about 4 feet, Edwards said.
So the flamingo, whose gender is unknown without a DNA test, gets its own room, Edwards said.
"It's very interesting to have a bird almost look you in the eye," she said.
What's next: The sanctuary plans to release Peaches this weekend, Edwards said. Lorenz is working to have the permit application expedited so he can tag the bird before it heads back into the wild.
Of note: As far as the other flamingos go, both Edwards and Lorenz urged onlookers to give them space to allow them to recover from what was likely a traumatic detour amid the storm.
"If the birds are responding to you," Lorenz said, "you're too close."
More Tampa Bay stories
No stories could be found
Get a free daily digest of the most important news in your backyard with Axios Tampa Bay.