St. Pete couple's sweet job saves bees and honey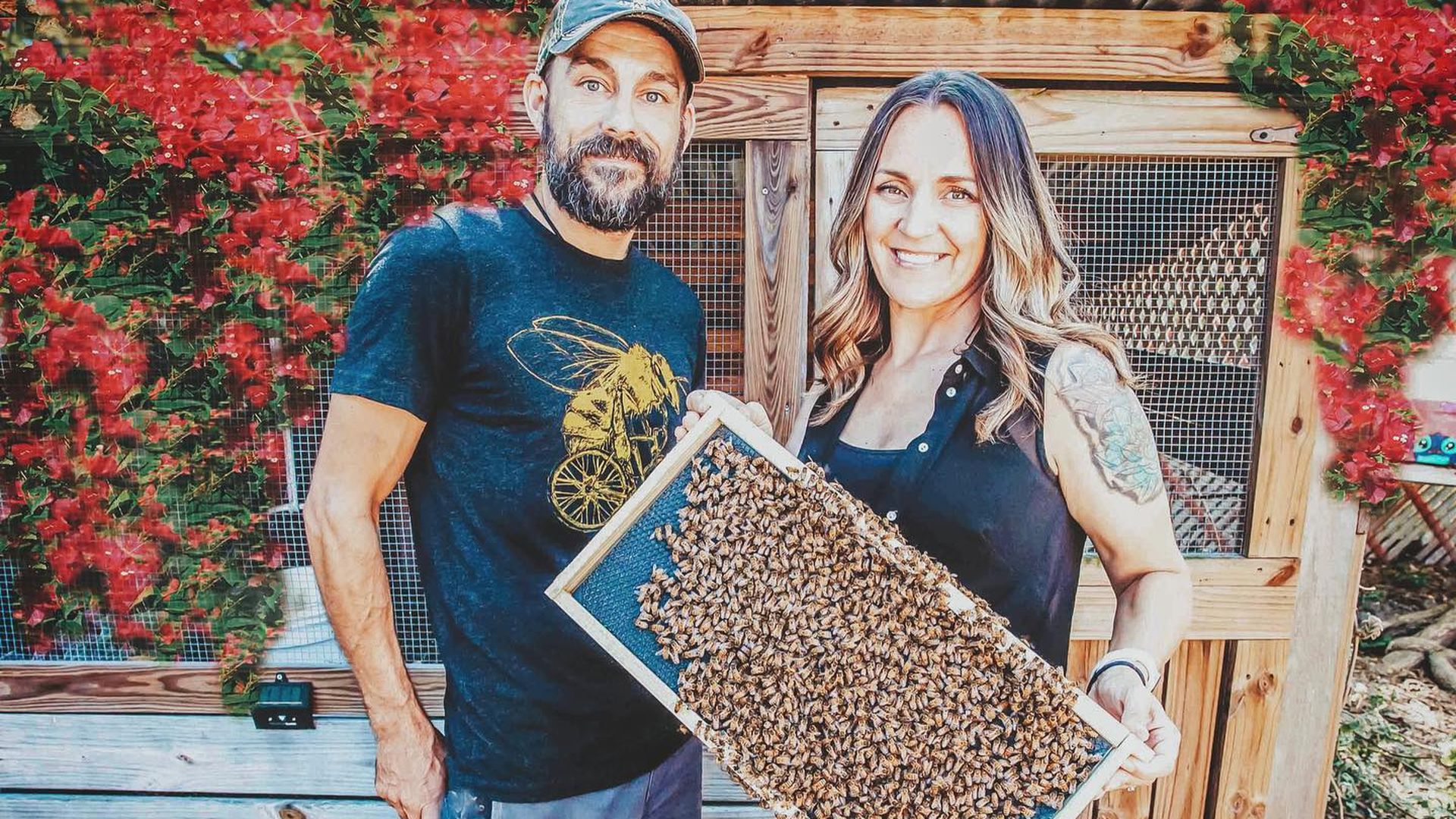 When Matt and Allison Davis discovered an infestation of bees in the wall at their job in 2016, the boss wanted to call an exterminator. But the Davises knew that wasn't the end-all, bee-all option.
With the help of YouTube and some trial and error, the couple removed and rehomed the insects in a new hive.
Why it matters: Hives in your home — or work — can be inconvenient, but exterminating them means killing a vital part of our nation's food supply. Honeybees and other pollinators fertilize more than 100 of the crops we eat, Axios' Zachery Eanes reports.
State of play: 160 hive rescues later, the St. Petersburg couple has made a career out of saving bees, running a removal service and nonprofit organization full time.
Noble Nectar Apiaries removes the flying critters and rehomes them as an alternative to extermination. They sell honey, candles and other products made from their rescues, which they keep in bee boxes across St. Petersburg, Clearwater, Terra Ceia, and Myakka City.
The buzz: Through their nonprofit, The Bee Musketeers, the pair hosts educational events and helps people remove bees who wouldn't be able to afford to pay someone.
Homes in need of repair are more likely to attract bees, though they can move into even the smallest gaps just about anywhere, Allison told Axios. "The client can't necessarily pay to get their home fixed, let alone get the bees removed — whether it's paying us or an exterminator," she said.
With funds from the nonprofit, people can get their homes bee-free again, and the Davises connect homeowners with resources to get repairs done affordably.
"Beetween" the lines: Competition in the rescue industry is picking up, especially with buzzing social media accounts like Texas rescuer Erika Thompson.
The intrigue: Matt and Allison have pulled bees from all sorts of places, including a crypt. Their largest removal was a 9-foot-tall hive in Pasadena.
By the numbers: Removals are fairly quick. Getting a hive with 15,000 bees out from under a shed last week took about an hour, costing the homeowner $300.
Their buzziest season is summer, when they do two to five removals a day. And those bee suits get toasty.
What they're saying: "Not every pest control company has the knowledge of how to do the removal and take care of the bees. It requires a different strategy whether you're going to save them or exterminate them," Allison said.
"But it's worth it because we're coming out with these creatures we need so desperately, and they're alive and can thrive."
More Tampa Bay stories
No stories could be found
Get a free daily digest of the most important news in your backyard with Axios Tampa Bay.