Test Drive: SeaTrek lets you see Florida Aquarium fish up close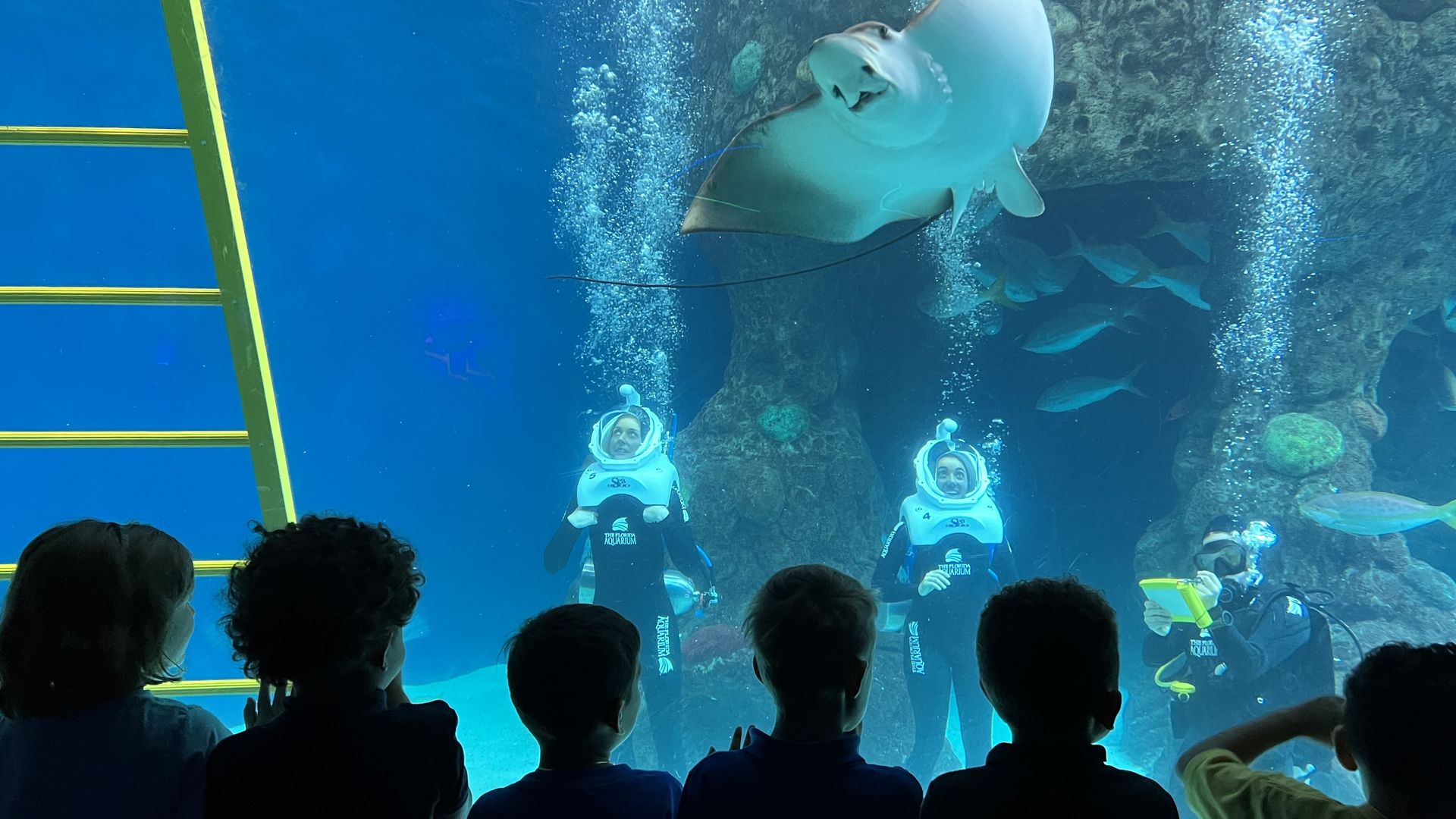 The Florida Aquarium is expanding its SeaTrek excursions.
What's happening: Slots for the underwater tours are open weekly now and will be available daily at the Tampa aquarium starting in June.
I tested SeaTrek for the first installment of Test Drive, a new feature reviewing life experiences around Tampa Bay (inspired by Axios Chicago).
Backstory: I love aquariums, but I usually end up feeling sticky and overwhelmed by the end of a visit.
It seems like no matter where or when I go, I have to battle kids for a good viewing spot and I end up surrounded by more families than there are fish.
State of play: SeaTrek tours let visitors explore inside the Heart of the Sea habitat. Anyone 10 or older can do it — you don't even need to know how to swim. A swimsuit, towel and a sense of adventure are all that's required.
Yes, but: It's not accessible for folks in wheelchairs or those who have trouble walking. An aquarium spokesperson told Axios that the team is working on making the experience fully accessible in the near future.
How it works: SeaTrek is the company that makes the helmets used for the dive. Have you ever submerged a cup upside down in water? It's basically that but for humans.
You change into a wetsuit and are taken to the top of a 15-foot aquarium tank, where an oxygen tank is strapped to your back that will feed fresh air into the helmet.
The helmet is lowered onto your head in the water and you slowly climb down a ladder into the tank, adjusting to the pressure along the way.
A scuba guide leads you around the habitat, using a whiteboard to tell you which animals you're interacting with. You can't hear each other while underwater, so you communicate with hand signals.
The whole process takes about an hour, including about 20 minutes inside the tank.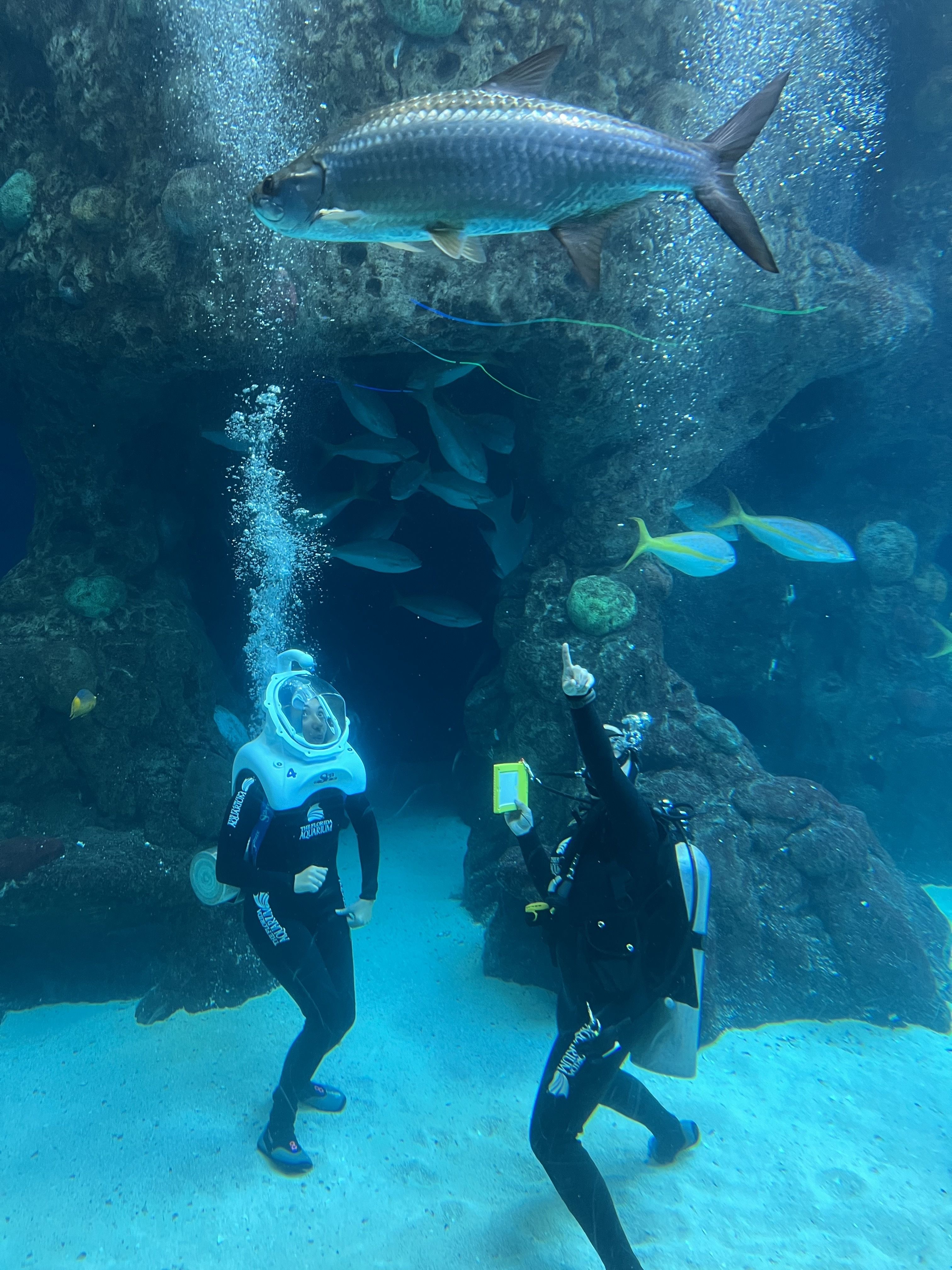 The verdict: This is one of the coolest things I've ever done. The fish, rays and bonnethead sharks swam right up to me. There's also a loggerhead sea turtle, but she must've been shy that day.
I bonked my head on the helmet a few times, but I quickly adjusted.
My hair didn't even get wet! And I didn't have to worry about monitoring oxygen (my biggest fear with scuba diving).
Experienced divers have probably had closer interactions with sea life. But for everyone else, the $95 (including aquarium admission) is totally worth it.
Pro tip: Don't worry about trying to get photos while in the tank. You want to use every second to experience it, and your depth perception is thrown off while in the helmet so fumbling around with a camera might not be worth it.
If you really want photos, have a buddy get a regular aquarium ticket and take pics from the viewing area inside.
More Tampa Bay stories
No stories could be found
Get a free daily digest of the most important news in your backyard with Axios Tampa Bay.