Reimagined Ringling Bros. circus to return to Tampa Bay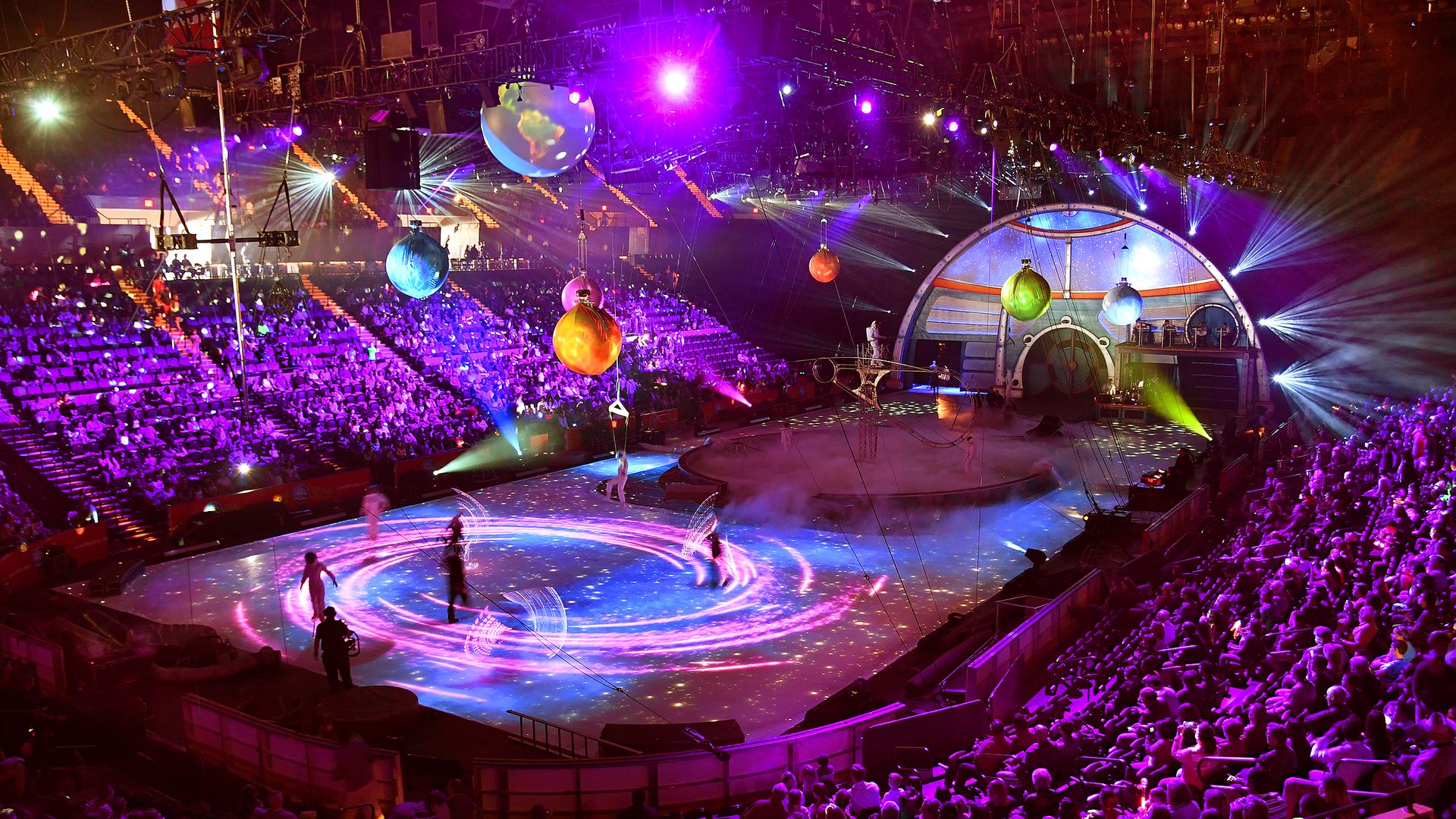 The Greatest Show on Earth has redefined entertainment since its inception about 150 years ago, and that begins again this fall when the Ringling Bros. and Barnum & Bailey Circus unveils a new modern format — without animals.
Why it matters: The Sarasota-based production is returning to the stage six years after closing shop. Declining ticket sales and costly legal battles over time prompted the circus to sideline its elephants in 2016.
But cultural and practical changes have forced the circus to reimagine itself many times before, Jennifer Lemmer Posey, the circus curator of the John and Mable Ringling Museum of Art in Sarasota, tells Axios.
Catch up quick: In 1872, P.T. Barnum put his show on the railroad, creating a quick-moving, giant circus that eventually required over 100 railcars when Ringling Bros. merged with Barnum & Bailey in 1919.
The circus stepped out from under the big top in 1956, opting instead to perform in arenas as the growth of American cities made it too difficult to find empty spaces large enough for the show.
What's happening: The latest reimagination will comprise 75 performers from 18 countries, according to the Associated Press, and focus on acrobatics, spectacular stunts and high-stakes tricks.
The tour's first stop is in Bossier City, Louisiana, in late September, before making its way to Tampa Bay on Jan. 5, 2024.
Flashback: Almost a century ago, John Ringling North moved the Ringling Bros. and Barnum & Bailey Circus' winter quarters to Sarasota — a decision that indelibly changed the city and the circus.
A permanent location in Florida provided new opportunities for visitors who wanted to see the circus, even when it wasn't on tour, Posey says.
And, "there is still the lingering magic of the fact that, anywhere in Sarasota, that person who checked you out at a local store or said hello on the street may very well have ties to the Wallenda family [of high wire stunt performers] or the Zacchinis [who were known as the Human Cannonballs] … these amazing families settled here and are very much woven into the fabric of our community," Posey tells Axios.
What they're saying: For now, the circus' return to Tampa Bay has left many speculating.
"So many Americans have hard-written expectations for what a circus is, but most of what we've heard is what it won't be: It won't be animals, they've said there won't be clowns," Posey says. "What do they integrate now that we've never seen before?"
More Tampa Bay stories
No stories could be found
Get a free daily digest of the most important news in your backyard with Axios Tampa Bay.