Experts "cautiously optimistic" on manatee recovery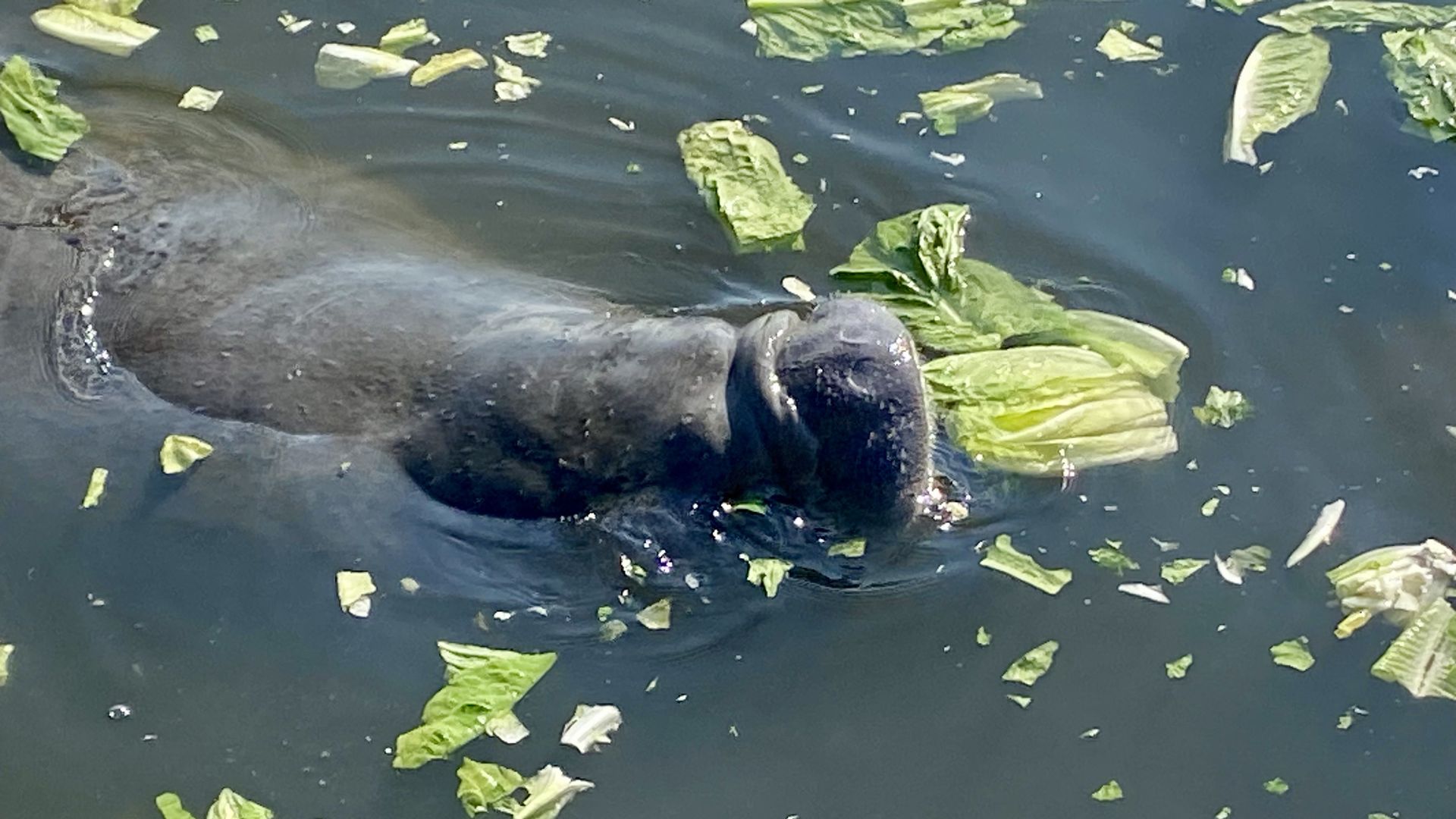 A huge and costly effort to keep manatees alive through the harsh winter by feeding them lettuce and rushing the sick or starving animals into hospitals seems to be working.
What's happening: As steady warm weather returns, manatee rescue and rehabilitation experts from the state and federal government tell Axios they're optimistic that the lower number of rescues and deaths this winter is a sign that the so-called "Unusual Mortality Event" is coming to an end.
"I wouldn't say we're in the clear," said Terri Calleson, Florida manatee recovery lead for the U.S. Fish and Wildlife Service who was at the temporary feeding station near the Florida Power & Light plant in Cocoa on Friday to talk to the press. "We're trending in the right direction."
Flashback: The past two winters have been hard on Florida manatees due to depleted seagrass beds in their winter feeding grounds.
The latest: Seagrass beds in the Mosquito Lagoon are recovering and tagged animals are being observed feeding there, per Ron Mezich, section leader for imperiled species management with the Florida Fish and Wildlife Conservation Commission.
That means fewer manatees have been showing up daily at the FPL plant to scarf supplemental romaine lettuce.
Plus, the manatees this year appear to be in better shape than the emaciated creatures who showed up to feed last winter.
Context: That's great news, because many believed it would take 10 to 12 years for the seagrass beds to recover, Calleson told us.
The seagrass is still sparse, she warned, and could disappear again if water quality worsens in the lagoons.
What they did: The team pioneered a system to quickly analyze and rescue distressed manatees and get them to nearby emergency facilities — like manatee ERs — until stable.
Once solid, the sea cows are hustled into longer-term rehab facilities to gain weight and recoup, then they're returned to the wild ASAP — a key to success, biologists have learned.
And the routine is becoming more efficient. Last year, 106 manatees were rescued and 64 were released back to the wild; 28 manatees have already been released this year.
What's next: The feeding operation should start winding down March 1, after a streak of 10 days with water temperatures above 70 degrees and no cold fronts forecast.
More Tampa Bay stories
No stories could be found
Get a free daily digest of the most important news in your backyard with Axios Tampa Bay.