Drag icon Eureka O'Hara reflects on Florida visit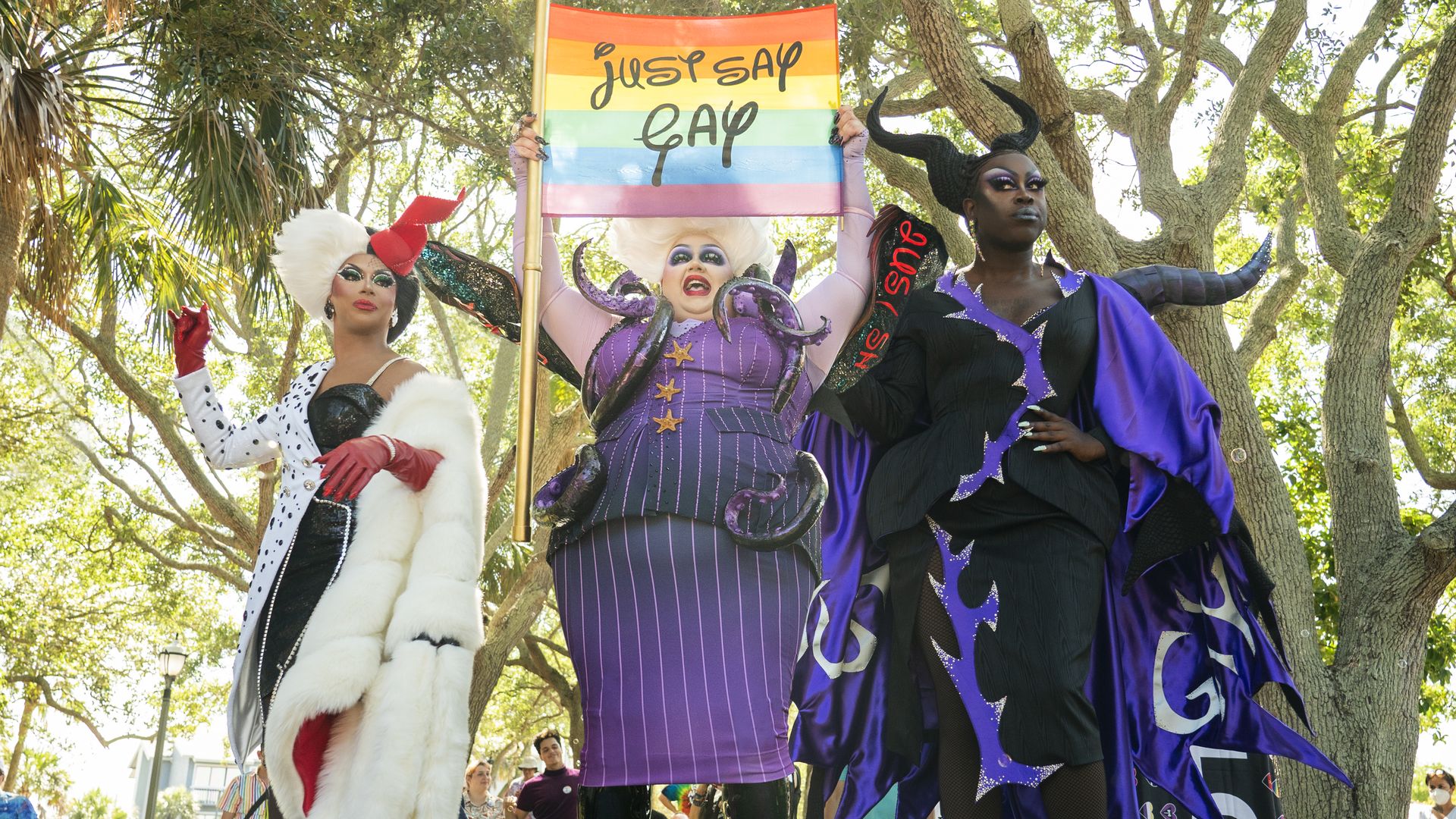 Eureka O'Hara makes a stunning Ursula with rhinestoned black and purple tentacles wrapped around her body. But she's here to amplify voices.
Driving the news: HBO's "We're Here" just aired its second Florida episode of its latest season, in which O'Hara and fellow legendary "RuPaul's Drag Race" sisters Shangela and Bob the Drag Queen tour the state, as well as parts of Texas, Mississippi, Utah and New Jersey.
Why it matters: The queens show viewers a glimpse of what it's like to be queer and trans in Florida, where lawmakers in the last year banned gender-affirming health care for minors and instituted the Parental Rights in Education Act, referred to by critics as "Don't Say Gay."
Zoom in: This season, O'Hara works with LGBTQ people and activists in Orlando, Winter Park, Kissimmee, Lady Lake, The Villages and Brevard County, and she opens up about the obstacles she's faced in her journey as a trans woman.
Axios talked to O'Hara about LGBTQ issues in Florida, and where the community goes from here. (Editor's note: Answers have been edited for length and clarity.)
Her advice for LGBTQ Floridians: "I want you to remember there are people out there who support you and love you and will help you and find a way for you. Don't give up. ... You're not alone."
On legislative pushback against drag: "Drag was here when it was illegal before. It's going to be here well after if it's illegal again. The true people affected by the political statements and laws trying to be passed are trans people, people trying to live their authentic lives visibly and comfortably."
Her message to anti-LGBTQ legislators: "What right do you have to dictate my existence? Stop trying to erase who I am. I deserve the space that I have in this world. I deserve to be who I am authentically. … You can't take that away from me regardless of your opinion. No matter what you try to throw at me, you can't take away who I am."
"We're skipping the tragedy and getting straight to survival if you give parents the right to raise their children how they choose to."
On finding her voice: "One thing I gained from this season is realizing that it was so important for me to shed this exterior image of what I thought the world needed for me to be successful. I had to shut all that out to understand this is my time to stand up and speak."
"If ever it was a time for me to start standing up, speaking up and putting my bra on, honey, and gluing my lace down in the morning, today is the day."
More Tampa Bay stories
No stories could be found
Get a free daily digest of the most important news in your backyard with Axios Tampa Bay.