What we're watching on Election Day in Virginia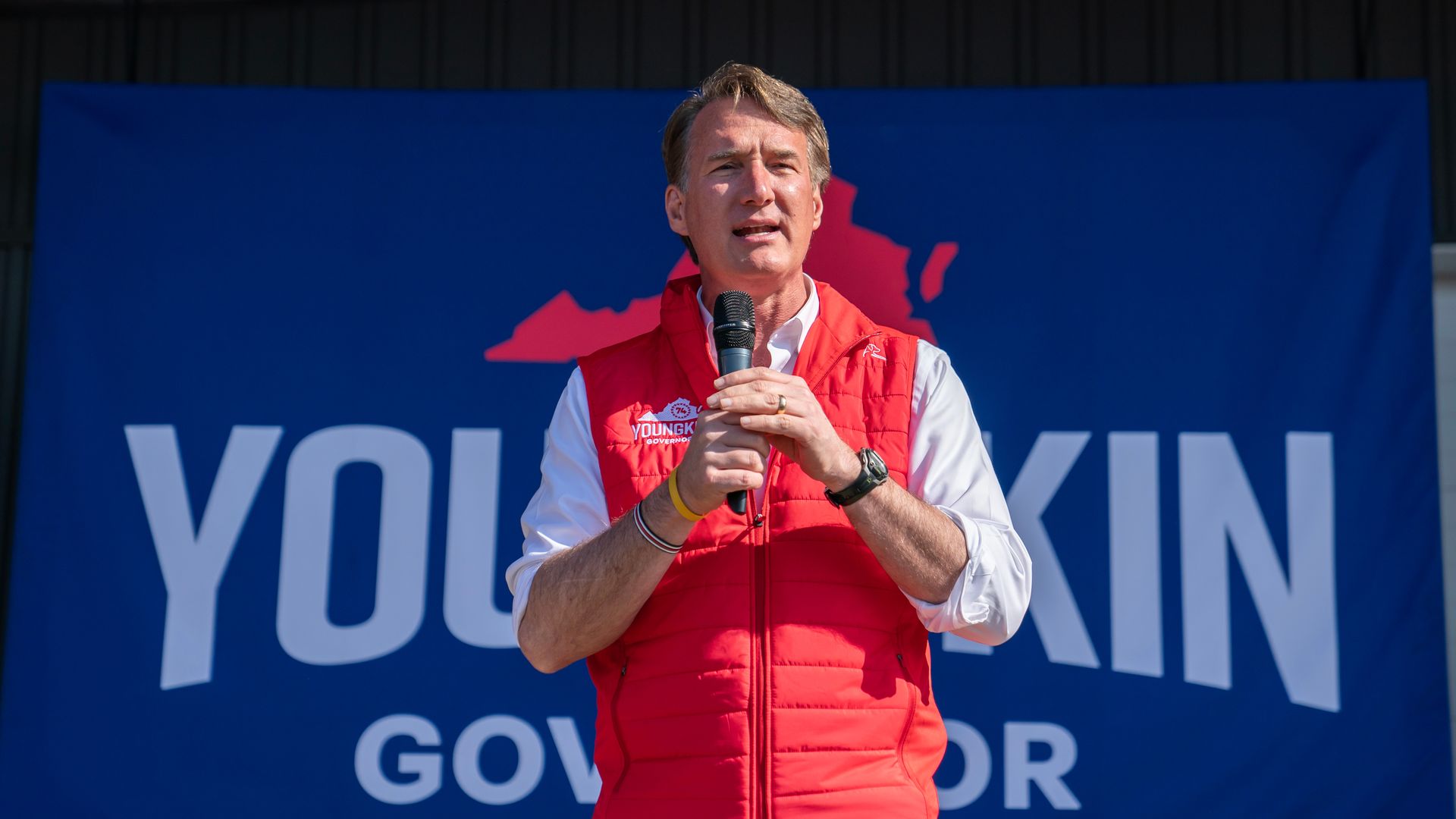 He's not on the ballot, but he couldn't have more at stake.
What's happening: Gov. Glenn Youngkin is front and center this Election Day as he tries to eke out majorities in the state House and Senate.
State of play: Both chambers are considered toss-ups.
Why it matters: Depending on how races shake out in a handful of suburban swing districts, the next two years in Virginia could look very different for both the state and Youngkin.
If Republicans can win majorities in both chambers, they've promised to usher in a conservative agenda ranging from a 15-week abortion ban to big, new tax cuts.
On the other hand, Democratic victories in either or both chambers would mean Youngkin ends his term much the way it started — with Democrats triumphantly blocking all but the most banal bills that come out of his administration.
What they're saying: "Elect a Republican team to back me up, and I promise, we'll deliver," Youngkin said in a closing ad released by his PAC.
What we're hearing: Democrats have sounded increasingly confident in the final days of the race that they'll at least be able to hold the Senate.
"I think he thinks he's cracked the code, but he's going to get his head cracked," Don Scott, the Democratic leader in the House, told the Wall Street Journal.
Meanwhile, some Republicans have begun to raise doubts about their prospects. One unnamed GOP strategist was predicting a "massacre," per the Journal.
What we're watching: Youngkin's proposed 15-week abortion ban represents the first time the GOP has gone on offense on the issue in a swing state post Dobbs.
Youngkin's camp is betting that staking out what it frames as a "reasonable compromise" on the issue will bring back some GOP voters who might have been scared away by more draconian restrictions adopted in red states.
Democrats are skeptical and vigorously disagree with its portrayal as either reasonable or a compromise.
But both sides are eyeing the potential implications for the 2024 presidential contest.
What's next: Expect results to start rolling in shortly after polls close at 7pm.
Registrars around the state have warned that full results might not be available on election night because of how many different races are on the ballot.
More Richmond stories
No stories could be found
Get a free daily digest of the most important news in your backyard with Axios Richmond.