Richmond renters are fed up with rent increases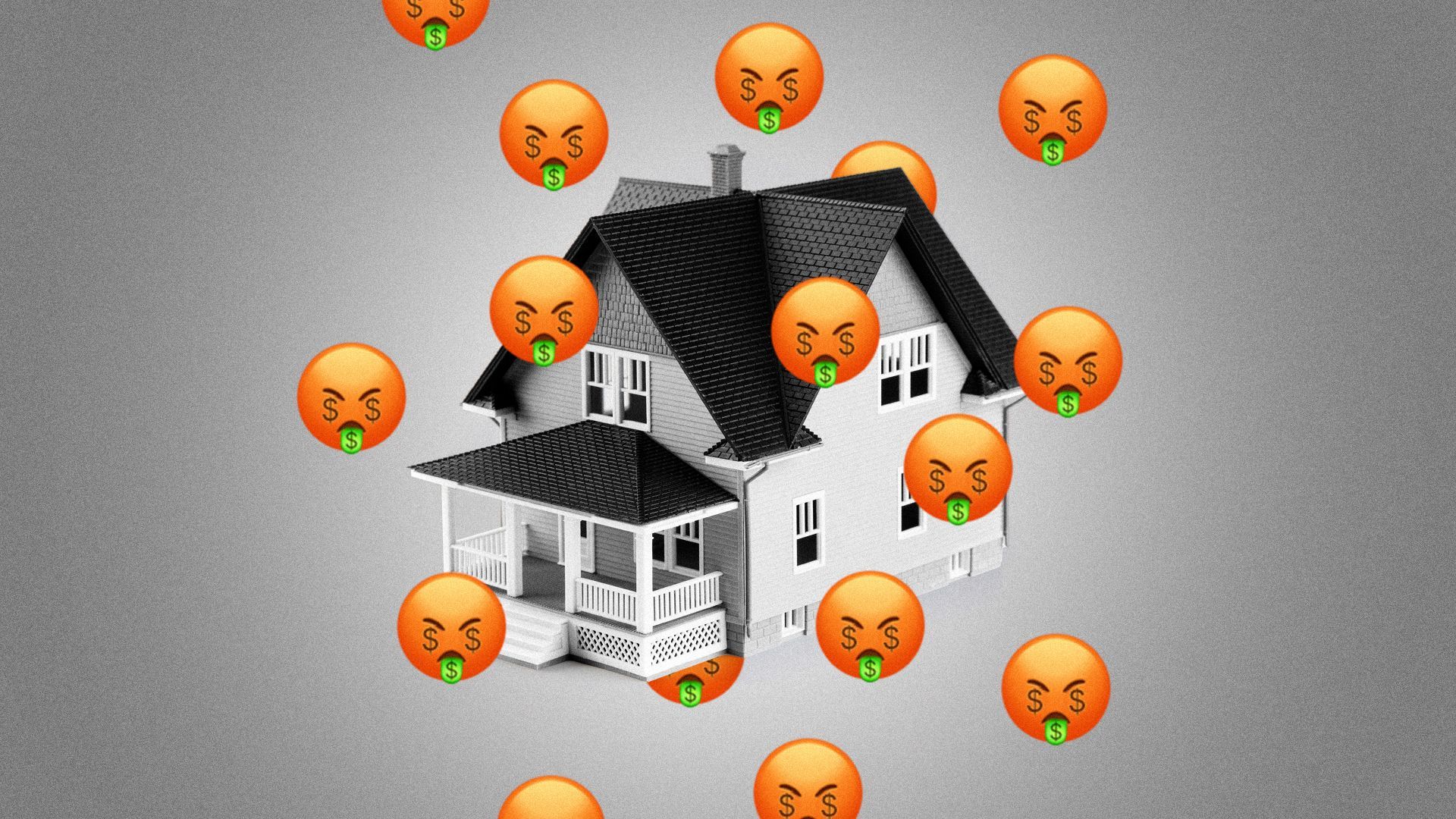 Richmond renters have had enough of rent hikes, move-in fees, new luxury apartments and transplants moving in armed with bigger budgets.
Driving the news: In rental social media groups, on message boards and in the comment section of any post connected to housing, some locals are pushing back and calling out anyone with a property to rent, according to an Axios analysis of these sites over the past few weeks.
Why it matters: It's a real-time, albeit oftentimes kind of mean, look at how three years of big rent increases have changed the conversation around affordability in Richmond.
What they're saying: "People charging this much for an apartment in Richmond should be in jail," read one comment on a sublease listing for a $2,420 two-bedroom, two-bath in the Fan.
"Oh come on, at this point you people are just throwing insane numbers out to see if someone is stupid enough to pay it," someone said to the lister of a $2,850 three-bedroom, single-family house in Midlothian.
"You should stay in California," someone posted in response to a woman saying her family is planning to relocate to Richmond from LA over housing affordability.
"You should move to Charlotte," added another.
By the numbers: The median rent price in Richmond varies widely depending on part of town, the number of bedrooms and who's reporting the numbers.
Apartments.com, powered by CoStar Group Market trends report, puts the average Richmond rent at $1,305.
But there's one thing they all agree on: Richmond rent is more than it was last year and a lot more than it was pre-COVID. (One report showed that prices in summer 2022 were 24% more than at the start of the pandemic.)
Meanwhile, the median income for Richmonders ticked up just under 4% in that time, according to DataUSA.
The median income in metro Richmond is $40,687 for a single person and $74,151 for a household, according to the latest census data.
That would make the median affordable rent for most Richmonders $1,100 for one person or $1,850 for a two-income household, using the standard that rent should be no more than 30% of one's income.
What's happening: Frustration and fear that they're being pushed out of their city is what's driving some locals to comment, nearly a dozen frequent posters tell Axios.
Zoom in: Joe Enroughty was born and raised in Richmond and was paying $725 for a two-bedroom in the Fan when he moved to Maine in 2017.
He moved back this year and found his old apartment is exactly the same, just now $1,495 a month.
Now, after months of searching while living with his parents, he's likely leaving again, finding himself priced out of nearly every part of town.
After five years living with roommates, Alexis Franklin tells Axios she picked up a second restaurant job, her third job total if you include pet sitting, to swing a place on her own.
Two weeks ago, she paid a $65 application and submitted six months of bank statements showing a healthy savings and three months of pay stubs showing thousands in monthly tipped income to apply for a small, $1,050 one-bedroom, one-bathroom apartment in South Richmond.
She found out yesterday she was declined for not meeting the income requirements. The out-of-state management company said their calculations say she can only afford $127 a month.
"I've never been scared of being homeless before now — and I'm not broke," Franklin tells Axios.
The process, plus fees, rent add-ons and sometimes stringent credit and income requirements are part of what's fueling the frustrations and posts, commenters tell Axios.
There are $50-$65 application fees, $200 lease signing fees, pet deposits, pet rent, sometimes double the security deposit or income requirements at four times the monthly rent.
Then there are monthly rent add-ons, which can include $50 more for parking, another $50 for a washer/dryer and $40 more for a Resident Benefits Package, an increasingly common charge for things like air filter replacement and access to maintenance.
Yes, but: There are some signs of hope — and that renters pushing back is working, at least in a handful of cases, according to an Axios review.
A $1,700, two-bedroom apartment in Henrico dropped to $1,500 after renter complaints; a three-bedroom, single-family home in the city dropped from $1,600 to $1,500 — and leasing specials waiving the first month's rent are starting to pop up online.
The other side: Raul H. is trying to rent out the two-bedroom, one-bathroom basement apartment of his suburban home for $1,500 a month, all utilities included.
He's one of the landlords who got eviscerated in the comment sections for having fluorescent lights in the kitchen and no pulls on the cabinet doors, and he initially asked for renters to make six times the monthly rent.
In one case, someone shared his address, estimated his monthly mortgage and accused him of price gouging renters.
"I understand [the anger]. This is affecting everyone. My home insurance, my taxes, my health insurance, they all cost more," he tells Axios.
Raul moved to Richmond from Nashville in 2017, and after three years of renting he bought his first house in 2020 knowing he'd need to rent out the basement to help cover the mortgage.
But in the last three years, his property value has shot up nearly 40%, or $140,000, according to a review of county property records, making his monthly payment significantly higher.
Plus, Raul tells Axios he got burned by his last tenant, for whom he waived the security deposit only to have the tenant pay rent only twice before trashing the apartment when Raul evicted him.
"It's very scary," he says.
When he moved here, Raul says everyone told him Richmond was a great place to live because you could find a good job and it was affordable.
These days, only part of that is true, he says.
Richmond is a great place to live — if you can afford it.
More Richmond stories
No stories could be found
Get a free daily digest of the most important news in your backyard with Axios Richmond.