A wild idea for Raleigh: Build a gondola to Dix Park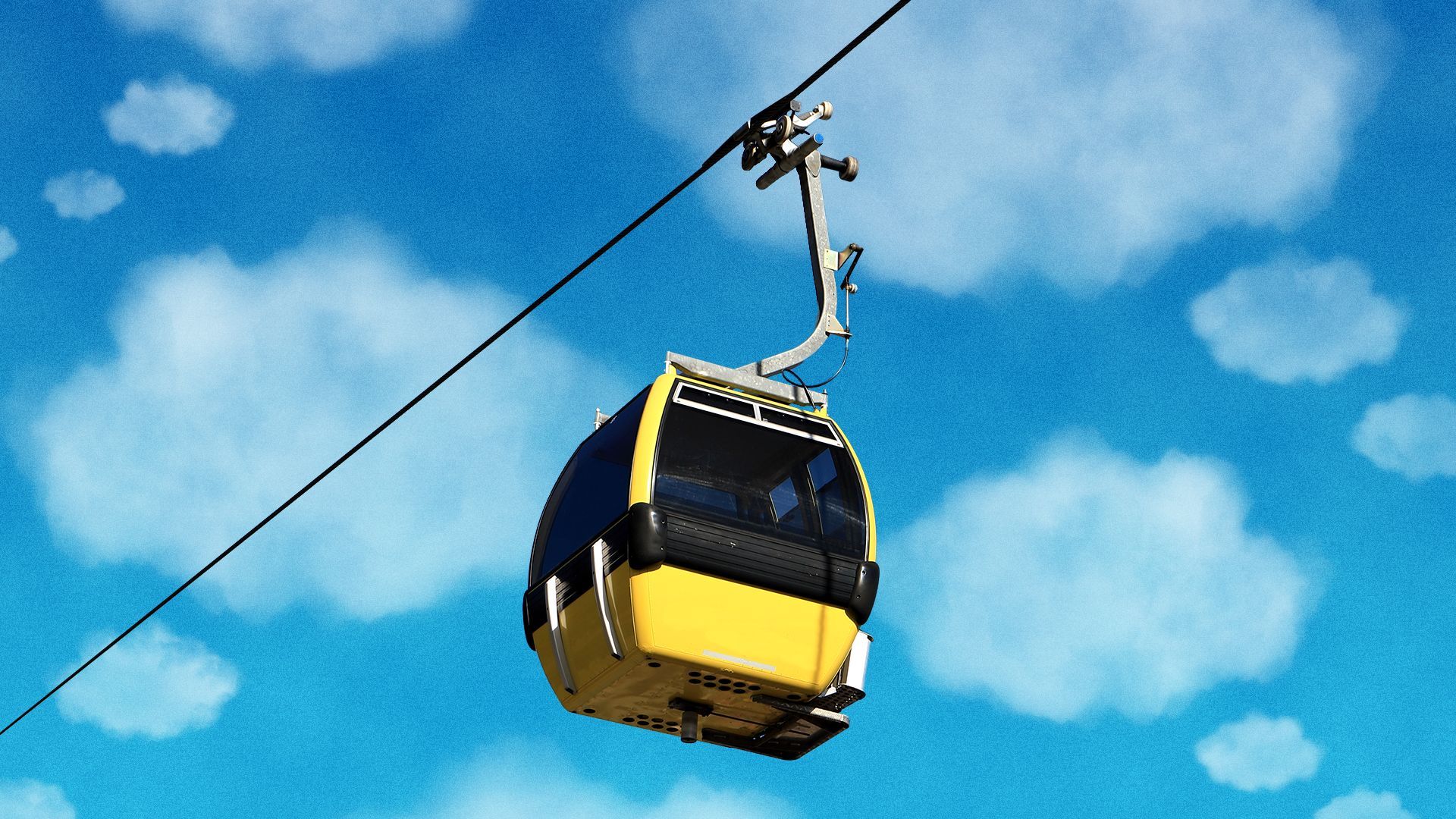 Here's a subject that some of Raleigh's most influential people talk about excitedly behind the scenes:
Is a gondola a pie-in-the-sky idea or the perfect solution for connecting Dix Park to downtown?
Why it matters: City leaders want the 300-acre Dix Park to become Raleigh's grand central park that feels accessible to downtown or to anyone without a car.
Context: Already, city and park leaders have drawn up plans for pedestrian bridge connections that would connect Dix Park to Pullen Park — but those plans require N.C. Department of Transportation coordination. Plus, Pullen isn't exactly close to downtown, either.
A railroad bridge crosses Western Boulevard and could potentially carry people as well — but that is not considered feasible due to Norfolk Southern's needs for the rail line.
State of play: Those struggles are why some people like the idea of a gondola — think ski lift with enclosed cabins — that would fly over all of the complicated existing infrastructure.
Importantly, it would help solve potential troubles with parking at the park, Orage Quarles, vice chair for the Dix Park Conservancy, told Axios.
Parking "is going to be one of the biggest issues when you bring in a million people to an area," said Quarles, who fondly remembers a presentation to the city around five years ago about the gondolas of Medellin, Colombia.
"Wouldn't it be cool if we had a gondola or a tram to move people from the park to downtown … where all the available parking is?"
Raleigh Mayor Mary-Ann Baldwin said the gondola is something people joke about while also taking seriously.
She noted she's even asked city staff to look into the cost of building one (she doesn't have an estimate yet), and has been hooked on the idea since riding the aerial tram in San Diego's Balboa Park.
Flashback: The conversations aren't new.
Former Mayor Nancy McFarlane said she used to have a picture of a gondola in her office and that a developer even once pitched her, a decade ago, about using his property near the Martin Marietta Center for the Performing Arts as the gondola's departure point.
The property ended up getting sold, but she's been talking to people about it ever since.
McFarlane also said that the gondola could provide a unique attraction downtown that would draw attention to Dix Park.
Yes, but: Money. The city would have to find funding to get the project ... off the ground.
And Dix Park board's priority is building out amenities in the park, like the Gipson Play Plaza, and figuring out street-level improvements as developers flock to build around the park.
Baldwin said the gondola would likely need funding from a municipal bond or via private or philanthropic funds.
What they're saying: "One of the things I want to encourage is that we look at things with an innovative eye, that we do things that are a little daring, and that we have fun and we create something," Baldwin said.
"Dix Park is there to be mind-blowing, and [a gondola] would be such a fun experience."
More Raleigh stories
No stories could be found
Get a free daily digest of the most important news in your backyard with Axios Raleigh.