NC Republicans override governor and relax state gun laws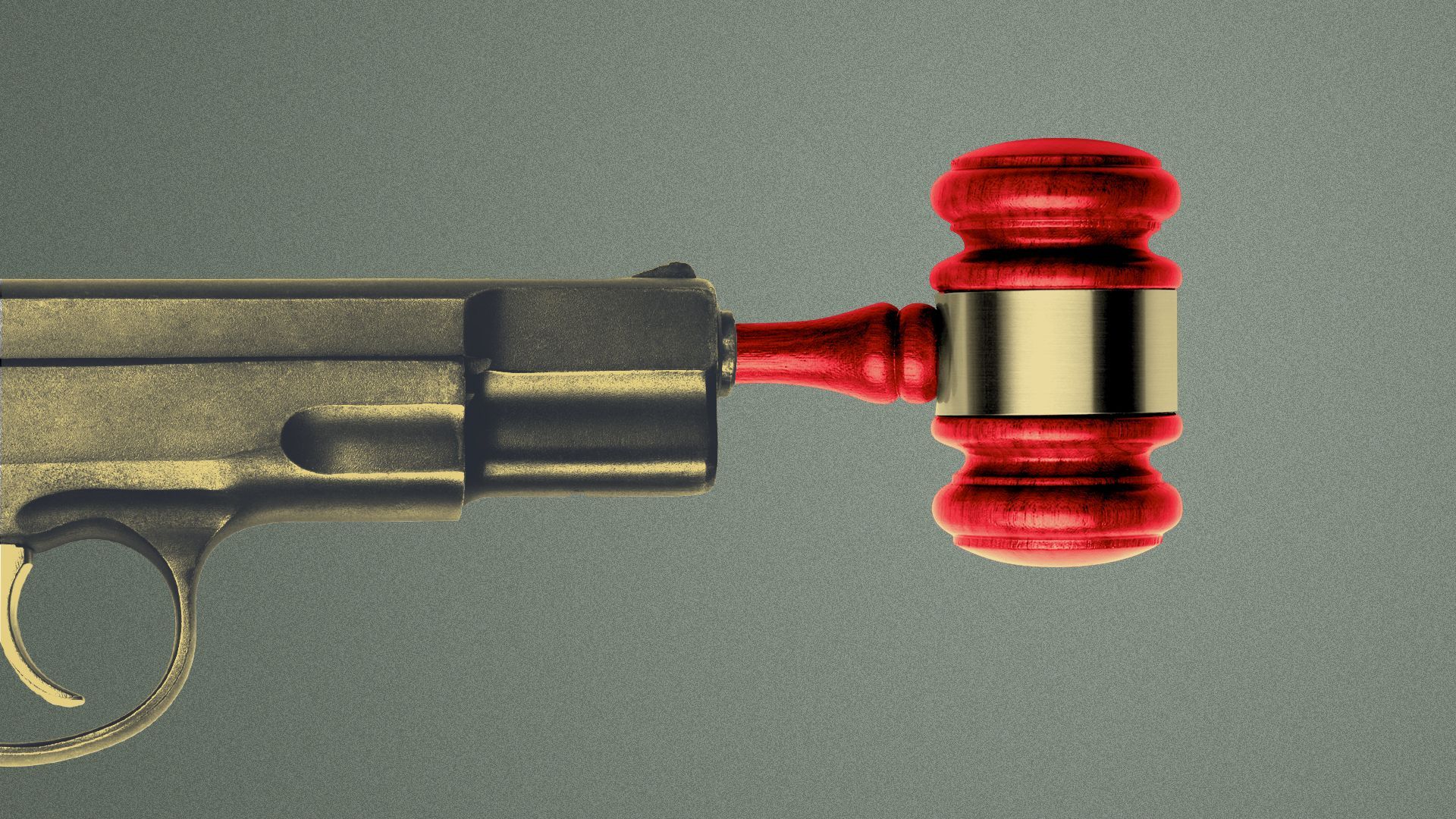 North Carolina sheriffs will no longer vet gun owners who apply for pistol permits after lawmakers overrode the governor's veto of legislation repealing the requirement.
The now-law also allows guns in churches connected to private schools and implements a firearm safe storage awareness initiative.
Driving the news: The override vote, held in the state House Wednesday, was the first test of Republicans' new "effective" supermajority.
And it's the first time the party has overridden Democratic Gov. Roy Cooper since 2018.
The intrigue: Republicans' win is a first-time flex of a newfound power voters bestowed on them in last year's election, when the party won a supermajority in the Senate and one seat short of a supermajority in the House.
Their success in overriding Cooper is also a sign that Republicans will likely be able to override a number of future vetoes this year on abortion restrictions, parents' rights in education and election law changes.
The big picture: The legislation became law just two days after a gunman killed six people, including three 9-year-olds, in a Nashville school, which Democrats have underscored in recent days.
Republicans, however, say the legislation is unrelated to the Nashville shooting.
What they're saying: "I would hope that no one uses the tragedy that occurred in Nashville to score political points," the News & Observer reports Republican bill sponsor Sen. Danny Britt said on the Senate floor. "What we're doing in this bill would not impact the situation in Nashville. What we're doing in this bill would not make people less safe."
Details: The now-law repeals North Carolina's pistol purchase permit requirement, which tasks sheriffs with issuing permits after checking an applicant's criminal background history and are satisfied they have "good moral character."
Until now, permits were required for private gun sales and licensed sellers alike.
The law creates a loophole for those buying pistols through private sellers, though, because only licensed dealers are subject to federal background checks.
Some people will now be allowed to carry guns in churches attached to schools when school is not in session, and Democrats say the law will make it easier for convicted domestic abusers to get guns.
Flashback: Cooper and legislative Democrats blocked a similar gun bill from becoming law just a year and a half ago but didn't have the votes to do it again this year.
With a Republican supermajority, the Senate overrode Cooper with relative ease Tuesday, and three Democrats didn't show for the override vote in the House Wednesday, giving Republicans the votes they needed to usher the bill into law.
More Raleigh stories
No stories could be found
Get a free daily digest of the most important news in your backyard with Axios Raleigh.