Triangle tech scene finds relief after Silicon Valley Bank collapse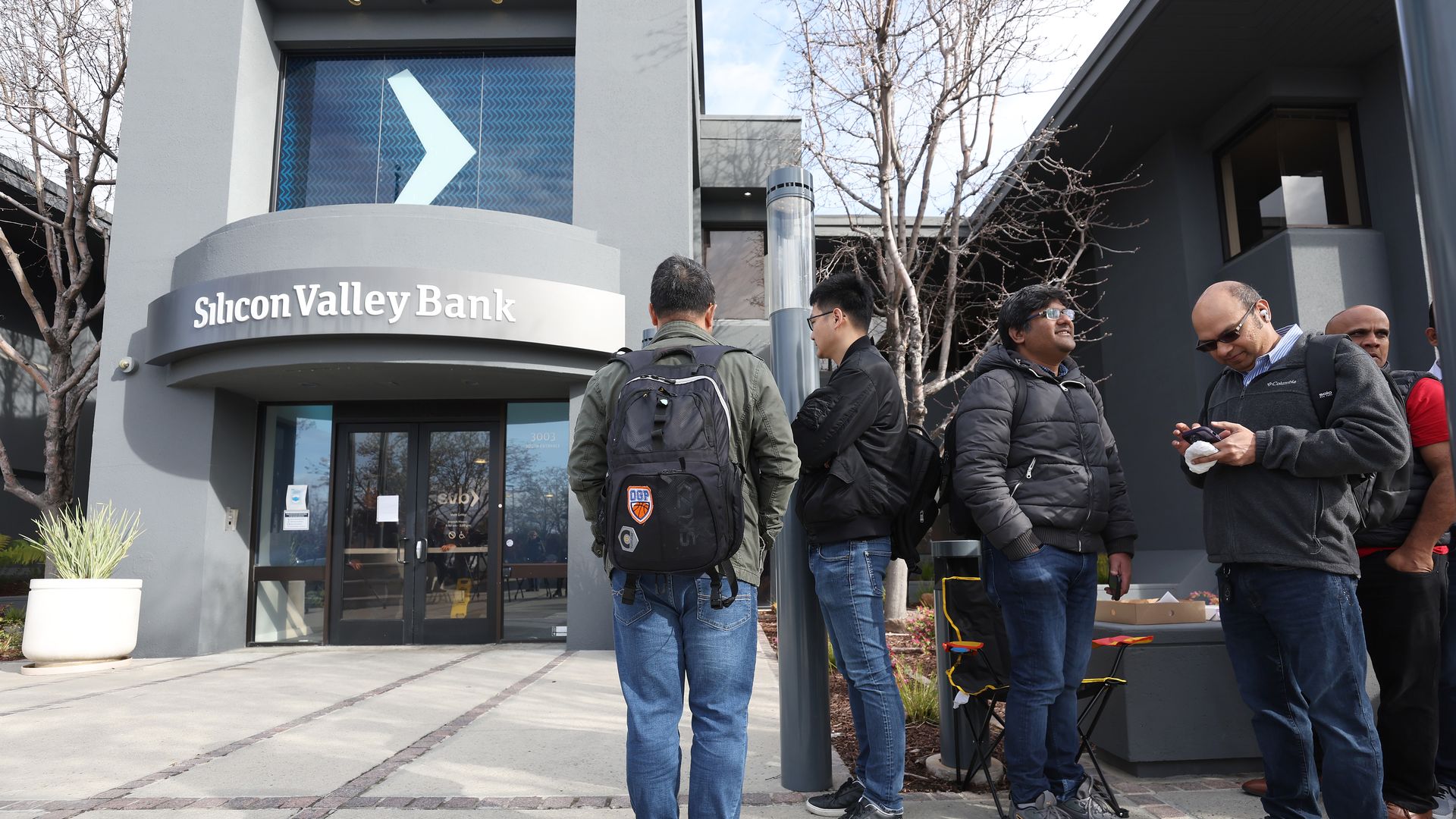 Sighs of relief could be heard throughout the Triangle's tech and investment community Monday — after the federal government made the decision to fully guarantee depositors at the now-collapsed Silicon Valley Bank.
"This weekend was scary," Ryan Perlowin, a general partner at the Chapel Hill venture capital firm Jemison Alexander, told Axios.
Why it matters: The guarantee means that Triangle startups with money at SVB — of which there were many — will get access to their cash and should be able to make payroll come the 15th.
Context: SVB, which had an office in downtown Raleigh, was one of the most popular institutions for tech and biotech startups to park their cash and get lines of credit.
The loss of its deposits could have hurt companies and venture capital firms from San Francisco to Research Triangle Park, local investors and founders warned before the government stepped in.
What they're saying: "Had SVB's failure led to depositors being left unwhole, the results would have been industry-shaping," Perlowin said. "Companies would have at minimum had to furlough their teams this week, and thousands of companies would have dissolved by the end of March."
Zoom in: Jay West, co-founder of the Durham genetics company BioSkryb Genomics, told Axios he was at a health care conference when he was surprised with the news about SVB's sudden collapse.
The company's money at the bank — which oscillated between seven- and eight-figure sums — became inaccessible within hours, as panic grew rapidly on social media. BioSkryb had to ask customers to stop payments because they had nowhere to deposit them.
"I will be honest, I haven't slept much this weekend," he said, noting he didn't know until Saturday evening whether he would be able to pay employees or its bills at the end of the month.
"This was not a California problem," he said. People across the country and locally at thousands of companies were "going to be in dire straits if these assets were not made available."
What we're watching: Signs of worry still remain. Scot Wingo, the founder of the on-demand car care startup Spiffy and the Triangle Tweener Fund, said he believes more regional banks that have been lifelines for the tech community could fail.
Shares of PacWest, a California bank that bought Durham's Square 1 have halved in value since last Thursday in response to the SVB collapse.
The experience of this week could make banks and investors more cautious in the loans they make, Axios' Neil Irwin writes.
Melissa Phillippi, the CEO of Durham HR software startup WorkDove, said she believes the event will further hurt investments into young companies.
"The economics of capital investment are not good right now for startups," she told Axios. "To put it simply, why would an investor fund an extremely risky investment when they can get a fairly decent spread on a guaranteed (US-backed) one instead?"
It will also likely make founders more cautious, too, and more likely to put their money into bigger banks.
West said his company is currently deciding which bank or banks it will take its money once it's unfrozen. "Inevitably, out of a sense of fiscal responsibility, we will need to diversify our holding accounts," he said.
Wingo said he's currently thinking about spreading Spiffy's funds across multiple banks — a move he did with his last startup's money after the investment bank Bear Stearns failed in 2008.
Go Deeper: Silicon Valley pulls back from the bank failure abyss
More Raleigh stories
No stories could be found
Get a free daily digest of the most important news in your backyard with Axios Raleigh.