The 9 biggest developments in the Triangle in 2023
More cranes are coming to the Triangle's skylines in 2023, from our downtowns to our suburbs.
Why it matters: The secret is out about our region — at least among developers taking advantage of the area's growing population and increasing economic might.
We've rounded up some the biggest projects taking shape this year — from Raleigh's Warehouse District to Chatham County.
Of note: This isn't an exhaustive list and construction timelines often change.
American Tobacco Campus Phase II
Description: Capitol Broadcasting is beginning its ambitious expansion of the American Tobacco Campus, demolishing the old University Ford property in downtown Durham to make way for the Triangle's first all-timber office tower.
It will add apartments in addition to offices and bring the ATC's total to around 2 million square feet.
The company, which also owns WRAL and the Durham Bulls, is partnering with Hines and USAA Real Estate on the project.
Why it matters: The American Tobacco Campus has been one of the most important projects in Durham's resurgence over the last two decades.
Its expansion and dramatic change to the skyline could shape downtown's growth in the decade to come.
Kimpton Hotel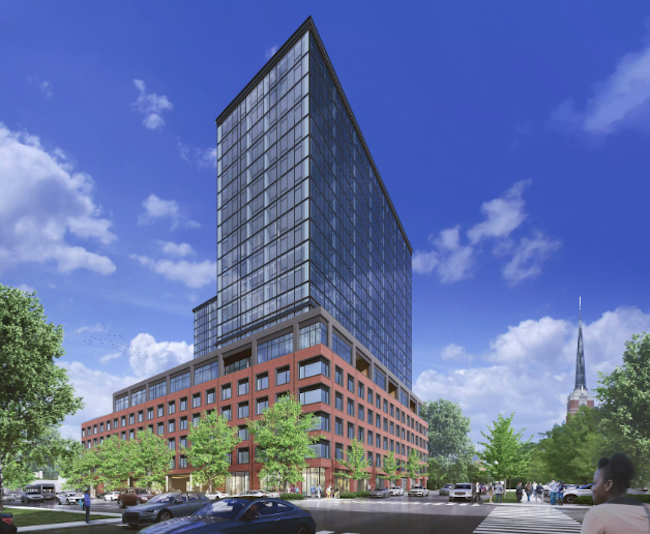 Description: Luxury hotel brand Kimpton is making a splash in downtown Raleigh with plans to demolish the long-standing circular Holiday Inn for a 179-room hotel.
The six-story hotel is part of a 20-story tower being built on Hillsborough Street by the New York developer Tidal Real Estate.
Why it matters: City leaders have been desperate for more hotel rooms downtown for years, as they hope to make Raleigh more attractive to conferences and big events. Landing Kimpton, a hotel present in many other large cities, was a win toward improving the city's destination appeal.
Union West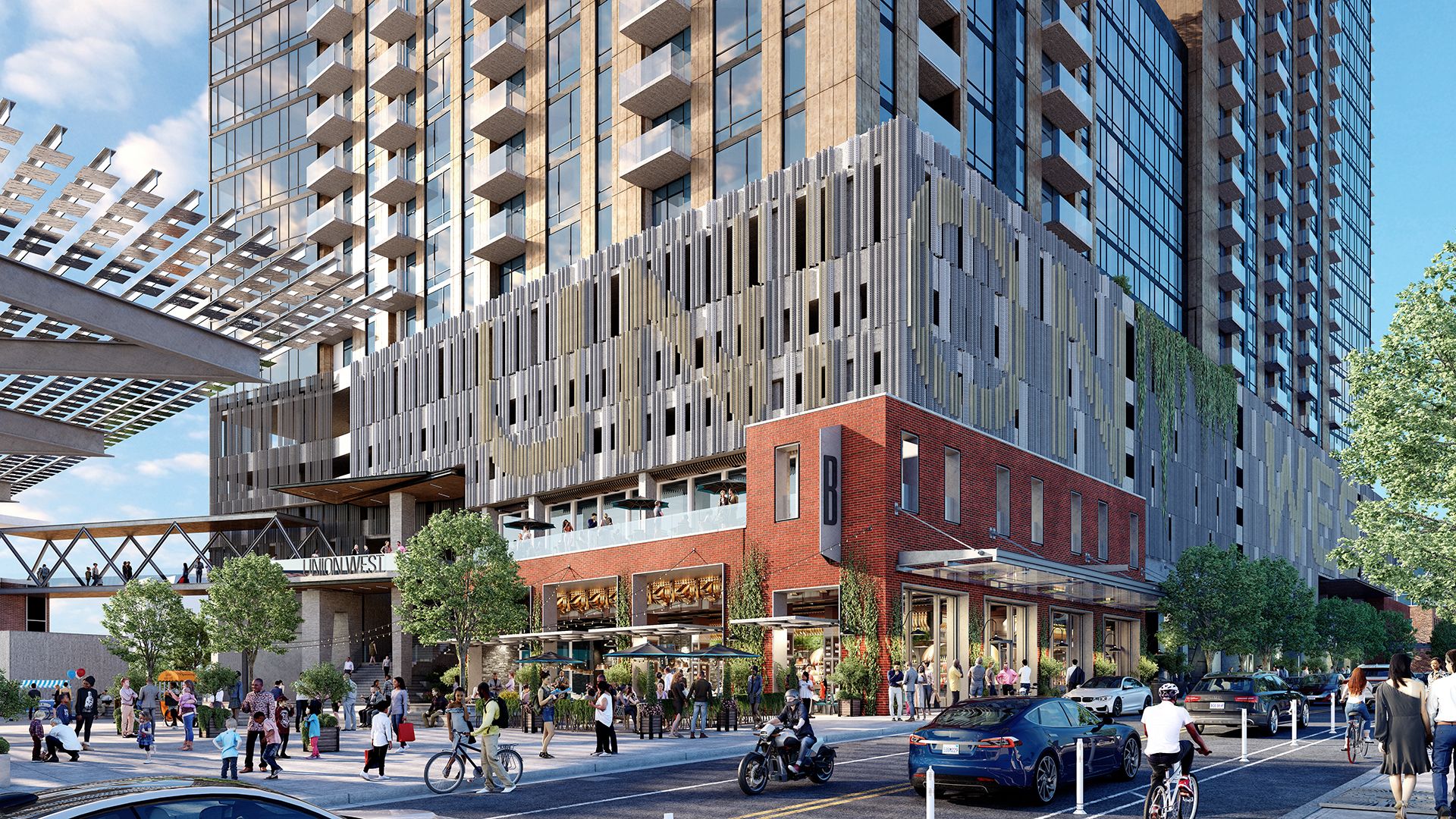 Description: The Raleigh Union Station Bus station — a 32-story tower being built by Hoffman & Associates and GoTriangle — has a new name heading into the New Year: Union West.
The project, one of the city's largest, could open in 2025.
Why it matters: Located next door to Union Station at 200 S. West St., Union West will become a key cog in the city's improved transportation infrastructure.
It will include a new regional bus station, 560 apartments, a hotel and retail space — all within one of the city's most walkable neighborhoods, the Warehouse District.
Around 10% of the apartments on the site will be leased at affordable rates for households making 80% of the area's median income.
Wolfspeed's Chatham County plant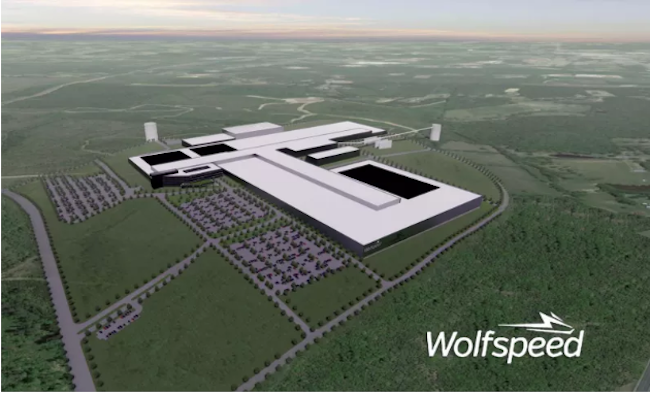 Description: Valued at $5 billion, Durham semiconductor maker Wolfspeed's materials plant in Chatham County is one of the largest economic development projects in North Carolina history.
Phase one of construction is expected to be completed by 2024 and, when all is said and done, the project could employ 1,800 people.
Why it matters: Wolfspeed was part of a string of large economic development wins in Chatham County, southwest of Raleigh, including an electric-vehicle manufacturing plant from VinFast.
The dual projects stand to continue stretching the Triangle's growth southward into the fast-growing towns of southern Wake County and Chatham County.
VeLa Longview Apartments
Description: Another high-rise apartment tower will be added to the mix when VeLa Development Partners kick off construction on a 30-story tower near Marbles Kids Museum in downtown Raleigh.
Why it matters: Developers are betting that downtown Raleigh will remain attractive to new residents for years to come.
Brightleaf Square Expansion
Description: The closure of Matt Kelly's Saint James was a sad day for restaurant-goers. But it also revealed that Charlotte-based Asana Partners had large-scale plans for a prominent part of Durham's Main Street.
The real estate firm has submitted plans for a 200,000+ square foot retail and office building.
Why it matters: Asana has made an aggressive play along Main Street. Across the street, it is also renovating Brightleaf Square and adding new tenants, like One Medical and Jenni's Ice Cream.
But construction on the Saint James property — and potentially other parcels it has bought — ensures the company will have a huge say on the area's future look and feel.
Downtown South gets underway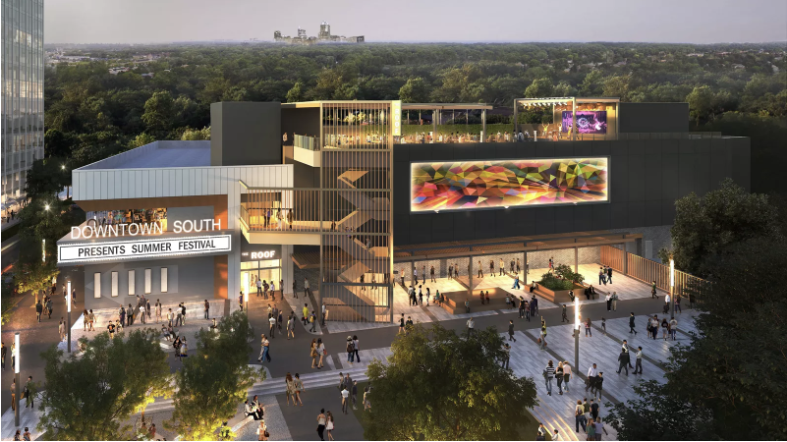 Description: Construction on the first phases of Kane Realty's Downtown South project are expected to kick off this year, with a music venue and apartments planned.
The music venue, with a potential capacity of 3,500 people, will be operated by AEG Presents, one of the largest events companies in the country responsible for booking acts like Taylor Swift and The Rolling Stones.
The 70,000-square-foot venue — complete with a rooftop lounge — is scheduled to be completed sometime in 2024, Kane Realty said last year.
Construction on a 21-story apartment building and a 27-story office tower in Downtown South is also scheduled for this year, Kane previously said.
Why it matters: Downtown South is one of Raleigh's most ambitious projects. It will add multiple office and residential towers on the east side of South Saunders Street near Interstate 40.
The project was spearheaded by Kane and N.C. Courage owner Steve Malik, who originally envisioned the area as home to a soccer stadium.
A spokesperson for Kane said the music venue does not have any impact on the stadium's future, which remains unclear.
University Place Chapel Hill
Description: The transformation of the University Place mall in Chapel Hill is set to pick up in 2023, as developers Ram Realty try to rejuvenate one of the region's oldest indoor malls by making it an open-air town center.
When completed, the redevelopment plans will add 350,000 square feet of retail and restaurant space, 60,000 square feet of office space and 253 apartment units on the property.
Why it matters: University Place is the latest example of how traditional indoor malls in the Triangle have become prime targets for redevelopment, as consumers' shopping habits change.
Spark LS Morrisville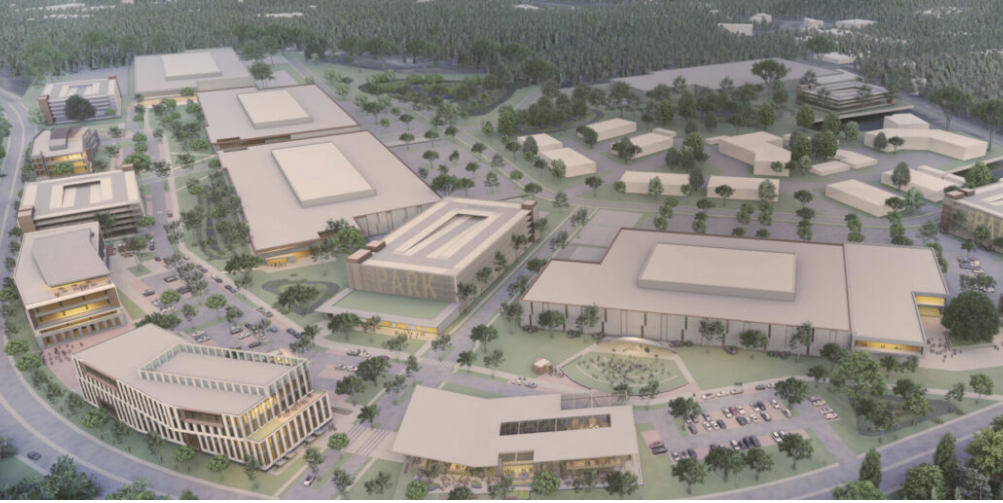 Description: When it's fully built out, Spark LS, a project from North Carolina developer Trinity Capital, will be one of the region's largest biotech campuses — with potential for up to 1.5 million square feet of space for labs, manufacturing, retail and restaurants.
Work on the first phases will be moving into high gear in 2023.
Why it matters: If the Triangle is to continue growing as an important biotech cluster in the U.S., it will need more space for labs and manufacturing.
Traditionally, that space has been built within the boundaries of Research Triangle Park, but Spark LS is one of several projects bringing lab space to areas outside of the park.
More Raleigh stories
No stories could be found
Get a free daily digest of the most important news in your backyard with Axios Raleigh.