Midterm elections 2022: Voting in Wake County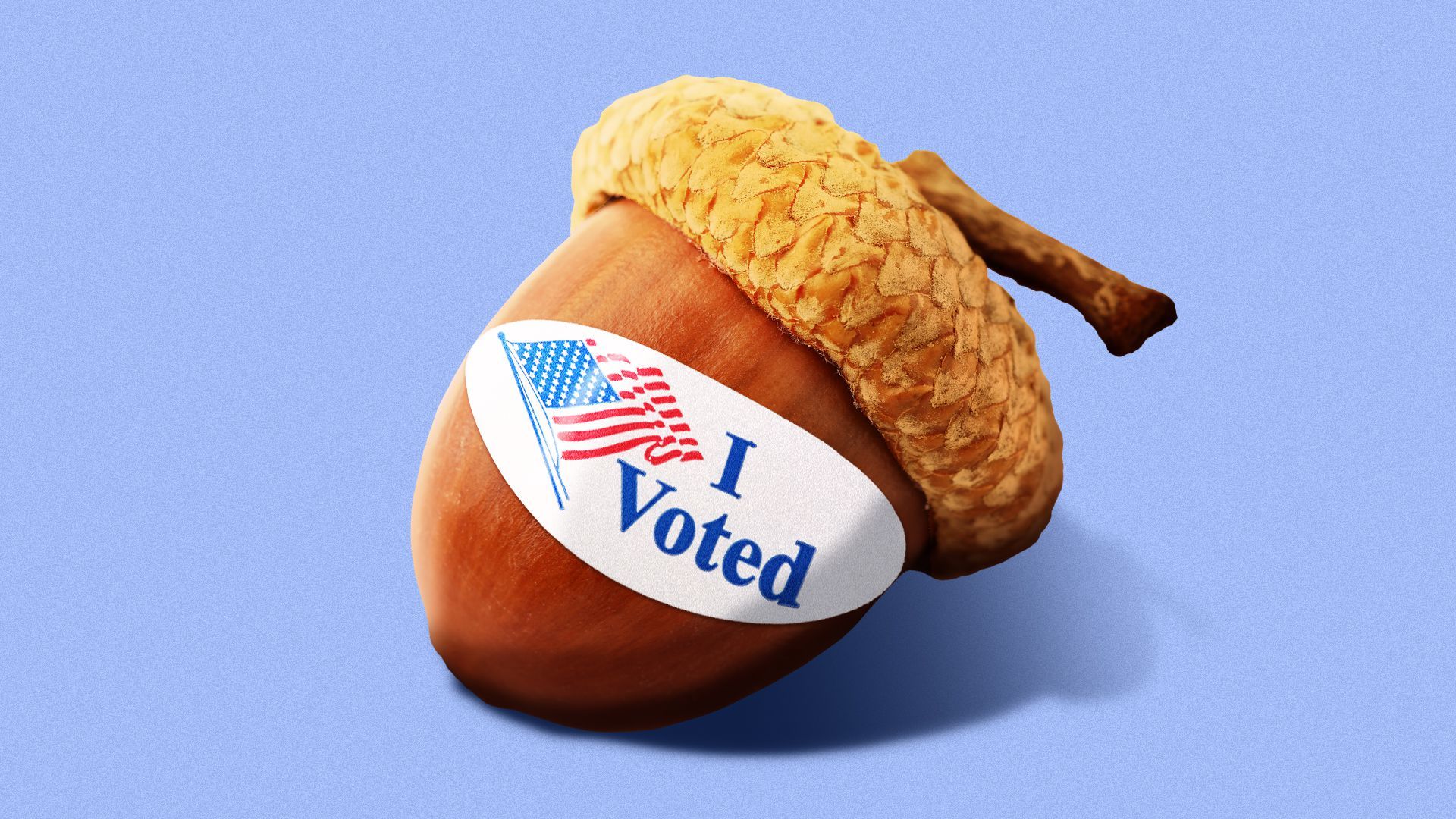 Election Day is Nov. 8, and your ballot is going to be long.
From school board races to U.S. Senate, you have a lot of decisions to make if you haven't already cast your ballot.
Why it matters: Your vote always matters. But this year North Carolina voters could help determine whether Democrats hold on to both chambers of Congress, or whether Republicans take control of the state Supreme Court and win a supermajority in the legislature.
Plus: The local races, though they receive less hype, will influence your everyday life.
Keep reading for your Smart Brevity, handy-dandy, user-friendly guide to some of the most pivotal races in Wake County this year.
To see what'll be on your ballot: Head to the state's voter registration lookup, search your name and scroll until you see a heading titled "YOUR SAMPLE BALLOT." Click the link under "Your Sample Ballot(s)."
Key dates
Nov. 5:  Early voting ends.
Nov. 8:  Election Day.
Nov. 14: Mailed absentee ballots must be received by 5 pm.
Here's how to complete your absentee ballot, and here's everything you need to know to return it to make sure it's accepted.
Statewide races
U.S. Senate: U.S. Rep. Ted Budd (Republican) faces former N.C. Supreme Court Chief Justice Cheri Beasley (Democrat) in the race to replace retiring Republican U.S. Sen. Richard Burr.
State Supreme Court: These under-the-radar races could solidify the GOP's hold on the North Carolina, as the winners will determine whether Democrats maintain their majority on the court or lose it.
Congress
2nd Congressional District: Christine Villaverde (Republican) vs. U.S. Rep. Deborah Ross (Democratic incumbent) 
13th Congressional District: Bo Hines (Republican) will face state Sen. Wiley Nickel (Democrat) in November, in the race for a highly competitive U.S. House race. 
State Legislature
19 state legislative seats are on Wake County ballots. (See Senate maps to find your district, and House maps.) Here are some of the races to watch that may help determine whether Republicans claim a supermajority:
Local
District Attorney: Jeff Dobson (Republican) faces Lorrin Freeman, the Democratic incumbent who has made headlines in recent months as her office has pursued charges against North Carolina's sitting attorney general.
Sheriff: Donnie Harrison (Republican who served as sheriff from 2002 to 2018) will face Willie Rowe (Democrat) in the race to replace Democratic Sheriff Gerald Baker, who lost to Rowe in July's runoff election. 
Raleigh Mayor: DaQuanta Copeland, Mary-Ann Baldwin (incumbent) and Terrance Ruth
Raleigh City Council (find your district map here)
Board of Commissioners
Nonpartisan races on your ballot: Wake County Board of Education and Soil and Water Conservation District Supervisor
Board of Education
At a moment when schools have become ground zero for political fights over gender and sexuality, COVID's impact on learners, and teaching students history through the lens of race, all nine Wake County school board seats are up for grabs.
Why it matters: The winners will be tasked with ensuring students in North Carolina's largest school district receive a sound, basic education, allocate state and federal funding , set policy and remove or elect a superintendent.
District 1 (northeastern Wake, includes Zebulon, Wendell and Wake Forest)
With no incumbent in the district, Ben Clapsaddle, a director of operations for Fort Bragg's FORSCOM G-2, will face Cheryl Caulfield, a property manager.
District 2 (south Wake, includes Fuquay Varina and Garner)
Dorian Hamilton will face Monica Ruiz, who says on her website she has worked in Wake County Public Schools, most recently as a Virtual Academy 5th grade teacher, and Monika Johnson-Hostler, the incumbent in the race who leads North Carolina's Coalition Against Sexual Assault.
District 3 (northern Wake)
With no incumbent, Brooks Lowe will face Doug Hammack, a minister at Common Thread Church, and Wing Ng, a Raleigh physician.
District 4 (east Raleigh, includes Knightdale)
Becky Lew-Hobbs is up against Daniel Grant-King, a special education co-teacher in Wake County Schools, Michael Williams, a licensed school counselor who has served as a superintendent, and Tara Waters, the incumbent.
District 5 (south Raleigh)
With no incumbent in the race, Dawn Townsend will face Jackie Boegel, a music teacher, Lynn Edmonds, a public outreach director for Public Schools First NC, and Ross Beamon.
District 6 (includes downtown Raleigh)
Five candidates are vying for an open seat: Chad Stall, Dajma Livingston, Mary-Lewis Freeman, N.C. State lecturer Patrice Nealon, and Sam Hershey, CEO and founder of Just in Case Planning.
District 7 (northwest Raleigh)
Chris Heagarty, the incumbent and vice-chair of the school board, faces Jacob Arthur, a lawyer, and Katie Long.
District 8 (southwest Wake County, includes Apex and Holly Springs)
Lindsay Mahaffey, the incumbent and chair of the board, is up against Steve Bergstrom, an airline captain.
District 9 (includes Cary)
With no incumbent, Michele Morrow, a registered nurse, faces Tara Ann Cartwright and Tyler Swanson, a former special education teacher.
Referenda
Parks bond, for improving and expanding parks and greenways around Wake County - $275 million
Public school construction bond - $530.7 million
Community college bond to expand Wake Technical Community College - $353.2 million 
Editor's note: This story was originally published on Sept. 9. Check back for updates and additions throughout election season.
More Raleigh stories
No stories could be found
Get a free daily digest of the most important news in your backyard with Axios Raleigh.