Why Swig and other Arizona soda shops are so popular right now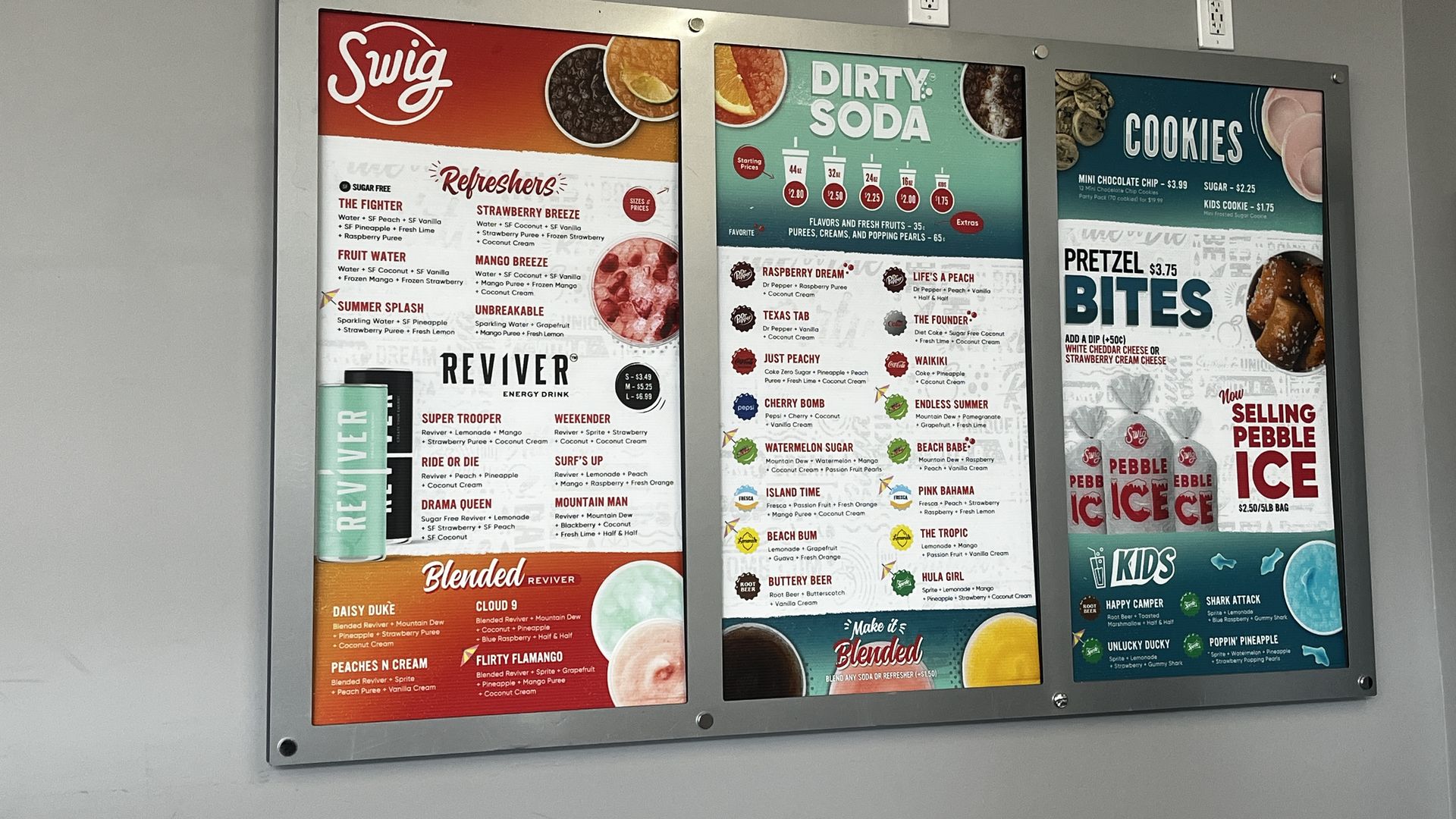 TikTok has surged the popularity of a drink beloved by the Latter-day Saint community: dirty soda.
For the uninitiated: This is soda mixed with cream, syrups and other flavorings.
Driving the news: Social media fervor has turned the once-niche soda fad into a mainstream trend.
Three new shops opened in the Valley in the past year, bringing us to a total of nine. And still they can't meet the demand.
TikTokers report drive-thru wait times of more than an hour to get their hands on the caffeinated treats.
Flashback: In 2015, two Brigham Young University students from Gilbert came back to the Valley to launch Arizona's first dirty soda concept, The Soda Shop.
Sodalicious came to the Valley later that year.
In 2018, The Soda Shop merged with Swig — a Utah chain that claims to have invented the dirty soda shop concept in 2010 — and more Swig locations arrived in the Valley shortly thereafter.
The intrigue: The initial interest in these shops was mainly driven by Latter-day Saints, who don't drink coffee or alcohol.
Jessica's thought bubble: I remember seeing a bunch of these shops open in 2015 around Mesa and Gilbert, where there is a large Latter-day Saint population, but hadn't seen or heard much about them since the novelty wore off years ago.
So imagine my surprise when my nieces and nephew came for a visit from Minnesota this summer and begged to go to Swig. They told their old and uncool aunt that dirty soda has been all the rage on TikTok for the past year.
State of play: They waited in the drive-thru at the Paradise Valley location for more than an hour for a Shark attack — Sprite, lemonade, blue raspberry flavoring and a gummy shark on top.
What's happening: Singer Olivia Rodrigo may have been the impetus for the dirty soda revival, according to Eater. She posted a photo of herself with a Swig cup in December 2021. Young TikTokers ramped up their videos about the soda concoctions after that.
Swig, Sodalicious and Fiiz have all opened new locations in metro Phoenix since then.
Between the lines: The cocktail-like quality of these sodas allows kids and non-drinkers to participate in a TikTok review trend usually reserved for alcoholic beverages.
Zoom in: For journalism, I had to try one of these things.
At Swig, I selected the Happy Camper — root beer, toasted marshmallow flavoring and half and half.
It tasted like a carbonated s'more, which was actually yummy — for the first three sips. Then it became way too sweet.
I might go back to create my own concoction of Coke Zero and vanilla cream.
More Phoenix stories
No stories could be found
Get a free daily digest of the most important news in your backyard with Axios Phoenix.