Scoop: Maricopa Dems' top staffer resigns after revelations about mailers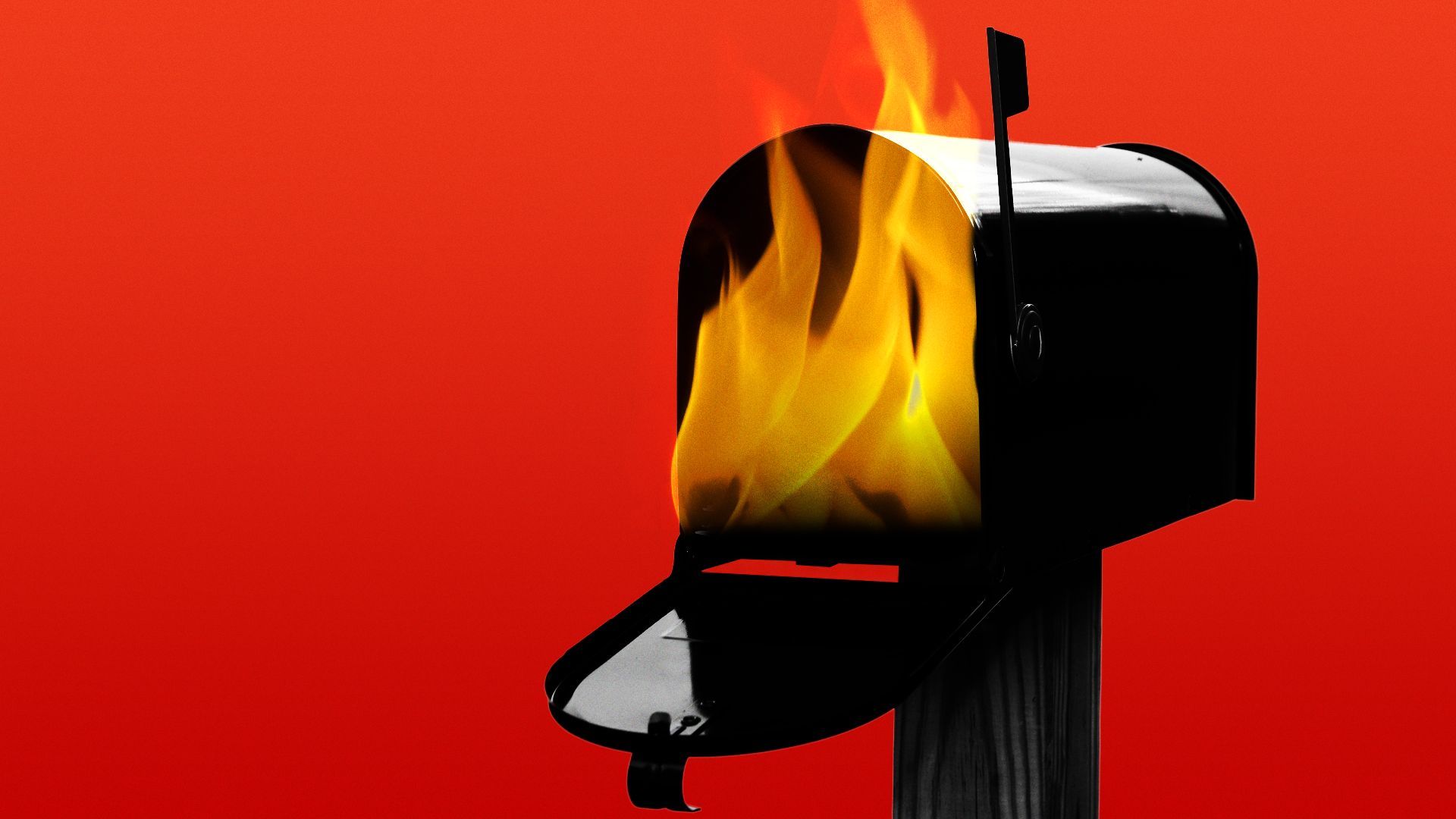 The Maricopa County Democratic Party's executive director resigned Monday morning in the wake of an Axios Phoenix story detailing controversy over a batch of 100,000 campaign mailers that went unsent shortly before the 2022 election.
The latest: The consultant whose firm was paid by MCDP for the mailers said Ne'Lexia Galloway instructed the company, Tempe-based Agave Strategy, to use Galloway's fiancé's company as a sub-vendor for the job, a circumvention of an MCDP conflict-of-interest policy.
Driving the news: MCDP chair Nancy Schriber told Axios Phoenix that she accepted Galloway's resignation Monday morning.
"Though MCDP secured a complete refund for the mailer at issue, we've learned from this unfortunate experience and will take steps to improve our processes going forward," she said in an emailed statement.
Schriber told Axios Phoenix she learned on Monday morning that Blaque Printing EnterPrise was Agave's subcontractor and that Galloway was "allegedly involved" in that decision. Schriber appointed former MCDP executive director Jon Ryder on Monday as Galloway's interim replacement.
Details: MCDP paid Agave Strategy to send around 100,000 campaign mailers to voters before the election. Dawn Penich-Thacker, Agave's CEO, told Axios Phoenix on Monday that Galloway instructed her to use Blaque Printing EnterPrise as a sub-vendor.
Blaque Printing is owned by Bruce Franks, who's Galloway's fiancé.
MCDP's former treasurer, Heather Mrowiec, alleged that U.S. Postal Service documents purporting to show that the mailers had been sent were forged. The documents had been provided by Agave.
Penich-Thacker told Axios Phoenix that Franks gave her the documents and that Agave had nothing to do with creating them. "Those documents came directly from Blaque Printing," she said.
Zoom in: In a Sept. 26, 2022 text message thread, which Penich-Thacker provided to Axios Phoenix, Franks asked Penich-Thacker's colleague Charles Siler if the mailers could "go through Agave and not me directly."
Siler agreed to the request, and Franks said Galloway would contact them about the mailer.
The next day, Galloway texted Siler: "Just remember don't say who your vendors are if anybody asks and just don't tell us. Just say you are getting a quote from one of your vendors that can meet that timeline we have."
Context: After it became apparent that the 100,000 mailers never went out, MCDP sought a refund for the $24,480 it paid for the mailers.
Penich-Thacker said she received the money back from Blaque Printing within 10 days of requesting it, and she refunded it to the party in January.
Between the lines: The purported USPS documents, which Axios Phoenix obtained, list California printing company 4over as the account holder.
4over confirmed to Axios Phoenix it did not produce the documents.
Why it matters: MCDP enacted a conflict-of-interest policy in September 2022 that requires employees to disclose financial conflicts of interest to the party's executive board and to recuse themselves while the board makes decisions on the transactions or arrangements.
Penich-Thacker said she was unaware of the conflict-of-interest policy until Axios Phoenix informed her.
Galloway made a "a very direct request to not talk about who our subcontractor was," she said.
Penich-Thacker said Franks and Galloway told her they wanted to keep the arrangement quiet due to disputes they had with other Democrats.
Of note: The party paid $4,661 to Blaque Printing for T-shirts and postcards last year, according to campaign finance reports.
What they're saying: "We had absolutely no idea or no reason to think there was anything wrong with them," Penich-Thacker said of the documents.
The other side: Franks and Galloway did not respond to multiple requests for comment on Penich-Thacker's allegations.
Schriber said in an email to precinct committee members (PCs) in Legislative District 8 last month that party officials asked for a refund after learning that the mailers didn't go out.
She also told Axios Phoenix in an email last month that MCDP never received documentation regarding the mailers.
Catch up quick: Mrowiec resigned as treasurer last month and later issued an open letter to PCS in LD8 outlining her concerns with the mailers and her suspicions that the documentation was forged.
Editor's note: This story has been updated with new details throughout.
More Phoenix stories
No stories could be found
Get a free daily digest of the most important news in your backyard with Axios Phoenix.