Scoop: Maricopa Dems face questions, allegations over missing election mailers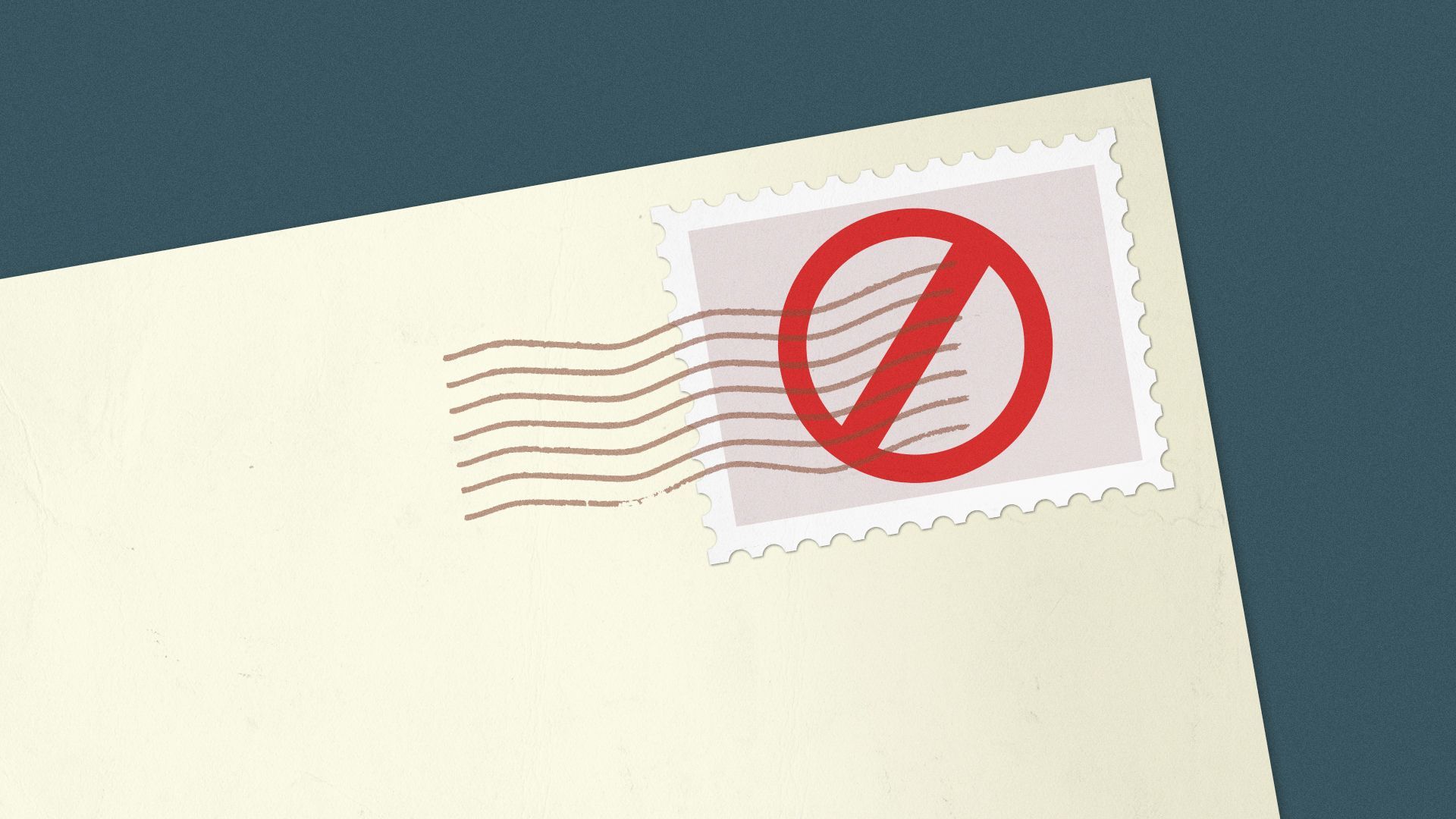 Activists are asking questions about a botched batch of campaign mailers from the Maricopa County Democratic Party (MCDP) shortly before last year's election, and the party's former treasurer is raising concerns over what she alleges are "forged" documents that falsely show the mailers went out.
What happened: The county party paid Agave Strategy, a Tempe-based political consulting company, to send around 100,000 campaign mailers to voters before the election.
The party paid Agave $24,480 on Oct. 21, 2022, according to campaign finance reports.
The 8.5-by-11-inch mailers never went out and the party asked for a refund, which it received from Agave on Jan. 23, campaign finance reports show.
The big picture: Heather Mrowiec, who served as MCDP treasurer during last year's election cycle before resigning last month, emailed an open letter last week to Democratic precinct committee members (PCs) in Legislative District 8 regarding the mailers.
Mrowiec wrote that Agave provided MCDP leadership with U.S. Postal Service records purporting to show that a California printing company called 4over was the sub-vendor that sent the mailers.
Mrowiec said she suspected the documents weren't legitimate, that USPS confirmed their inauthenticity, and that 4over said it had no jobs in its system matching the details in the forms.
The cost estimate for the mailers was too low to be believable or realistic, she said.
Why it matters: Although Agave Strategy refunded the money months ago, party activists are demanding answers about what happened.
Steven Jackson, LD8's acting chair, and another LD chair who declined to be named say there are questions about whether the job was used to circumvent a conflict-of-interest policy the party implemented last year requiring board approval for any contracts with vendors owned by party employees and board members, their family or partners.
"Coincidentally, 4over is the same printing company used by Blaque Printing," Mrowiec wrote, referring to a company owned by Bruce Franks, the fiancé of MCDP executive director Ne'Lexia Galloway. She didn't make any specific allegations against Blaque Printing Enterprise.
Franks did not return a message from Axios Phoenix.
The other side: MCDP chair Nancy Schriber and Galloway refused to comment to Axios Phoenix on the allegedly falsified documents.
Schriber said the matter is resolved because Agave refunded the money.
"MCDP is focused on moving forward, not looking back at an issue resolved 7 months ago," she said in an email to Axios Phoenix.
Between the lines: Agave Strategy CEO Dawn Penich-Thacker told Axios Phoenix that a subcontractor provided the documents that purported to show the mailers went out.
She didn't specify the subcontractor or respond to follow-up questions, but the documents listed 4over as the account holder.
Meanwhile, after reviewing one of the alleged mailing records provided to MCDP, Claire Ambrosio, vice president of legal for 4over, said her company didn't produce them.
"4over will now be taking the matter up with Agave Strategy," she said.
Zoom in: At LD8 Democrats' monthly meeting on July 11, Jackson, then the district's first vice chair, raised issues about the mailers, some 15,000 of which were supposed to go to voters in the district. He argued in favor of a vote to ask MCDP to return a $750 annual payment the district made to the party, saying in an email to PCs it would be "irresponsible" to give money to the party at this time.
Jackson, who's now the district's acting chair, tells Axios Phoenix that most PCs were unaware the mailers never went out because MCDP kept it quiet.
"It's either incompetence that happened at Maricopa County or something worse," Jackson tells us.
Jackson questions why MCDP didn't conduct a thorough investigation.
In response to criticism of her and Galloway at the LD8 meeting, Schriber emailed the district's PCs defending their conduct and questioned why there's a "whisper campaign" over the mailers, even though the issue has been resolved.
"It is unclear to me why people insist on rehashing this issue when we have important county races to plan for and win in the next 16 months," she wrote.
She said the party was "devastated" the mailers didn't go out and asked for a refund.
In her email, Schriber didn't acknowledge the documents purporting to show the mailers went out, writing: "When asked for documents confirming the mailing took place, none were provided."
Of note: Mrowiec declined to comment for this story, other than to confirm some details from her letter and that the documents obtained by Axios were those provided to MCDP.
More Phoenix stories
No stories could be found
Get a free daily digest of the most important news in your backyard with Axios Phoenix.