Most schools have all-day kindergarten despite lack of state funding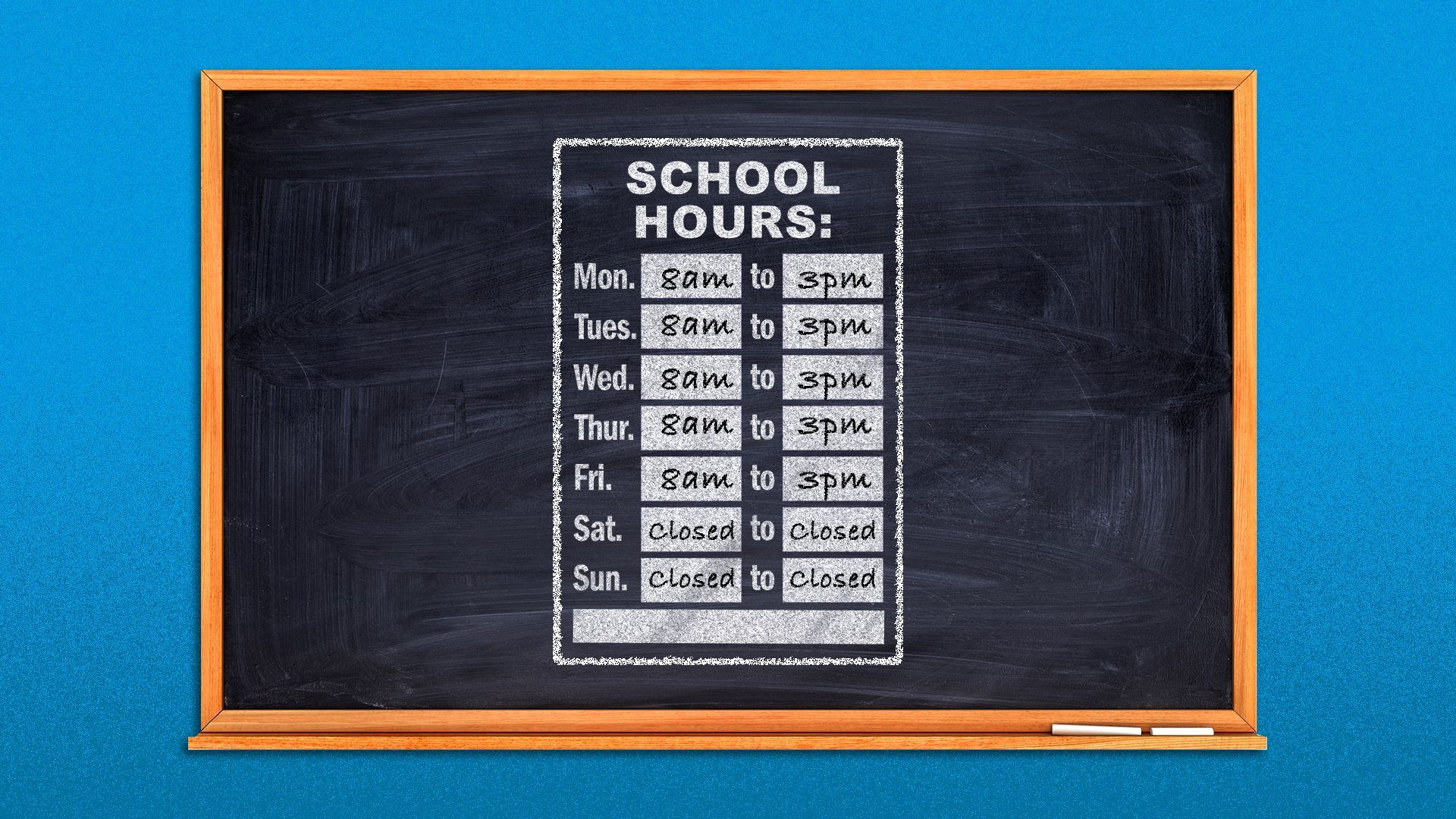 The state hasn't funded full-day kindergarten since the onset of the Great Recession, but if your children are starting public school next year, chances are they'll still be going all day.
Driving the news: The issue of state funding for full-day kindergarten came to the fore last month when Democratic Gov. Katie Hobbs declared her Republican predecessor, Doug Ducey, illegally awarded $50 million in federal COVID relief for kindergarten students in Arizona's voucher-style Empowerment Scholarship Account (ESA) program.
Per-pupil ESA funding is tied to the amount of money schools get from the state for each student, and because the state funds only half-day kindergarten, children in the program don't get funding for a full day.
In addition to the legal issues she cited, Hobbs said it's unfair to fund full-day kindergarten for ESA recipients when the state doesn't do so for public school students.
She also argued there are several legal issues that would prohibit the state from using the money for ESA students.
Yes, but: While Hobbs is correct that the state funds only a half-day of kindergarten in district and charter schools, the overwhelming majority still offer a full day.
Why it matters: Full-day kindergarten provides students with more opportunities for learning and development, and benefits parents and teachers as well, according to the Department of Education.
By the numbers: Data provided by the Arizona Department of Education shows that 1,140 schools in Arizona offered full-day kindergarten as of 2020, compared with 56 with half-day only.
70 of the 1,140 had options for both full-day and half-day kindergarten.
Zoom in: Schools pay for the full day in a variety of ways, says Chuck Essigs, director of government relations for the Arizona Association of School Business Officials.
Districts have flexibility on how they spend their budgets, so many use money for other purposes.
"But that just means you have to do less of something else — give smaller raises, offer less optional programs, provide less transportation," Essigs told us.
He says a small number of schools may charge parents for full-day kindergarten but doubts the practice is common because schools compete for students.
Between the lines: Essigs says he's unaware of any tracking system for how schools fund all-day kindergarten.
Rick Medina, a spokesperson for the Department of Education, said the agency doesn't have data on how schools fund full-day kindergarten.
They are likely offering full-day kindergarten for free, he said, but the department doesn't know.
Flashback: State funding for full-day kindergarten was one of former Gov. Janet Napolitano's signature initiatives, but the program was defunded by her successor, Gov. Jan Brewer, and GOP lawmakers amid the unprecedented budget crisis Arizona faced in 2009 due to the global economic downturn.
Napolitano's program provided money for full-day kindergarten but didn't designate it as a required grade for students.
Subsequent efforts to restore funding for full-day kindergarten have fallen short.
The Arizona Republic reported in 2016 that full-day kindergarten would cost the state about $240 million per year.
More Phoenix stories
No stories could be found
Get a free daily digest of the most important news in your backyard with Axios Phoenix.