Commemorating Philly's hip-hop dancers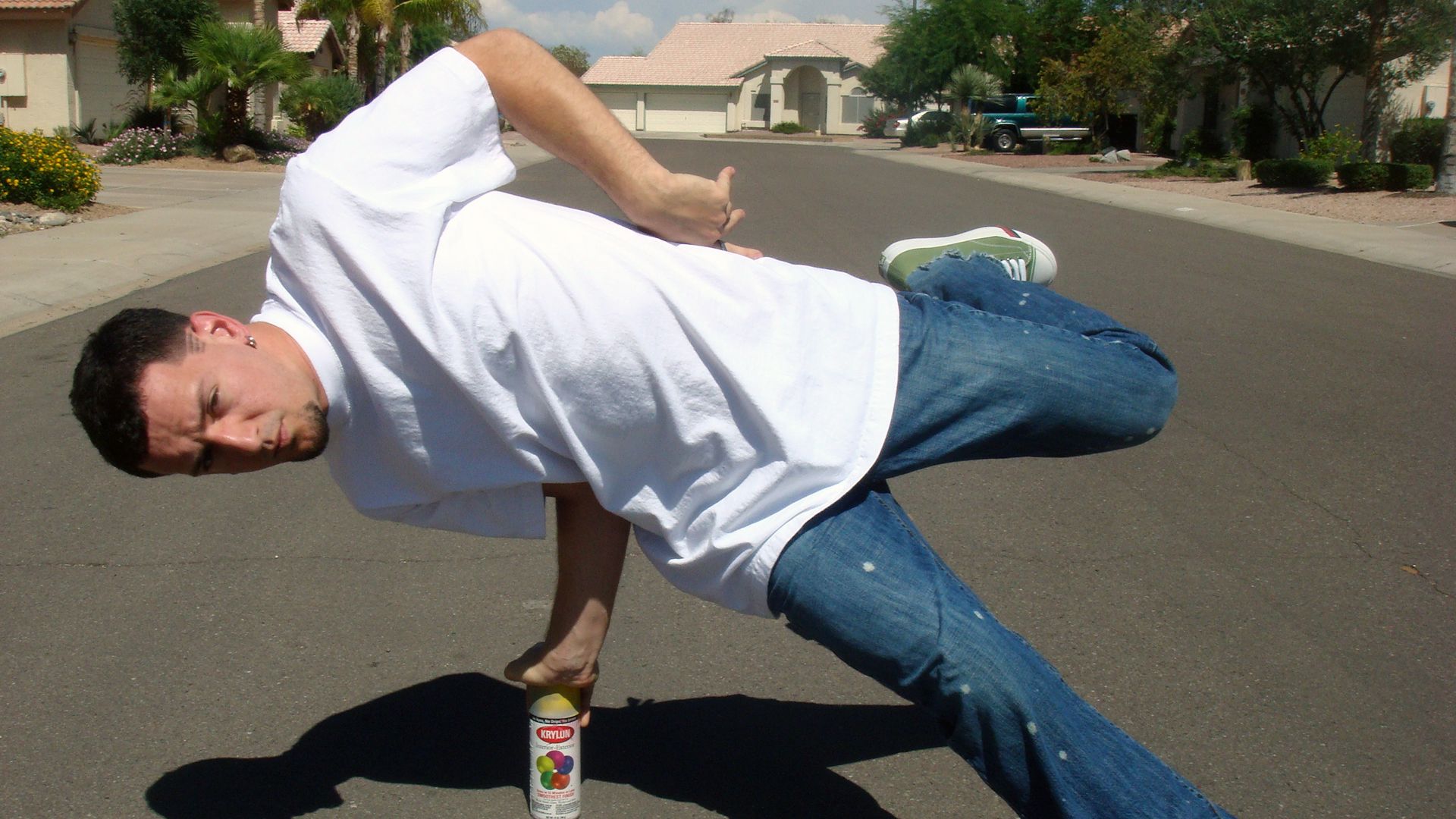 Philadelphia's hip-hop scene is immortalized in several murals, especially one in North Philly that features renowned b-boy YNOT and dancer-choreographer Michele Byrd-McPhee.
Why it matters: The "Know the Elements" mural threads together four key pieces of hip-hop — MC-ing, DJ-ing, break dancing and graffiti — in a way that's raw and gritty, clean and commemorative.
Zoom in: YNOT is a maelstrom of movement with the footwork of an NFL wide receiver, the swagger of a champion prizefighter and the sophistication of a philosopher.
His story is forged in the ultra-competitive crucible of the Bronx, where breakin' was born in the 1970s.
That's where he eventually met Crazy Legs of the legendary Rock Steady Crew and developed his breaker name, which came when he tagged "Tony" the wrong way on a subway pillar.
"I was like, 'Ah, s--t.' Then I looked at it and I said, 'Oooh, s--t," he tells Axios.
YNOT eventually moved to Philly around 2000 to attend college and helped develop a small enclave of breakers into the vibrant community it is today.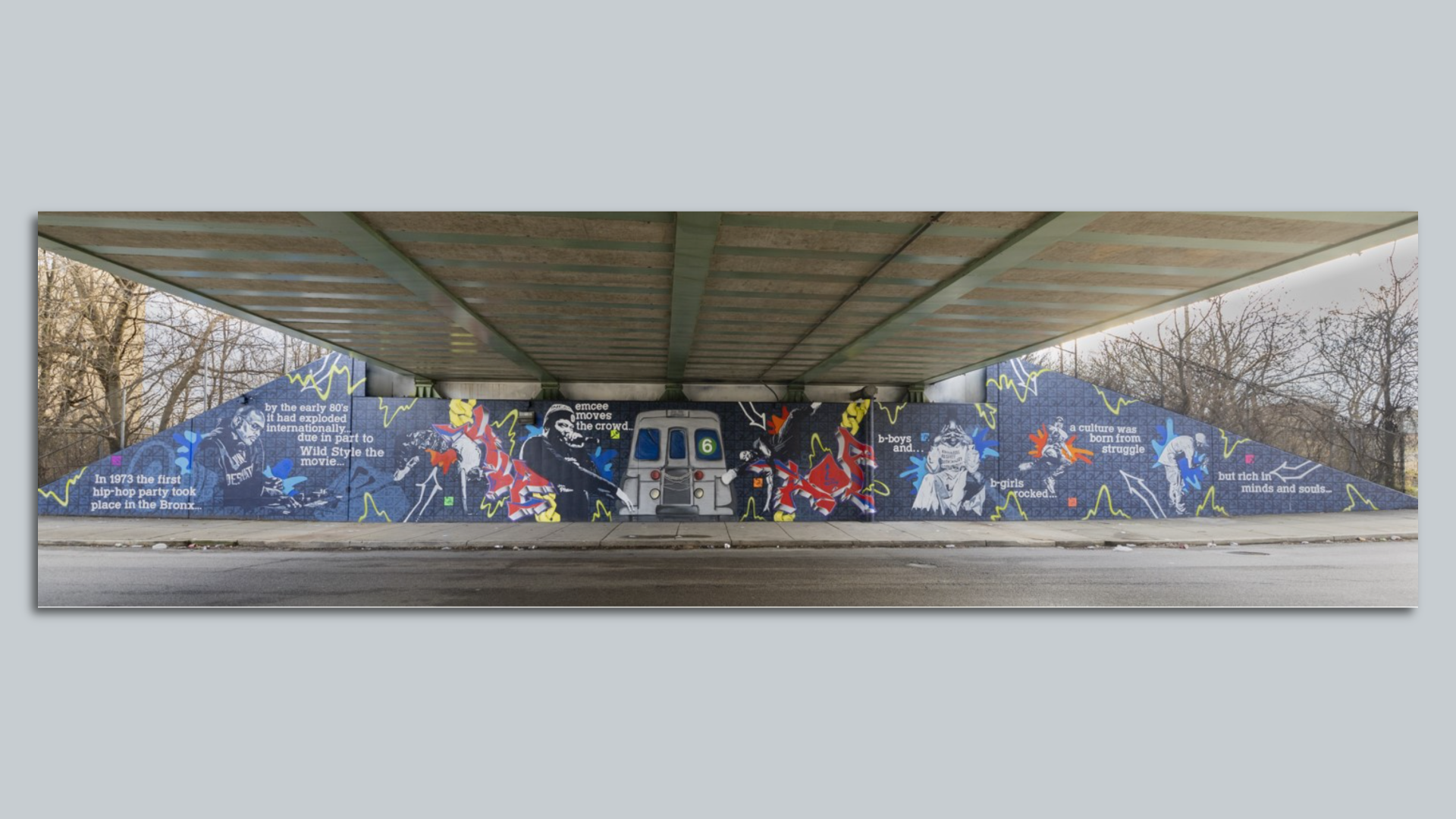 Byrd-McPhee, on the other hand, was discouraged from pursuing dance as a young girl because she didn't fit into the so-called mold of a ballerina.
"I couldn't put my hair into a bun. I had an Afro puff. I didn't fit the body type. I wasn't the right skin color," she tells Axios.
So, the Temple and Drexel alum made her own lane. She's the founder of Ladies of Hip Hop, a New York-based nonprofit born out of a music festival now celebrating its 20th year.
Of note: For her work in the field, Byrd-McPhee was honored this year with a Bessie, dance's equivalent of an Oscar.
What they're saying: Christian "TAMEARTZ" Rodriguez, the North Philly mural's artist, tells Axios that "lineage was so important" in telling hip-hop's story, which is too often told exclusively through the lens of rap.
"When I saw it, I bust out in tears," said Byrd-McPhee.
The intrigue: YNOT says b-boying opened doors that he never imagined were possible when he first busted moves with a friend to Jellybean's "The Mexican" inside a hair salon called Headspins.
Since then, he has: traveled the world competing in and judging breakin' battles, obtained a master's degree, taught hip-hop classes at universities, and branched out into architecture.
His S-shaped chair design was influenced by graffiti futurism, a three-dimensional outgrowth of taggings that he saw growing up.
The bottom line: The creative thread through it all is breakin', YNOT says.
"When you meet a b-boy, that's so hip-hop. You can't deny it," he says. "You can see the graffiti in their body. You can see the music. You can feel the boom bass sound in their footsteps."
More Philadelphia stories
No stories could be found
Get a free daily digest of the most important news in your backyard with Axios Philadelphia.