Temple officer's killing renews campus safety concerns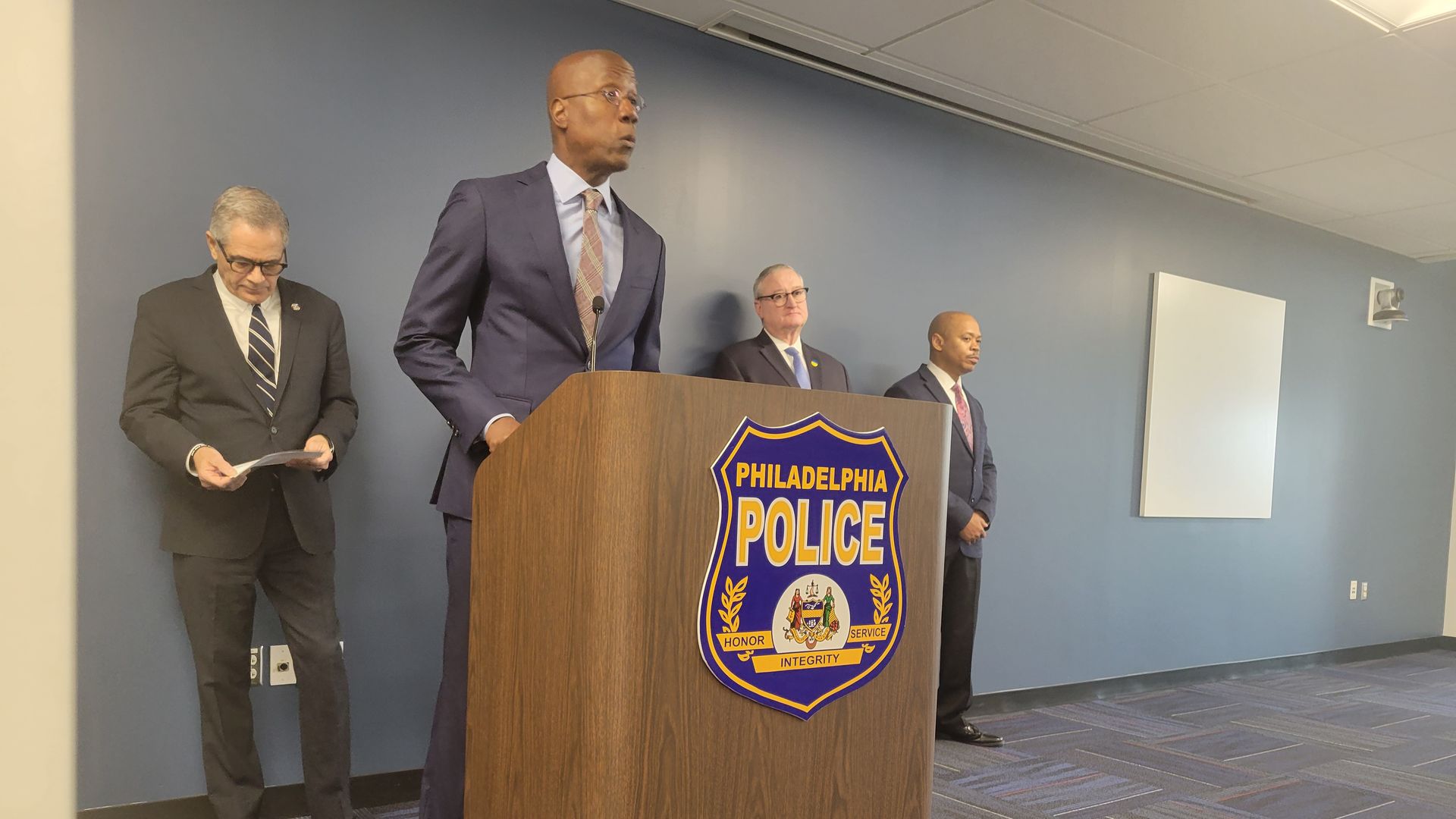 The killing of Temple police officer Christopher Fitzgerald has reverberated, with university president Jason Wingard saying he's not confident students are safe at the North Philadelphia campus.
Wingard's comments came at a news conference Tuesday, three days after Fitzgerald, 31, was killed while patrolling near the border of Temple's campus.
Police say Fitzgerald was killed after an altercation with Miles Pfeffer, 18, of Buckingham Township. Pfeffer is facing charges of murder, murder of a law enforcement officer, carjacking and illegal weapons possession.
Why it matters: For years, a raging debate has centered on safety on and near Temple's campus. Wingard and campus officials have been under pressure to address the problem, brought sharply into focus after student Sam Collington was killed during a botched robbery in 2021.
Driving the news: Wingard, flanked by his public safety vice president and city officials, blamed the gun violence epidemic for "ravaging Philadelphia" and said it prevents him from achieving a mandate to ensure students receive a "world-class education" in a safe environment.
Wingate implored local and state officials to help, because efforts taken in recent months to curb violence have fallen short.
"It's just not enough," he said. "We're not able to get it done. We can't do it by ourselves."
Zoom out: Since 2020, 129 people have been shot, including 14 fatally, within a quarter mile of Temple's main campus, the Inquirer reported.
After Collington's killing, Wingard vowed to improve campus safety, saying he would beef up patrols and work closely with the Philadelphia Police Department to increase their presence off campus.
Last year, a 6ABC report detailed concerns from a group of parents who banded together to hire private security to supplement campus police as the city dealt with historic homicides levels.
Then in December, a group of students published an open letter chastising Wingard, calling Temple a "community in crisis." They pointed to more than 30 students who were victims of high-profile crimes.
Investigators also released more details Tuesday about the shooting death of Fitzgerald, a father of four who was an an avid runner and anti-violence advocate.
Details: Police say Fitzgerald was patrolling the 1800 block of Montgomery Avenue, an area plagued by recent robberies and carjackings, Saturday when he encountered Pfeffer, who investigators say was visiting friends in the city.
Fitzgerald saw three people wearing masks and all-black clothing, so he tried to conduct a "pedestrian investigation," Philadelphia Police staff inspector Ernest Ransom said.
He said the three suspects took off, and Fitzgerald caught up with Pfeffer. The Temple officer ordered him to get on the ground and the two men tussled before Pfeffer repeatedly shot the officer.
Video surveillance captured gunshots and muzzle flashes and showed Pfeffer trying to take Fitzgerald's gun, Ransom said.
Ransom says another officer at the 22nd district who heard Fitzgerald on the radio tracked down two teens who were with Pfeffer before the shooting.
The teens provided police with information that helped them identify Pfeffer as the shooter, but they're no longer in custody and haven't been charged with crimes, police spokesman Eric Gripp told Axios.
The bottom line: Mayor Jim Kenney, growing emotional during the news conference, called Pennsylvania a "gun-crazy state" and said little will change without state legislation that limits access to guns.
"You can say you back the blue, but if you don't back gun control and gun availability, you don't back the blue," he said.
More Philadelphia stories
No stories could be found
Get a free daily digest of the most important news in your backyard with Axios Philadelphia.