How to plan a Super Bowl parade for the Eagles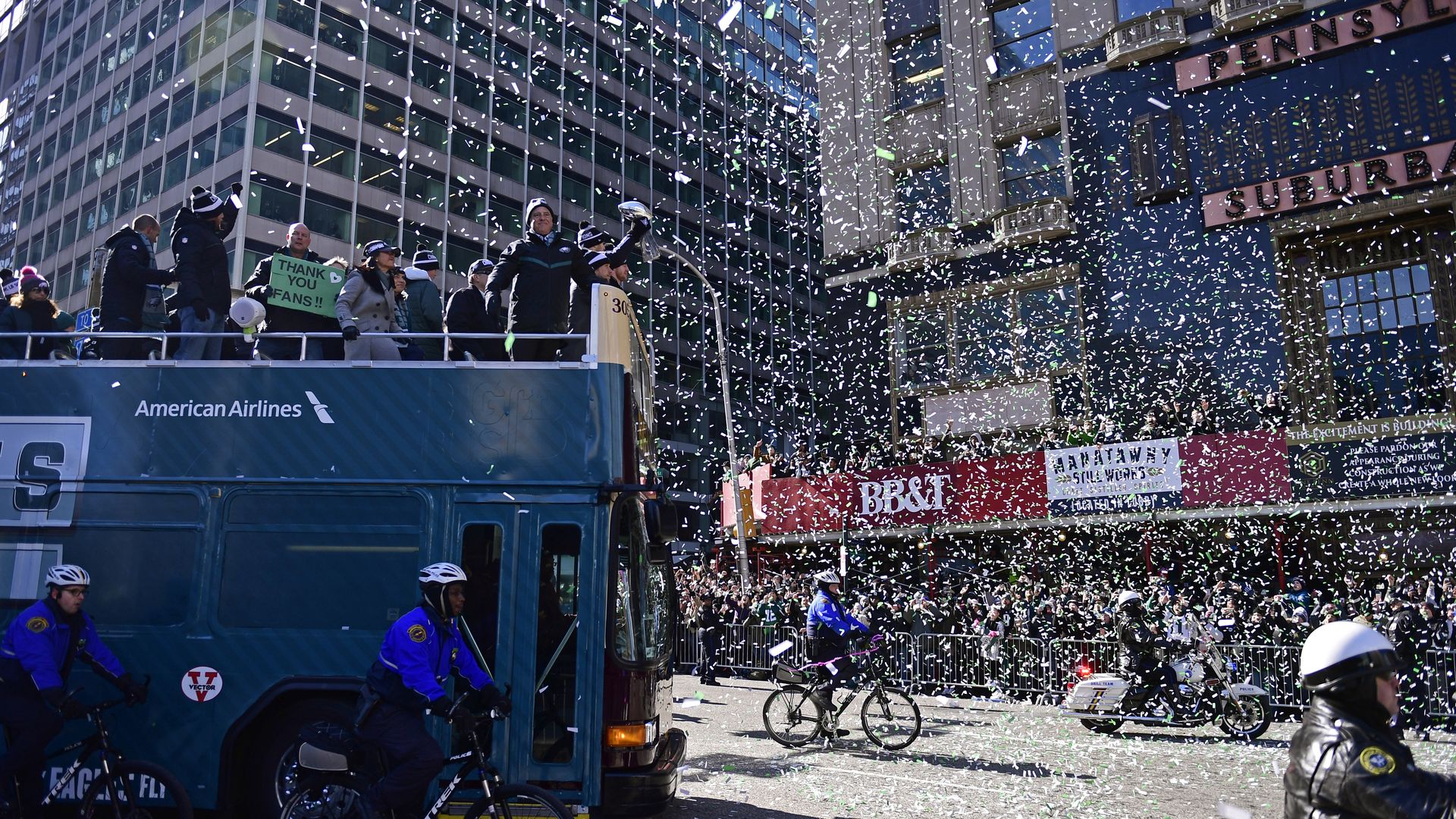 Fred Stein may have the best – and most stressful – job in all of Philadelphia.
Driving the news: Stein, the architect of the Eagles' last Super Bowl parade in 2018, hopes he's called on again to produce this year's big party. But everyone, from city officials to the Eagles, is keeping plans hush-hush, not wanting to ruin the Birds' chances of beating the Kansas City Chiefs.
"I just don't know what will happen until that Sunday night," Stein of The Creative Group coyly joked to Axios.
Details: Philadelphia spent $2.27 million on the 2018 parade, the bulk covering overtime for city workers, plus the Eagles estimated they contributed another $2 to $3 million to the festivities.
The team covered $273,000 for property damage incurred during the parade, which brought out about a million people. The party started at the Linc in South Philly, wound through Center City and ended in front of the Museum of Art.
Mayor Jim Kenney told reporters he's willing to open up the city's check book, if the Eagles win. "I'm on my way out, so I'll spend whatever they want."
What to expect: City officials and event planners will only speak generally about preparations ahead of Sunday's showdown, telling Axios there's no date set for a post-Super Bowl bash, but it'd likely occur two to four days after the game.
Residents should expect road closures and barricades around City Hall, and public transit delays. They plan to use "lessons learned from the past" to improve this year's celebration.
Flashback: Mike Dunn of Ceisler Media, who worked for the city's communications office in 2018, recalls receiving hundreds of enquiries from reporters around the country about the parade plans. He and more than 200 city employees were busy plotting out every detail but kept much of their deliberations behind the curtain.
"We were adamant about not talking about it. We simply didn't want to jinx things," he tells Axios.
Given the clandestine nature of planning the 2018 parade, Stein had only days to direct staff, city employees and vendors to bring in everything from jumbotrons, to confetti cannon, port-o-potties and food.
Luckily, he's used to working under deadlines. He's put on Mummers parades, the 76ers championship parade in 1983 and some of the city's papal events.
"You have to love stress and pressure in order to be an event producer," he tells Axios. "That means going with the flow."
The intrigue: Stein was forced to take his own advice when Eagles players went off script during the 2018 parade, departing buses to mingle and chug beers with fans along the route. The "surprise bar hopping" meant the Eagles were delayed about 40 minutes arriving at the Art Museum.
Stein tells Axios it was all worth it to watch fans eat up Jason Kelce, who took the stage in full Mummers regalia to give a speech.
The bottom line: Whenever he's asked which event was his favorite to plan, Stein gives the same answer: "my last one."
"And I look forward to the next one," he says. "I'm not retiring. This is what I love to do."
More Philadelphia stories
No stories could be found
Get a free daily digest of the most important news in your backyard with Axios Philadelphia.