How to spend a day in downtown Fayetteville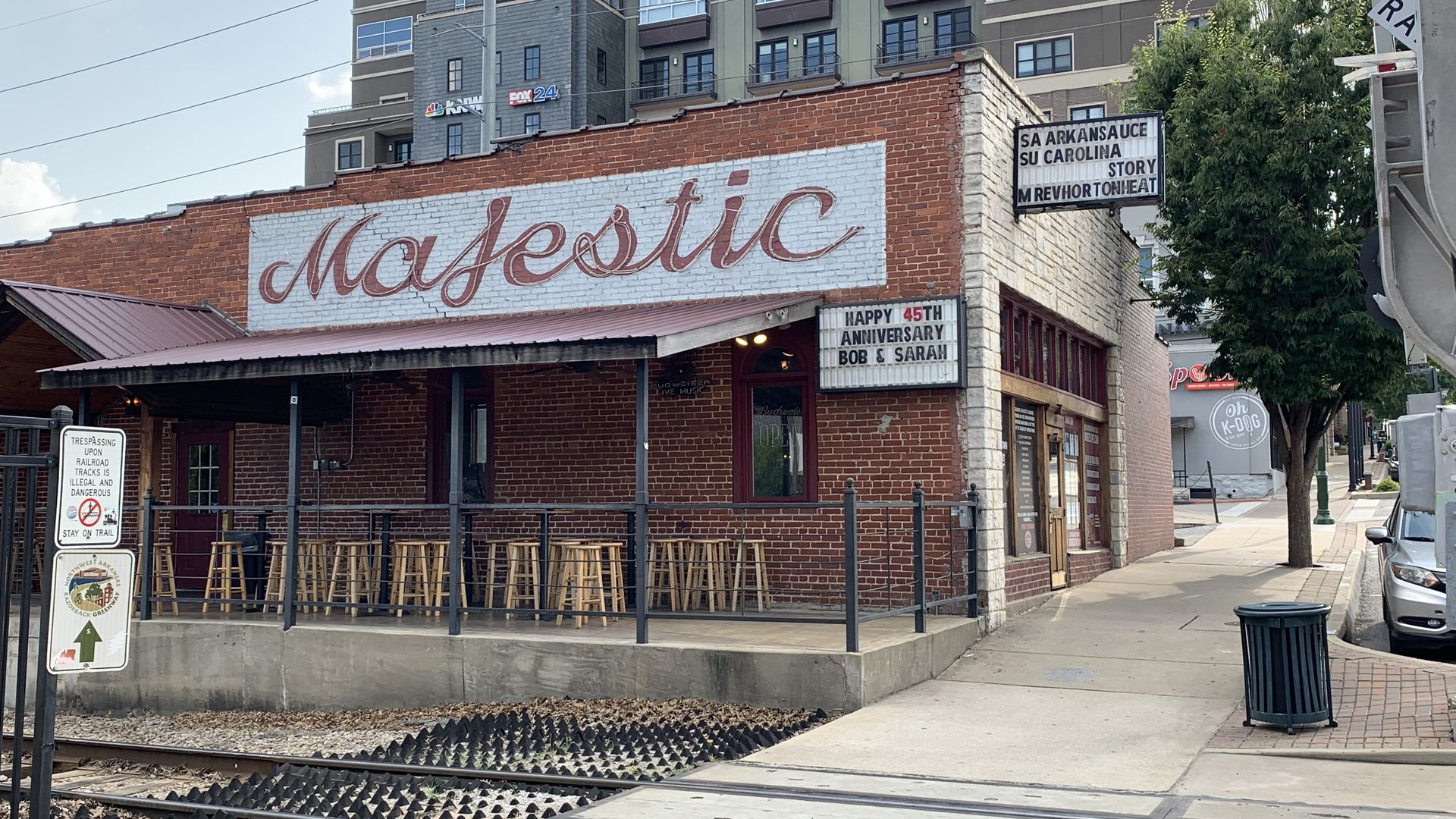 We're back with another edition of our "how to spend a day" series that curates experiences so that you can have your best day in NWA.
For the kids
📚 Let them explore the stellar children's section at the Fayetteville Public Library and check out some books to take home.
🍕 Take them for a slice at Tiny Tim's Pizza or U.S. Pizza Co. Or select some classic kid food at Hammontree's Grilled Cheese, where plenty of grown-up spins freckle the menu. Try the Brie's Company with brie, gouda, grilled apple, caramelized onions and fig jam on sourdough.
🚲 Put their helmets on and go for a bike ride. The Razorback Greenway runs alongside(ish) West Avenue. See a map of all the trails.
🍪 Insomnia Cookies isn't just to satisfy late night cravings. Get yourselves a sweet treat before heading home.
And for the kids at heart
🧗 Start the day with a cup of coffee and get your heart rate up at the indoor climbing gym at Boulders and Brews.
🔑 Bring your friends to the NWA Escape Room and spend an hour trying to solve a mystery of how to unlock your way out of a room full of clues.
🍔 Reward yourself with pizza at Damgoode Pies or walk down into a basement on Block Avenue for one of the best burgers in town at Hugo's.
🎳 Play on classic pinball machines, cocktail in hand, at Pinpoint.
Splurge-worthy
🛍 Get weekend brunch at Emelia's Kitchen or Ella's Table or find something special like clothing or a novelty item at one of the shops on the square like Foxtrot Boutique, beardedgoat or Stache.
🍽 Take your pick of upscale restaurants for dinner, including Atlas, Bordinos, Vetro 1925 or Theo's.
🎭 See a show at Walton Arts Center.
🍷 End the night with a cocktail or glass of wine at The Cork & Keg or Vault.
Be hip
🥞 Start the day with some elaborate pancakes like the buttermilk cakes with caramel, cinnamon swirl, cinnamon butter and bacon — at Prelude Breakfast Bar. Or stick with a cup of coffee at Arsaga's at Center and Church streets.
🎭 Take in a matinee at TheatreSquared.
📚 Wander the maze of used books at Dickson St. Bookshop or venture to Pearl's Books for your next great read.
🍻 Indulge with a beer or sip some more coffee at Puritan Coffee & Beer. Then, head to the funky AM/PM bar. Check the calendar for live music, karaoke, stand-up comedy and other special events.
🌮 Grab some awesome Latin American food at Rolando's Restaurant, sushi at Wasabi or some elevated Mexican food at TULA or Xuma Kitchens.
Stop and smell the roses
💐 Take your time with a cup of coffee at Jammin Java or peruse the farmers market on the square on Saturday mornings.
🧘 Breathe deep and take a yoga class at Trailside Yoga & Beyond.
🥗 Sit on the rooftop patio at Feed and Folly and enjoy a sandwich or salad for lunch.
💿 Find your next listen at Block Street Records.
🧑‍🎨 Take a spin at the pottery wheel or check for other art classes at the Community Creative Center. You get to take home your own masterpiece.
Let loose
☕️ Wake up late with Doomsday Coffee.
🏀 Get a group of friends together and shoot some hoops for free at ArtCourt, the basketball court on Dickson Street.
🥪 Grab a late lunch of pub fare Farrell's Lounge Bar and Grill or choose from an eclectic menu at laid-back The Hills Hideaway.
🎤 Reserve your own private room and sing your heart out with your fellow performers at Big Box Karaoke.
🍸 End the day with some seriously good cocktails at Maxine's Taproom.
Have some chill
🥐 Grab a light breakfast, like a pastry or egg sandwich, and some coffee at Little Bread Company. It's a cozy little café where you can sit outside and enjoy a calm morning.
📚 Peruse the Fayetteville Public Library. Sit outside on hammock chairs and fall into a book. Peaceful.
🧆 Huddle up at Petra Café for some Mediterranean fare at this small lunch spot. Or opt for its next-door neighbor, Taste of Thai, or a stacked sandwich at Loafin Joe's.
🍺 Grab a beer at Crisis Brewing or opt for a smooth cocktail on the porch of the Inn at Carnall Hall's Lambeth Lounge.
Go party
🍔 Eat first! Try JJ's Grill or Grub's Bar and Grille for a pub feel. Otherwise, head to the food trucks like Holy Cow Darn Good Burgers or Blazin Asian Munchies Food Truck.
🎸 Enjoy live music at George's Majestic Lounge or Kingfish.
🍻 Go bar hopping. Don't miss Dickson Street Pub, Cannibal & Craft, Smoke & Barrel, Brewski's Draft Emporium or 21st Amendment. All bars close at 2am.
🌭 Not all heroes wear capes. Some run businesses and stay open until 3am for the crowd that needs to soak up its boozy night. Get some street tacos from Los Bobos or a hot dog from Yancey's Dickson Street Dogs. And call an Uber.
More NW Arkansas stories
No stories could be found
Get a free daily digest of the most important news in your backyard with Axios NW Arkansas.