CNN: Tyson Foods tops in refrigerant leak injuries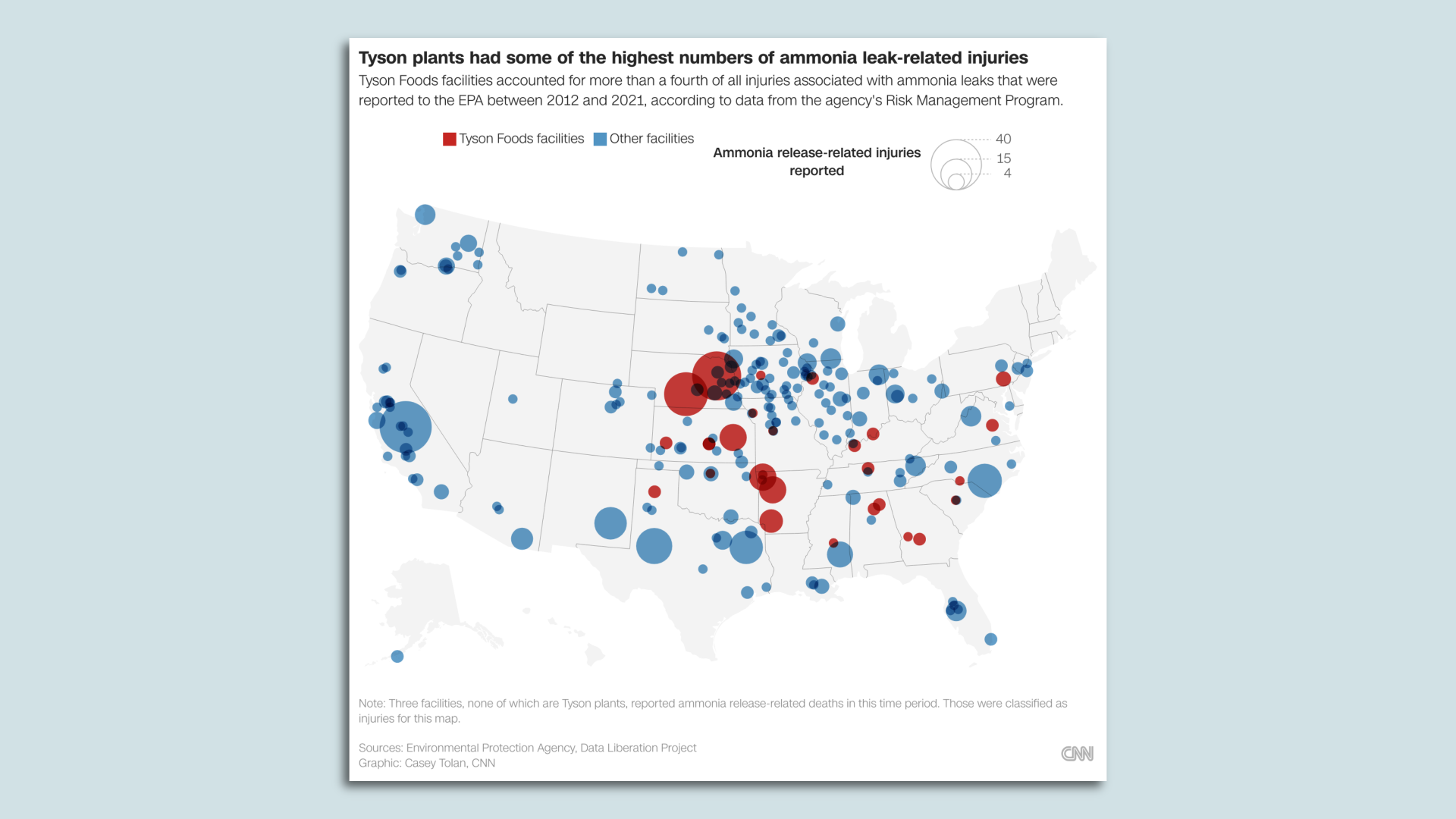 Tyson Foods plants had some of the highest ammonia leak-related injuries in the U.S. between 2012 and 2021, a CNN investigative report found.
Why it matters: At least 47 ammonia leaks took place at Tyson processing plants over the nine-year span, injuring nearly 150 workers, according to CNN's analysis of Environmental Protection Agency data.
Tyson Foods endured 57% of ammonia release-related injuries in meat processing plants nationwide during the decade studied.
Context: Anhydrous ammonia — commonly referred to as ammonia — is a refrigerant. Because meatpacking plants must be kept cool to prevent bacterial growth during processing of food, which then is stored in giant freezers, the industry is one of the largest users of the toxic chemical.
Exposure can burn skin and eyes, cause respiratory injuries and, in high concentrations, can be fatal.
Tyson employs about 142,000 people, and most of them work in its processing plants.
CNN's analysis shows that a combined 10 million pounds of ammonia is stored at about 100 Tyson plant locations.
Zoom in: The largest number of injuries occurred in Arkansas, where mostly chicken is processed, and Iowa, where Tyson processes beef and pork, according to CNN's map.
Between the lines: Tyson was sued by the Department of Justice in 2013 following a series of ammonia leaks, including one that killed a worker. The company signed a consent decree, paid a fine and agreed to an independent review of pipes at some of its plants.
Reality check: The consent decree only covered 23 of Tyson's facilities. Some of the leaks that caused the most injuries happened at plants not included in the order, CNN reported.
What they're saying: "I can't go out there and mow my yard because I get short-winded or tired. You know, a lot of stuff I can't do that I used to could do," Mimi Perkins, who was injured by an ammonia leak in Tyson's Hope plant in 2016, told CNN.
The other side: "The number of reportable ammonia releases involving Tyson Foods has declined since 2016 due to our ongoing commitment to best management practices and the safety of our team members," a Tyson spokesperson said in an email to Axios.
Fewer than 5% of the company's plants have reportable release of ammonia — 100 pounds or more — each year, he noted.
The bottom line: Ammonia isn't the only hazardous chemical in meatpacking plants. More than 170 workers were sent to hospitals due to chlorine gas in one of the company's Springdale plants in 2011.
Disclosure: Reporter Worth Sparkman formerly worked at Tyson Foods.
More NW Arkansas stories
No stories could be found
Get a free daily digest of the most important news in your backyard with Axios NW Arkansas.