How to spend a day in Downtown Rogers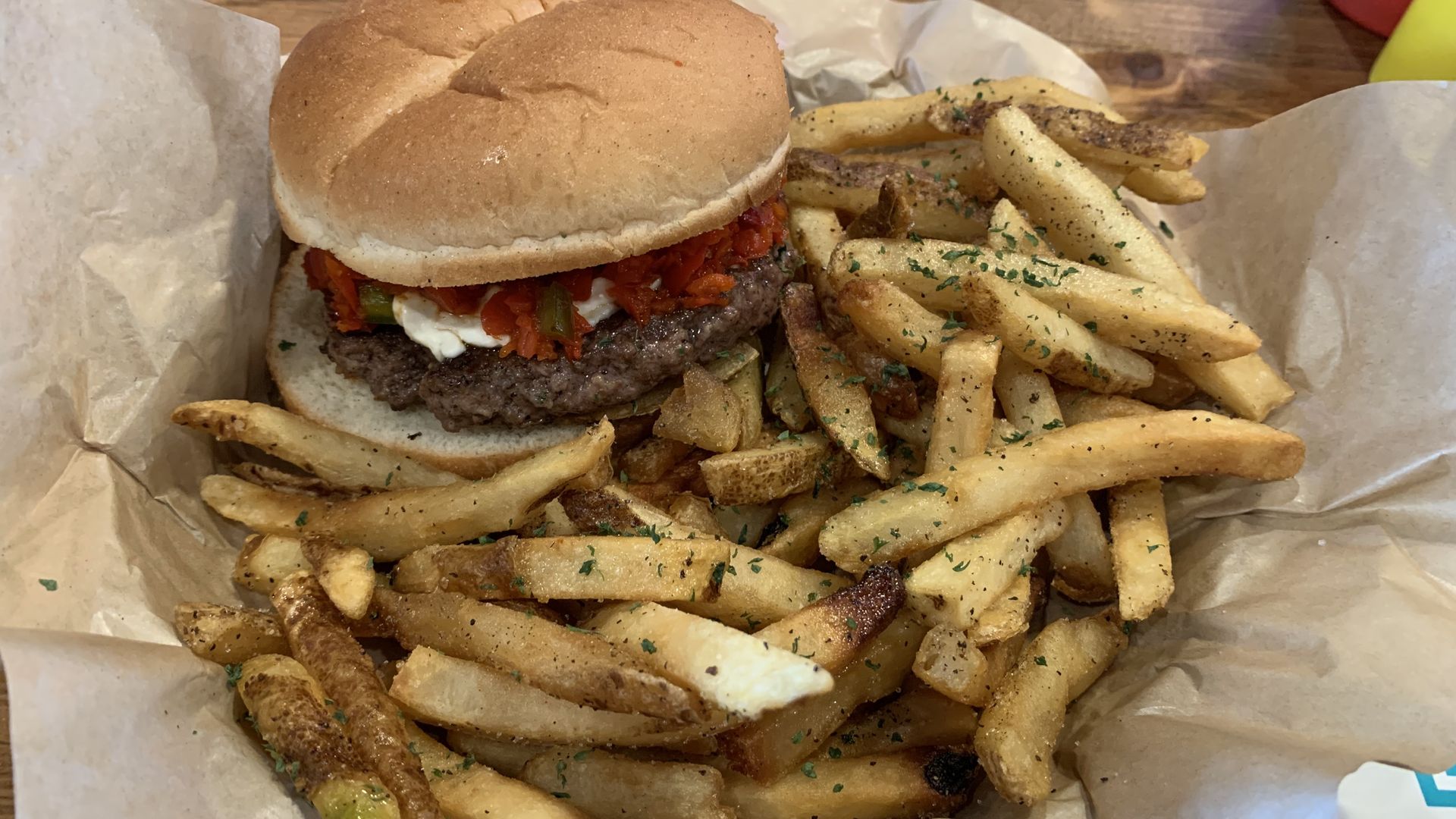 Our "how to spend a day" series curates ideas to explore pockets of Northwest Arkansas.
Here are our recommendations for an ideal activity list for a jam-packed, fun-filled adventure of a day:
Spend time with the kiddos
📜 Take the young ones to the Rogers Historical Museum, where you can dive into the history of Northwest Arkansas through permanent exhibits and they can explore the interactive kids' galleries to learn about landmarks.
The museum opens at 10am.
🍔 🍕 Eat a burger at Parkside Public or get a pizza at The Rail on South First Street.
🍪 Enjoy an afternoon cookie from Baked by Kori or a treat from Alexander Baking Co.
🏃 Follow it up with a trip to the playground at Railyard Park across from the eateries.
🎨 Get crafty at an acrylic fluid art class at the appointment-only Art and Soul Studios. Book a class before 6pm for kids 5 and older and they'll get to take home their vibrant artwork.
For the go-getters
☕️ 🥘 Get your morning jolt at Iron Horse Coffee Company before a late lunch of Cuban fare packed with protein and carbs at Havana Tropical Grill.
🚴 Check out Phat Tire Bike Shop to get stocked up on outdoor equipment.
👟 Walk, bike or run the trails on and off of First and South Arkansas streets. The ambitious can travel just east of South Arkansas Street and continue onto the Lake Atalanta Loop. See a map.
🎣 Bonus: Go fishing at Lake Atalanta.
🍺 Treat yourself to a beer (and plenty of water) at Ozark Beer Company and check the calendar to see which food truck will be available.
Chill vibes only
📖 Peruse Brick Lane or Underbrush Books for your next literary adventure.
☕️ Grab a cup of coffee and a pastry at Onyx Coffee Lab, easily one of the most beautiful coffee shops in the region. Stake your spot and read that brand-new book.
🌮 Meet some friends at Las Palmas for some casual Mexican fare and a pitcher of margaritas or crank it up a notch at Yeyo's Mezcaleria & Taqueria.
🎸 From May through September, end the night with a free concert as part of the Railyard Live series at Butterfield Stage.
🍹 Bonus: Grab a cocktail at Club Frisco or The Five6. If you're craving a snack to share, pick three egg rolls for $10 on The Five6's late-night menu.
An eclectic experience
🥔 Start with weekend brunch at The 120 Tapas Bar, serving up delicious Spanish-style small plates.
🔫 Then head to the Daisy Airgun Museum — as in the maker of the famous Red Ryder BB gun. The museum has been a staple since the early 2000s for those who want to learn the history of the company. Just look for the 25-foot artificial firearm leaning against the building on West Walnut Street.
🧋 For a quirky afternoon outing, shop for anime products and sip on some bubble tea at Anime Cafe.
🧑‍🍳 Master a new dish at an evening cooking class at Honeycomb Kitchen Shop. This could even double as dinner.
🍻 Wrap up with beers and live music at The Shire GastroPub or Levi's Gastrolounge and Bar.
Class it up
🍣 Try the signature roll for lunch — with smoked salmon, soft shell crab, jalapeño and avocado topped with tobiko, eel, spicy sauces, scallions and sesame seeds at a newish sushi restaurant Blu DTR.
🫒 Learn what makes for quality olive oil and balsamic at Fresh Harvest Tasting Room and maybe take your favorite flavor-infused bottle home. Yes, you can even do little shots of balsamic vinegar. Alex is obsessed with the pomegranate variety.
🖼 Explore some art galleries and consider supporting local artists. Try Art Collective Gallery, Ed Cooley Gallery, Artists of Northwest Arkansas or Into + View Art Gallery and Studios.
🚬 Relax at Rogers' very own cigar lounge, Black Crown Social.
🍽 Treat yourself to a unique and upscale dining experience from Heirloom at the 1907, which serves a reservation-only tasting menu that seats 20 people per night.
🎭 💃 Go see a play at Arkansas Public Theatre or try the waltz, salsa or samba at Dance With Me Studio by Aura.
Early birds
🍳 Start the day with a no-frills country breakfast at Wesner's Grill. The spot got off the ground in 1955, making it Benton County's oldest restaurant, and opens no later than 7am for those who want to experience downtown Rogers at the crack of dawn.
🥦 From May to October, take your first pick of fresh vegetables and locally made products at the Rogers Farmers Market in the plaza area of Railyard Park.
🛍 Wander into any of the many shops like Dandy Roll, The Dotted Pig or Urban Bath & Body Company and find something you can't live without.
🥪 We'll have you out of here by 4pm. End with a late lunch at Nola's Pantry, an eclectic café serving up sandwiches, salads and smoothies — and a selection of mocktails.
More NW Arkansas stories
No stories could be found
Get a free daily digest of the most important news in your backyard with Axios NW Arkansas.