How the Saints do — and don't — impact New Orleans elections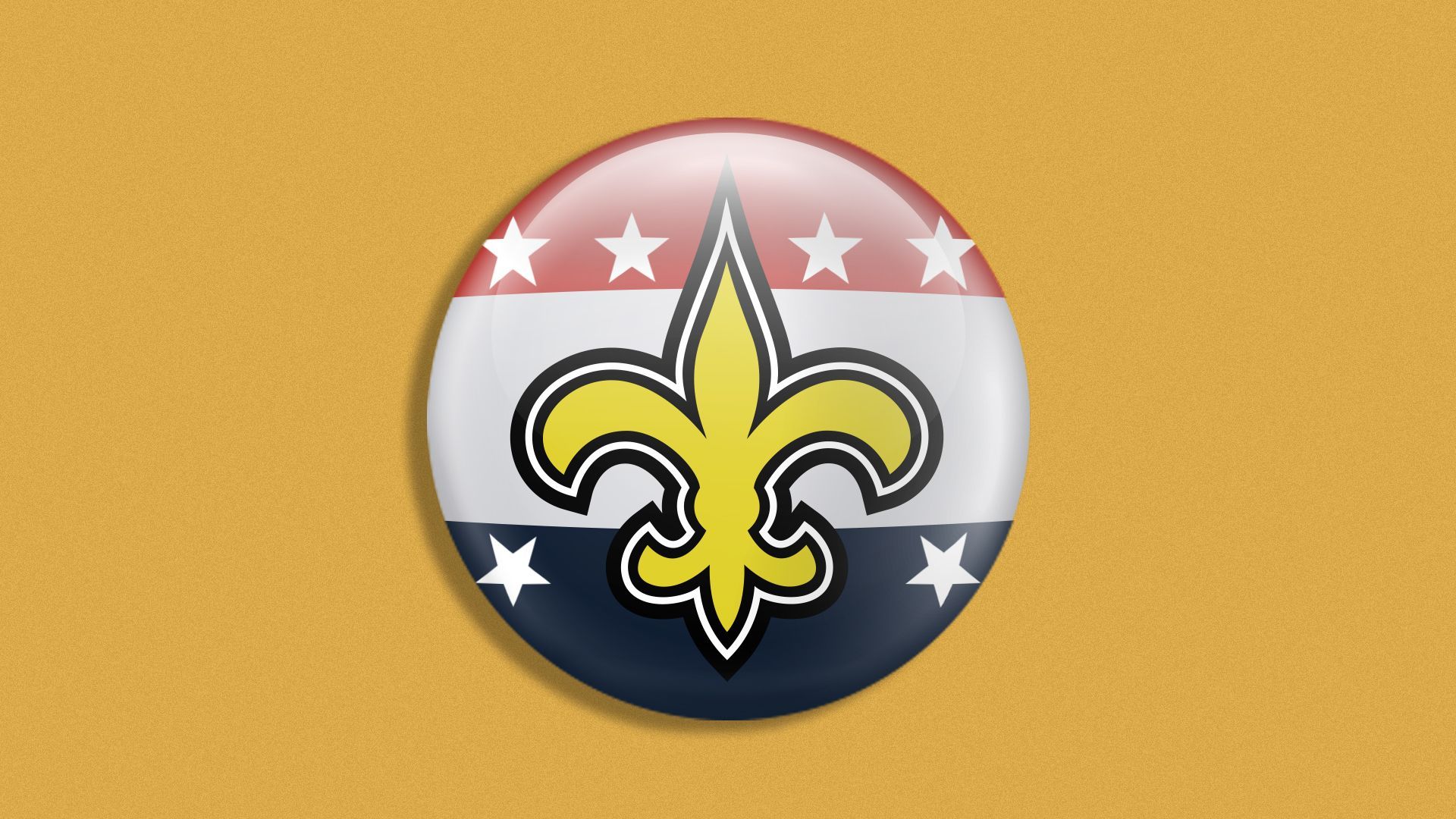 If a politician wants to win an election, they need to be able to zero in on a city's mood. And in New Orleans, that mood is often impacted by what the Saints are up to.
Why it matters: As some experts tell Axios, being clued in on local sports can mean the difference between being seen as part of the team — or a hapless outsider.
What they're saying: Failing to have a good temperature read or knowing facts relevant to a local fan base can certainly come back to bite you, says political PR pro Erick Sanchez, recalling the vitriol after a Massachusetts politician used an incorrect baseball reference.
"Having that base knowledge and not pretending to have that base knowledge is crucial," he says.
Between the lines: That context matters when a politician thinks about messaging.
"The last place you want to be is trying to campaign in an environment where the Saints just came off a loss and [your audience is] down about it or upset, and their mood kind of is not where you'd want it to be," says Orleans Parish Criminal Clerk of Court and Chief Elections Officer Darren Lombard.
A happy audience, Lombard says, is the difference between watching someone stick your card in their wallet or seeing flyers left on the ground.
Zoom in: It's not hard to imagine the side-eye if someone recalled the luster of the Saints' 2018 season without acknowledging its heartbreaking ending in the infamous "No Call" game.
That's why Baton Rouge-based political consultant Mary-Patricia Wray could easily imagine running a negative ad comparing an opponent to "a dirty bird or a falcon," she tells Axios New Orleans.
"You go to what people already know and meet them there," she says.
Plus: Where local teams are playing can make a difference in voter turnout, Lombard says, as folks travel for games.
On the Oct. 14 primary election weekend, he points out, the Saints were in Houston, Tulane was in Memphis, and both LSU and Southern had home games in Baton Rouge.
That weekend, voter turnout hit a historical low.
Reality check: How a team is doing, however, doesn't necessarily translate to more voter participation or to certain outcomes.
An Axios New Orleans review found no clear correlation between general election participation and the Saints' record since 2010.
And a 2015 study found that football outcomes didn't have an impact on who won elections.
The bottom line: We can't look to the Saints to save the expected low voter turnout for Saturday's election.
More New Orleans stories
No stories could be found
Get a free daily digest of the most important news in your backyard with Axios New Orleans.