Hurricanes are making Louisiana's ancient historical sites disappear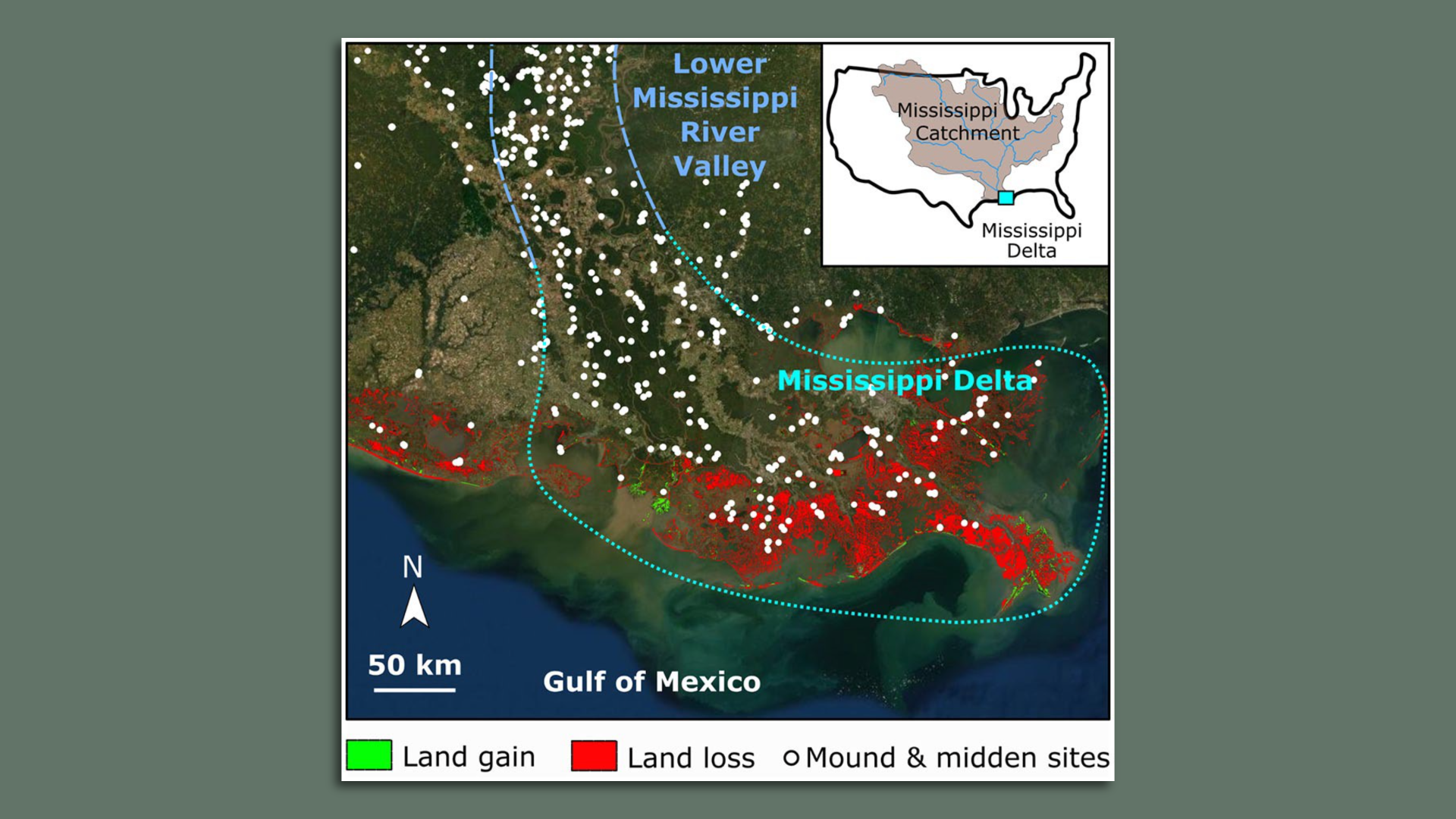 As sea levels rise and each hurricane season brings ever-greater storm threats, hundreds of ancient sites across southeast Louisiana's coast are disappearing.
Why it matters: No written or oral records exist for most of human history, which means these ancient sites offer the only clues we have to understanding the people who once lived in this region, researchers say.
But we're already losing five to 10 of these sites every year because of environmental impacts, says Matthew Helmer, the lead author on a study analyzing archaeological research along the Louisiana coast.
Flashback: Early indigenous people in the Mississippi Delta of coastal Louisiana moved seasonally, leaving behind few clues about their way of life except in permanent ceremonial structures and mounds, Helmer tells Axios.
This region of the Lower Mississippi Valley has one of the densest areas of these kinds of ancient sites in the world, Helmer says.
Artifacts, like sharpened spear points and knives, along with ceramics and materials used to build tools are often found at the sites. Researchers can use these to learn more about the cultural practices of people who were here long ago.
"These are people we can identify with today because these are the things Louisiana culture is still based on," Helmer says. "We've all been eating crawfish for a long time."
What's happening: At this point, Helmer says, additional site loss is inevitable.
The losses are caused by rising sea levels, erosion and greater storm intensity bringing hurricane-force winds further inland than in previous generations. At Kisatchie National Forest, where Helmer works, the back-to-back wallops from hurricanes Laura and Delta in 2020 damaged hundreds of sites.
As the sites become damaged, artifacts can literally wash out to sea or become uncovered as trees are uprooted, which makes it easy for looters to nab items before archaeologists have a chance to study them.
The only way to preserve the knowledge these sites offer, Helmer says, is to protect the ones we can and quickly study those we can't. But that's a costly process that's only been done on such a wide scale once before.
About 100 years ago, the Works Progress Administration financed work to excavate and research these sites.
But researchers have made huge technological strides since then, like remote sensing and ground penetrating radar.
The bottom line: "We need that level of state, local and federal investment again in our approach to salvage and combat the effects we're seeing of losing these sites, which would also provide a good source of employment and get archaeology in the public eye where people recognize the importance of these places," Helmer says.
More New Orleans stories
No stories could be found
Get a free daily digest of the most important news in your backyard with Axios New Orleans.