What's in our hurricane emergency kits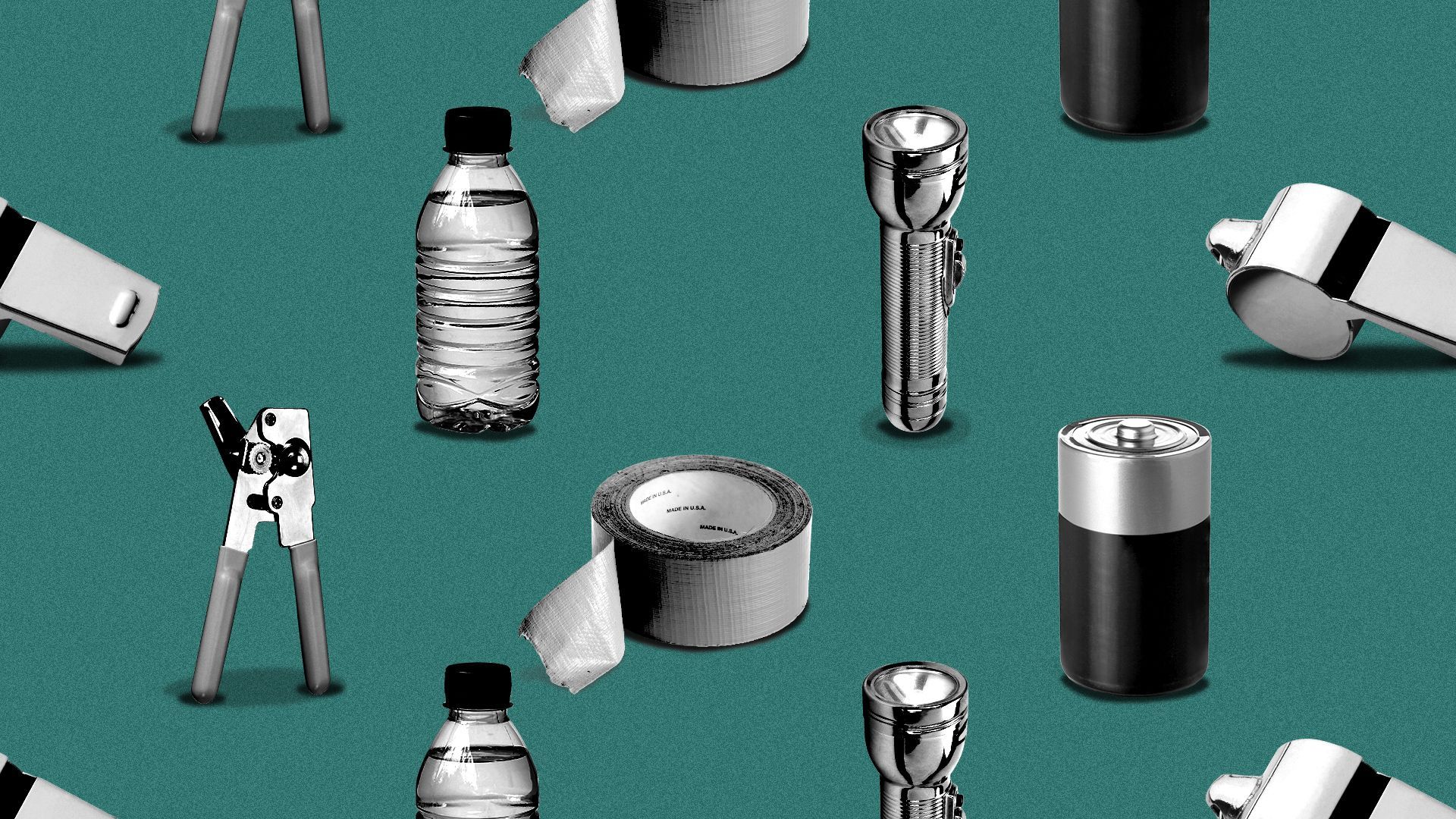 Hurricane season is back (again). We hate it. You hate it. Everyone hates it. But that's no excuse not to make sure you're ready, should A Big One head our way this year.
Why it matters: Seasonal storms are becoming stronger and more frequent, in part because of climate change. So even if southeast Louisiana stays out of the cone of uncertainty this year, your emergency prep kit may still come in handy for unnamed events.
Store it: FEMA offers a supply list that covers the basics, including 1 gallon of water per person for three days, and enough food for each person for three days.
Other listed items that are easy to forget: a whistle to call for help, a hand-crank radio, a manual can opener so you can get into all that food you keep in the pantry, feminine hygiene products and backup prescription eyewear.
Don't forget about any special items you may need for babies, elderly family members or pets.
Digitize it: Most prep kit lists will remind you to have backup copies of your family's most important documents.
Make sure you also scan these documents and save them somewhere secure online, just in case they get wet or lost in a quick exit.
Check it: If you have a leftover kit from last year, you might want to replace a few things:
Batteries. Replace any that are expired or corroded.
Prescription drugs, for you and for other family members.
First aid kits. The individual meds and ointments may have expired.
Rechargeable battery packs, like the kind you can find for phones or small appliances. Make sure yours are charged up and ready for unexpected use.
Of note: In the event of a storm, Entergy will send alerts through its app, social channels and text messages, while also maintaining an outage map.
The bottom line: We've all seen the long Costco lines and shelves clear of bottled water, so don't wait until there's a storm in the Gulf of Mexico to prepare.
Chelsea's tips: I promise not to use the R-word, but growing up in New Orleans does lend a few extra life lessons that come in handy during hurricane season. The ones that are top of mind for me this week? The extras that FEMA doesn't include on its prep list.
📞 I always double-check that I've got phone numbers for at least a couple of my neighbors.
🎥 I also use my cell phone to take a video of my entire house, opening every drawer and cabinet, just in case I need to prove to my homeowners insurance company how things looked and what we owned.
Tell us: What are your extra tips for hurricane season? Send yours to us at [email protected], and we'll share some in an upcoming edition of the newsletter (Subscribe here! It's free!).
More New Orleans stories
No stories could be found
Get a free daily digest of the most important news in your backyard with Axios New Orleans.