Exhibit at brewery seeks to fight victim blaming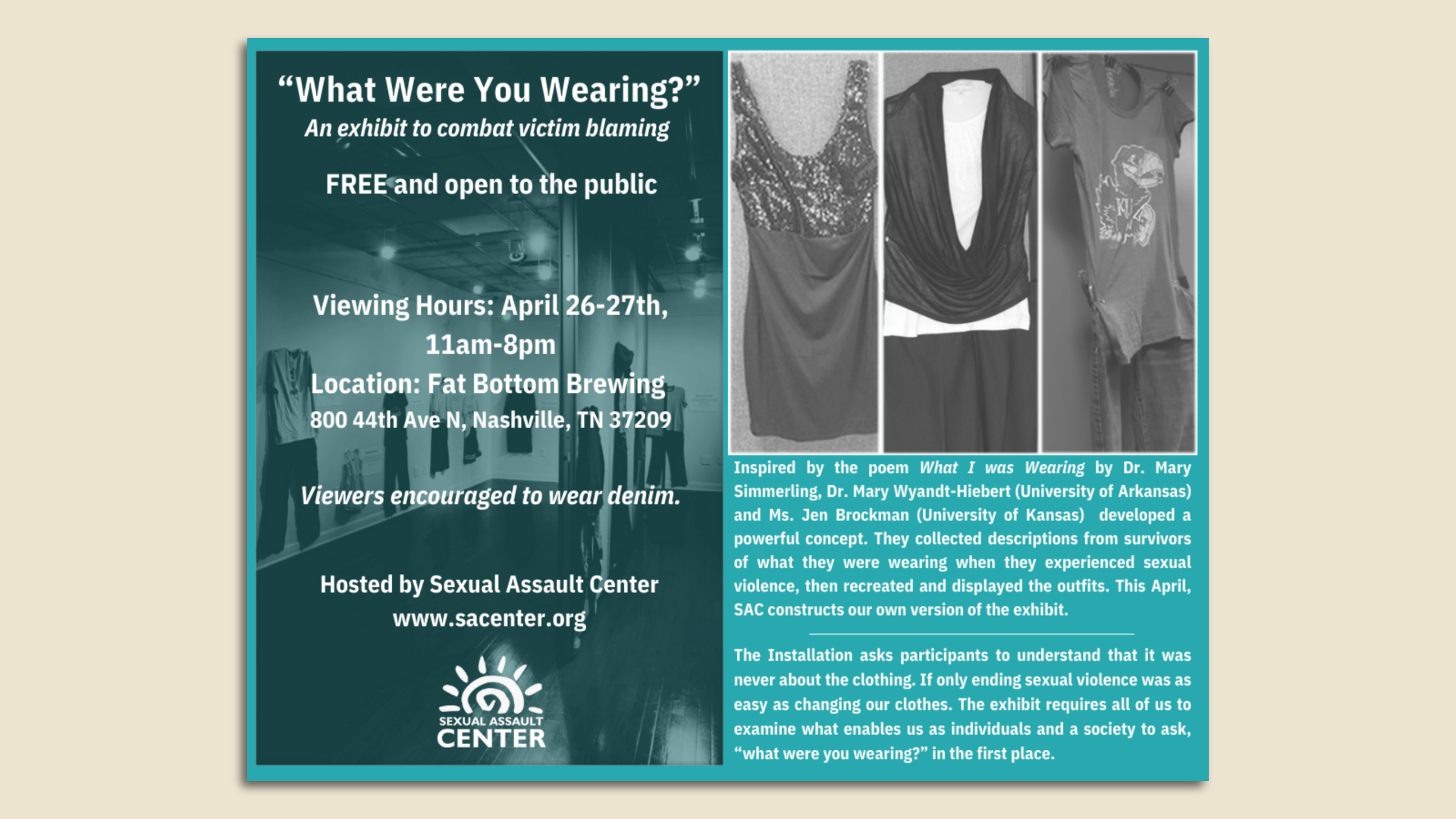 The Sexual Assault Center and Fat Bottom Brewing are partnering this week for a shocking art installation showing the outfits victims wore when they were assaulted.
Why it matters: Sexual assault victims are often quizzed about their clothing by police and even friends and family members, experts say.
The "What Were You Wearing?" art exhibit is intended to reverse the victim blaming, Sexual Assault Center vice president for community relations and development Lorraine McGuire tells Axios.
The idea for the exhibit was inspired by the poem "What I Was Wearing" by Mary Simerling and launched by college professors from Kansas and Arkansas. Versions of the exhibit are displayed across the country, McGuire says.
Details: Included with each outfit on display is a small placard with quotes from the victim. Their identities are kept private.
One victim wore a white rec league basketball T-shirt and black shorts. The accompanying description reads, "It was always the same outfit. It was always after rec center league. I trusted him. My mom trusted him."
In addition to hosting the exhibit, Fat Bottom offers a pilsner called Hope and donates 100% of the proceeds from its sales in April, which is Sexual Assault Awareness Month, to the center.
What she's saying: "The question is always, 'What could you have done to have prevented this issue?'" McGuire says. "Growing up in a really evangelical, super-conservative community, if something happened it was always assumed we must have done something.
"We must have been too flirty, or too nice, gave the wrong impression, wore the wrong thing, wore the wrong lipstick, went to the wrong place, drank the wrong thing. It's just confronting that."
If you go: "What Were You Wearing?" will be on display at Fat Bottom this Wednesday and Thursday from 11am to 8pm.
April 26 is also Denim Day in the advocacy community. Advocates wear denim in honor of an Italian victim whose alleged assailant was initially convicted but later released under the "tight jeans" argument, McGuire says — that the victim's clothing was so tight-fitting he couldn't have removed them without her consent.
The Sexual Assault Center has served a vital role of counseling and advocating for victims in the Nashville area since 1978.
Zoom in: The nonprofit center's mission grew in 2016 when then-Mayor Megan Barry expanded the access to rape kits.
Previously, only Nashville General Hospital offered rape kits.
Barry led the city agencies to enter into an agreement with the Sexual Assault Center, which is the only non-hospital facility that provides the service. St. Thomas Midtown, Centennial Medical Center and Vanderbilt University Medical Center also provide rape kits.
McGuire says the vast majority of victims don't need medical care. The clinic provides a safe environment that's less intimidating than the bustle of a hospital.
"Just because you get a rape kit, [it] doesn't mean you have to file a police report. You can get an anonymous kit and file a report later," she says.
The center provides transportation, lodging and financial help to victims, who come from as far away as east Tennessee to use its services.
The Tennessee Statewide Sexual Assault Hotline is available 24/7 via 1-866-811-RISE (7473) or chat from 7am to 11pm. Learn more here.
More Nashville stories
No stories could be found
Get a free daily digest of the most important news in your backyard with Axios Nashville.