Clock ticking on Titans stadium debate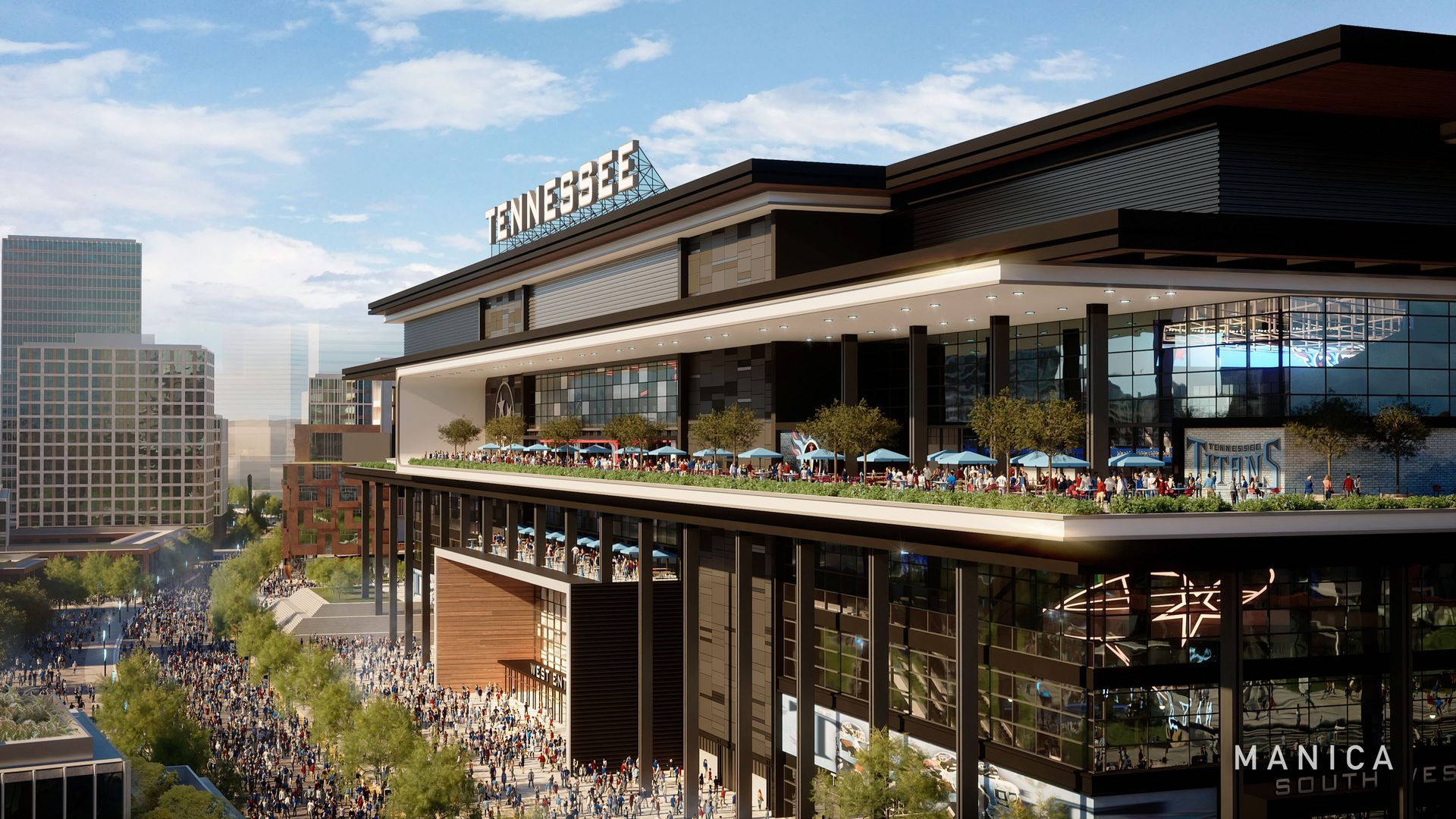 The final chance for major changes to the Titans stadium deal comes Tuesday night when Metro Council meets to consider a hotly debated plan that would steer millions in event revenue to the city's operating budget.
Context: Taylor's amendment allows the city to share in rent money paid to the Titans for booking events besides NFL games. The rent would be capped at no more than 10% of the average value of each ticket sold.
The proposal would generate at least $470 million for the city, according to an initial estimate by Mayor John Cooper's administration. A Cooper spokesperson tells Axios that estimate is no longer valid because it doesn't take into account the possibility of lost revenue from concerts and sporting events choosing not to come to Nashville if Taylor's plan is enacted.
Cooper, the Titans and a group of entertainment industry leaders have come out against Taylor's amendment.
Why it matters: Taylor's amendment is a microcosm for debate around the $2.1 billion stadium deal as a whole.
Advocates say it will boost the tourism economy by bringing in top-tier events the city can't book at the outdoor Nissan Stadium. The Super Bowl, Wrestlemania, major college football postseason games and college basketball tournaments could be recruited to Music City.
Opponents say the stadium will enrich the Titans and the already-booming tourism industry, but not help the average Nashvillian.
State of play: Taylor's amendment has already been approved by the Metro Council, but a competing proposal from Councilmember Jennifer Gamble would undo his plan.
She proposes to cap the amount of rent money shared with Metro at no more than 3% of the cost of the average ticket. Gamble wants to send the money to a nonprofit investment fund.
Gamble says she's concerned the city would miss out on booking major events if the rent-share agreement is too costly for major promoters, who instead steer their concert tours to other cities.
What he's saying: "Our constituents call each one of us every single day asking for things, whether it be sidewalks or pothole fixes, or something," Taylor tells Axios, adding that he's not interested in a compromise.
"My amendment is the compromise so we can actually do those things for our constituents. If the numbers show that (nearly) half a billion dollars goes to the general fund, I don't know how the city loses."
The proposal commits the most public money ever for a U.S. pro sports stadium project.
What's next: A critical second vote on the Titans stadium deal is scheduled for Tuesday night. If it passes, a special meeting is planned for April 25.
Editor's note: This story has been updated to add a comment from Mayor Cooper's office about the impact of Councilman Taylor's amendment.
More Nashville stories
No stories could be found
Get a free daily digest of the most important news in your backyard with Axios Nashville.