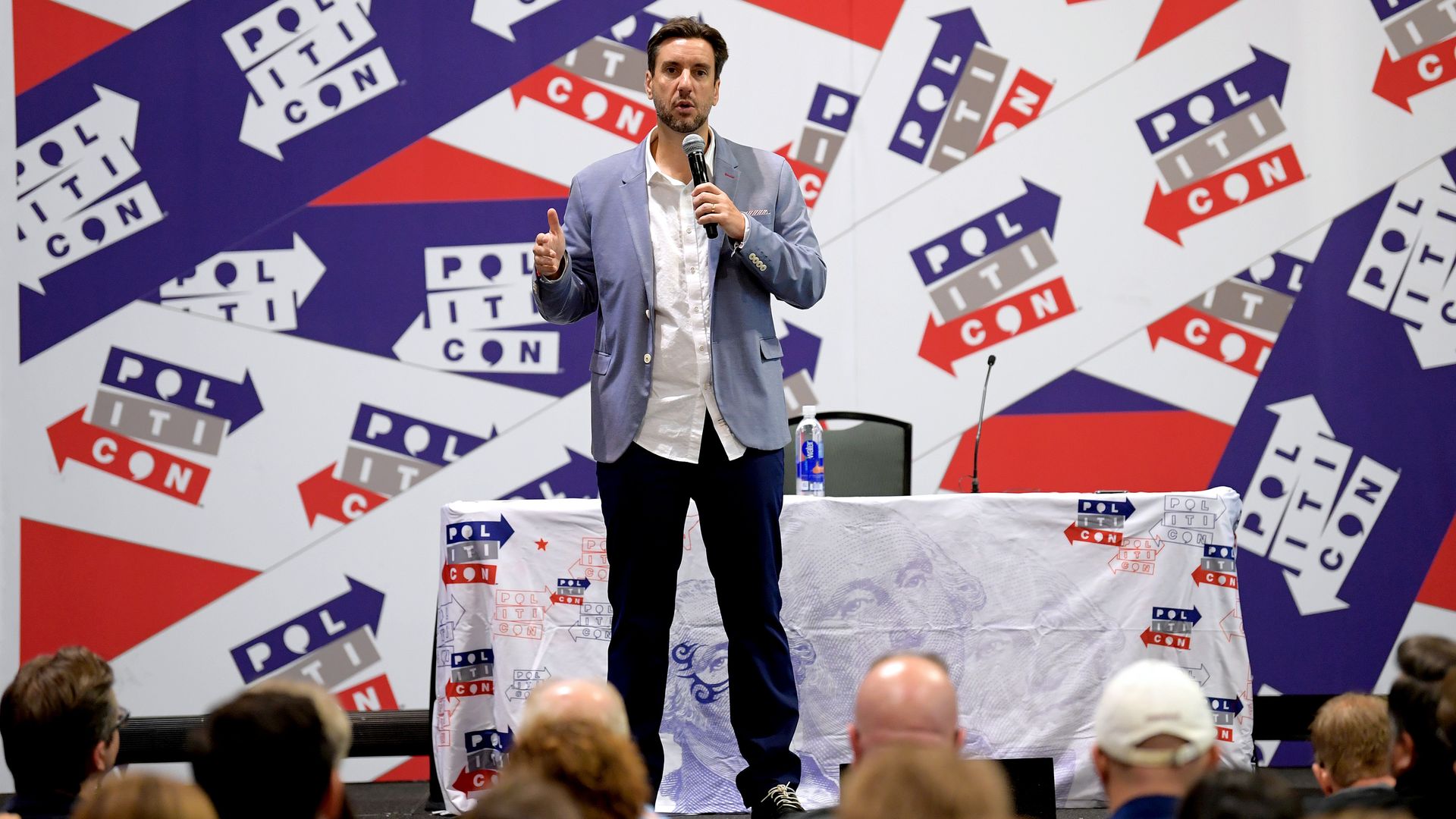 Outkick, the sports and culture website Clay Travis started as a side hustle to his radio broadcasting career, has grown into a successful Nashville-based media business.
Travis' bombastic and often-debated conservative views may not be embraced by liberal Nashville, but his media approach is attracting a growing nationwide audience. Outkick was purchased by Fox in 2021 for an undisclosed amount.
Why it matters: Travis foresees Fox investing more in its Nashville operations. "We're building an absolute media colossus," Travis tells Axios, in full-on hype mode.
Driving the news: Travis made a name for himself on Nashville sports radio, where he offered hot takes on SEC football, sports gambling and pop culture. Over the last several years, he expanded his commentary to include politics, delivering conservative viewpoints that took his career to the next level.
When the pandemic hit, Travis cemented himself as a conservative darling. He downplayed COVID and criticized government shutdown orders, especially the decision to cancel sporting events.
His rising star reached the upper echelon of right-wing media when he was named a co-host of the radio program that replaced Rush Limbaugh's show.
By the numbers: The formula of mixing sports and pop culture with conservative politics is working. Outkick employed 10 employees, the company tells Axios, when Travis sold to Fox. The company now has nearly 50 employees.
Outkick's podcasting content ranges from the sports-centric show hosted by Chad Withrow and Jonathan Hutton to a politics show hosted by conservative firebrand Tomi Lahren. Most recently, Outkick announced retired baseball star Curt Schilling, also known for his conservative views, would launch a show on the platform.
In 2021, the best month for web traffic at Outkick.com saw 9.5 million unique monthly visits, according to data provided to Axios by Similarweb, an online market intelligence company.
In 2022, the number of monthly visits exploded, topping out at 34 million in October. There were an average of 19 million unique monthly visits in the early months of 2023. The company declined to share revenue numbers.
Details: Withrow says the company's strategy works because its talent is unconcerned about offending people.
"We don't have to worry about saying the wrong thing and having some talk with management," Withrow says.
What he's saying: Travis says mainstream media outlets are competing over a smaller percentage of sports fans, while Outkick has a broader appeal.
"I think there's a profound disconnect between the average sports fan and the media that covers [sports]," Travis says of the company's appeal. "I'm staggered. We have zero competition, and we're serving 80% of the sports fan base.
"It's like I made beer and no one else would make beer, so I just kept having a monopoly on beer. I don't get it, but we're going to keep doing exactly what we're doing."
More Nashville stories
No stories could be found
Get a free daily digest of the most important news in your backyard with Axios Nashville.