Goodbye to Arnold's — for now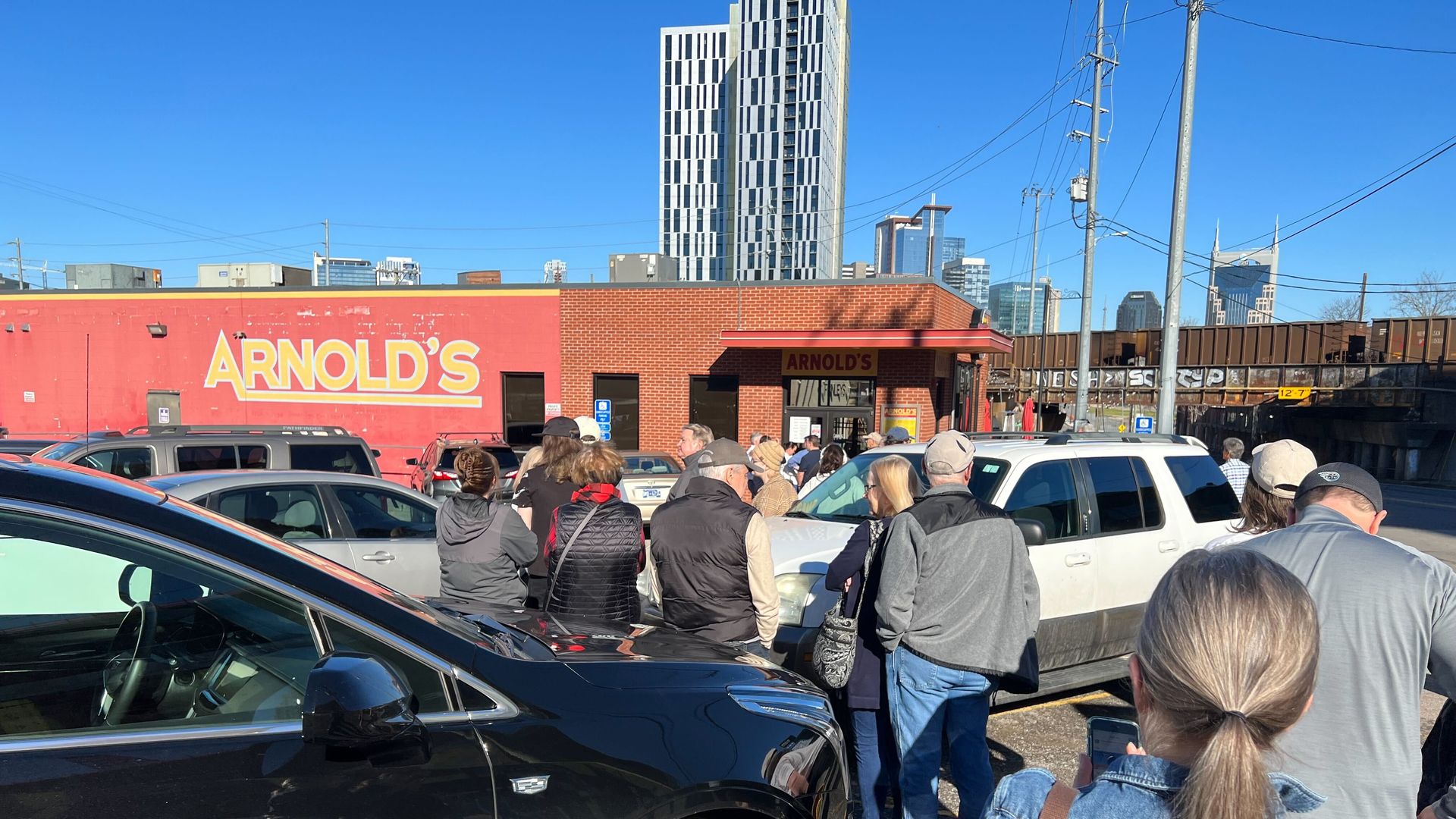 On the last Wednesday of service at Arnold's Country Kitchen, the line was nearly 50 deep before the doors even opened at 10:30am.
Folks have flocked to the beloved restaurant all week for one more bite of the exquisitely prepared roast beef, fried catfish, quintessential Southern sides and irresistible pies.
Co-owner Kahlil Arnold could be overheard confiding to patrons that he had "teared up" at least twice that morning.
But if diners thought Arnold's final week of operation was merely a time for somber remembrance of Nashville's beloved 41-year-old meat-and-three, the co-owner was quick to provide a silver lining.
What he's saying: In no uncertain terms, he told loyal diners that he intends to open a new restaurant and keep the Arnold family tradition rolling.
"It's not the end," he told the crowd. "It's just taking a break."
There aren't any details available yet on his new restaurant or when it may open.
Why it matters: The food is really good. James Beard good. But Arnold's brought even more to the table.
The intrigue: Nashville has been pummeled by a barrage of beloved institutions closing after long-running small business owners lost their leases. When news first broke that Arnold's would close its doors Saturday, many Nashvillians assumed the same dynamic had claimed another favorite.
But the Arnolds, who own the building and its adjoining lots, insist they made this decision on their own terms.
Yes, but: Even though Kahlil is planning to carry on the family tradition, patrons were still filled with emotion during Arnold's waning days.
Driving the news: Arnold's co-owner Rose Arnold, Kahlil's mother, detailed the family's tortured decision to close the downtown restaurant in an interview with the Nashville Scene.
With real estate values around the Gulch and downtown skyrocketing, the family stands to capitalize on their investment.
"I'm tired," Rose told the Scene. "My back hurts like hell! I want to retire, and I've got a lot of people to take care of, including my husband."
Earlier this week, we joined the crowds and waited an hour in line for one last bite of Arnolds.
These are the memories that kept us coming back.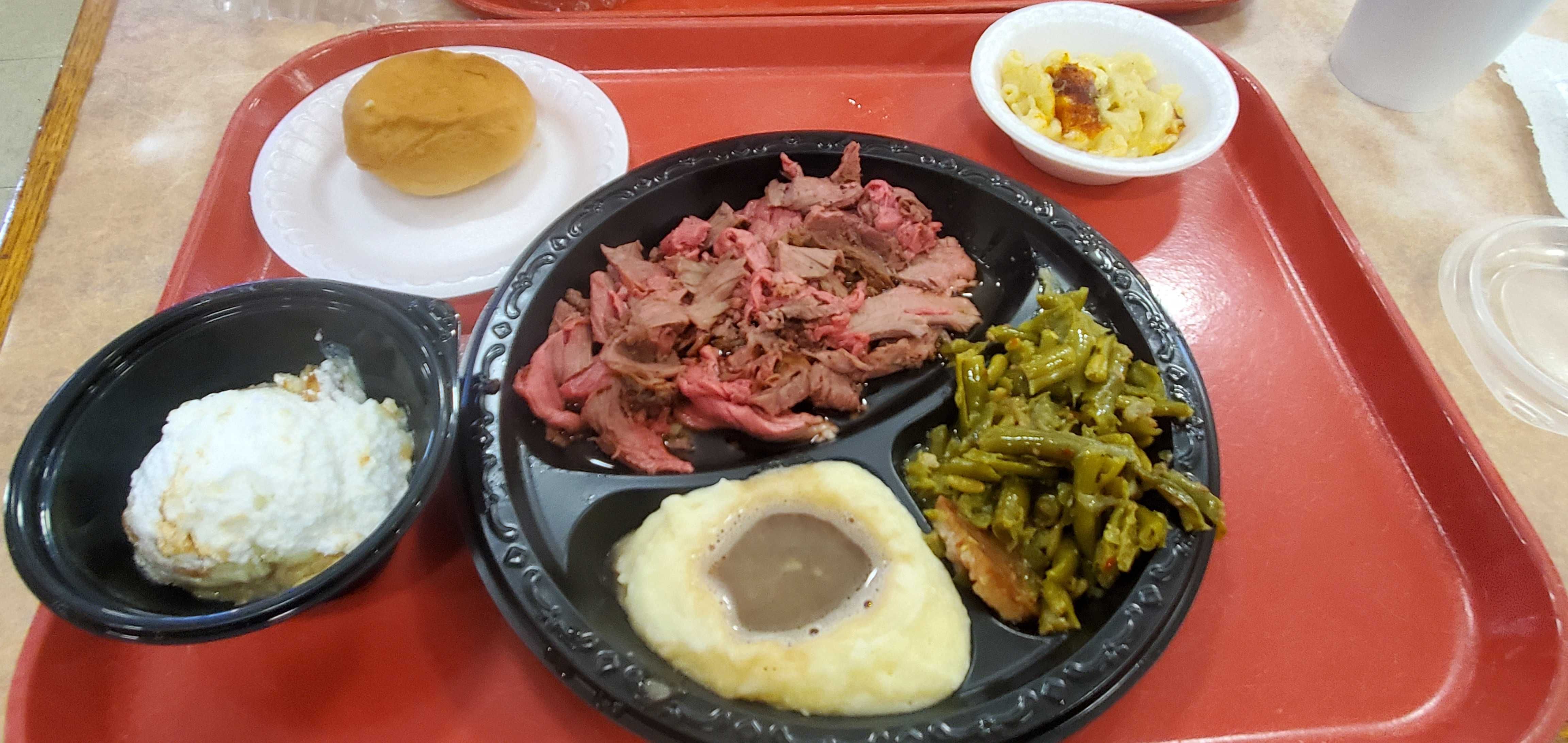 👋 Nate here: My favorite Arnold's memory is a snapshot of the Arnold family's kindness and the quality of their food. When I told Kahlil it was my son's first time eating there, he brought over a bowl of banana pudding on the house.
We assumed our son, who didn't really like bananas, wouldn't eat it. But the power of Arnold's has always been the fact that they just plain make great food.
Our son ate it up, and I hardly got a bite.
Being from a small Midwestern town, I had never eaten at a meat-and-three before I moved to Nashville 21 years ago.
Arnold's was a revelation. Unlike most of the other restaurants that generate buzz here, Arnold's is completely unpretentious. The cafeteria-style seating put firefighters and construction workers alongside elected officials and John Prine.
I could meet a buddy for lunch, or have a source meeting with a fancy Music Row executive and be confident everyone would feel at home. Although, navigating the line sometimes gave me anxiety about whether a table would open up after I paid. In 20 years, I only had to stand and wait for a table once.
Here's what a few others had to say about the classic meat-and-three that celebrity chef Sean Brock counts among his favorite restaurants "in the whole entire world."
Nashville food writer and author Jennifer Justus paid homage on Instagram: "It's hard to imagine Nashville without this place. But I've decided not to cry the old-Nashville blues. The Arnold family deserves our gratitude and a nice long exhale after serving this city so well, and for setting a welcome table."
Nashville restaurateur Randy Rayburn tells Axios: "One great chapter closes for iconic Arnold's this weekend. A new one will unfold as Kahlil decides and negotiates where to eventually reopen."
"I went there Tuesday after working lunch to pay respects and have my beloved chicken and dumplings one last time."
Axios reader Jonathan H.: "Arnold's was my favorite restaurant in Nashville, which is saying something."
"Almost every food I have gotten there has been the best I've ever had. It was fitting that I waited in line 45 minutes last night to eat there one last time."
More Nashville stories
No stories could be found
Get a free daily digest of the most important news in your backyard with Axios Nashville.