Review: Dessert saves an overhyped meal at Locust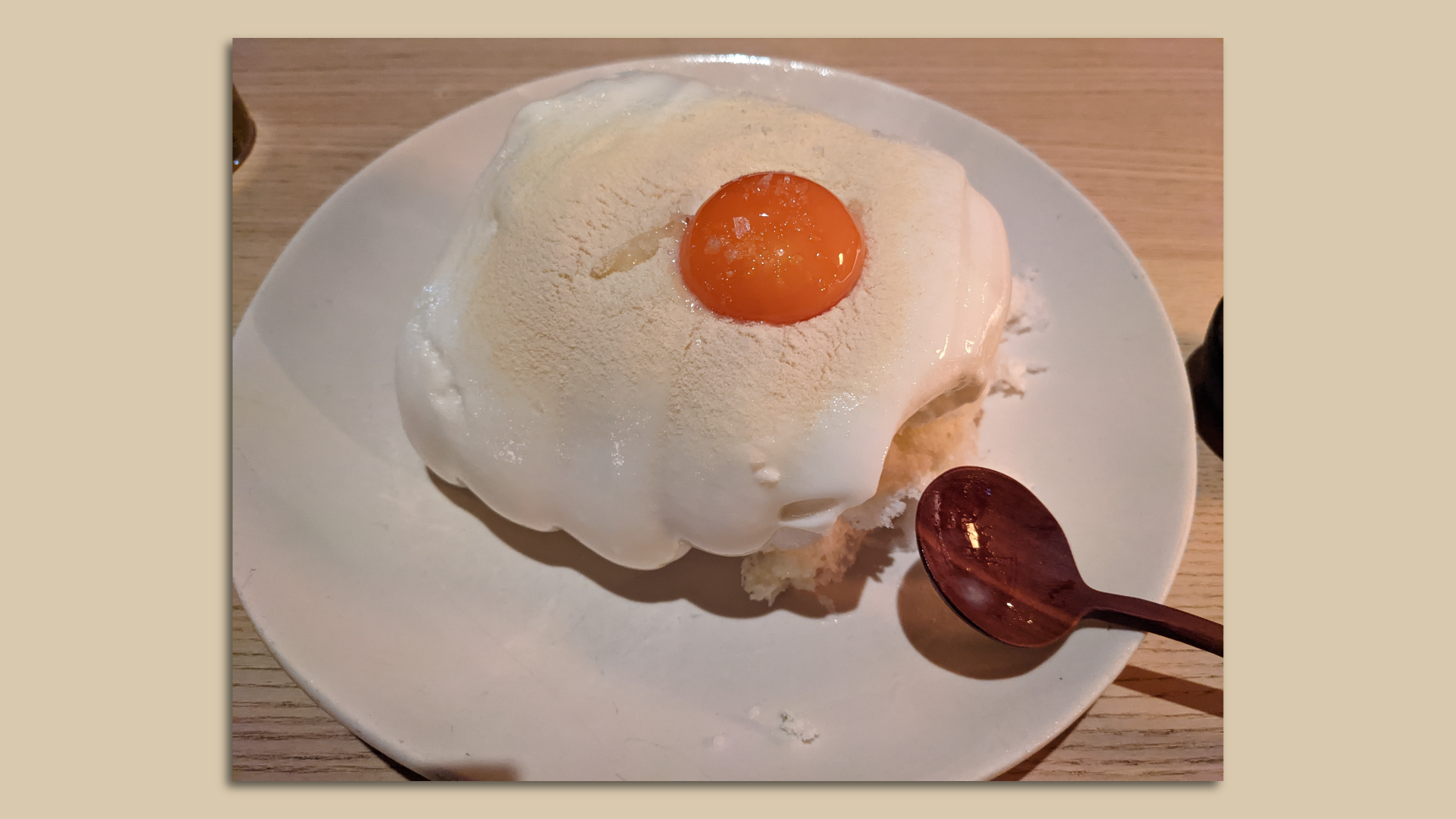 👋 Axios copy editor Katie here! As a 36-year Nashville resident, I've delighted in dining as a recreation. Imagine my thrill when a last-minute dinner reservation opened up at Locust on my wedding anniversary.
Why it matters: Experiencing the buzzy, Trevor Moran-led 12 South restaurant begins with a hearty welcome from the chefs in the open kitchen. It's a congenial start to an uneven meal saved by a spectacular dessert.
Context: For the curmudgeons among us, the tiny restaurant is so loud we couldn't hear the chefs (there are no servers) who took our orders.
And they apparently couldn't hear us, as my husband's drink order arrived wrong.
Also, since the menu's a night-of surprise, I hadn't anticipated my pregnancy would keep me from trying most of the dishes.
Yum: You want the pork belly dumplings. Perfectly delicate yet structurally sound, they're served with toothsome seaweed.
A mushroom flatbread — really more of a puff — held a puree I'd spoon up any day of the week.
Um: Dover sole, the catch of the day, lay in a creamy sauce topped by lumps of lobster meat.
A side of crispy potatoes was a tangled mess. The chef instructed us to crack and dip the nest into the sole's sauce — yet the potatoes' own sauce coated our fingers in the process. My napkin (and dress) didn't emerge unscathed.
The big picture: Being named Food & Wine's Restaurant of the Year did Locust no favors. We had big expectations and experienced an adequate payoff.
I was fortunate enough to dine at Catbird Seat during Moran's tenure. That remains the best meal of my life, so I had unfairly high hopes.
The bottom line: The angels sang when the loaf pan-shaped kakigori arrived for dessert.
The refreshing Japanese shaved ice tasted of passionfruit and honeycomb, with a sugared egg yolk as a sunshine of color on top.
This truly wowed us. Texturally unique, hitting every flavor point, this dessert is one to remember.
More Nashville stories
No stories could be found
Get a free daily digest of the most important news in your backyard with Axios Nashville.