How Houston's drag king scene flourished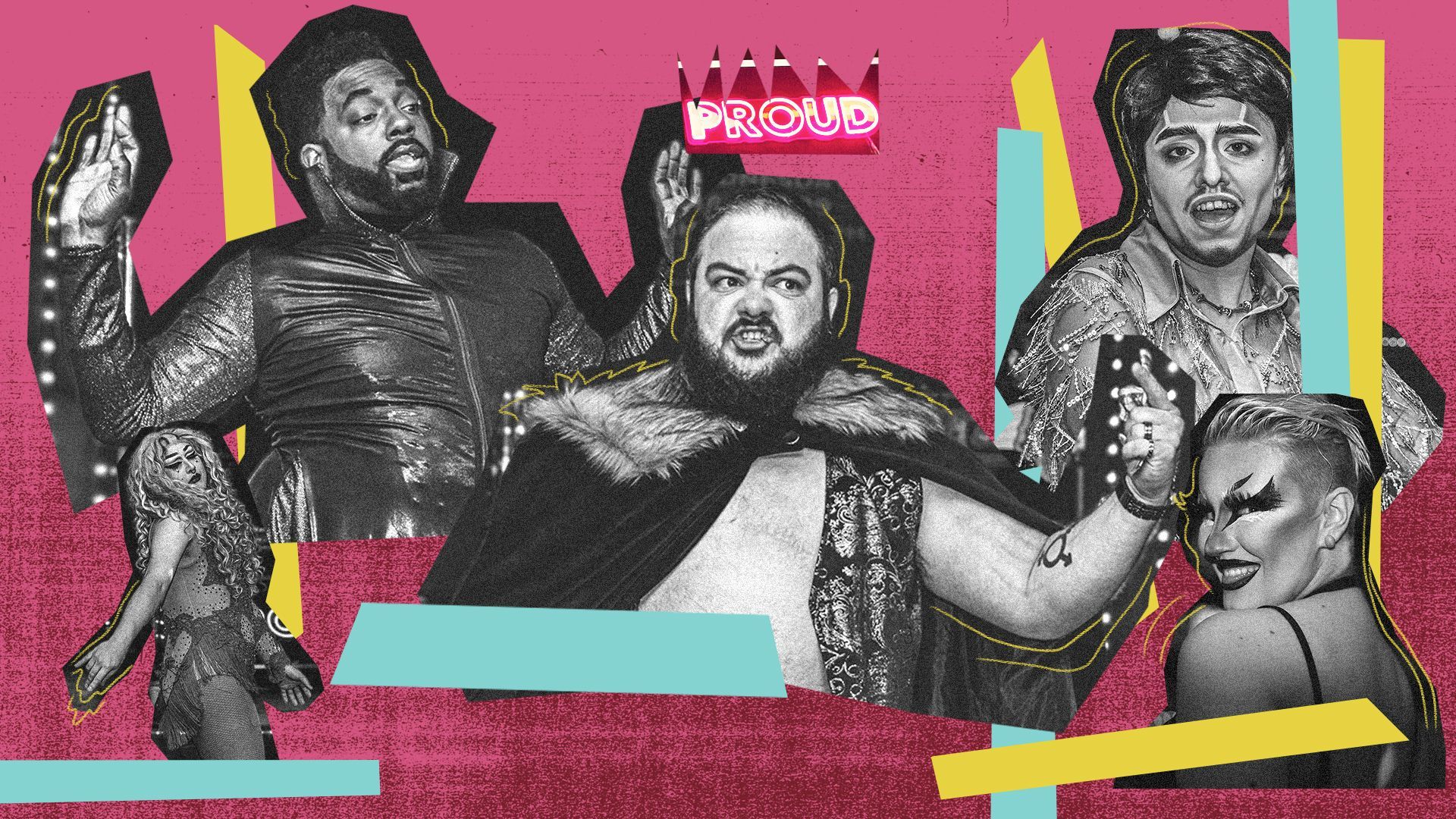 "All drag is valid," everyone chants at Pearl Bar on a Wednesday night after an opening of "I'll Make a Man Out of You" from "Mulan."
What's happening: This is the beginning of the weekly H-Town Kings show at one of the fewer than 30 remaining lesbian bars in the country, per the Lesbian Bar Project.
Why it matters: In a state where lawmakers regularly target LGBTQ+ rights, drag king and host Ian Syder-Blake has created a safe space for performers to be themselves through lovingly crafted characters.
The host and founder of this event, Syder-Blake begins the night with some basic rules:
Tipping is not mandatory, but consent absolutely is — and is the bare minimum, Syder-Blake says. At that, regulars scream, "Consent is sexy."
He also encourages loud cheering: "If you cheer so loud that we can't hear the song and lose our place, we know we're doing a good job."
And then it's time for the show, the mainstay of a burgeoning drag king scene in Houston.
Context: While drag queens — who have become more mainstream thanks to "RuPaul's Drag Race" — traditionally perform as women, drag kings typically perform as men. Most of the H-Town Kings performers are assigned female at birth, like Syder-Blake himself, but anyone can perform any type of drag.
As Syder-Blake puts it, the Houston drag king scene "doesn't care what's going on in your pants." There are cisgender, transgender and nonbinary kings — and at his shows, all drag is celebrated.
Flashback: When Syder-Blake began drag about a decade ago, he knew of only four or five other drag kings in Houston, and he says he was the only one who performed consistently.
Finding it difficult to book a kings event in Houston, Syder-Blake, along with the help of his now-retired "drag son" Richard Long, founded a kings weekly show five years ago at Pearl.
Syder-Blake, the crowned "Houston Drag Dad" of the local community, manages a Facebook Messenger group chat with all the performers.
There are now approximately 80 members in the Houston group, with about 40 active participants.
The chat includes everyone: kings, queens and monarchs, or those who declare themselves outside of the drag gender norms.
Zoom out: The drag king scene is blossoming throughout the country, especially after drag performances moved online when the pandemic shuttered bars, per the New York Times. But kings who have performed in other cities describe the Houston scene with fondness, crediting Syder-Blake for how expansive and established it's become.
"I don't really see a whole lot of drag kings whenever I go to other places," Houston-based drag king Damien says. "We're often the only kings on a show."
On the scene: During the 21-and-up shows at Pearl Bar, the kings and regulars feel at home. The cast of the day comes in and they give everyone tight hugs — after asking permission, of course.
The audience slowly trickles in — loyal fans come in by 8pm for D'vine's "Misfits" drag show before Syder-Blake's H-Town Kings show at 9:30pm.
Even on a cold, rainy February night, 40 people show up. Some nights have recorded about 100 people in attendance, from newcomers who look for the closest queer bar during a convention trip, to regulars who come weekly.
Each night, there's a different theme — from country to pop to birthday or bachelor party celebrations — that Syder-Blake plans months in advance.
There are established drag artists and cameos by newer kings who are still perfecting the craft yet deliver a passionate song number they mixed themselves.
The drag kings — who come in real and fake beards, wearing makeup that accentuates masculine features, in intense costuming or dressed casually like a "passable man" — lip-sync, dance and make a show of gathering tips.
Dad jokes; innuendo; and vocal support of trans lives, health care access and disability rights are sprinkled throughout the shows.
The night ends with a dance party that includes the audience and goes past 1am.
During one of these dance parties, Syder-Blake is engrossed in a conversation with a wide-eyed newcomer who wants to perform after happening upon the show. That newcomer, Kian Kismet, will soon become a regular, donning a mustache at a reserved sofa spot, before he makes his debut three months later, wearing a custom embroidered pink outfit.
Context: The political threat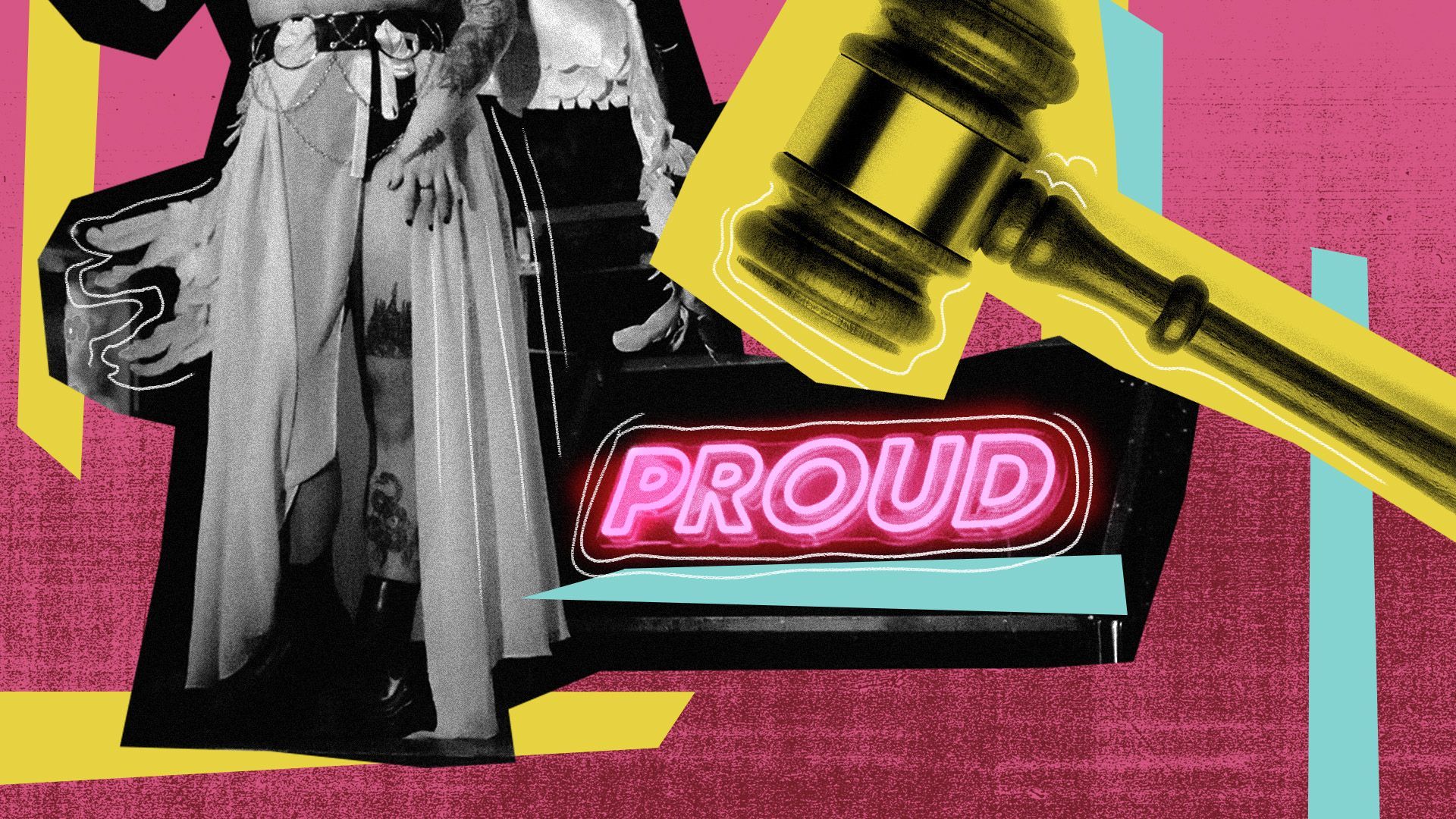 The future of the drag community in Texas as a whole is at stake as Republican state legislators look to limit the shows.
Driving the news: Texas leads the country in the number of anti-transgender and anti-drag bills filed this session. More than half of the 57 bills in the Legislature are sponsored by Houston-area representatives. Although many of the bills relate to gender-affirming care, some, like Senate Bill 12, target drag shows and venues that host them.
Most of the other bills that would restrict drag shows have stalled in the state House, but lawmakers can still tack measures on to related legislation that's flying toward passage. Virtually anything can happen until the final gavel falls on May 29.
"I selected S.B. 12 to be a top priority of mine," Lt. Gov. Dan Patrick said in a statement last month, "because someone must fight back against the radical left's degradation of our society and values. I will not allow Texas children to be sexualized and scarred for life by harmful drag performances."
Between the lines: Legislation targeting the drag community historically has been a gateway to attacking the transgender community, per the Center for Public Integrity.
Zoom in: Amid partisan debates over the bills at the Capitol, drag has become increasingly polarizing in the Houston area.
What they're saying: Syder-Blake says drag performers know how to tailor their shows to be child-friendly and that to assume otherwise comes from a deep misunderstanding and a dangerous mindset.
"They're taking the 'it's endangering our children' aspect because it's easy," D'addie D'vine says. "We have, respectfully, no interest in grooming your children. We want your children to grow up the way they want to grow up and be happy and accept themselves in the same way that we want to accept ourselves."
Threat level: Many kings depend on drag as a partial or primary source of income. And even more is at stake for trans kings, with the rise of anti-trans hate and rhetoric and at least 38 transgender people fatally shot or killed by other violent means in 2022, per the Human Rights Campaign.
The bottom line: "Even if they try to kick us out and make it so that we can't perform, we're going to find a way. … We're not going anywhere," D'vine said.
Zoom in: Drag boot camp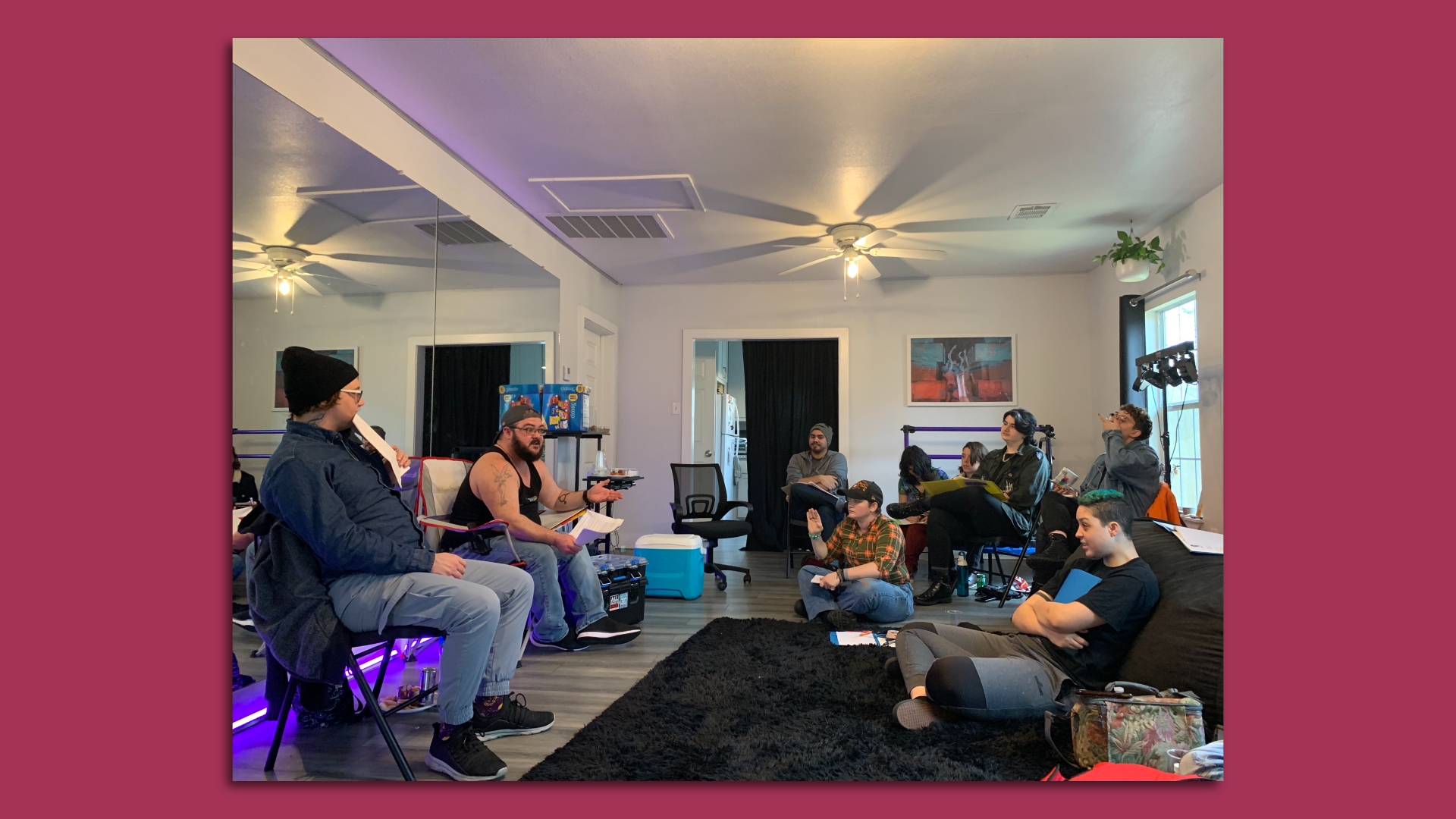 Syder-Blake is passing his skills down to the next class of drag artists. He hosts nine-week boot camps where he co-teaches how to become a bookable drag performer.
Why it matters: Syder-Blake worked hard to navigate the scene when he started, and he wants to make that process easier for those who come after him. Drag is more than just makeup and costumes, and his class features everything from marketing and bookings to mixing songs and creating a persona.
Flashback: Syder-Blake did his first show in 2013, when there were few drag kings performing regularly. A few months before that, he established a formal boot camp to take others under his wing.
"No one was willing to help me. No one was able to help me … I also had a few queens tell me that I might as well quit — there is no hope or future for drag kings in Houston. That it's fun to have a hobby but they didn't want me to get too into it and get disappointed later on. And that's what gave me the drive to keep going."
Zoom out: Syder-Blake shared his boot camp curriculum with other drag instructors in Austin; Denver; and Dayton, Ohio, which have since started similar programs.
Between the lines: Syder-Blake, whose full-time job is being a drag king, charges $50 for the entire nine weeks — just to make ends meet and provide water and sweet and salty snacks.
The seventh course ended in February.
On the scene: There are nine drag kings in the making at a dance studio-turned-classroom on a Saturday. The students, mostly in their 20s, shuffle in and sit casually on bean bag chairs and sofas, opening their notebooks and folders with Syder-Blake's detailed handouts.
There's an air of seriousness and respect for Syder-Blake and Nyxx Laraye — a drag queen who co-teaches. But the participants are clearly having fun, cracking jokes, interrupting with questions.
The performers-in-the-making come from all different backgrounds — one works at a law firm, one as a waiter, another is a student. Some have a background in theater, and some just became interested after finding themselves at one of the H-Town Kings' shows.
Syder-Blake sprinkles the wisdom he's accumulated over the past decade through every conversation, whether it's during class or when people come up to him during a smoke break to chat about drag identity and brainstorm names.
Details: The first eight weeks of the course are classes, and the last week includes a final exam and a graduation.
The course starts with professional expectations and marketing in the first two weeks.
The next few weeks cover show etiquette, consent, makeup basics, self-care and costuming.
Week six helps the newcomers with anxiety and stage fright.
And the last couple of weeks get into the nitty-gritty of stage presence, choreography, finding your drag style and booking all kinds of shows — even those that are predominantly for drag queens.
Several from the winter-spring boot camp are now regulars at Syder-Blake's shows, like Casper Cain and Hugh Stone, who have a crowd cheering for their vastly different personalities.
Go deeper: Meet the kings of Houston
More Houston stories
No stories could be found
Get a free daily digest of the most important news in your backyard with Axios Houston.