Meet the drag kings of Houston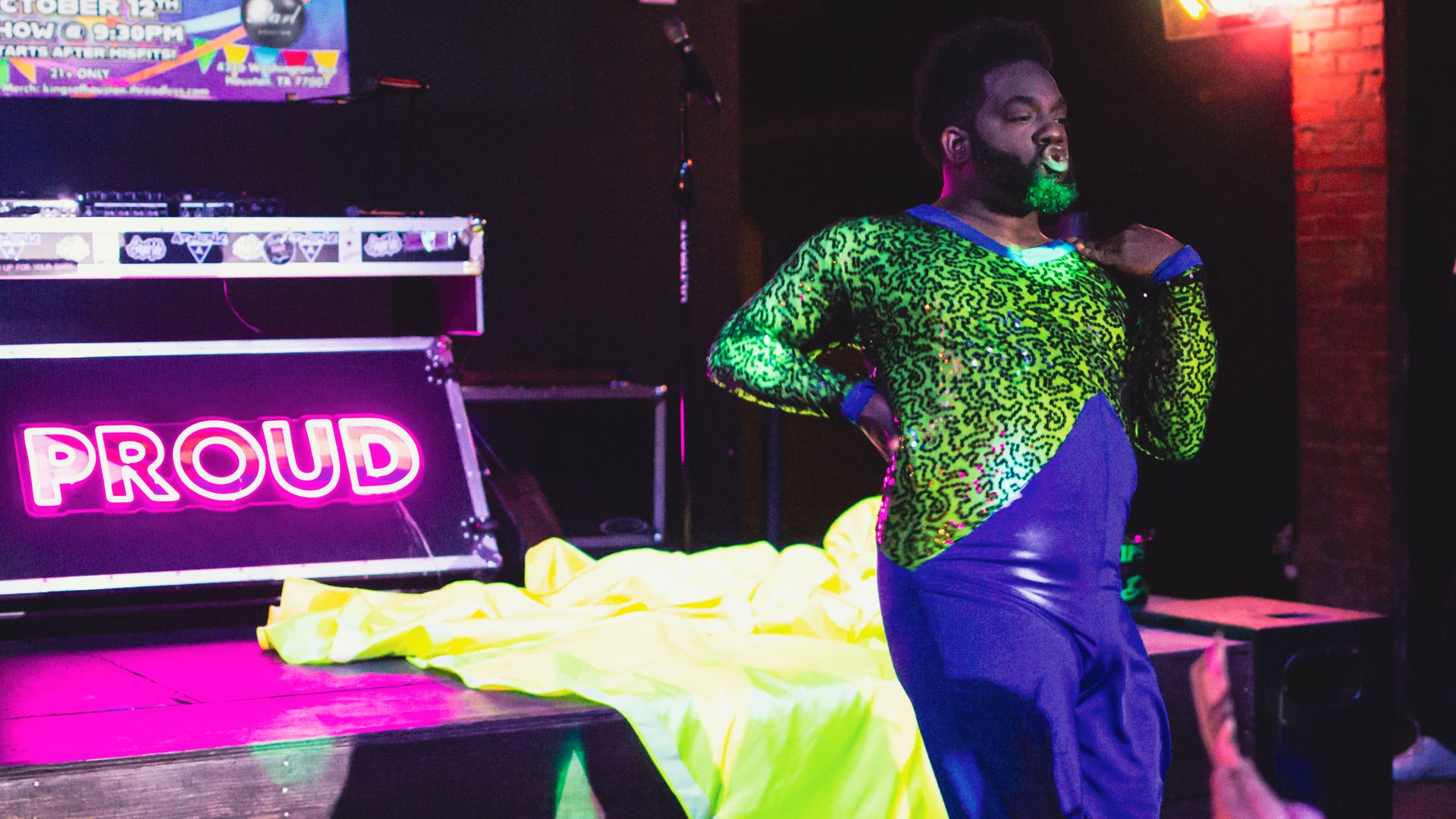 Backstage at an H-Town Kings show, performers get dressed in a small bathroom-turned-dressing room. At any given moment, there are five people getting dressed at once with their bags propped open, wads of $1 bills plopped atop outfits and wigs.
Here are some of the regulars at the H-Town Kings show:
La'darius Mirage Jackson started drag 12 years ago. As a cisgender man, he's often categorized as a male entertainer, but he's welcomed in the Houston drag king community.
Every couple of months, La'darius hosts Black Excellence night in place of the usual H-Town Kings show, and he's working to co-host another night centered around the Latinx drag community.
He's a dance teacher by day, so viewers can expect killer dance moves, including the dip — also known as the death drop — where dancers dramatically fall backward on the floor with one leg extended.
"I don't like putting on all the pantyhose and the wigs and pounds and pounds of makeup. But I love being on stage. I love transporting people somewhere to get their mind off of maybe their bad day and they get to watch me for five minutes and forget about their problems. I just love being on stage and feeling important."
"Houston is the only place, honestly, where we are all inclusive when it comes to the word drag king."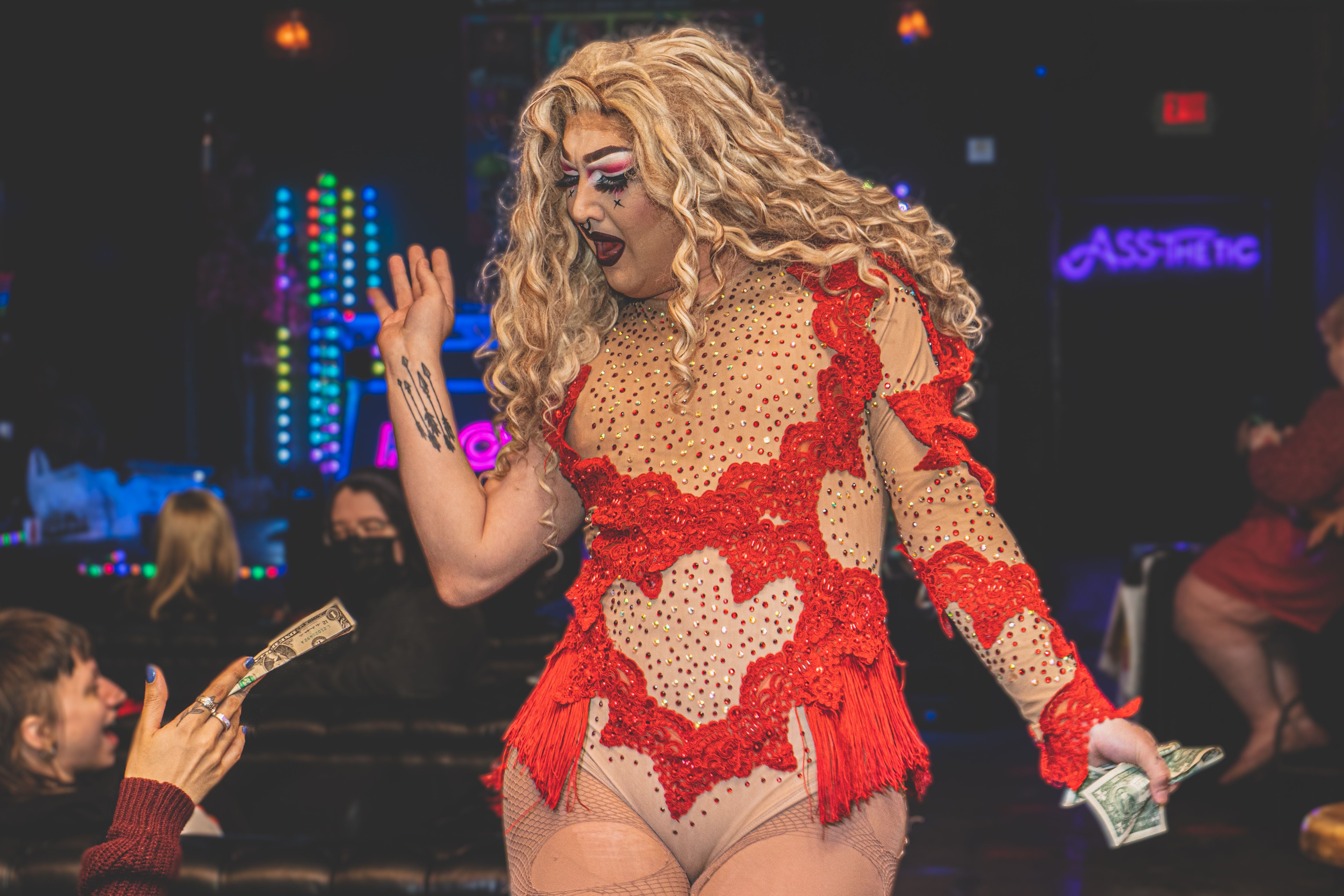 Referred as the queen among kings and the drag mom to the kings in Houston, Nyxx Laraye helped Syder-Blake establish the scene in Houston.
Laraye hosts karaoke and bingo on Tuesdays and Thursdays and often helps co-host Syder-Blake's Wednesday shows.
Known for her cackle and sense of humor, Laraye, who started drag eight years ago, constantly experiments with her drag, mixing it up with the plethora of extravagant outfits and personas.
"I just believe that drag should be able to be done by anybody who wants to do it. Regardless of what you're born with, how you want to do drag, there's no boundaries with drag. And for us being in primarily like an old-school pageant city as far as drag goes, it was kind of like a struggle. So I've been working with Ian a lot over the years to help create this show and get more popular."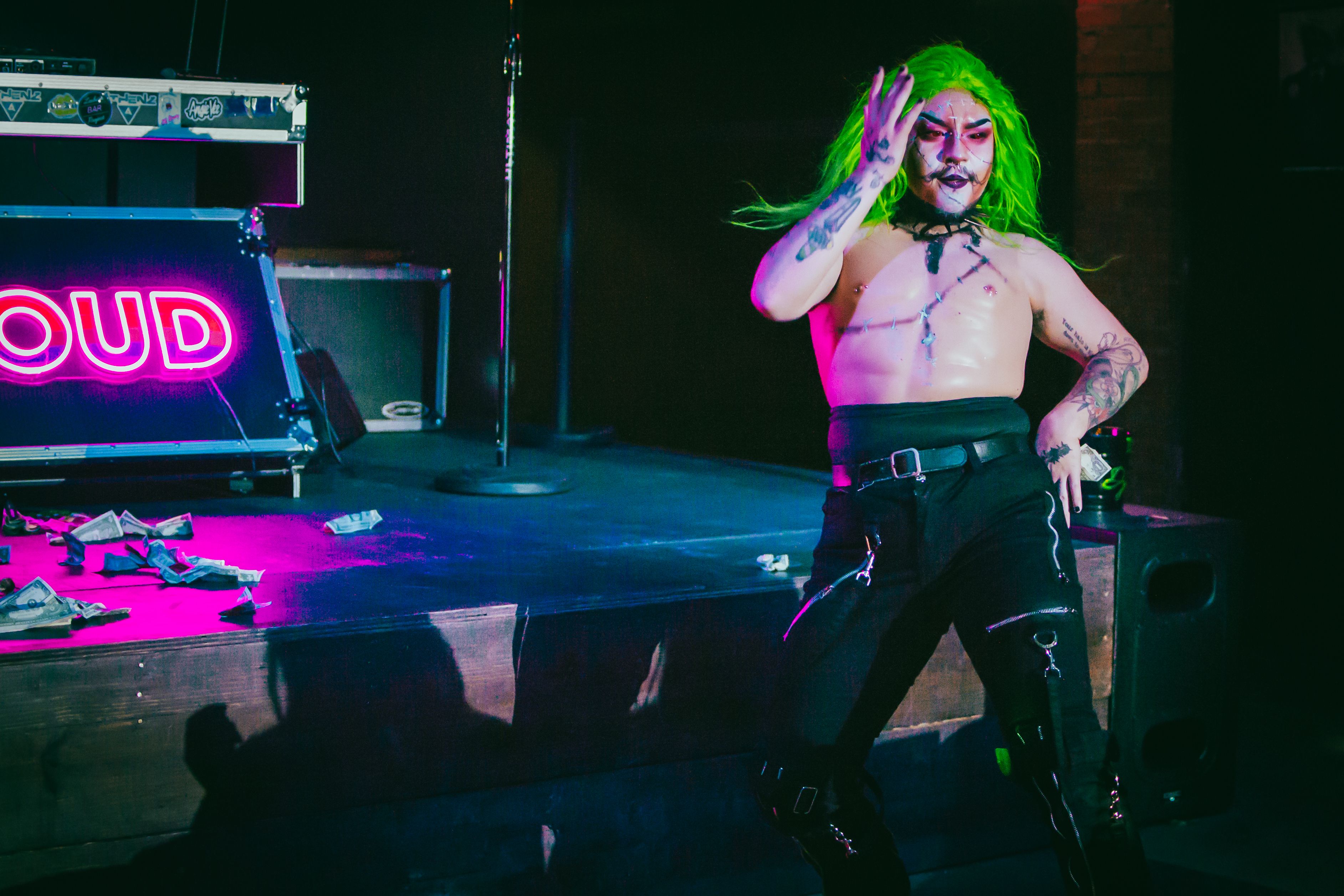 Damien, sometimes called the Lizard King of Houston, started doing drag nine years ago, right when he turned 18. He began drag as a king, got bored with the societal expectations of having to "pass as a man" while in drag, did a brief stint as a drag queen, and now identifies as a gender-fluid king.
He experiments with his alternative style of drag, playing with colorful makeup and costuming. He studied cosmetology and has won awards for his makeup.
"I started around the same time as Ian, and we only had like four or five of us that we could reach out to if we needed help with something. … [Ian] made such a welcoming place and a welcoming stage for people to start doing it to where it's a lot more accessible. And now there's a huge clump of us that if we ever needed help with anything, we know who to reach out to."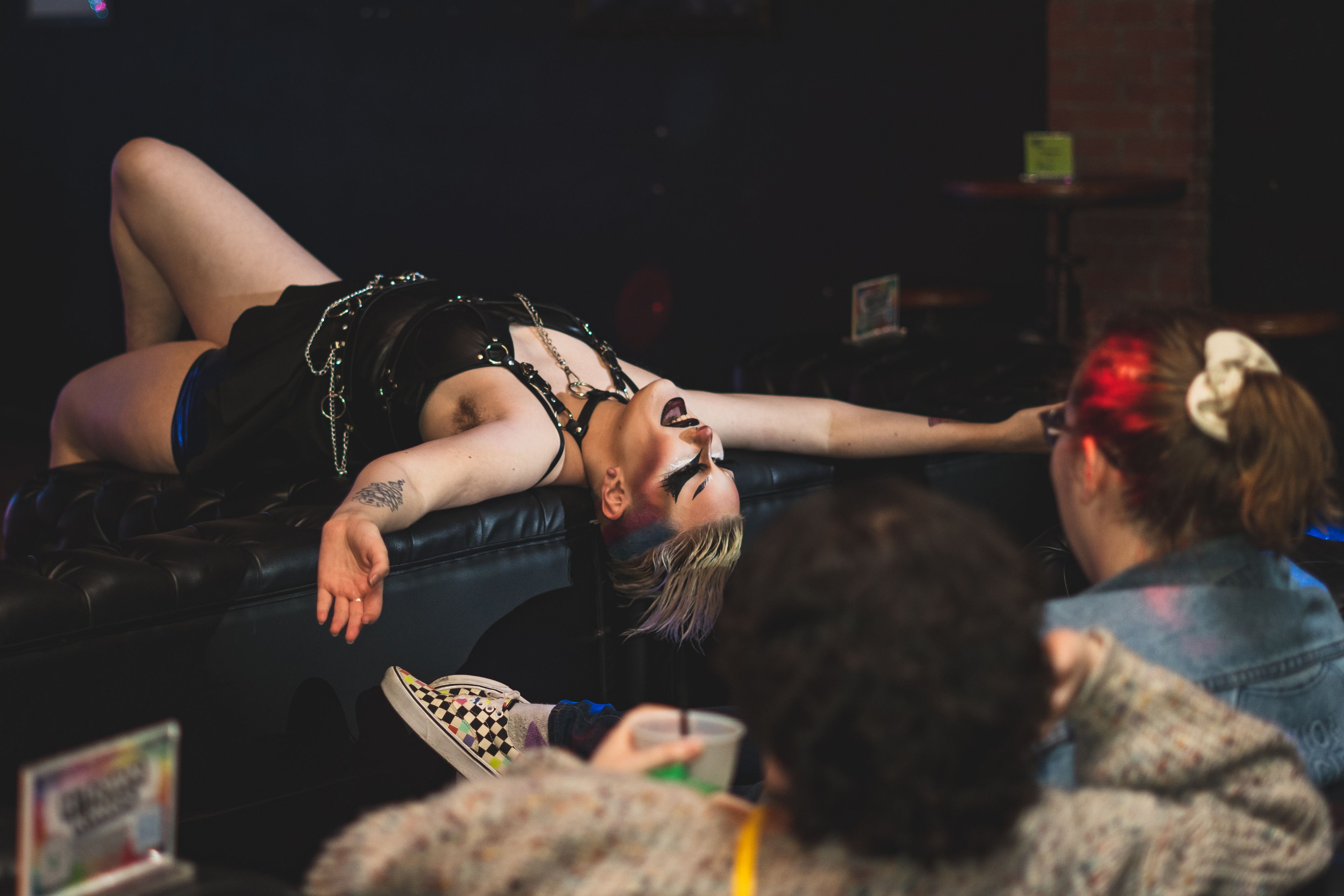 D'addie D'vine is one of the newer monarchs on the scene, starting about two years ago. They host the Misfits show before Syder-Blake's H-Town Kings show on Wednesdays.
D'vine won the option to launch and host Misfits after winning a competition Syder-Blake created called "Game of King." (Think local, inclusive, live "RuPaul.")
"I started very drag king. I wore a beard. I dressed very masculine when I started because I thought that was kind of how I had to do it. And then I was like, 'You know what, this box doesn't really work for me.' So I created my own box."
As an introvert and neurodivergent person with ADHD and autism who never gravitated toward the stage before drag, D'vine created the show for everyone who also felt out of the box.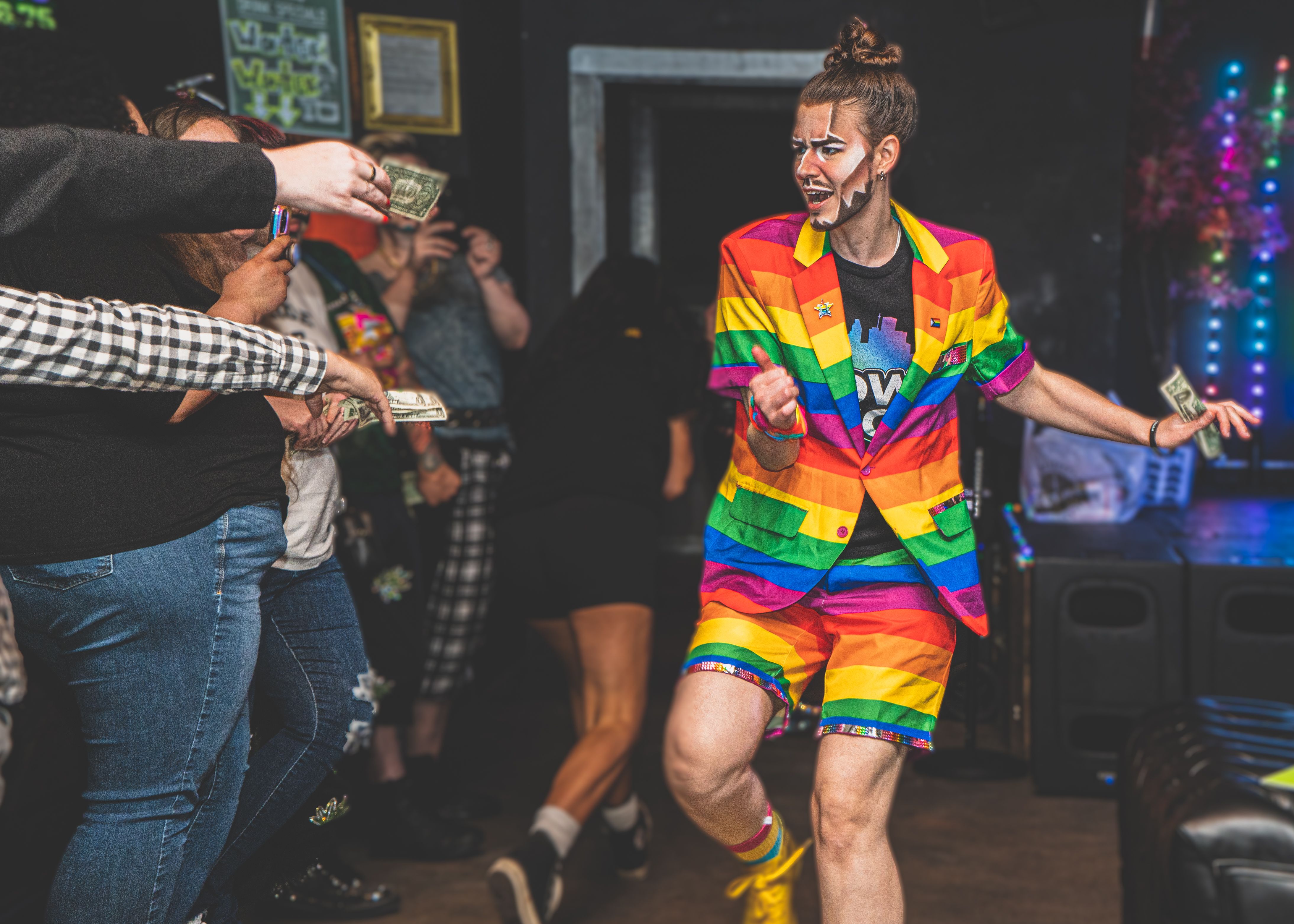 Hugh Dandy takes on a pop star persona onstage. He started drag five years ago in St. Louis, after seeing a show in college and joined the Houston community four years ago.
Dandy plays with hyper-masculine makeup and described his style as "very high energy sex appeal. It's very glam."
He says transforming into a drag king helped him become more comfortable with his femininity. "It was kind of me giving a big middle finger to everybody in my life who always told me I wasn't a girl enough."
"I started to realize that when I take my makeup off at the end of the night, I would feel like a pretty girl, and being Hugh and embracing those parts of me that I never liked and were told weren't good enough really helped me just fully embrace them and fall in love with myself all over again."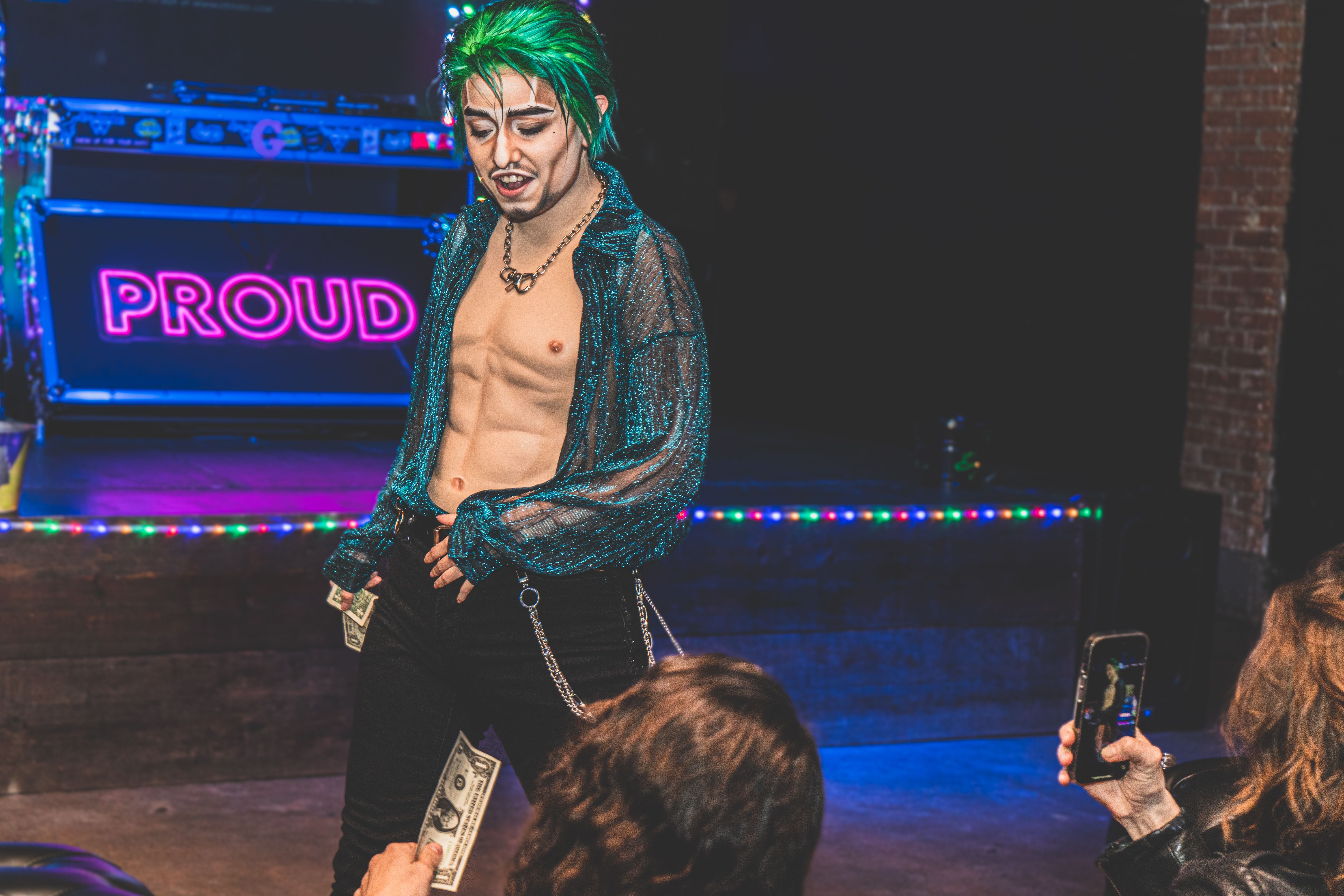 Barry Mii Dandy, part of Hugh Dandy's drag family, started drag two years ago after seeing a friend perform and has already established a strong presence.
Even though he considers himself shy and introverted, he had an urge to be on stage. "I was a very sheltered kid with like one friend. So now, being able to come somewhere, feel with open arms, 'welcome home, you are safe here.' That is such a big deal to me. It's something that I don't think people who are trying to ban drag understand. I don't think they see the community, the family, the friends — the humans behind it."
Barry says he was the first drag king to make it onto a cast for a Hamburger Mary's, a bar known to only host drag queen shows.
Barry still plays around with his drag and sometimes transforms into his drag queen alter ego, Karry Mii.
A few months after Barry started performing, his biological sister was intrigued. She now performs as Malevolent, whose drag is heavy on theatrical costuming.
For each show, their mom comes to support her children and films several of the performances — she even has an Instagram account where she uploads her footage.
More Houston stories
No stories could be found
Get a free daily digest of the most important news in your backyard with Axios Houston.