Why They Left: Gov. Whitmer says family kept her in Michigan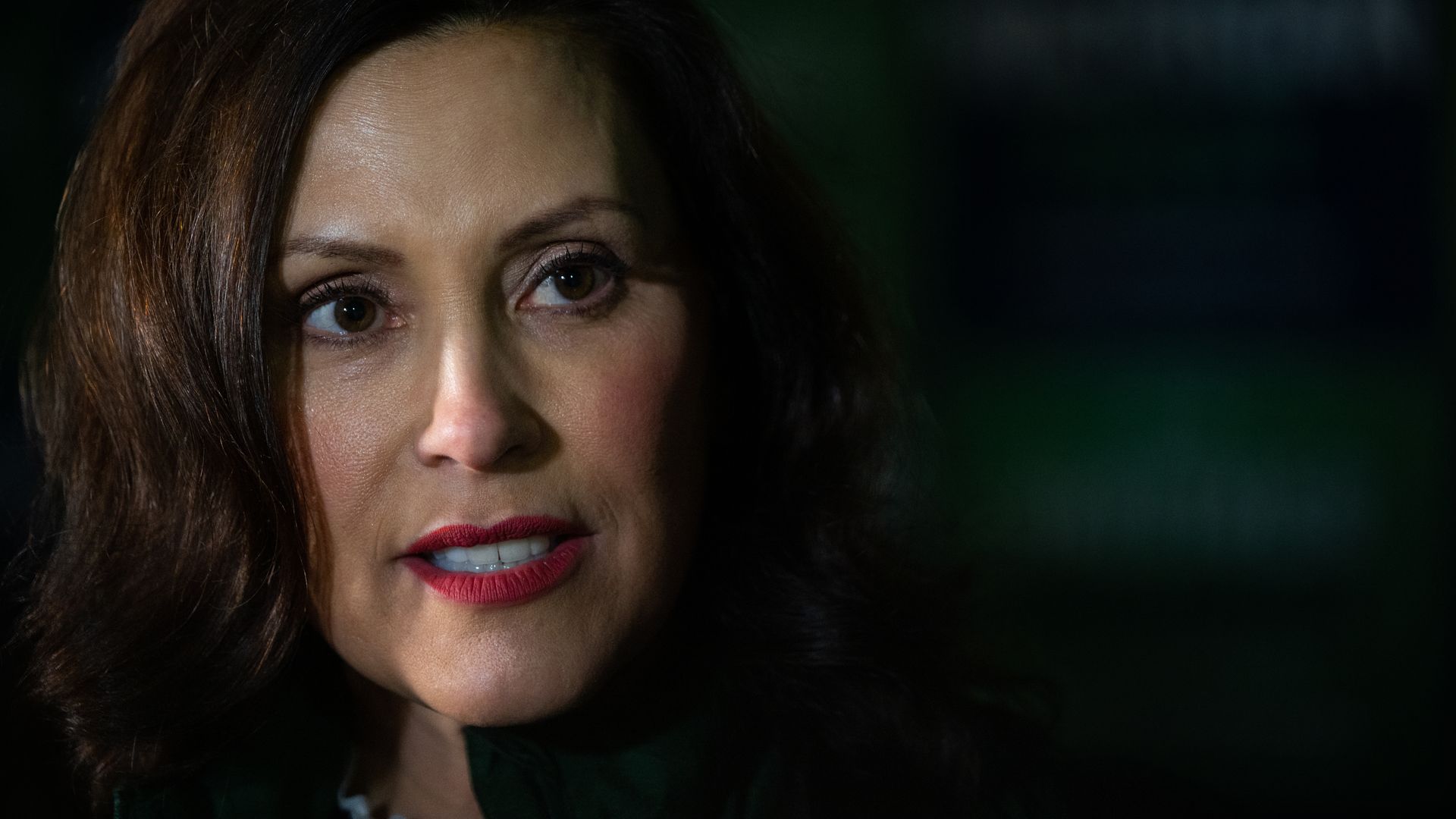 Like many longtime residents, Gov. Gretchen Whitmer names family as a main reason for staying in Michigan despite having opportunities elsewhere.
Why it matters: State leaders are working to draw in new families and keep young graduates here amid reports released this week by the Citizens Research Council of Michigan indicating the state's population is losing ground to the rest of the country.
The intrigue: Whitmer spoke to Axios Detroit this week about the issue as she prepares to roll out formal actions at next week's Mackinac Policy Conference.
Axios: Why did you stay after high school?
"I was interested in sports broadcasting and so going to a Big Ten school with robust athletic offerings was something that really appealed to me… I didn't really entertain the thought of leaving at that point," Whitmer, a Michigan State grad, says.
"I had different opportunities and different chapters where I did consider it, but this is a special place. I've got a number of generations of my family here and that's something that was a part of all my decisions as well."
Will your children stay in Michigan?
"My oldest is going to graduate from U of M next spring. She's not quite sure what is next. But this summer, she's going to be working out in Washington, D.C."
"She's eager to explore a bit and stretch herself and so I do think that she's looking for an experience outside of Michigan for a period of time, but I think she also entertains the thought of ultimately making a life here, which makes me incredibly happy."
How do we grow our talent pipeline and attract new residents after the pandemic?
"I watched my own kids go through it but I can't imagine being that age and living through it myself," the governor says.
Codifying the right to an abortion, passing gun control measures and getting students more affordable degrees through state scholarship programs are examples of ways to attract and keep young people and families here, she says.
"So much of what we're doing is focused on this generation and maintaining the incredible gifts and talents that they have and keeping them here."
Why focus on economic incentives as a tool for growth?
"I think that as we look at the rest of the country and around the world, we have to be competitive. Especially when you look at sectors like mobility. We've been really fortunate to be the home of the auto industry that created the middle class in this country. It is the backbone of our economy."
"There are some who think that it will always be that way, that we don't have to do anything. I would submit that as we watch how we're transitioning from gas vehicles to EVs, the heaviest part of an automobile or truck is going to be the battery… When we secure and win these battery projects, that is how we secure the rest of the automotive sector and related sectors — we have to compete."
The governor cited Our Next Energy's $1.6 billion investment in Van Buren Township last fall, the proposed $2.4 billion factory by Chinese manufacturer Gotion in Big Rapids and a $3.5 billion EV battery factory planned by Ford Motor Co. in Marshall — each lined up to receive millions in state funds.
More Detroit stories
No stories could be found
Get a free daily digest of the most important news in your backyard with Axios Detroit.