Inside Longwood's shadow debate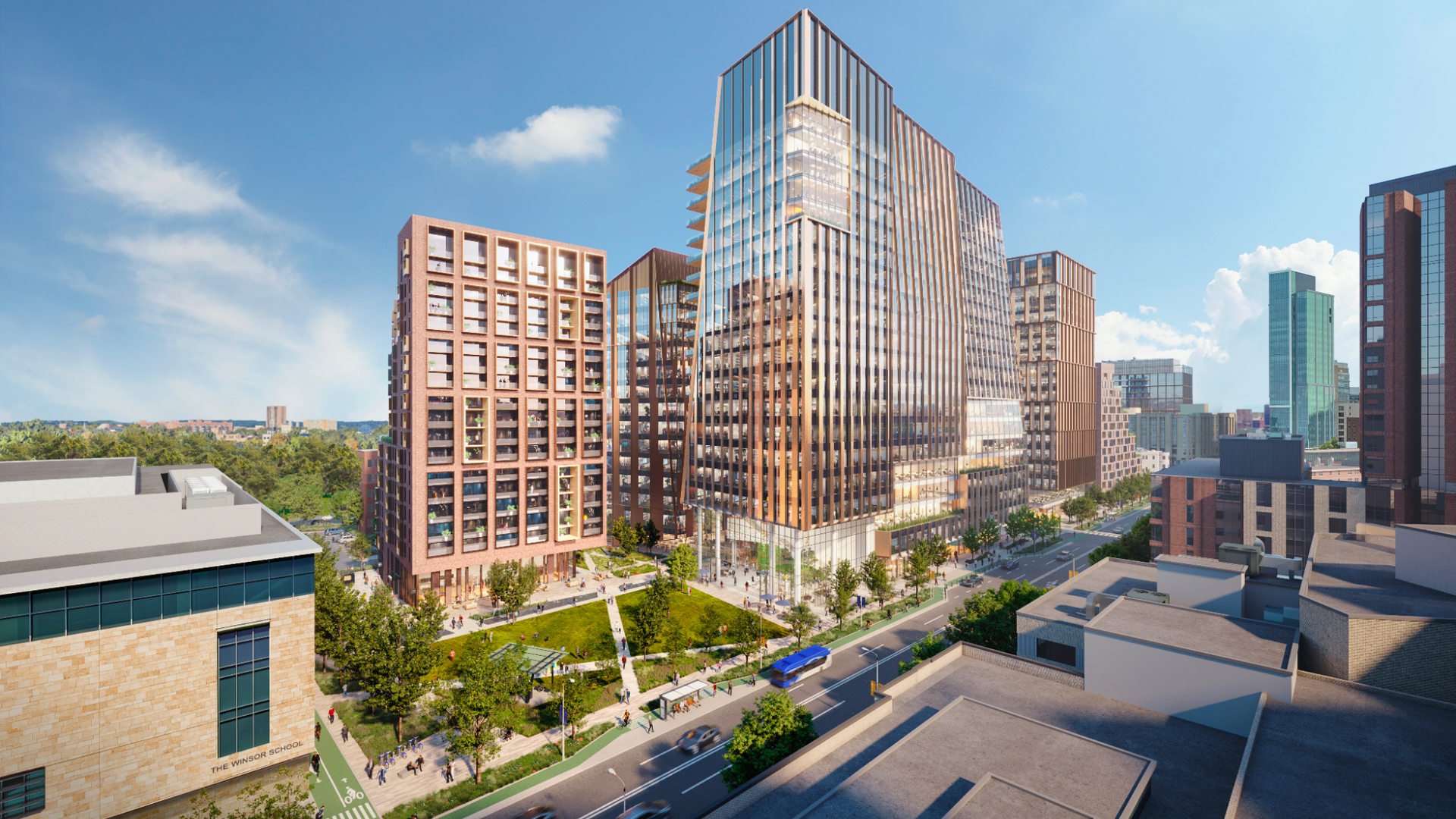 A proposed cluster of buildings overlooking Riverway Park has drawn scrutiny over the height of one of its buildings, which critics say would cast shadows upon part of the historic Emerald Necklace.
Why it matters: The development has divided locals. Some welcome the prospect of new affordable units at a time when Boston rents are among the nation's highest. Others say new housing shouldn't mean blocking sunlight from the beloved public green space.
Catch up fast: City planning officials approved plans for a 1.7-million-square-foot development known as Longwood Place last month. It has labs, commercial space and 388 housing units.
But critics have honed in on one of the project's five buildings that would be 295 feet tall.
The shadow debate lives on as the developer, Skanska, seeks further approval for each phase of the Longwood Place project.
The big picture: State law limits the shadows new developments can cast over the Boston Common, with the exception of the Winthrop Square tower.
But no such law protects the Emerald Necklace, the world-renowned green space that Fredrick Law Olmsted designed more than 100 years ago.
Skanska, the developer, plans to set aside 20% of units in the mixed-use development as affordable units, according to its application. That's above the city's current requirement of 13%.
Skanska will pay $20 million in linkage fees for housing and job development.
Skanska also plans to invest $6 million for an endowment to improve and protect the Emerald Necklace. It will spend another $1 million on a new shadow study.
Zoom in: "We recognize that it is difficult to satisfy everyone's individual priorities and we do not claim this project does that nor do we think that's possible for any development to achieve such a lofty standard," said Carolyn Desmond, vice president of development for Skanska USA Commercial Development, last month.
"We have been completely transparent throughout the process and have hopefully illustrated that we understand the need to protect and invest in our valuable public parkland," Desmond added.
She said the company has collaborated with locals "to the fullest extent possible" since the design process started in summer 2021.
Students, residents and park dwellers say the 295-foot-tall office and lab space's shadows would affect vegetation and the integrity of the historic Fens and Riverway Park areas.
Kelly Farrell, a Sasaki ecologist commissioned by developers, told city officials the shadows encroached upon the parks for under two hours at its peak on the vernal equinox on March 21.
But the city's interim guidelines for the Longwood Medical Area say no project should be approved if it casts any new shadow on the Emerald Necklace, Joslin Park or Evans Park Way for more than an hour on March 21.
The 2003 guidelines, however, were never codified into the city's zoning code, which would have made them enforceable.
What they're saying: "Until we can actually get shadows into a shape where they do not create a precedent for other projects that are going to be coming forward, I think we need to table this one," Tim Horn, president of the Fenway Civic Association, told planning officials before their vote.
What's next: Each building in the Longwood Place proposal has to go through another review process.
In the meantime, Boston City Councilor Kenzie Bok and residents say they hope the city moves toward policy changes that protect green spaces from new shadows.
More Boston stories
No stories could be found
Get a free daily digest of the most important news in your backyard with Axios Boston.