When inmates facing deportation took over Atlanta's federal penitentiary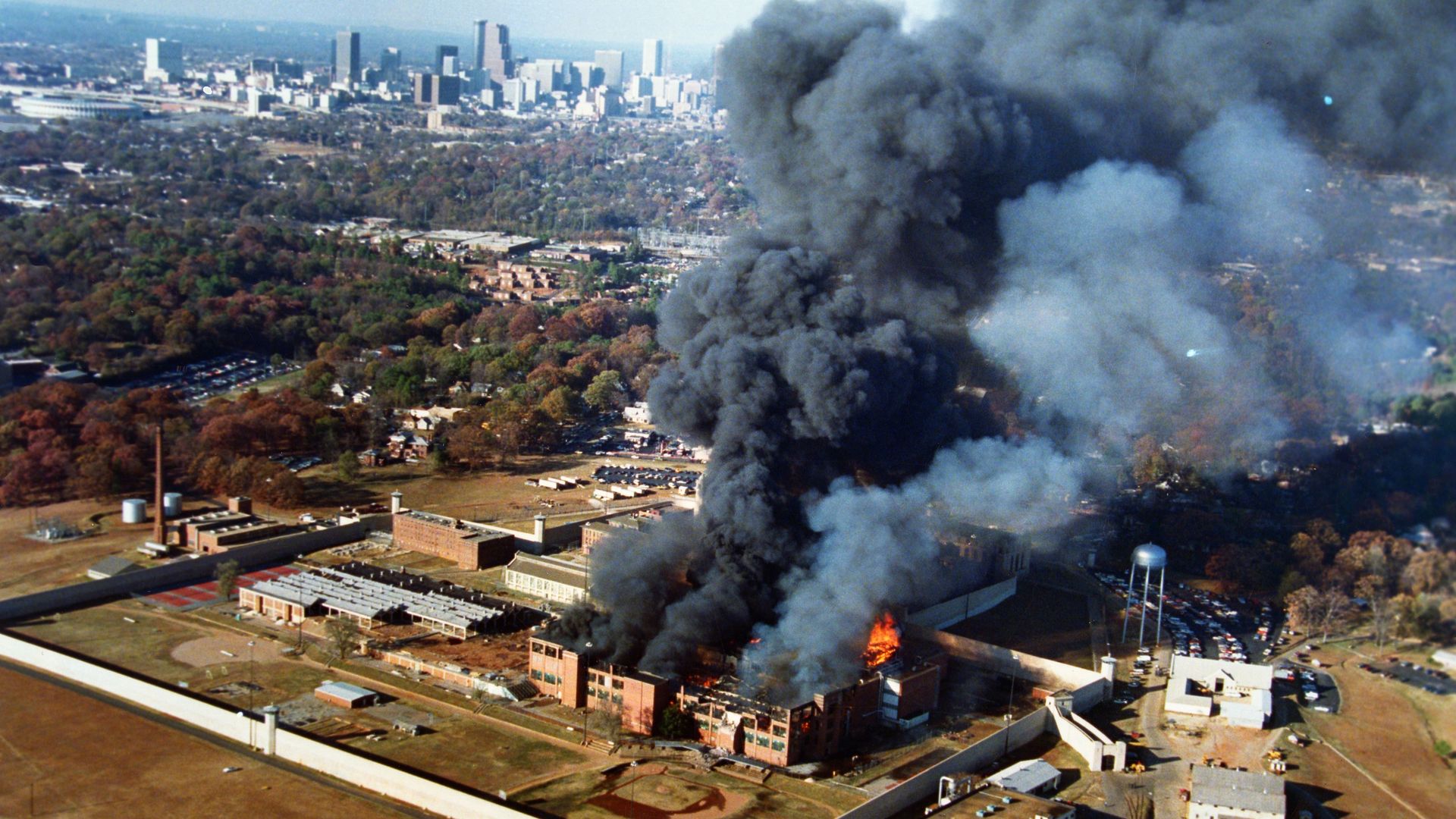 Thirty-six years ago this month, hundreds of Cuban prisoners at Atlanta's federal penitentiary fearful of deportation staged the longest prison standoff in U.S. history.
Catch up quick: In November 1987, the U.S. Bureau of Prisons said they would send back thousands of incarcerated Cuban people who fled to America during a mass exodus in 1980 from the port of Mariel.
The penitentiary housed anywhere from 1,200 to 1,500 Cuban inmates, according to media reports at the time and Atlanta History Center research. Few, if any, wanted to return to Cuba.
Details: Around lunchtime on Nov. 23, inmates seized control of the pen. Prisoners held hostage approximately 100 corrections officers and staff.
On the roof, the Cubans set up a public address system and posted signs and Christmas decorations for the throngs of media, politicians, family members and gawkers camped outside the gates.
The result: Eleven days later, FBI negotiators and prisoners struck a deal guaranteeing the inmates an immigration status review.
Days prior, another prison takeover by roughly 1,000 Cuban inmates ended in Oakdale, Louisiana.
In both instances, officials were aided in the talks by the auxiliary bishop of the Archdiocese of Miami, Agustín Román — a well-respected leader in the Cuban communities, 11 Alive reports.
One person died in the standoff: Jose Pena-Perez, a 32-year-old Cuban inmate who was shot and killed by a corrections officer during a gunfight when the uprising began, according to media reports.
Inmates also set fire to a warehouse and caused $35 million in damage at the corrections complex, according to the AHC.
The big picture: Prison officials rolled out procedural and emergency response reforms after the uprising, 11 Alive says. Several guards at the Atlanta pen opted not to return, the AJC says.
More Atlanta stories
No stories could be found
Get a free daily digest of the most important news in your backyard with Axios Atlanta.