New victims identified in 1906 Atlanta Race Massacre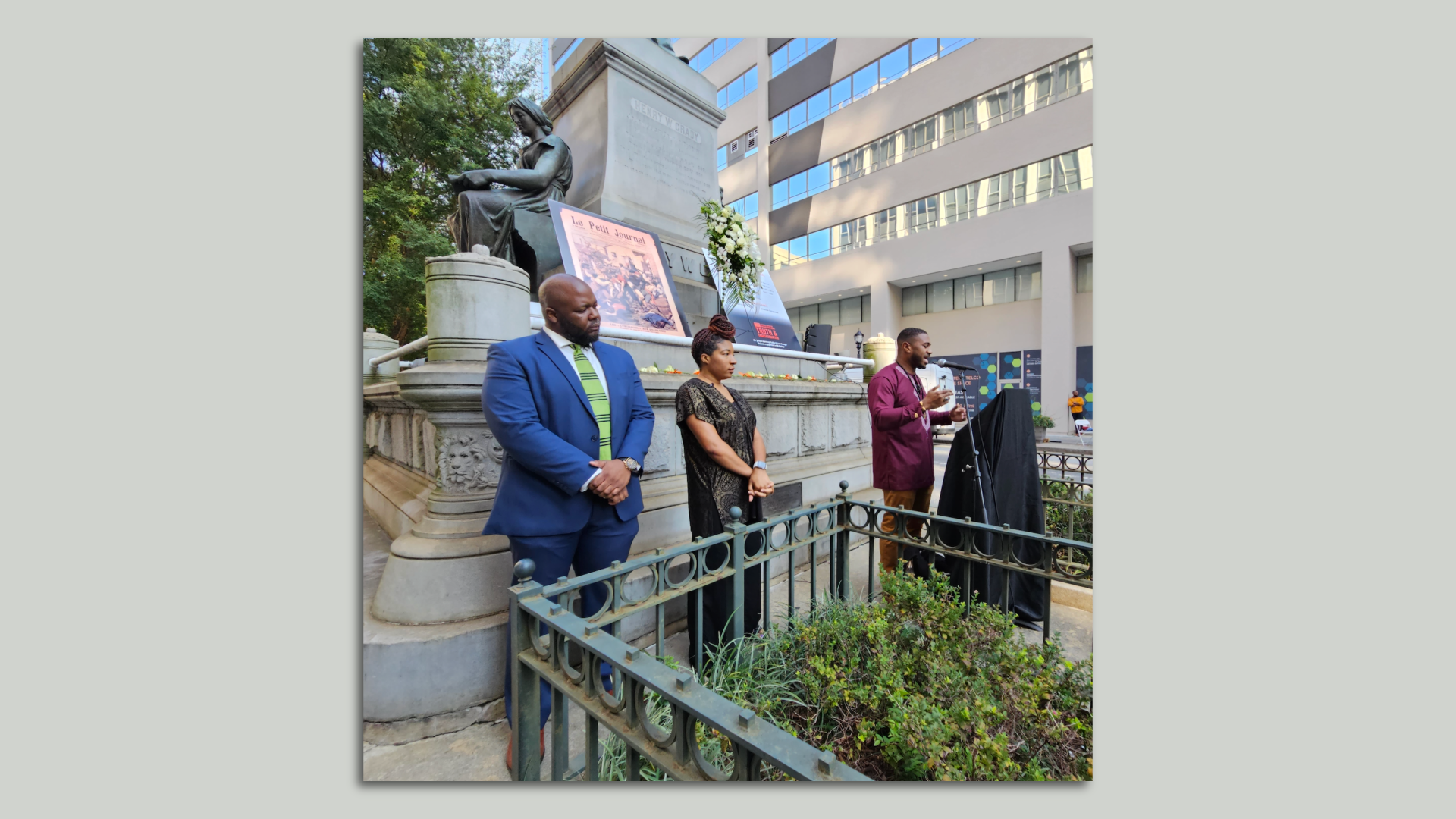 One hundred seventeen years later, two more victims have been added to the list of Black people who were murdered by white mobs during the 1906 Atlanta Race Massacre.
Why it matters: Long described as a "riot," the 1906 Atlanta Race Massacre is still largely unknown despite being the largest outbreak of racial violence in Georgia's history, the National Center for Civil and Human Rights said.
Driving the news: Researchers say they've confirmed through Fulton County death records that Stinson Ferguson, 25, and 13-year-old Marshall Carter were both victims of the massacre. They died Sept. 22, 1906, the night it began.
State of play: The center's Truth and Transformation Initiative, along with the Georgia Civil Rights Cold Cases Project and the Afro-American Historical and Genealogical Society, announced the revelation during a vigil Monday at the Henry Grady Statue.
The statue is located on Marietta Street, where bodies of Black people were placed after they were killed in the massacre.
"We come to tell the truth about those who lost their lives and the impact it has on our city, on our state, and our nation," said Darrin Sims, executive director of the Truth and Transformation Initiative.
Flashback: In September 1906, angry groups of thousands of white men — spurred by sensational and unsubstantiated news stories about Black men assaulting white women — killed at least 25 Black people in Atlanta over the course of four days. Two white people were killed.
Black men, women and children were beaten and communities and businesses, including the barbershop owned by Alonzo Herndon, were vandalized.
Competition for jobs, the emergence of a Black upper class and growing racial and socioeconomic tensions also contributed to the massacre.
Of note: Hank Klibanoff, director of Georgia Civil Rights Cold Cases Project at Emory University and host of the "Buried Truths" podcast, said at a press conference following the vigil that the victims' death certificates (which at the time were called "return of a death" forms) had the words "riot" written beside their names, referring to the massacre.
"These types of records…help us expand the story," Sylvia Johnson, a researcher at Afro-American Historical and Genealogical Society's metro Atlanta chapter, said about the details included in the death records.
She also said the records show how the massacre affected the city economically, as many of the people who were killed "did so many of the things that kept Atlanta running," including owning small businesses.
Be smart: The vigil is one of several events the center is hosting to commemorate the victims of the massacre this month. Learn more here.
More Atlanta stories
No stories could be found
Get a free daily digest of the most important news in your backyard with Axios Atlanta.