Districts explore building homes for teachers amid affordability crunch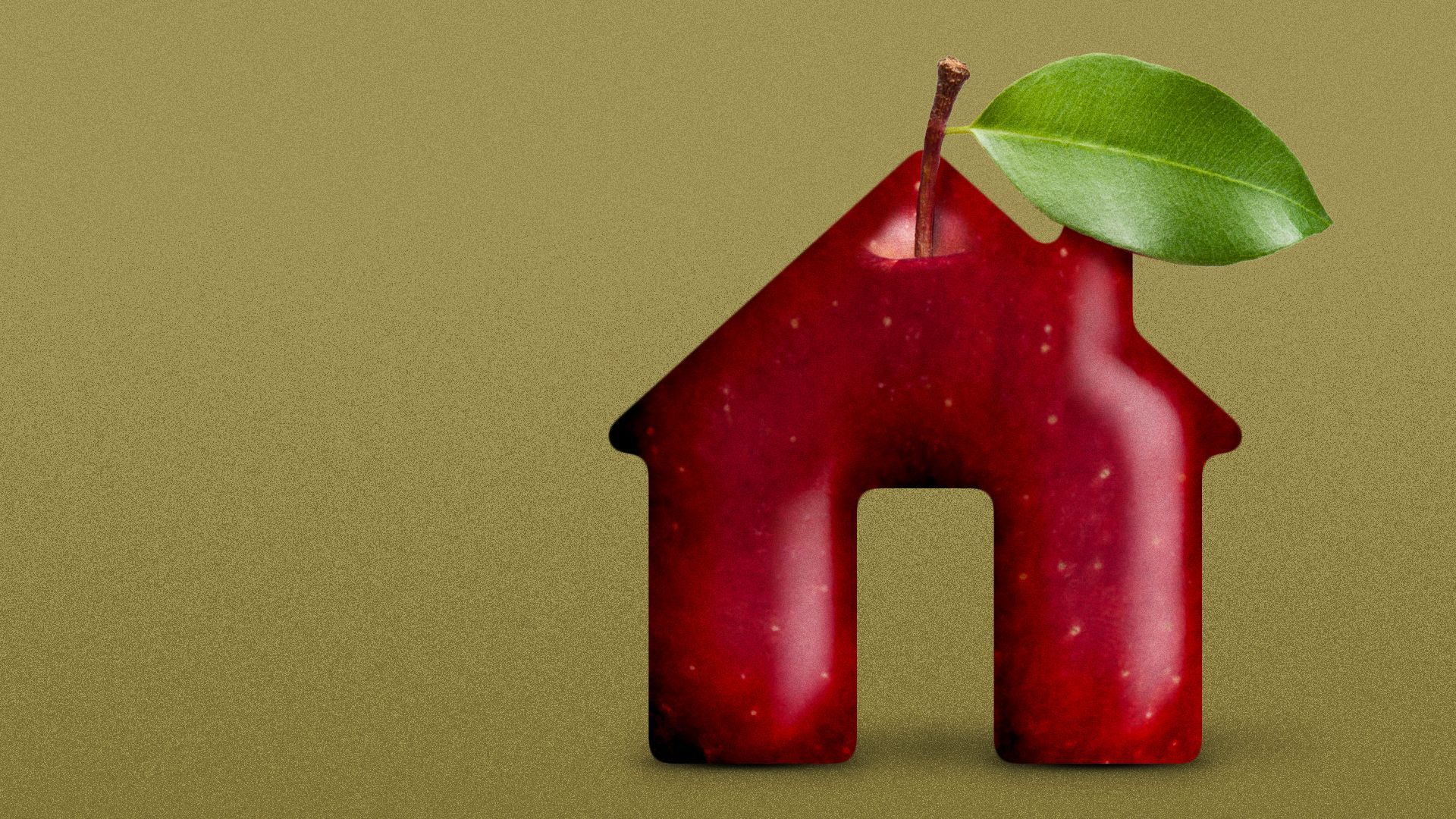 In a desperate effort to combat a chronic teacher shortage and a housing affordability crunch, school districts in Atlanta and across the country are getting into a new industry: homebuilding.
Why it matters: On their salaries, many teachers simply can't afford to live where they work, which can have repercussions on the quality of students' education, Becky Pringle, president of the National Education Association, told Axios.
Pringle, a former teacher, said those forced to commute for hours aren't spending as much time with students and are more prone to burnout.
Driving the news: According to the nonprofit National Council on Teacher Quality, in 15 of 69 U.S. cities a starting teacher salary could not cover a one-bedroom rental in 2022.
Since 2017, the average American home price has risen 40%, and rent for one bedroom in the largest metro areas has increased 22%, per NCTQ.
But starting teacher salaries have only risen 15%.
NCTQ has found teachers need three times as long as the average U.S. household to save for a 20% down payment.
Zoom in: RBH Group is breaking ground this fall on a 457,584-square-foot, mixed-use Teachers Village in downtown Atlanta's Fairlie-Poplar district.
The high-rise would have 424 units reserved for educators who want to work in the city of Atlanta, 197 set aside for workforce housing and another 227 for seniors. It's expected to be completed in 2026.
10% of the units will be available to those who make no more than 80% of the area median income, and the remaining will be rented out below 120% AMI.
More than 22,995 square feet will be set aside for retail use and another 147,948 square feet for parking.
What they're saying: RBH's communities "are a model for shared, intergenerational living where residents share social responsibility and live purposeful lives in supporting each other and helping their cities thrive," Lonnie Soury, a spokesperson for RBH Group, said.
Other RBH projects aimed at helping teachers are planned for Chicago and Stockton, California, and the company is exploring options in Charlotte, Dallas, Denver and Phoenix.
The big picture: "When teachers can't afford to live in the communities where they teach … that cost can be considerable," NCTQ president Heather Peske told Axios. It "threatens the teacher pipeline" and contributes to turnover, she said.
"If you can increase their salaries, then teachers can afford to get into the housing market," she pointed out. And then, they'll be more likely to stay.
Zoom out: The American Federation of Teachers, the nation's second-largest teachers union, last year opened a teacher housing complex in rural West Virginia, its president, Randi Weingarten, told Axios.
"We're not in the business of building housing, but what was clear is that there was no housing," she said.
They're open to doing more projects, she noted, but said fundraising for it was difficult. They were forced to borrow money, take out a mortgage and use tax credits.
State of play: There are more than 36,500 teacher vacancies in the U.S., estimates Kansas State University Professor Tuan Nguyen, though he says that is likely to be an undercount because of lags in some state's data reporting.
Nationwide, the average salary range for teachers (adjusted for cost of living) is $57,637-$83,992, per NCTQ.
Reality check: Although each district's situation is different, the root of the housing problem lies in chronic under-compensation of teachers, said Pringle with the NEA.
According to the Economic Policy Institute, teachers have for decades experienced a "wage penalty" — meaning they consistently make less than their non-teacher, college-educated counterparts.
The penalty hit a record high in 2021 at 23.5% less.
Threat level: The affordability problem disproportionately affects teachers of color, who are more likely to have student debt.
"Educators of color often want to go teach in schools or districts that have higher percentages of students of color," Peske with NCTQ said. "And those are typically urban districts, where the cost of housing is less affordable."
Editor's note: This story has been corrected with RBH Group's updated figures for the Teachers Village.
More Atlanta stories
No stories could be found
Get a free daily digest of the most important news in your backyard with Axios Atlanta.