Chattahoochee River E. coli levels prompt extended closure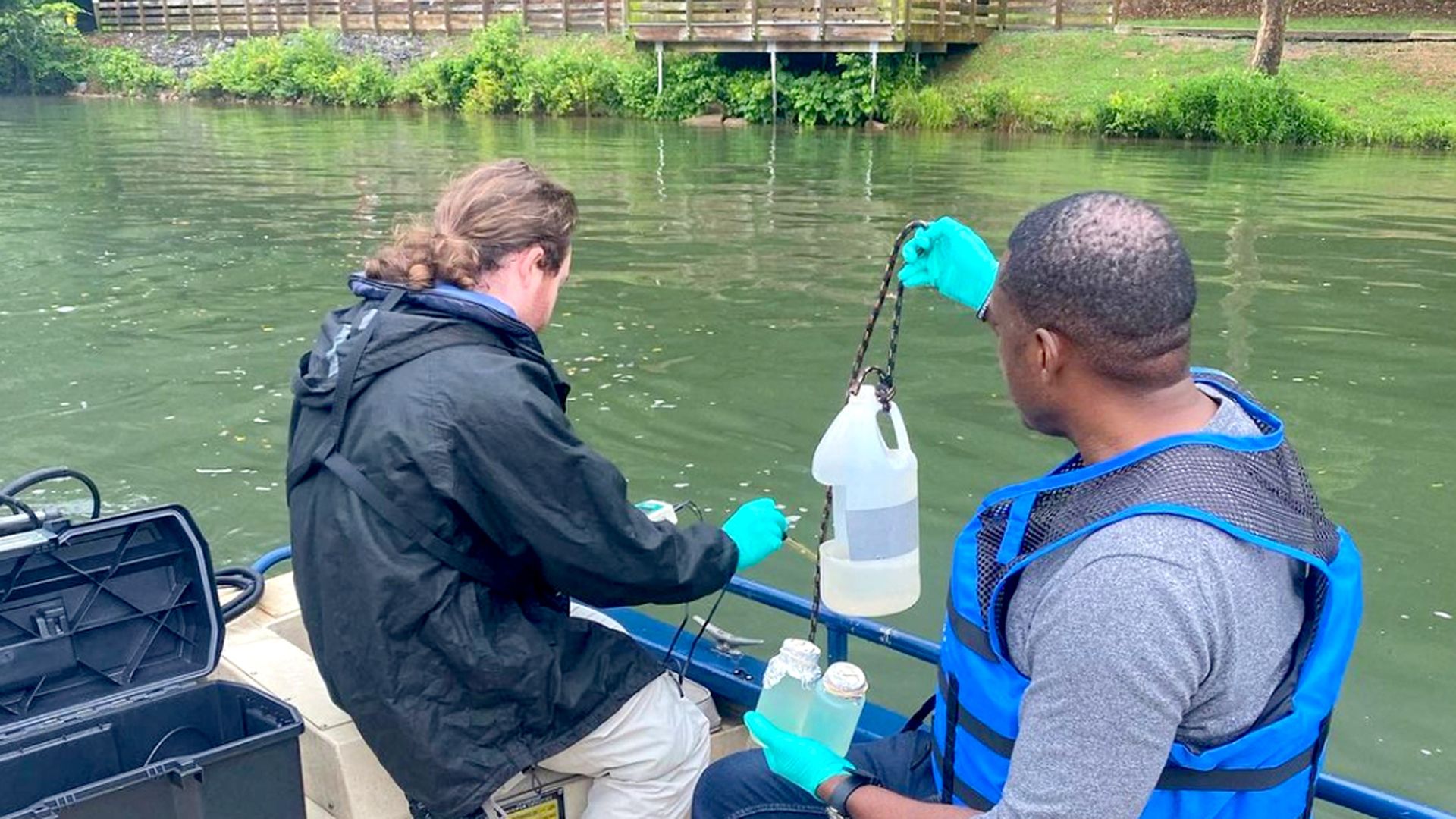 July's usually a prime time on the Chattahoochee for tubers, paddlers and anglers. But off-the-charts E. coli levels the past week have shut down the river to almost everyone but herons, turtles and fish.
What's happening: A malfunction at the wastewater treatment plant in Roswell caused a sharp spike in the harmful bacteria levels along 15 miles of the river from Roswell to Atlanta.
The "extremely dangerous" bacteria levels, according to Chattahoochee Riverkeeper executive director Jason Ulseth, created concerns for the public's health and halted recreational activities like tubing.
Flashback: Just before the holiday weekend, Chattahoochee Riverkeeper staff who monitor water quality along the river detected high E. coli levels, Ulseth told Axios.
The tests prompted park officials to close the popular stretch of the river to tubing, kayaking and other crowd-drawing recreational activities.
Testing traced the levels to untreated sewage — up to 20 million gallons a day, according to Ulseth's estimate — being discharged by Fulton County's Big Creek Wastewater Treatment Plant off Willeo Road.
What they're saying: County officials learned that an imbalance in "good" and "bad" bacteria threw the biological process used to break down raw sewage out of whack.
Of note: Ulseth said E. coli levels tend to spike around storms, and the high water levels and muddy color tend to keep people away. This spike in bacteria was caused by mechanical failure, at a time when the water was low, clear and inviting.
"I've never seen a circumstance where the river was so low, in a normal condition, where we had this type of spill that was making the river so dangerous," Ulseth said.
What's next: Big Creek is using UV treatments and bringing in 12 tanker loads a day of "healthy microorganisms" — think free swimming ciliates and stalked ciliates, officials say — from a Johns Creek facility to rebuild favorable conditions for bacteria.
The efforts are working, officials say, but the process takes several days, which means the facility is currently discharging partially treated wastewater in the river. (Plants don't have the capacity to store large amounts of treated wastewater; a nearby Cobb plant is taking on some overflow.)
The big picture: Officials should investigate why the treatment system broke down, Ulseth said, and how to prevent future discharges.
The bottom line: Never take water for granted. Especially the water that eventually flows out of your tap.
More Atlanta stories
No stories could be found
Get a free daily digest of the most important news in your backyard with Axios Atlanta.