The business of booting cars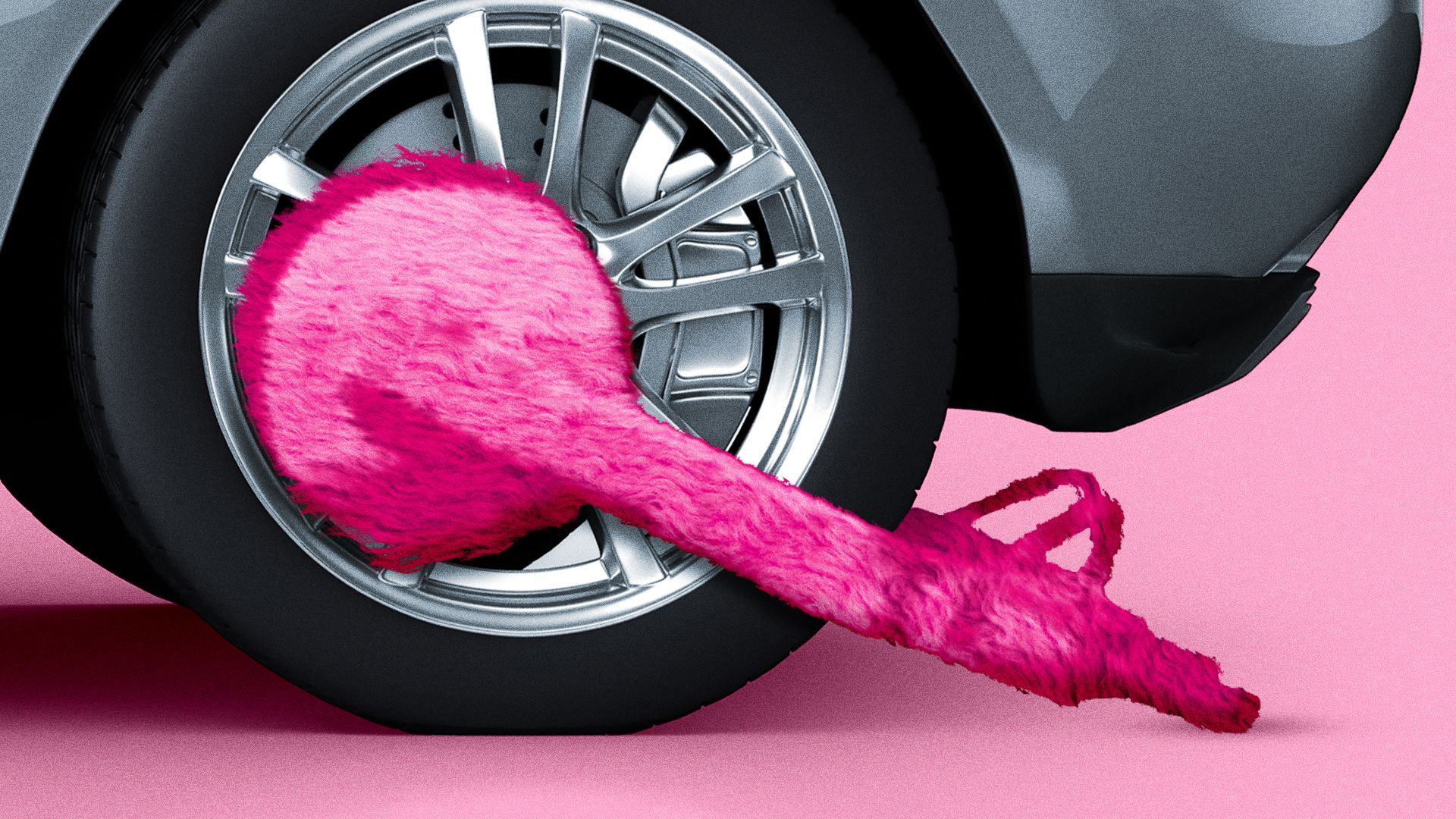 Returning to your car after a wonderful night out in Atlanta only to find it booted — and with a steep fee to free it — is an experience most of us can recount with a vivid memory.
But two women coming to the rescue of people whose vehicles have been immobilized by booting are reigniting a debate about the practice in Atlanta.
Why it matters: The act of booting vehicles is a controversial practice many businesses and property owners in Atlanta use to limit who can park in their lots.
What's happening: With a phone call or email, the Boot Girls in Buckhead will respond to your location and use a key to remove the boot from your vehicle.
The women, who hide their identities by wearing sparkling and sometimes colorful balaclavas, use their Instagram account to pose with customers they've assisted.
Be smart: Possessing keys that remove boots from vehicles isn't illegal and the Atlanta Police Department "does not intervene between motorists and private business owners when vehicles are booted in violation unless a criminal matter arises," it said last week on its Facebook page.
However, anyone who uses a key to "modify, tamper, or disengage" a boot from a vehicle can be criminally charged, it said.
What they're saying: State Sen. Josh McLaurin, who introduced legislation this year to ban the practice in Georgia, classified booting as "a predatory industry that relies on a handful of abusive practices that are unregulated to make its profit margins."
Unlike towing, which is regulated, there are no state laws that govern how booting companies can operate, the Democrat from Sandy Springs said.
For example, McLaurin told Axios that people who boot cars can linger in lots and quickly attach devices onto vehicles within minutes of someone parking in an unauthorized area, a tactic he said towing companies can't use.
"Their incentive is to throw as many boots on cars as possible," he said. "And then because they're judge, jury, and executioner and often demand payment in cash…, oftentimes people will pay the money, move on and try to forget about it instead of trying to fight the boot."
State of play: Removing a boot from a vehicle without paying the company for that service can lead to confrontations that can quickly turn dicey. Last week, the Boot Girls shared a video showing a man placing his foot on the device and threatening to call the police while one of the women was trying to remove it from a wheel.
Flashback: The city of Atlanta in 2018 approved legislation tightening rules for booting. Among the changes: creating clear signage about the parking policy, capping fines at $75 and providing clear identification for representatives of booting companies.
Council member Amir Farokhi, who sponsored that bill, told Axios that some businesses would rather hire booting companies to keep parking spaces available for customers because they don't have the "wherewithal" to construct an access-only gate.
However, Farokhi said booting doesn't free up parking spaces because vehicles remain in those spaces.
"It's taking advantage of folks who, for confusion or otherwise, may not realize they're not adhering to parking rules," he said.
More Atlanta stories
No stories could be found
Get a free daily digest of the most important news in your backyard with Axios Atlanta.